Mark O'Meara makes the most of the outdoor and indoor pleasures surrounding his home at Talisker Club in the mountains of Northern Utah
Mark O'Meara surveys the large pond that defines the cape-style 9th hole at Tuhaye, the golf course he designed at Talisker Club—Tuhaye near Park City, Utah. Even at 7,000 feet above sea level, the long carry necessary on this reachable 320-yard par four results in far more golf balls than game fish in the crystalline water.
"I've put more tee shots in there than I have on the green," the 63-year-old World Golf Hall of Famer jokes.
On this day, however, a fly-fishing line is the only thing O'Meara will put in the water. And he's casting it with the same deft touch and accuracy with which he hits his lob wedge. Spotting a trout among the Titleists, he smoothly loads the rod and throws out just enough line to practically drop the fly in his target's mouth.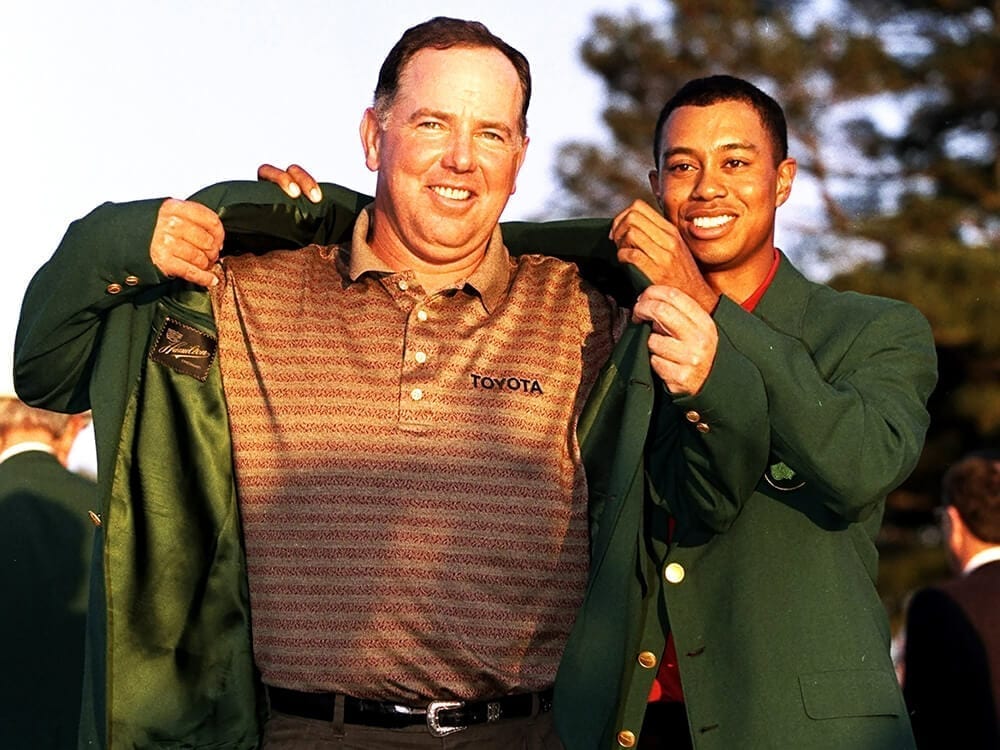 "How great is this?" O'Meara asks rhetorically. "I've seen people out here practicing their casts, teaching their kids and their grandkids how to fish. I see them at all hours from my house."
That house, all 7,700 square feet of it, perches on a hillside a few hundred feet above where he stands, occupying a two-acre lot he purchased eight years ago. He shares it with his second wife, Meredith (whom he married at the Tuhaye clubhouse in 2009), their twin golden labs "Crosby" (the original name of the Pebble Beach pro-am he's won five times) and "Georgia" (home state of the Masters he won in 1998), and visiting children, stepchildren, grandchildren, and friends.
Numerous west-facing windows on the house's three levels reveal a glorious panorama of Tuhaye's front nine framed by the Uinta Mountains, Wasatch Range, Mount Timpanogos, Jordanelle Reservoir, and the ski runs of Deer Valley. "The sunsets are magnificent," O'Meara says, "especially when there's snow."
Filling an entire wall on the main floor, an eight-foot-high glass case sparkles with the dozens of trophies he's won, including those from the 1979 U.S. Amateur and the 1998 Masters and Open Championship. He annually takes those three down to the Tuhaye clubhouse for photo ops on the final weekend of the club's season-long O'Meara Cup.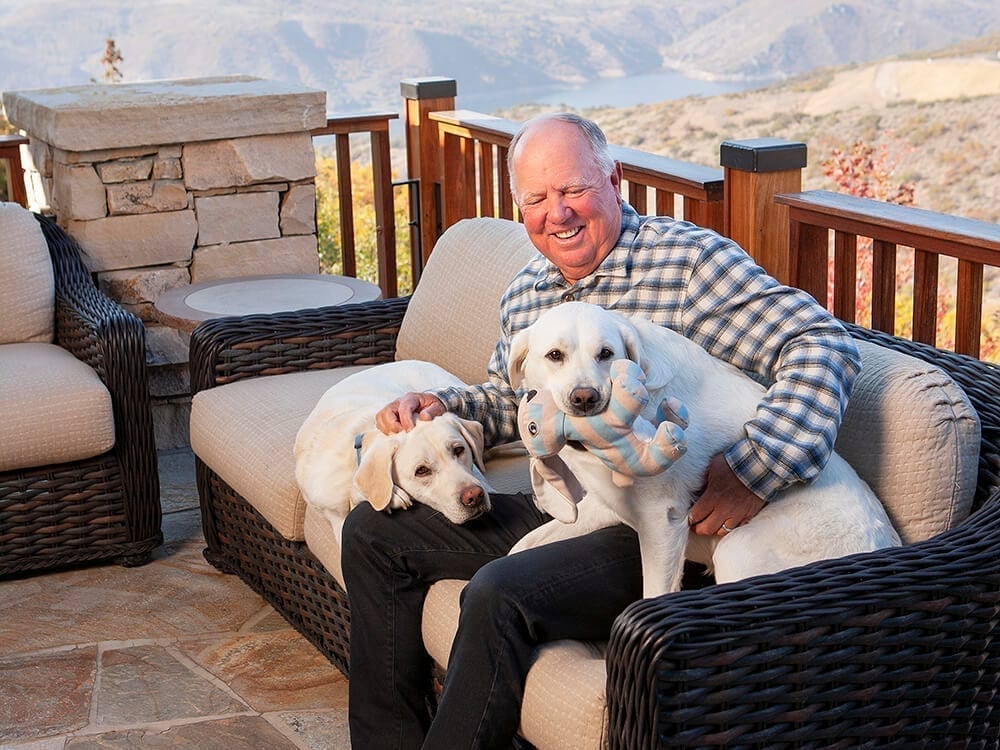 The house shows little else in the way of golf décor, save for an original oil painting hanging in a stairwell of O'Meara sinking the winning putt at Augusta. Behind the house unfurls a large synthetic putting green, notable for its rollability ("It's probably running about a 12, but we can get it hotter," he says) and a revetted pot bunker formed by layers of the original turf O'Meara had replaced.
"I've probably hit three shots from that bunker, but the dogs love it," O'Meara says, watching Georgia and Crosby send the sand flying as they chase each other around the tight little space. "It's like the Mad Tea Party at Disney World in there."
Although veteran golf fans may identify O'Meara with the Orlando-area enclave of Isleworth—where he lived until 2008 and famously forged a "super-tight" friendship with fellow resident Tiger Woods—the 16-time PGA Tour winner has had ties to the Park City area since he first came to ski in the late 1980s. "It's hard to beat the mountains: the views, the skiing, the fishing, the bluebird days, and the fact that you don't sweat like you do at sea level."
For these reasons—plus Salt Lake/Park City hosting the 2002 Winter Olympics—this majestic region has exploded with upscale private golf developments since the turn of the century.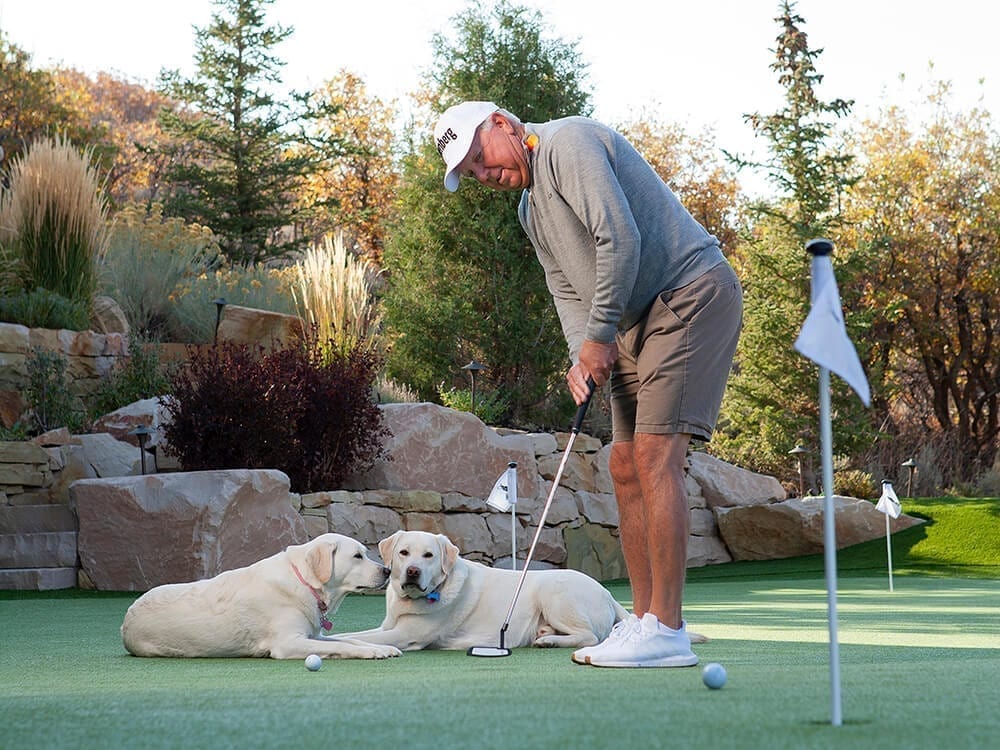 Talisker Club was among the first, debuting in 2002, and O'Meara "was one of the founding members—four developers and me," he says. The Tuhaye course he designed with architect Britt Stenson ranks among the state's best, a compliment the golfer deflects. "Everyone wants to say, 'This is great, that's great,' and I appreciate that the course is one of the better ones up here," he shares, before ticking off the names of other developments. "But there's no question in my mind—and I've always believed—we have the best piece of property."
And, it could be argued, the best membership package. Talisker Club remains unique inasmuch as membership, which is baked into the price of a lot or home, includes not only the country-club lifestyle at Tuhaye but also private ski-in/ski-out access at Talisker Club's Empire Pass Lodge at Deer Valley Resort; exclusive backcountry activities at The Outpost (such as snowmobiling, horseback riding, and private yurt dining); and gustatory indulgence at Courchevel, a nationally acclaimed eatery in downtown Park City that features a downstairs members-only lounge, outdoor patio, and ski storage.
Like other similarly grand real estate developments, Talisker Club has emerged from the recession with new ownership. "It's created an incredible buzz," O'Meara says. Flush with cash from this summer's record number of home sales, Storied Development is investing millions in upgrades to the Empire Pass Lodge and adding multigenerational amenities to accommodate Tuhaye's growing kid population, among them a pool, adventure park, and a "base camp" with an indoor climbing wall, bowling alley, golf simulator, and movie theater.
The grandfather of two looks forward to seeing those family-friendly enhancements, which also include a nine-hole short course he designed with Beau Welling (lead architect on Woods's courses at Payne's Valley at Big Cedar Lodge and Bluejack National), scheduled to begin construction next summer.
O'Meara enjoys getting to know the members but admits he seldom hangs out at Tuhaye "or at any of the clubs I belong to." He prefers Meredith's chicken fajitas to Courchevel's poulet rouche. "To be honest," he says, "I'm eating in restaurants all the time on the road and Mer is a great cook."
The couple makes more than pizzas in their wood-fired convection oven. They hosted six of the last seven family Christmas dinners at their mountain home. The most recent, however, was in Las Vegas, where they recently purchased a primary residence on Southern Highlands Golf Club after owning for 11 years in Meredith's hometown of Houston. "Vegas is only six hours down I-15 from Park City," O'Meara points out, also noting the relative convenience to his daughter Michelle's family in Los Angeles.
Still, he says, "Even though I have the home down there and I'm a Nevada resident, I feel like this is home from the standpoint of my involvement with the course and being social with some of my neighbors."
Above all, what ties O'Meara to the area is his love of the great outdoors.
Although skiing initially brought him here, he hasn't clicked into his bindings in years. He now favors snowmobiling with friends—including David Feherty, who memorably rode with O'Meara through the aspen-lined backcountry for a 2017 episode of his eponymous Golf Channel show. "We do the Uintas, Strawberry Bay, all across the mountains," says O'Meara, who owns six sleds and two trailers, because, "If I have six friends coming in, I don't want to have to rent."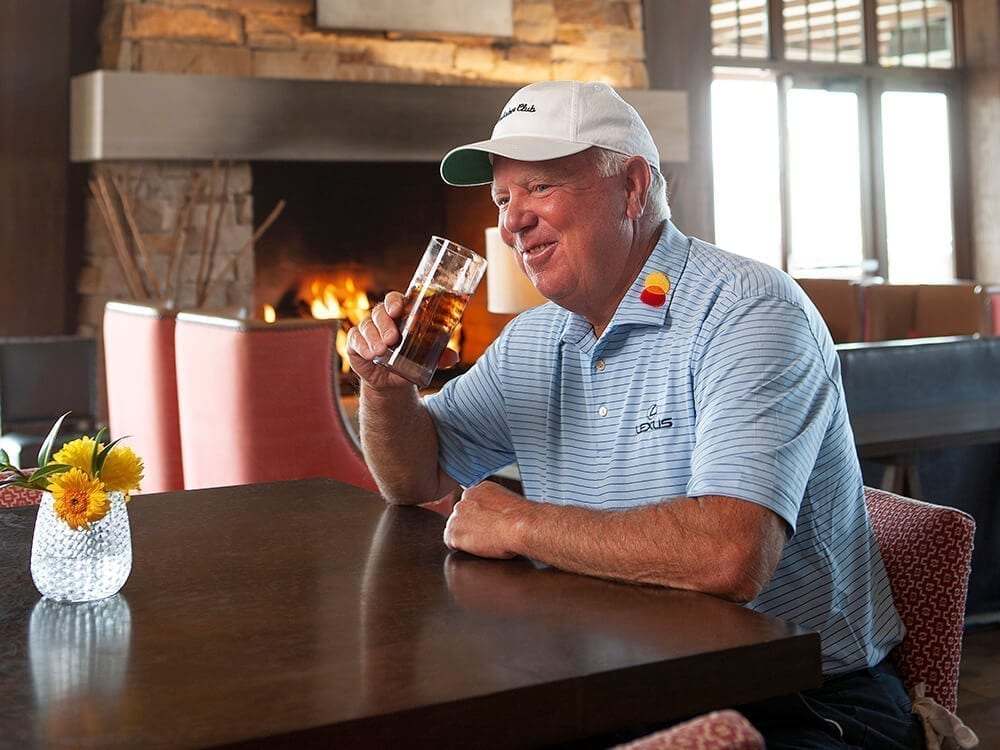 He stores his sleds on a ranch owned by close friend Marty Howard, a retired police officer and published author who 16 years ago hooked the golfer on another outdoor passion: fly fishing. "I liked to bass fish, and I thought fly fishing was, well, kind of artsy," O'Meara says with a laugh. "Then a friend in Salt Lake set up me and Hank Haney to go fly-fishing one day with these two guys, Monty Howard and his son Marty."
Now, O'Meara loves wetting lines on the Provo and Green rivers, Sixth Water Creek, and some lesser-known spots he won't divulge. He's also helicoptered to British Columbia's Skeena River to chase steelheads, camped along the Deschutes, and cast a nymph into every river, lough, and stream in Ireland.
A map of Irish waterways hangs in a small but tidy basement studio where O'Meara meticulously ties flies, stores his estimated 150 rods—"trout rods, bass rods, two-handed spey rods, and saltwater rods for tarpon and bonefishing"—and more than 50 reels.
Among the reels is one of two Hatch custom models inscribed with "Mark O'Meara World Golf Hall of Fame 2015." Its identical twin joins the clubs, fly rods, and other personal items filling his loc er in the St. Augustine pantheon.
Back by the pond along Tuhaye's 9th fairway, O'Meara brings up the Hall of Fame. Told how heartfelt his induction speech sounded, he says the only thing he didn't mention that night "was what Tiger meant to me in my life, him coming into my life. Everybody knows the relationship. But he didn't show up, and he should have been there."
Just then the line tugs. O'Meara reels in the little fighter. "A tiger trout," he says, without a trace of irony. He unhooks and releases it back to the watery graveyard of golf balls, the surface of the pond smoothing to reflect the cloudless serenity of a place he describes simply as "heaven."