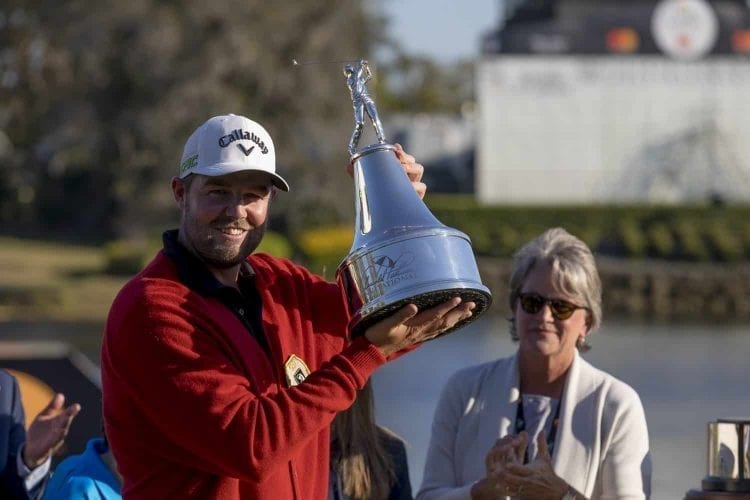 Marc Leishman won the Arnold Palmer Invitational Sunday. How he won it though, would make even Arnie proud.
Heading to the 16th hole a shot back of the lead, Leishman was kind of an afterthought considering Kevin Kisner and Charley Hoffman, the two 54-hole leaders had been duking it out all day. Throw in the fact that Rory Mcllroy was making a late afternoon charge, and you had yourself quite the leaderboard.
After getting on the green in two, Leishman was looking at about a 50 foot putt for eagle and the lead. If you didn't see it live, here it is:
We have a new leader! 🚨 #QuickHits pic.twitter.com/tXhJ6Vm72C

— PGA TOUR (@PGATOUR) March 19, 2017
"I actually hit that putt on Tuesday and missed it about 3 feet left," Leishman said after the round. "It doesn't break too much so I read it and I was over the putt and then I remembered that I had hit it, so I backed off, took another practice swing, and adjusted my read about two feet."
Even after that eagle, Leishman wasn't in the clear just yet. He still had Rory, Kisner, and Hoffman breathing down his neck just one back.
One by one though, the three guys behind him started falling off. Rory 3-putted 18 to end any chance he had to get to 11-under. Hoffman couldn't get up and down to save par at 17. Kisner, who had as big as a four shot lead at one point on the back 9, came home with 4 straight pars to miss out on the possible playoff by one shot.
With the win, Leishman gets a $1.6 million check, trophy, and a Masters invite. The fourth thing he gets though, might be the most special of them all.
For years, the winner of the Arnold Palmer Invitational received a blue blazer with the tournament logo on it. This year, and going forward, the tournament has decided to award the winner a red cardigan, similar to the one Arnold Palmer made famous all those years. Leishman is the first champion ever to put that on.
"It's amazing, obviously," Leishman said. "It's such a special year to honor Mr. Palmer how they have. It's unbelievable. Obviously, it's sad not to have him up there on 18, but to play how I did and win any tournament huge, but especially this one."