By George Peper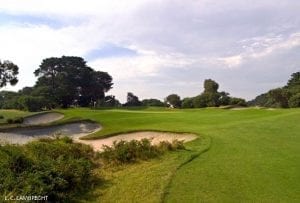 The year 1926 was a big one for Dr. Alister MacKenzie. In February he made the first of several trips to California, where he received a commission to design Cypress Point, an assignment that would later bring him a fateful meeting with Bobby Jones, the result of which was their collaboration on Augusta National Golf Club.
In September of the same year, MacKenzie boarded a steamer for a 30-day voyage to Australia, where the members of Royal Melbourne Golf Club had invited him to redesign their course.
MacKenzie would spend 10 weeks in Australia on what was likely the most productive business trip in the history of golf course architecture. In addition to transforming Royal Melbourne, he designed or redesigned more than a dozen other courses in Sydney, Brisbane, Adelaide and an area known as the Melbourne Sandbelt.
Disagreement prevails as to what exactly constitutes the Sandbelt. In purely geographic (or geologic) terms, it's a 200-square-mile area of undulating sand-based terrain just south of city center. From a more narrowly defined golf standpoint, the Sandbelt is the concentrated suburban patch that accommodates the clubs known as the Seven Sisters.
Four of them—Royal Melbourne, Kingston Heath, Metropolitan and Victoria—are ranked in the top 10 of Australia's nearly 1,600 places to play, while the other three—Commonwealth, Yarra Yarra and Huntingdale—are in the top 40. None is on or near the sea, so they don't qualify as links. But their sandy soil, couch-grass fairways and bentgrass greens make for firm and fast conditions, so the playing experience is links-like, especially in a wind.
Thankfully, a fair breeze was blowing during my visit. Otherwise, I might well have perished while playing the Sandbelt courses. I had managed to make my journey coincide with the fiercest heat wave in the history of southeastern Australia. Fair enough, I suppose. I had made the trip, after all, because Melbourne has become one of golf's hottest hotbeds. The courses of the Sandbelt have been joined by a second hub—the Mornington Peninsula, 35 miles farther south—where during the last decade several high-quality courses have debuted across a dramatic dunescape.
MacKenzie's Melbourne
As I stood in 100-degree heat and 25-miles-per-hour wind on the 1st tee of the West course at Royal Melbourne, staring at a fairway wide enough to land a 747, I was reminded—as I would be several times—of the Old Course. Which isn't surprising considering the West course was the work of a man who spent a career applying the lessons he'd learned in St. Andrews.
As at the Old Course, there is a lot of room off the tees of Royal Melbourne but always a preferred side of the fairway. Careful planning is as important as solid shotmaking because the greens cant and slope as precipitously as the putting surfaces at Augusta National, and are every bit as smooth and slick. If you're on the wrong side of the fairway, your odds of hitting the green are almost nil.
However, the element for which Royal Melbourne—and indeed all of MacKenzie's work in the Sandbelt—is revered is the bunkers. Carved out of the sandy turf by horse-drawn scoops, they present themselves in a profusion of bright white cloverleafs, butterflies, cat's paws and mushrooms, magnetically attracting both attention and shots.
The most photographed hole is the West course's 176-yard 5th, nestled in an armchair of scrub-covered dune. Patterned after the 11th at St. Andrews, its green is pitched steeply from back to front and cinched by bunkers on both sides.
The hole that follows is an heroic par 4, its fairway sweeping grandly from left to right around bunkers and brush. From the elevated tee the assignment is clear: Cut off as much of the corner as you dare to leave an easier angle to the fiercely contoured green. Being a sucker for this type of hole, I went for a big drive and caught the top lip of a bunker. Hole over.
I'm also a sucker for short par 4s, despite no longer having the power to drive them. At No. 10, hoping to whip a low running hook around the corner and onto the green, I duck-slapped one into what has to be the largest, deepest bunker in southern Australia.
The East was designed by 1924 Australian Open champion Alex Russell, a Royal Melbourne member who assisted MacKenzie on the West and earned the master's respect to the extent that he made Russell his partner on all Australian projects. The look and feel are similar to the West, particularly in the artfully constructed bunkers and greensites, but the strongest holes are at the start and finish.
The finishing trio is particularly striking: a par 3 with a bunker that nearly bisects the green, a par 5 with a string of bunkers crossing the fairway diagonally, and a par 4 that plays 432 yards to a green all but encircled by sand. For major competitions, six of the early and late holes merge with 12 from the West to form a composite course that is better than either 18. This layout will next see action in the 2011 Presidents Cup.
Both the East and West rank among the top 100 courses in the world. The only other Sandbelt course on that list is Kingston Heath Golf Club, the site of the Australian Masters in November—Tiger Woods' last hurrah before his fall from grace.
Kingston Heath's founders followed advice from Harry Vardon, who told them to build a course "to stand the test of time." In 1925 Sydney professional Dan Soutar produced a then-whopping 6,312-yard layout that has since kept pace with technology. With fairways hemmed by rough and sandy scrub, the lines of play are more clearly defined than at spacious Royal Melbourne.
But there are opportunities to swing away, as at the drivable 3rd. It was another steamy morning and my back was feeling uncommonly limber, so I gave it a go, this time managing to avoid sand and leaving a chip-and-putt birdie. Having parred the first two holes, I was for that brief shining moment Down Under Par.
MacKenzie was responsible for Kingston Heath's bunkers, shaped similarly to those at Royal Melbourne but often fringed with long-bladed lomandra grass, a look of shabby gentility that fits with the club's relaxed atmosphere. He also made one routing change, replacing a short par 4 with an uphill 154-yarder on the 15th, generally agreed to be the best hole on the course.
It was high noon when I finished. While removing my shoes in the parking lot, I made the mistake of placing my palm on the near-molten hood of my rented Prius, resulting in a quick interpretation of Riverdance that seemed to entertain a couple of passing teenage lads.
Metropolitan golf
The heat remained hellacious the next morning; it was an ideal day for a cart. Except the top Australian clubs don't believe in them—or in caddies. Blessedly, the itinerary called for me to play Metropolitan Golf Club.
Here is a different look—dense corridors of tall trees shaping and shading each hole, and no real changes in elevation. It is a Mackenzie course—not Alister but J.B., a local engineer who was hired by a group of Royal Melbourne members who formed their own club. The property they chose was mostly farmland, but thousands of native trees and shrubs were introduced.
Just outside the clubhouse sits the most famous of them, a 100-year-old red flowering gum tree that is part of the club logo. The diverse flora became home to dozens of species of exotic birds, as I found at a teeside water fountain, where I had to wait my turn behind two parrots and a cockatoo.
While all the Sandbelt courses are in very good condition, Metropolitan stands out. The fairways are immaculate and the gently contoured greens putted like glass. But once again, the most arresting feature is the greenside bunkers. The razor-sharp edges swerve boldly into the hand-mown surfaces—there is no fringe—which makes for some intimidating putting assignments. At the par-4 9th, I beached my birdie putt and made double.
The toughest hole may be the closer, 480 yards into the prevailing wind to a two-tiered green protected by sand. The hole surely is not Greg Norman's favorite. In the 1979 Australian Open, he three-putted to lose to Jack Newton. Eighteen years later, from almost the same spot, he three-putted in a playoff against Lee Westwood.
The players' club in the Sandbelt is Victoria Golf Club. In 1954 members Peter Thomson and Doug Bachli won the British Open and Amateur, respectively. And Geoff Ogilvy has never won the club championship in nine attempts.
The course was designed by two members with assistance from the ubiquitous Dr. MacKenzie. It's set on rolling terrain but is also tree-lined—a bit more so than current members would like, so a renovation program under Michael Clayton is returning the course to its less-forested former glory.
The best par 5s in the Sandbelt may be here, and they end each nine. The 9th is a brute, twisting 610 yards right to left, over a hill and through parades of bunkers right and left. Almost as difficult is the 17th, doglegging 583 yards right with eight bunkers. Happily, the 18th is about 80 yards shorter and also downwind.
I had been quite pleased with my travel logistics thus far, leaving my Melbourne hotel each morning against the traffic flow before returning to the city as the working stiffs headed home to the suburbs. It all made great sense until I saw Victoria's offerings.
For $230, you can stay overnight, play unlimited golf and get three meals. Plus you're just a stone's throw from the other clubs in the area. Melbourne has plenty to see and do, but if you go for the golf, go to Victoria.
If I had had a few more days, I would have camped there and played the other Sandbelt gems: Commonwealth Golf Club with its two- and three-tier greens, Yarra Yarra Golf Club with a terrific quartet of par 3s (including a 220-yard opening hole), and Huntingdale Golf Club, where Norman won six Australian Masters.
But the time came to leave the city behind.
Mornington News
As the Monterey Peninsula is to San Francisco and the Hamptons are to New York City, so is Mornington Peninsula to Melbourne. A little more than an hour's drive from the city center, this boot-shaped 36-mile-long headland had been the longtime summer playground for Melburnians, replete with broad sandy beaches, quaint coastal towns, hillside vineyards and olive groves. Now it is also the home of more than two dozen golf courses, several of which are worth a visit.
My base camp was Peppers Moonah Links Resort, a 96-room golf hotel in the heart of the 1,500-acre area known as the Cups for its immense saucer-like dune formations. Two dissimilar courses adjoin the hotel. The first is the Open course, designed by Thomson expressly to hold the Australian Open, with plenty of spectator room as well as the obligatory amphitheater 18th green. The Leviathan, as Thomson likes to call his course, is 7,500 yards from the back tees.
The five-time British Open champion brought to bear many links features: blind shots, broad billowing fairways and a minefield of pot bunkers. It isn't a course that impresses visually, but that's in keeping not only with links golf but also the low-key Thomson, a fellow who vacations in St. Andrews for several weeks each summer and walks the town happily unnoticed.
The Legends course, from Thomson's associate Ross Perrett, bobs and weaves delightfully through massive hills and valleys, a combination of woodland and links-like land dotted by 1,000-year-old gum trees. Kookaburras and magpies offer encouragement along the way and you may also hear a thunder of hooves, as the adjoining property is a training station for thoroughbred horses.
In keeping with the Legends idea, each hole is named after a prominent golfer. After bogeying Aaron Baddeley, Steve Elkington, Greg Norman and David Graham, I righted things with birdies at Arnold Palmer and Gary Player, the latter coming after a 7-iron pelted the back of the canted green and trickled to within an inch of the cup. With help from a birdie at Ivo Whitton (a Bobby Jones-era amateur who won five Australian Opens), I broke 80 for the first and last time of the trip.
A few miles to the east, in an area unfortunately named Camp Schank, is the National Golf Club, a 20-year-old facility with three quality courses emanating from a cube of a clubhouse that features five stories of plate glass and an underground parking garage, and could pass as the Australian headquarters of IBM.
The National's 54 holes come from Robert Trent Jones Jr., Norman and Thomson. All three are fun and challenging, but my clear favorite was Norman's Moonah course, its fairways heaving and winding artfully through the grass-covered dunes.
The routing takes full advantage of the dramatic elevation changes and offers plenty of options from the tees. The hole that stood out on the front side was No. 6, a short par 4 with the approach played over a valley to a green tucked into a hillside, while on the back it was the par-5 15th, tumbling steeply from right to left and then climbing back to a perched green.
Thomson's Ocean course unfurls across lower ground. The ups and downs are not as dramatic, and the design again reflects Thomson's subdued persona in contrast to Norman's bravado.
High on a bluff is Jones' Old course. Its sloping hillside fairways are lined by trees, so accurate driving is vital. The views are the best on the peninsula, and the showstopper is No. 7, a 152-yard shot over a chasm of thorny brush to a tabletop green backdropped by the Southern Ocean. Depending on the wind it can be a wedge or a wood.
Just down the road is the Dunes Golf Links, where Australian course designer Tony Cashmore transformed an undistinguished layout into one of the nation's top public courses. True to its name, the course sits on a stretch of towering dunes; there is only one tree on the course. With lots of ups and downs and an omnipresent wind, gauging approach shots is the challenge.
There is one other course of note in Mornington: St. Andrews Beach, designed by Tom Doak and Clayton. It was closed during my visit because of financial difficulties, but it's now back in business. Similar to Doak's work at Pacific Dunes, it pays homage to links golf with little interference with nature and plenty of playing options on each hole. According to the locals, this is the peninsula's most fun course to play.
Non-golfers can enjoy a poor man's Napa or Tuscany, with dozens of wineries and olive groves within a short drive. It's a bit cooler than Melbourne (for most of my visit the temperatures remained in the balmy low 90s) and less than half an hour away are the towns of Portsea and Sorrento, teeming with art galleries, souvenir shops and beachfront restaurants.
Is Melbourne the world's best major city for golf? No, New York is number one.
But is Melbourne the place with the best collection of courses that actually allow you to book a tee time and play? Indeed it is.