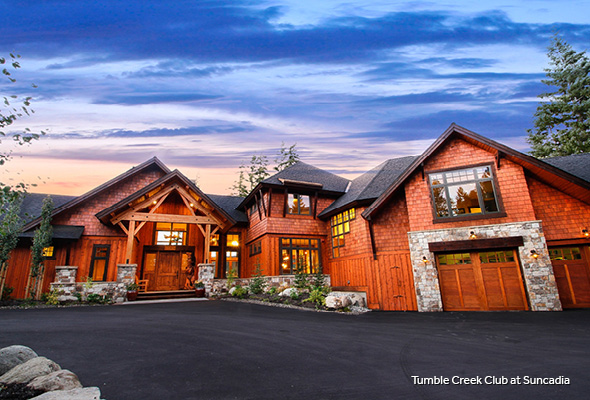 Describing life at Tumble Creek, VP of Sales and Marketing Richard Seay says, "Come, put your stuff down, go do things." Because when it comes to "things," the private community inside Suncadia resort 80 miles east of Seattle offers variety as wide as the vistas.
Besides access to the resort's offerings (two golf courses, other sports, a spa), owners at Tumble Creek enjoy exclusive amenities. There are year-round pools, tennis, and a fitness center. The family-focused community has its own park with treehouses and a sports court; hiking/biking paths (groomed in winter for cross-country skiing); outfitters to set up fly fishing, bird watching, and river floats; even glamping—"glamorous camping" on king-size beds with Egyptian-cotton sheets and feather pillows.
The members-only Tom Doak-designed course rolls naturally through the foothills of the Cascades Mountains. Playing across two plateaus, high and low, it has proven tough enough to twice host U.S. Open qualifying.
Winter brings horse-drawn sleigh rides, ice skating, snowshoeing, and tubing. Downhill skiing is nearby. 
The average lot is an acre and starts around $150,000. Homes range from $990,000 to $4 million. Owners open their homes each month to meet the neighbors and sample different wines. "It's a very social place," explains Seay.