The perfect antidote to the crowds and clutter of coastal destinations, this beachfront community on Virginia's Cape connects its members to the natural beauty that surrounds them
It's not often that you hear of a golf community eliminating nine holes from its award-winning lineup and improving the golf experience. But that's exactly what Bay Creek, on Virginia's Eastern Shore, has done. Even rarer is for a golf community to take that step in order to turn the acreage back to nature.
The first resort community in the U.S. to feature Signature courses from both Jack Nicklaus and Arnold Palmer, Bay Creek got the blessing of both designers' teams to take nine holes from the Nicklaus course and make them part of 350 acres of permanent Nature Preserve. The land will be dedicated toward exploration and preservation and be protected against future development. But not to worry: The 27 holes that remain are among the most scenic in eastern Virginia, with some holes hugging Chesapeake Bay and offering breathtaking views.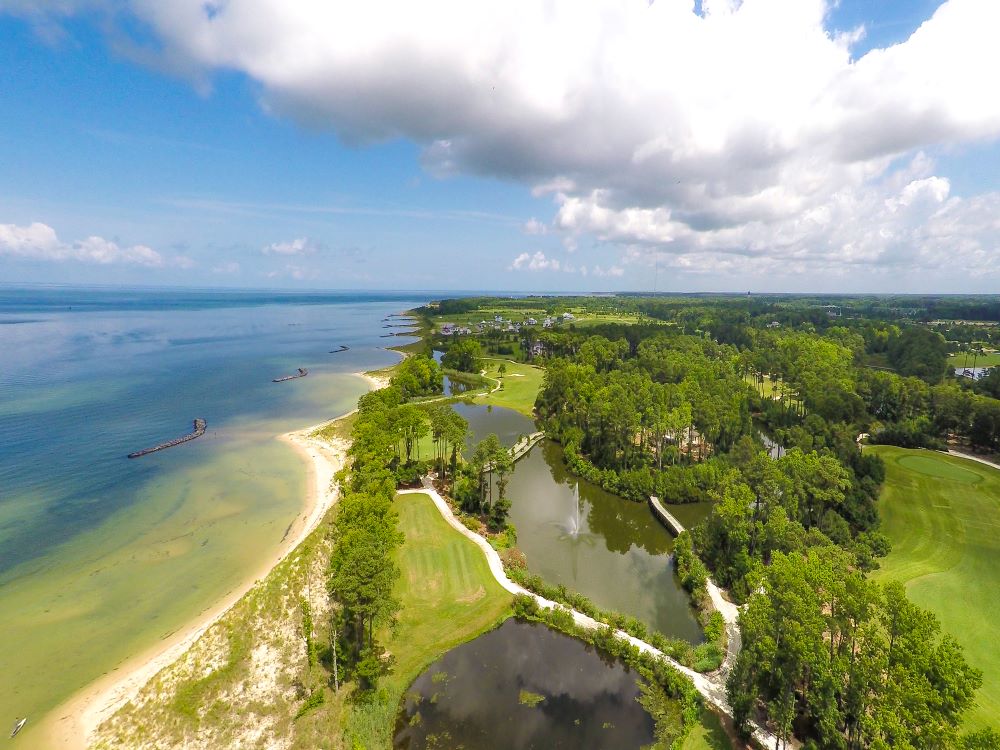 "Virginia's Cape offers the most beautiful balance between sprawling waterfront and pristine nature and wildlife, something which is unique to our location on the East Coast," says Jim Sinnott, President of Preserve Communities, Bay Creek's new owner. "We believe in thoughtful development and by designating several hundreds of acres here in Bay Creek to conservation, we're practicing just that."
The newly designated Nature Preserve property encompasses old growth woodlands, meandering creeks, tranquil ponds, and expansive wetlands. The land abounds with hundreds of wildlife species and will provide Bay Creek owners with the opportunity to enjoy outdoor activities such as morning yoga and sunset gatherings at the natural coves along the shoreline.
Plans are to develop a multi-phase Base Camp as the epicenter of the Nature Preserve. From Base Camp, residents can explore a pristine tidal waterfront perfect for all kinds of activities, including water sports, camping, and fishing. The inland acreage will feature a working farm, community gardens, and picnicking. Through a partnership with Avid Trails, a 22-mile network of walking and biking trails (along with activity stations) will be incorporated throughout the Preserve.
Located just across the Chesapeake Bay on Virginia's Eastern Shore, the multi-generational community offers a diverse collection of neighborhoods and home styles alongside its amenities and active lifestyle programming. Within striking distance of Richmond and Norfolk, Va., and Washington, D.C., Bay Creek is perfectly positioned for a primary residence, second home, or vacation getaway for those who want to mix great golf with tranquil waterfront living.