Come for the three Open Championship venues on England's Lancashire coast, but stay for six lesser-known links
There are nine courses currently on the R&A's Open rota, and three of them—including Royal Liverpool, the venue for this year's 151st championship—are within an hour-and-a-half's drive of one another amidst a glorious stretch of linksland between Liverpool and Blackpool on the Lancashire coast of northwest England.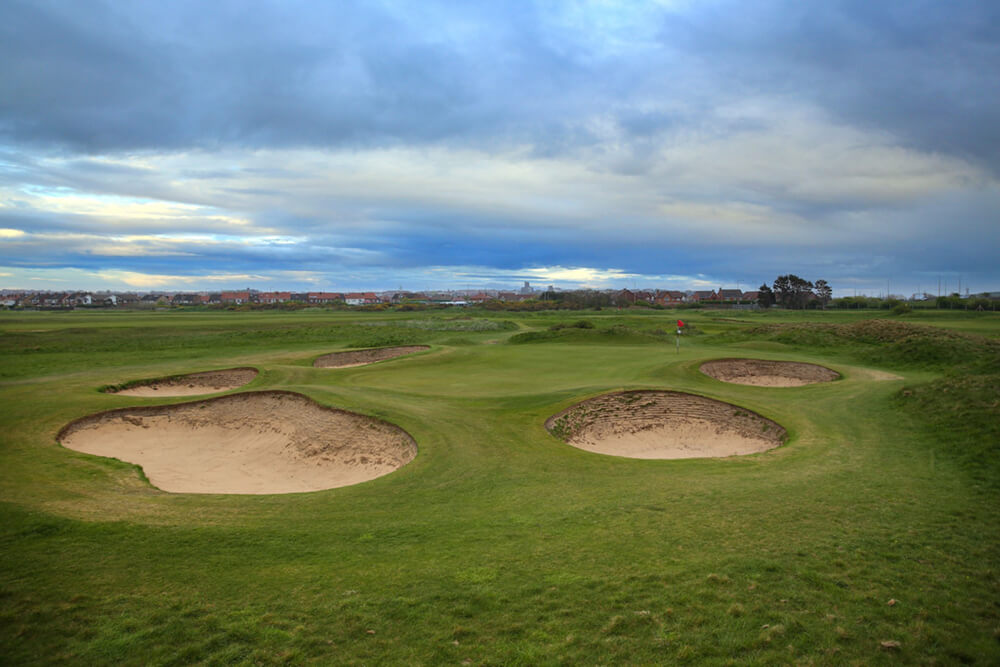 Royal Liverpool, or Hoylake, as it is also known, is England's second-oldest links and has been hosting Opens since 1897 (this will be its 13th). Royal Birkdale, barely 20 miles to the north as the crow flies, has held 10 Opens, while Royal Lytham & St. Annes, situated a little further north near Blackpool, has staged the championship 11 times. Those who've won golf's oldest major and raised the famous Claret Jug along this coast include Walter Hagen, Bobby Jones, Arnold Palmer, Gary Player, Lee Trevino, Tom Watson, Seve Ballesteros, Tiger Woods, and Rory McIlroy.
Three legendary links situated just 50 miles apart certainly provide sufficient incentive for a golf pilgrimage. But wait. Accompanying the Big Three are six other links more than worthy of your exploration: Wallasey, West Lancashire, Formby, Southport & Ainsdale, Hillside, and St. Annes Old Links. In fact, while several areas within the British Isles are blessed in both the quantity and quality of their golf courses, perhaps only East Lothian in Scotland can rival the Lancashire coast for its concentration of exceptional, and authentic, links.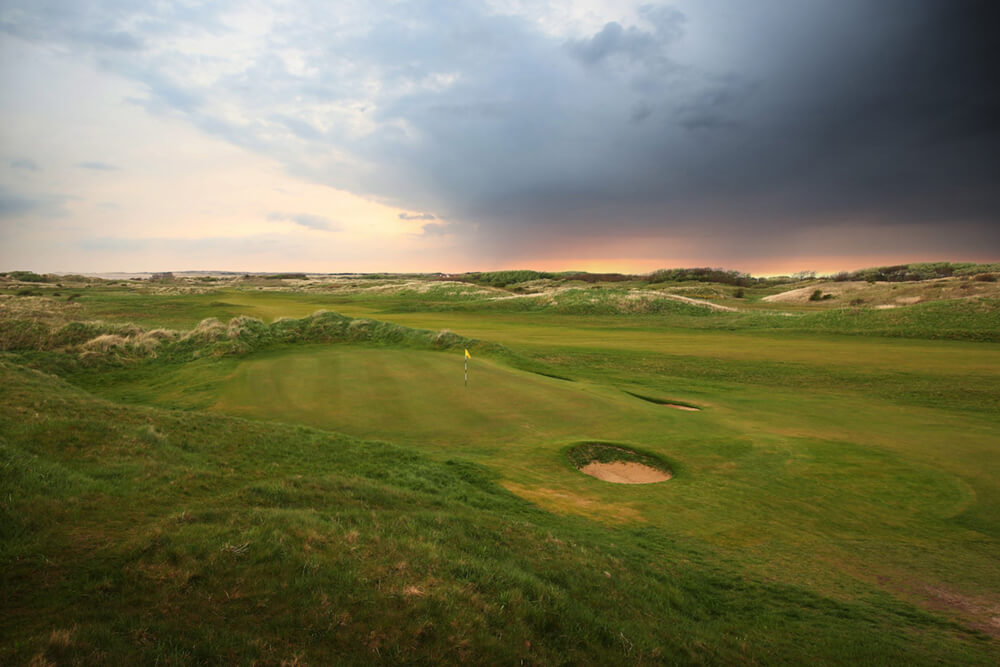 Commence a tour just to the west of Liverpool, across the River Mersey on the Wirral Peninsula. Hoylake is located here, and so too is Wallasey. To describe these near neighbors as "chalk and cheese" would be an exaggeration, although they are very different, especially in terms of topography. While there are only a few significant undulation changes at Hoylake—where subtlety reigns—a game at Wallasey is the golf equivalent of a rollercoaster ride. As at the fairground, the views from the highest point (the 4th tee) are thrilling, but then nothing is routine at Wallasey. On some holes, the sand hills are gigantic and very much in play; on others, they are practically non-existent, putting the golfer at the mercy of the elements. The most memorable moment frequently comes at the end of a round, playing the dramatic, dune-framed 18th with its fairway cascading down to a stage-like green that is backdropped by a wonderfully atmospheric clubhouse.
Heading north along the coast above Liverpool, West Lancashire and Formby come next. The former is often described as the most underrated in the area, while the latter is widely lauded as the most visually splendid.
Laid out over classic links terrain between the shore and an old railway line, it is hard to explain why West Lancashire doesn't garner more praise. Maybe it is a consequence of having Royal Birkdale just up the road and Royal Liverpool just down, or because when critics remark that there are "no real stand-out holes," what they should be saying is, "there are no weak holes whatsoever." In any event, West Lancashire will likely gain additional plaudits this summer when the club celebrates its 150th anniversary and hosts one of the four Open Championship Final Qualifying events.
It is not difficult to fathom why Formby has legions of admirers. First and foremost, it is a superb links course—a worthy venue for the (British) Amateur Championship on several occasions—and one which possesses all the traits that make links golf so fascinating and occasionally infuriating. Yet even golfers who typically prefer to play on inland courses, in less exposed environments, cannot help loving Formby. This is in large part due to its wealth of mature pine trees, which, in addition to providing some protection from the wind lend an elegant heathland-like flavor.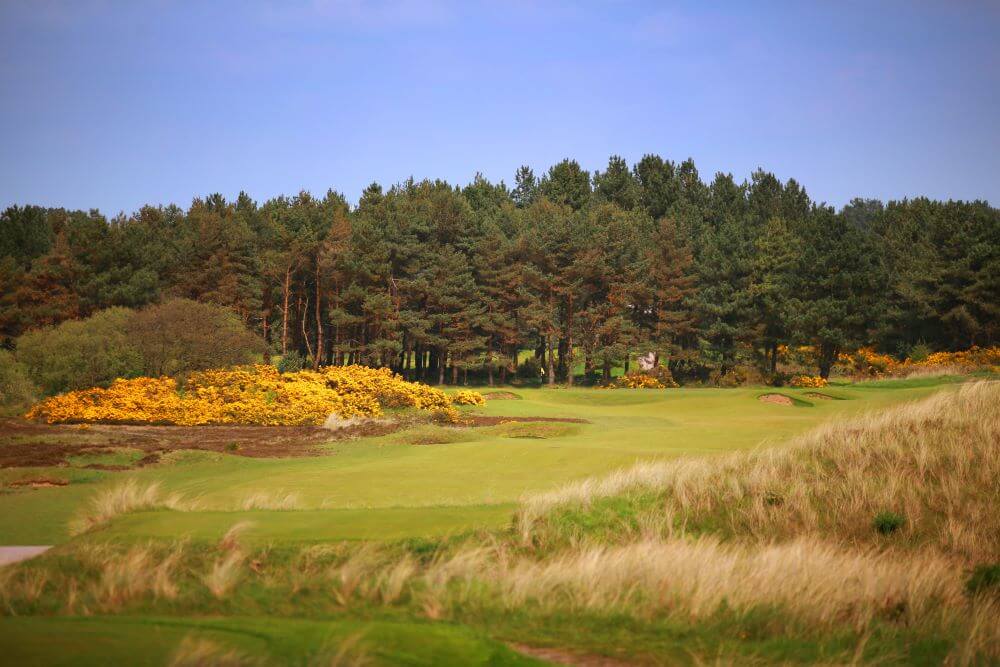 It takes just minutes to travel from Formby to Southport, the very heart of "Golf Country." Not a large town—the population is less than 100,000—it feels almost encircled by golf courses, with Southport & Ainsdale the first to experience.
And "experience" is the appropriate word, for S&A is unlike any links on the Lancashire coast. The club's halcyon days were the 1930s, when it staged two of the early Ryder Cup matches, and there are aspects that can cause modern-day visitors to wonder if they haven't somehow stumbled across a course caught in a time warp. It is distinguished by its crumpled fairways, upturned saucer and tabletop greens, deep pot bunkers, and a plethora of blind shots. Plus one hazard extraordinary even by local standards: the enormous, railway-sleeper-faced cross bunker known as "Gumbleys" that must be confronted on the par-five 16th.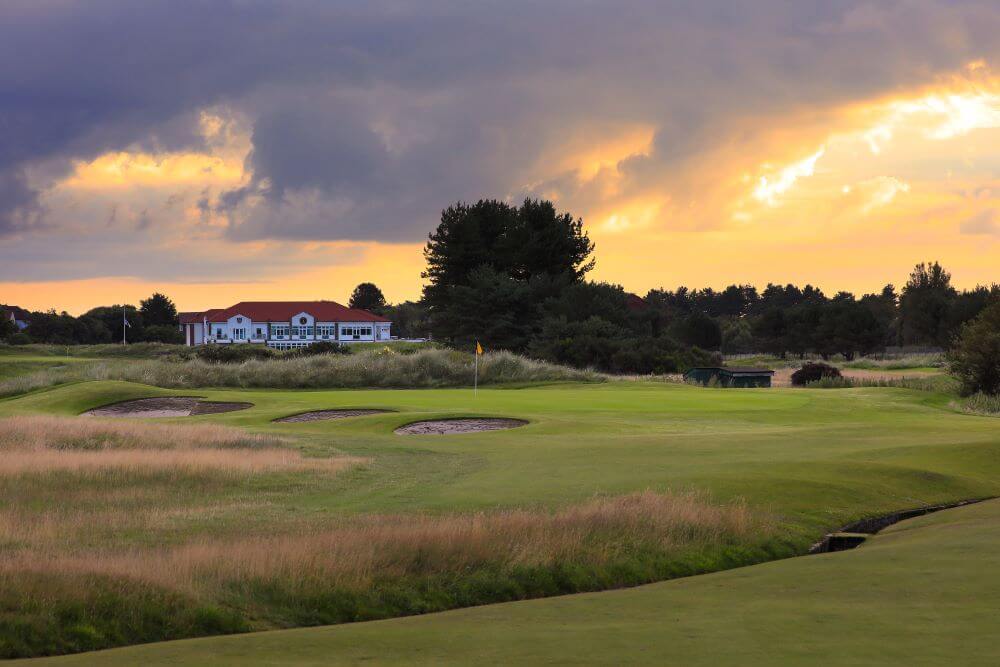 Just another five or so minutes away, Royal Birkdale and Hillside are laid out on land so adjacent that a golf writer once suggested that they should be renamed "Southport Old" and "Southport New."
Birkdale's reputation is as "the fairest and finest links in England," and since the Second World War it and Royal Lytham & St. Annes have hosted more Open Championships than any with the exception of St. Andrews. But don't underappreciate the prospect of a round at Hillside, which can justly claim to be the best links in England never to have staged an Open. If you're not pondering this after playing the first nine holes, you'll surely have little doubt after walking off the 18th green, for the back nine at Hillside is simply sensational, its tumultuous dunescape reminiscent of Ballybunion and others in southwest Ireland.
The final stop is the seaside resort town of Blackpool and the area's two most celebrated golf courses, Royal Lytham & St. Annes and St. Annes Old Links. Of course, the former is rather more celebrated than the latter, thanks, in part, to their very different settings: the illustrious neighbor almost on the sea, the other a mile inland and surrounded by redbrick suburbia. But the Old's short 9th hole is one of the finest par threes on this coast or any other.
And did those feet in ancient time Walk upon Englands mountains green: And was the holy Lamb of God, On Englands pleasant pastures seen!

And did the Countenance Divine, Shine forth upon our clouded hills? And was Jerusalem builded here, Among these dark Satanic Mills?

WILLIAM BLAKE
Thank you for supporting our journalism. If you prefer to read in print, you can also find this article in the Summer 2023 issue of LINKS Magazine. Click here for more information.