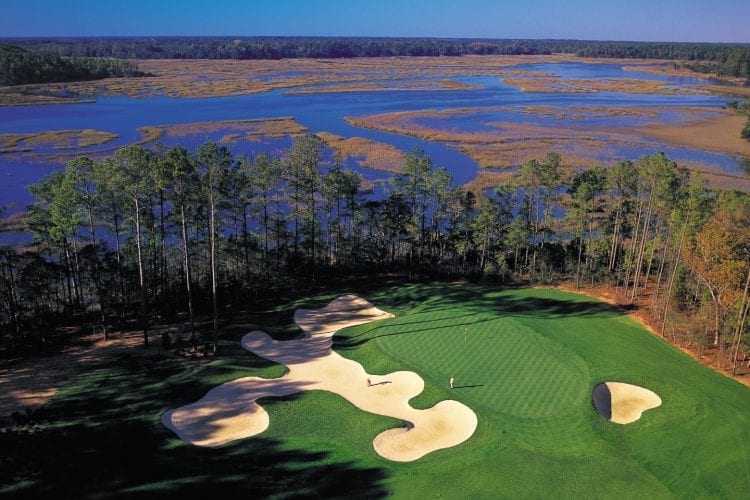 With its perfectly manicured greens and bright white bunkers, the 30-acre Learning Center at Berkeley Hall in Bluffton, S.C., near Hilton Head, resembles Augusta National in its perfection. Members can choose from one of the seven practice greens, three of which are for putting, two for chipping and bunker play, and two more for shots up to 185 yards in length, the distance of which you can pinpoint with the help of a laser gun located right next to the bucket of brand-new Titleist NXT Tour balls.
Or perhaps they want to do more swing analysis, in which case they can pop into one of four hitting bays with the latest in technology, including something called a Swing Catalyst. With one of the area's best instructors, Andrew Rice, at the controls, members climb aboard the carpeted platform to get some unusual—and extremely helpful—feedback on their swing. In addition to four fully synchronized cameras, the $20,000 system features a 3-D pressure plate that measures rotational-force movement to show how well the golfer is using the ground to generate power.
Clearly, Berkeley Hall has really stepped up its game when it comes to offering everything it can to attract golfers who are serious about their game. "For somebody who really loves golf and is a golf geek who wants to work on their game, the Learning Center at Berkeley Hall is tough to beat," says Rice, who grew up in South Africa. "It's a huge factor in getting people to buy here."
But Berkeley isn't the only community with state-of-the-art practice facilities. They're also a big attraction at Reynolds Plantation in Georgia and two communities in Florida's West Palm Beach area, the Bear's Club and Old Palm, which have such good ones that a number of PGA Tour pros belong (the latter even has three full-length practice holes).
Out west, Pronghorn in Bend, Ore., not only has three indoor/outdoor hitting bays, two short-game areas (one is over two acres), and a 50,000-square-foot bent grass practice tee, but it also has the latest teaching toy, GEARS Golf, a $40,000 system that can basically take an MRI of your swing to determine how the movement of your body affects the ball flight.
"Prospective members are amazed by the sheer size and scope of the learning facility at Pronghorn," says Edward Jackman, director of sales and marketing. "The Learning Academy is an essential part of our golf lifestyle and utilized by our members to improve their games to better enjoy all the wonderful golf we have to offer."
Desert Mountain in Scottsdale also boasts an impressive array of teaching technology at its new $1.6 million Jim Flick Golf Performance Center, including seven hitting bays, full-service club fitting, SAM putting lab, and four different short-game areas at its six courses.
"Our membership is very serious about their golf," says Mike Scully, the director of golf. "They love to practice and get better. The performance center gets a lot of use. It's the first stop on the tour when we bring prospective members in, and that's by design. It's a huge selling point. They're blown away to know they have this at their fingertips."