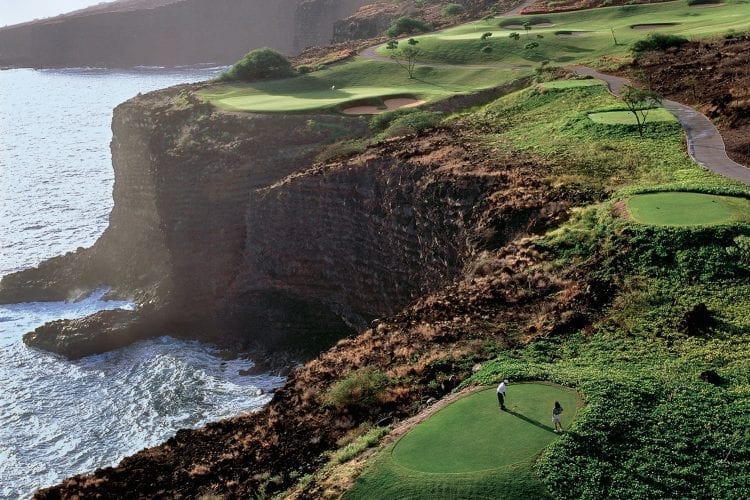 Once upon a time, Hawaii was a place of secluded beaches, unspoiled nature, small towns and laid-back, smiling locals living at a languid pace. On most of the other islands, massive development and numerous visitors have obliterated these traits.
Yet classic Hawaiian ambiance still thrives on Lanai, home to two Four Seasons resorts, Manele Bay and the Lodge at Koele, which have undergone a $100 million renovation.
Manele Bay is for beach lovers, set above a vast and brilliant white sand beach on Hulopoe Bay, with views across the channel to the islands of Maui and Kahoolawe. The larger of the two properties, it is still small by Hawaiian resort standards with just 235 rooms.
The clubhouse for the Nicklaus-designed Challenge at Manele sits a stone's throw from the hotel, and the layout claims the most oceanfront exposure of any layout in a state known for its oceanfront exposure. The Pacific views start on the 2nd tee as the first few holes climb quickly to the course's high point on the 5th hole.
Each hole has seemingly more impressive views than the last, and between the distracting beauty, constant wind and exposed black lava, the Challenge lives up to its moniker, especially at the 12th, which stretches 202 yards—all carry across an ocean inlet—to a green that sits 150 feet below the tee.
Just 15 minutes inland, the Lodge at Koele feels a world apart. The Lodge occupies one of the highest spots and enjoys a remarkably different ecosystem, with temperatures that are 10–15 degrees cooler. The Lodge is surrounded by tall Norfolk pines and is often shrouded in fog, giving it an air of mystery.
Hawaii means sun and surf for most, and not all visitors appreciate the very different experience of the inland mountains. But in many ways the Lodge is even more charming than Manele Bay. It has just 102 rooms, contained in a single building connected by a short breezeway to the main lodge, which has the look and feel of a grand English estate and manor house of a bygone century, with comfortably clubby common areas adorned with overstuffed leather furniture and extensive grounds with formal gardens.
A collaboration between Ted Robinson Jr. and Greg Norman, the Experience at Koele lacks sea views but makes up for it with dramatic elevation changes, lakes, waterfalls and thick tropical foliage. The Experience claims the most dramatic hole on Lanai, the par-4 17th, played from a cliff-like tee box to a fairway some 25 stories below, with the entire hole set in a deep, narrow gorge.
Now that the Pineapple Island has evolved into the Private Island, it may have become more difficult to decide where to go for a Hawaiian golf vacation. If you're looking for a destination without luaus, shopping malls, souvenir stands or crowds, chances are you'll find your way to Lanai.