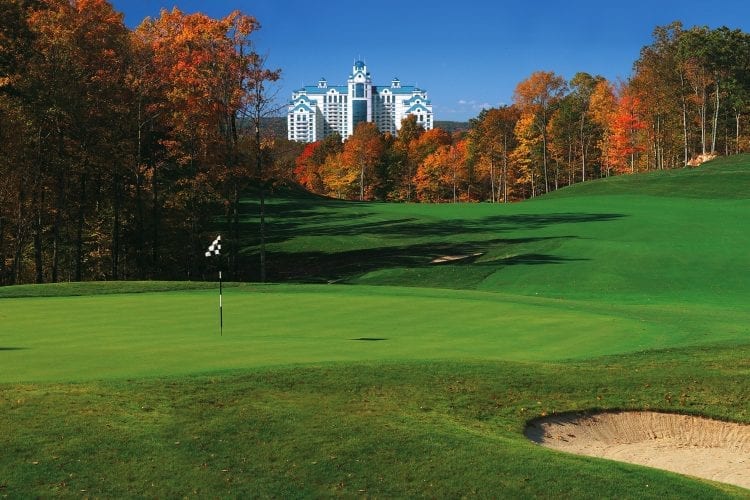 Given its location in southeast Connecticut, along the densely populated New York City-Boston corridor, the opening of the Foxwoods Resort Casino nearly 20 years ago wasn't much of a gamble. In fact, it's just minutes off I-95, so there was no hassle at all to taking the exit and making a slight detour.
Neither was the opening of Lake of Isles, the 36-hole complex—the private South and the public North—across the street from Foxwoods. The courses, designed by Rees Jones and open in 2005, filled a demand for diversions besides the casino.
No, the real gamble at Foxwoods, aside from those found at the craps or blackjack tables, is in the risk/reward elements of many of Jones' holes on the 7,252-yard North. With a large canvas to work from on the hilly heavily treed site surrounding the eponymous lake, Jones crafted a series of very good holes that consistently demand well-judged, well-executed shots throughout the round.
Some of the highlights are the 457-yard 4th, which falls from the tee before rising to the green, the 469-yard 6th, whose fairway is more than 100 feet below the tee, and the 204-yard 7th, which has an angle green that requires a mid or long iron that is carved from left to right.
These solid holes are bolstered by some truly heroic ones, where golfers can go all in. Three of those shots come at the course's climax, the finishing holes. At the 574-yard 15th, a good drive sets up a difficult decision: Try to carry a 3-wood over native grasses to the green, or lay up with a mid-iron.
The 384-yard 17th (pictured, above) may look tame on the card, but the tee shot requires a carry of 250-plus yards from the back tee to reach the fairway. It's an all-or-nothing drive, and making the carry can feel better than a full house in poker.
Then there is the 18th, where the teeing area for the back and middle tees are located on one of the club's namesake islands. From there, players looking to cut off yardage on the 459-yard hole can take as aggressive a line as they dare. Depending on the line and how successful they are, the approach can be anything from a wedge to 3-iron.
While the preceding holes provide fewer risk/reward choices, the North course delivers for visitors looking for some outdoors action. And with the May opening of the MGM Grand, a sleek, modern structure that would look at home on the Las Vegas Strip, Foxwoods offers several lodging, dining and entertainment options.