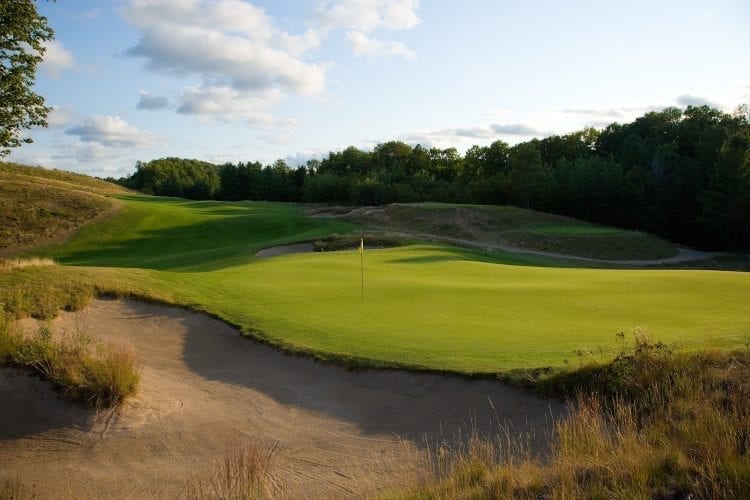 On a gray winter morning, Ed Walker reached for his coffee as he scanned the classifieds section of the Traverse City Record-Eagle. He spotted an ad for a 320-acre site 12 miles south of the resort town in Michigan. Three days later, he and his business partner, Art Preston, bought the property.
The pair then began the process of building their dream: a private sanctuary to Northern Michigan's resort-golf frontier. Walker's vision was fueled by national clubs at which he and Preston held memberships, including Michigan's own Crystal Downs and Nebraska's Sand Hills.
The venture was boosted by the presence of a third player, Fred Muller, head golf professional at Crystal Downs, who had a designer in mind for the Kingsley Club: Mike DeVries. Muller knew he faced a sales job, primarily in convincing the partners to hire DeVries, who had grown up at and been influenced by Crystal Downs, designed by Dr. Alister MacKenzie.
What Walker, Preston and Muller all wanted was what the land perfectly afforded: contours, variety, intrigue, flow. An open front nine of scrub and hills would thread its way into hardwoods and valleys on the back. Angles and visuals and disparate tees would change a golfer's perspective from round to round.
Their vision was nothing compared with the glacier-carved golf holes DeVries refined. MacKenzie's imprint—as channeled through Crystal Downs' influence on DeVries—is conspicuous on the front nine, particularly on holes 2–7. That stretch is rife with swaths of tall fescue, waste areas, and bunkers, hills and depressions that DeVries has exploited to achieve an admirable state of MacKenzie-like illusion.
The back nine, though more influenced by hardwoods, is no less crafty. Two holes stand out. Dr. MacKenzie himself must be applauding the 13th, a 285-yard par 4 that looks perfectly digestible until you confront the green. It is 13,000 square feet of taunts and tricks, especially that plunging bowl in the back. But what a hoot—if you can figure out what to hit and how to play it.
Then there's the 15th, which in its own humble way is every bit the pain in one's knickers that No. 17 is at the Old Course. Like the Road hole, Kingsley's 15th is technically a par 4. Other descriptors have been used by irked challengers who fume about the 455-yard journey, which requires a stout carry on the tee shot and a long approach to a small perched green. But on this course, a fine walking, match-play venue, the 15th fits devilishly and beautifully.
Kingsley is a course of facets, strategies and even adventures. Its subtle tilts, veiled rises and sly bunkers can change one's approach to a shot every bit as much as DeVries' alternate tee boxes, which on certain holes are situated 90 degrees apart.
Walker and Preston understood from the start their particular challenge: Because many of Kingsley's members would also belong to other national clubs, not just any old golf experience would make their club distinctive or successful. Hence the subtle but first-rate ambience and amenities, and events like the annual "Hickory Shaft Open," which clearly fits Kingsley's pure-golf mission.
"There are a lot of things—a fine-car collection, for example—that you can't justify strictly by usage," Walker says. "But what I want people to feel when they come here is that they're at home. The golf course crafted this club, and it's a great course, truly, but what we wanted all along was to have the whole experience here be the kind of warm experience that utterly encompasses a person."
In other words, golf ambiance that is more akin to surround-sound. It's palpable at the Kingsley Club, where, if one listens closely enough, Alister MacKenzie can be heard, whispering fond approval.
Par: 71
Yardage: 6,911
Year founded: 2001
Architect: Mike DeVries