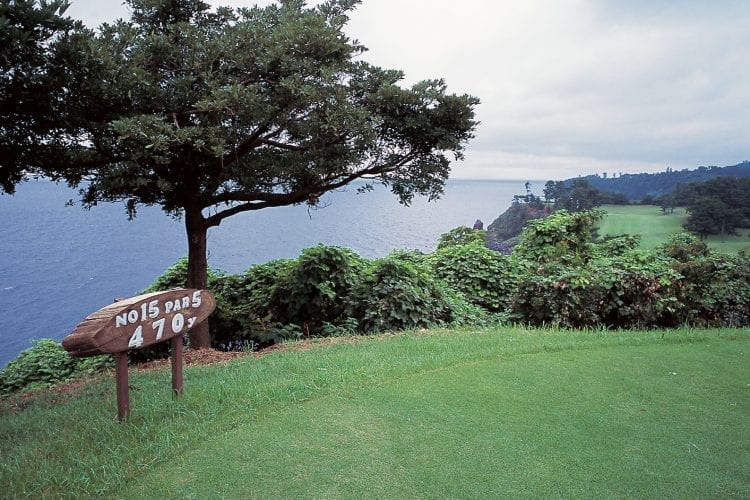 Tucked away on the Izu Peninsula, a rocky thumb of land pressed into the Pacific two hours by express train southwest of Tokyo, the Kawana Hotel, one of Japan's first purpose-built golf resorts, offers two fine courses in a setting that compares favorably to the Monterey Peninsula's epic meeting of land and sea.
The resort's feature venue, the Fuji course, offers a magnificent stretch of golf overlooking Sagami Bay, its holes calling to mind the dramatic clifftop holes at Pebble Beach. Worth crossing an ocean to play? Yes. Wind-twisted pines cling to the high points of the course, which offer sightlines of 12,388-foot Mt. Fuji, the tallest mountain in Japan and one of the most beautiful snow-frosted volcanic cones on earth.
Fuji was one of four original layouts built in Japan from 1932 to 1936 by Charles H. Alison, who also remodeled several others. Alison, an Englishman who formed a lifelong partnership with legendary designer Harry S. Colt shortly after World War I, handled most of the firm's design work in North America and the Far East. Their design principles and strategic nuances were similar. Like Colt, Alison used a drawing board to sketch routings and was not afraid to build a course on a difficult site. With its topsy-turvy terrain and lava-rock subsoil, Kawana certainly qualifies in this category.
Known for his critically placed, often cavernous bunkers, Alison said this of his pitfalls: "Hazards should be visible. In general, they should not penalize to the extent of more than one stroke, provided that the stroke out of them is properly played. They should not be so severe as to discourage bold play. In placing hazards it is vital to keep the course navigable for the duffer. It is perfectly possible to do this, and yet to render it interesting and testing for the first-class player."
Alison was wise enough to break his own rules on occasion. At Kawana, several of the fairway bunkers are not visible from the tee. These yawning, steep-faced sand pits are very punitive. While generally more strategic than penal in his thinking, Alison packed a wallop into his 6,691-yard, par-72 masterpiece.
An exceptionally hilly course—the fairways appear wave-tossed—the Fuji affords very few level stances. The scorecard yardage is deceptive. Four of the holes play straight uphill. The downhill holes, while exhilarating, cannot be overpowered because of their deep bunkers, perched greens and pine-clad corridors. The Pacific air is heavy and must be accounted for in club selection. When the wind blows, this 70-year-old gem is unyielding; but as at Pebble, it's hard to get upset by a few miscues, so spectacular is the setting.
The 1st hole, a 415-yard par 4, plunges nearly 100 feet downhill, its signal feature a gaping maw of sand in the center of the fairway at the bottom of the hill. The fairway, lined by a pine forest, then veers to the right and climbs to a green backdropped by the sea.
Make that greens. Like many vintage layouts in Japan, Kawana has two targets at each hole. The bentgrass greens are used in the cooler seasons, while the alternative greens are planted in korai grass, a coarse, thick-bladed strain. These smaller, flatter putting surfaces are used in the hot, humid summer months. Putts on korai greens must be stroked firmly—the bristle-like grass blades offer significant resistance. Either learn to take a hip turn on a 30-footer, or arrange to visit in spring or fall, the best times of year for golf at Kawana. Spring, when the sakura (cherry blossoms) are in bloom, is especially lovely.
While it is customary at many Japanese courses to stop for a full lunch, hot-springs immersion and an hour-long massage after nine holes, players at Kawana can pause briefly for a cold drink and a plate of sushi at the turn.
The back nine builds in interest. The 11th, a gargantuan 619-yard par 5, and the 12th, a testing uphill par 4, both tiptoe rocky cliffs, the waves thudding on shore far below. One of the better holes on the incoming nine is the 395-yard 13th hole. Seemingly innocuous at first glance, this interior creation, which could pass for a hole in the heathlands outside London, has a huge cross bunker carved into the center of the fairway. Large enough to sleep a dinosaur, it is an obstacle to be avoided at all costs.
While the 13th is a throwback to another era, the par-5 15th is both a strategic gem and scenic delight. A Cape-style creation, the rolling fairway doglegs to the left along the bluffs and dares better players to bite off an indentation in the precipice to find the prime landing area. Risk-averse players must cope with a nest of deep sand pits that guards the bail-out area to the right.
At the devilish 410-yard 17th, an elephantine mound in the center of the fairway conceals a very deep bunker that spells bogey or worse to all who enter. The fairway then proceeds uphill to a well-defended green. The 17th is used as the closing hole in professional competitions, notably the JLPGA's Fuji-Sankei Ladies Classic.
Three words about the caddies: They are terrific. Caddies at Kawana (and throughout Japan) are courteous women in helmet-like hats draped with long white kerchiefs. Long pants and long-sleeved shirts are worn, too. Most are career professionals who use electric trolleys to transport clubs and can assist greatly with course management and club selection. They have great respect for nature and are forever picking up bits of litter or pulling the few weeds that manage to escape the attention of the greens crew. They also replace divots with meticulous care, carefully reseeding divot holes with a grass, soil and fertilizer mixture they carry in a pouch on their belts.
Both courses at Kawana are contained within Fuji-Hakone-Izu National Park. Pheasant, fox and large hawks called tombis can be spotted during the round. Resort founder Baron Kishichiro Okura, a tourism pioneer, purchased much of the property surrounding the resort to further preserve Kawana from commercial encroachment.
The hotel, loosely patterned after an English country estate, has whitewashed walls, red roof tiles and well-groomed lawns that slope to the sea. The lobby lounge, featuring a high-beamed ceiling, fireplace, coat of arms, antique furniture and heavy wood trim, could stage a Noel Coward drawing room comedy. Bring your pipe, order a glass of sherry. Actually, with its get-away-from-it-all, Japan-meets-Europe ambiance, Kawana is a great place to relax, a fact not lost on honeymooners Joe DiMaggio and Marilyn Monroe, who were drawn to the hotel's quiet seclusion.
Expanded several times over the years and now managed by Prince Hotels & Resorts, the property has 140 rooms, some with sea views. The dining is exceptional: Inakaya, a 350-year-old thatched-roof farmhouse relocated from the mountains, serves authentic Japanese fare. There's also a casual Western-style grill and a formal dining room specializing in French cuisine.
No visit to Kawana is complete without climbing to the top of the hotel's observation tower for a view of the beautifully landscaped grounds, its groves of cherry trees, its bonsai-like conifers. Beyond are the rolling fairways of one of the Far East's finest courses.