By Erik Matuszewski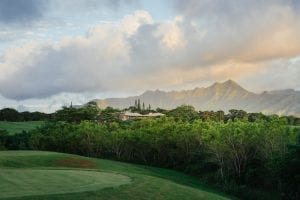 For years, the Prince Course on Kauai has been shrouded in mystery.
The challenging layout, a visual stunner which plays over and through valleys, ravines and rivers on Kauai's lush north shore, hasn't been open to play since the end of 2014 yet somehow remained on various top 100 course ranking lists. Now, the Prince has finally emerged from hibernation, re-opened in connection with a luxury real estate project.
Yet the mystery remains, with an unusual operating model and playing opportunities that are extremely limited. It's not public, not a private membership club and not a resort course. Instead, homeowners from the new master-planned residential community will have access to the golf—again, without a dedicated membership—and any other guests have to be invited by the owners. How far that extends to the local community and whether hotels in the area (such as the luxurious St. Regis Princeville looking out to Hanalei Bay) will have access to select tee times, is still being discussed.
Golfers lucky enough to be invited to play the Prince Course get to tackle a wild bucket-list layout that was once included in a Tiger Woods video game and features rolling terrain, lush greenery, forced carries and rocky streams. They'll also have to share the property—which is now considered a preserve—with hikers, bikers and other adventure seekers. Yes, the course not only has a golf professional, but an adventurist who can set invited guests up with Golfboards and Resort Boards, e-bikes (picture a mountain bike with some power) or plan the perfect hike. All on the golf course.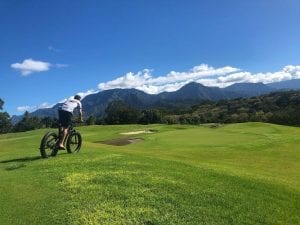 Guests can even bring their dogs.
It's a concept foreign to most golf facilities, and one that seems to defy the traditional thinking and expectations of most golfers. But to understand what's happening at the Prince, one has to appreciate that things operate differently on Kauai's North Shore. Life moves at a slower pace in the Hawaiian Islands and there's even more of a laid-back vibe in the Princeville area, where visitors and homeowners desire to co-exist with the tropical environment and enjoy outdoor adventure.
"It takes a little bit of understanding that we want to play golf, we love golf, but we want to do more on the golf course. We want to embrace beautiful landscape and have fun with it," says Andy Sutton, who is helping lead the adjacent community project as a managing partner for East West Partners. "In other environments, if you're looking at the club model, it doesn't make much sense. Here, it seems like this is totally appropriate. It fits with the vibe of Kauai."
The Prince Course & Preserve isn't like other parks—it's manicured yet rugged and natural. It's billed as a place full of wonder and a place to wander.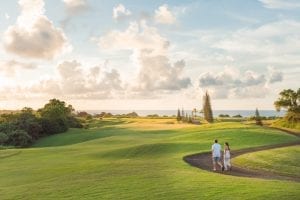 As you'd expect, there are a few safety guidelines to ensure golfers and adventurers co-exist. The flow is tee-to-green, meaning adventurers are required to go in the same direction as golfers, and nothing with wheels (whether golf carts, bikes or boards) is permitted on the greens. Those using the course for anything other than golf are asked to yield to golf shots and then quickly move through. And to ensure there are no added hazards, dog walkers are required to clean up after their four-legged friends.
While unconventional to many, Sutton sees this "golf-plus" approach as very traditional depending on the location. Sutton shared the story of a recent trip to Scotland during which he saw non-golfers, many with dogs, wandering all over the Old Course at St Andrews.
"The people who come, buy and live on the North Shore they all have their different interests, from surfing and kayaking to running and hiking," Sutton says. "But they also have shared values of being responsible to the environment, getting along with everybody, and getting outside. It really fits with the North Shore."
If golfers want a more traditional experience, the Princeville Makai Course is just minutes away.
The Prince's clubhouse, called the North Shore House, is open to the public, with a grocery for visitors to grab food, including prepared meals. But access to the course itself is limited.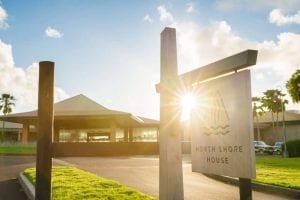 Earlier this month, 73 home sites at the 300-acre North Shore Preserve Oceanside Ranch went on sale, with prices that start at more than $1 million and go up to $6 million. None of them are on the course—at least not in the first stage—but ownership gives access to the Robert Trent Jones Jr.-designed Prince course, which has been kept in a state of suspended animation for the past several years.
Ahead of the re-opening, there was some storm damage to the course after record-setting rainfall in mid-April caused severe flooding and triggered landslides throughout Kauai's North Shore. A small sinkhole opened on The Prince Course in addition to general damage caused by the flooding and downed trees. While repairs will continue through the fall, the course is otherwise ready for play, just with greens that might still be a little slow for some.
The Prince Course was a gem waiting to be polished and "hasn't lost anything," says its architect, who has a North Shore home he visits several times a year. The course's layout is the same as it was in years past, which is good or bad depending on your viewpoint. Some loved the challenges and views it presented; others suggested it was too penal and had quirky angles that took the driver out of play.
Either way, one of the top-rated—and most remote—golf courses in the U.S. is back. With a model that might be completely unconventional, but fully embraces Kauai's North Shore spirit.
______________
Would you be interested in playing a course that has adopted an unconventional model such as the one at Prince Golf Course? Let us know in the comments!