Here's an Independence Day special for the nation's civic-minded golfers: Because golf first took root in America in the 13 original colonies, there's a preponderance of truly great courses on the Eastern Seaboard, including five U.S. Open venues—not to mention the annual home of the Masters.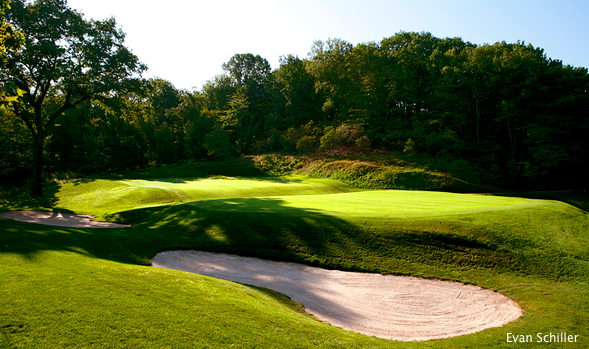 Connecticut: The Course at Yale
This epic design, hewn from a wilderness of swamp, forest, and rock by C.B. Macdonald, Seth Raynor, and Charles Banks in 1926, is a quintessential Golden Age classic. Rugged and massive, with replicas of famous Scottish holes in the routing, Yale confronts players with rolling fairways, cavernous bunkers, and huge confounding greens. Only 6,759 yards (par 70) from the tips, but Yale is the consensus No. 1 college course in the nation.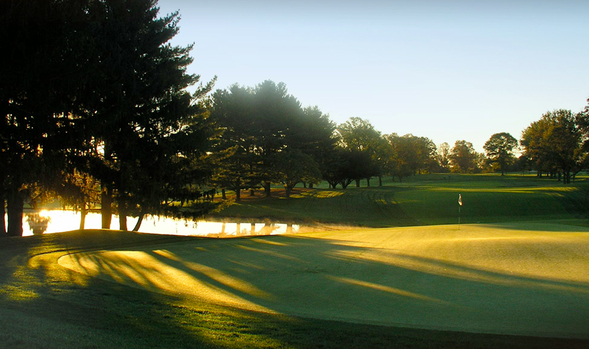 Delaware: Wilmington Country Club (South)
The nation's first state is home to this vintage (1901) 36-hole club that moved around quite a bit in its early years on land leased from the duPont family. The South Course, the club's signature layout, is a splendid parkland design built by Robert Trent Jones in 1960 that has hosted numerous USGA events over the years. A major renovation by Keith Foster in 2008 restored rigor to the 7,334-yard, par-71 layout.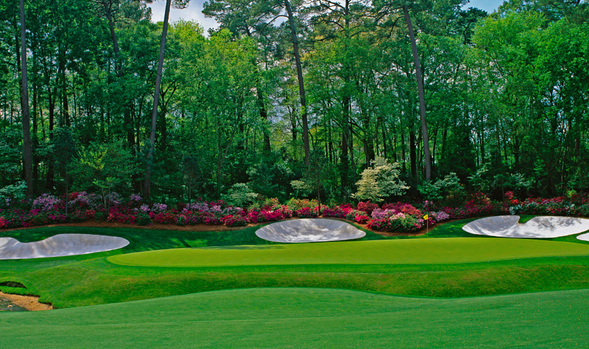 Georgia: Augusta National
Named for King George II and the last state of the original 13 to ratify the Constitution, Georgia is the home, of course, of Augusta National, and everyone's favorite springtime ritual, the Masters. Carved by Alister Mackenzie and club founder Bobby Jones through the hills, dales, and tall pines of a former nursery, Augusta National is a flowing, strategic test renowned for its lightning-fast greens. It is America's finest and most beautiful parkland course.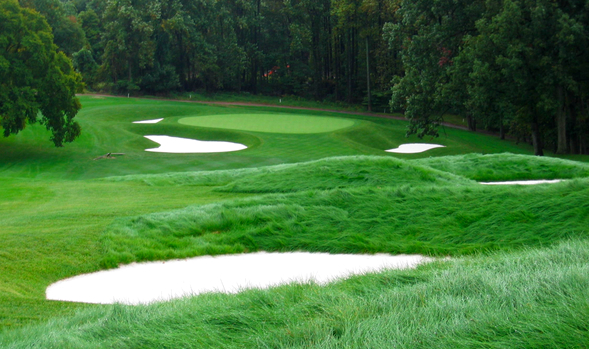 Maryland: Baltimore Country Club (East)
Founded in 1898 and commonly known as "Five Farms," this superlative 36-hole club is home to the East Course, one of A.W. Tillinghast's masterpieces. Sloping greens pitched from back to front and nearly 100 well-placed bunkers characterize the design, which opened in 1926 and has hosted several major events, including the 1928 PGA Championship, 1965 Walker Cup, and 1988 Women's Open.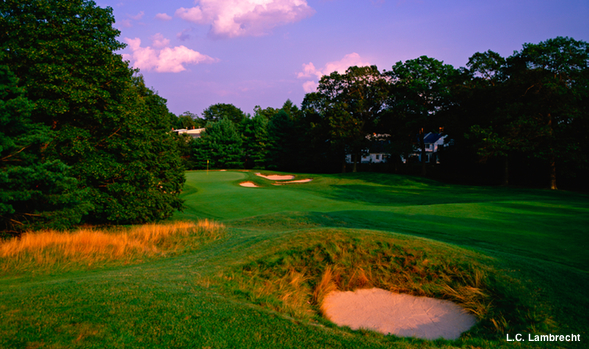 Massachusetts: The Country Club (Clyde/Squirrel)
Immortalized by teenage caddie Francis Ouimet, who against all odds defeated Harry Vardon and Ted Ray to capture the 1913 U.S. Open and vault golf into the forefront of the American sports scene, Brookline is one of the USGA's five founding clubs. Most recently the host of the 1988 U.S. Open and 1999 Ryder Cup, The Country Club is credited with starting the trend of restoring courses to their original style rather than merely remodeling.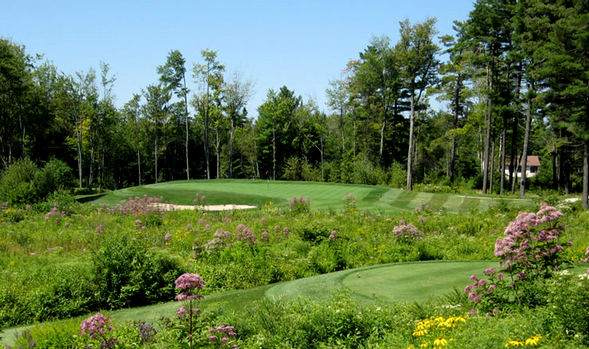 New Hampshire: Baker Hill
The "Live Free or Die" state's top track is Baker Hill, a rugged Rees Jones-designed course laid out on rolling, wooded farmland accented by granite outcrops and crisscrossed by ravines. The course, opened in 2002, overlooks Lake Sunapee, Mt. Sunapee and other New England mountains. The club occupies the farm of Benjamin Baker (1717 – 1799), who served in the 1st New Hampshire Regiment in the Revolutionary War and fought in the Battle of Bunker Hill.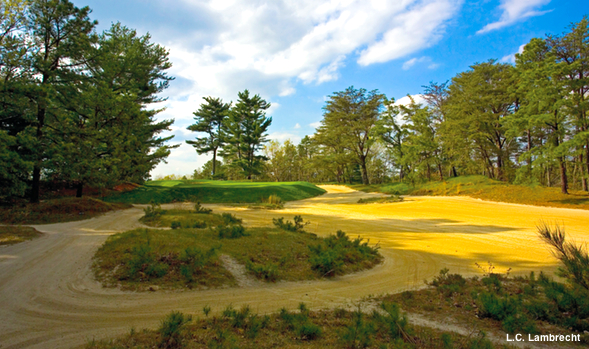 New Jersey: Pine Valley
Only an incorporated township with its own mayor, post office, fire and police departments could get away with a place like Pine Valley, one of the most fiendishly difficult courses ever built. Hacked from a stricken wilderness of pine-clad sand hills outside Philadelphia, the 7,057-yard, par-70 chamber of horrors was built by hotelier George Crump and British designer H.S. Colt in 1918.

New York: Shinnecock Hills
Founded in 1891 (it's the nation's oldest incorporated club), this revered haven in the Hamptons has unassailable credentials: it has hosted the U.S. Open four times in three different centuries and will welcome back the national championship in 2018. Stretched below the Stanford White-designed clubhouse, Shinnecock's windswept holes, angled to all directions, unfold on sandy, undulating terrain bordered by thorny brambles, thick fescue grasses, and over 150 bunkers.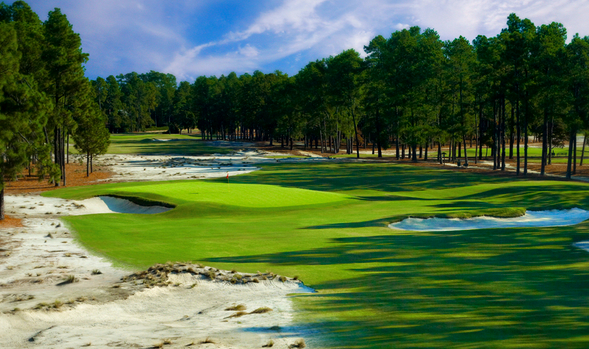 North Carolina: Pinehurst Resort (No. 2)
Having successfully hosted the men's and women's U.S. Opens in back-to-back weeks, the legendary No. 2 course, the Donald Ross-designed Sandhills masterpiece restored by Coore & Crenshaw to its original links-like appearance, is once again the state's top course. The broad fairways, framed by sand and scrub, lead to inverted saucer greens that shrug off indifferent approach shots to close-mown swales and hollows.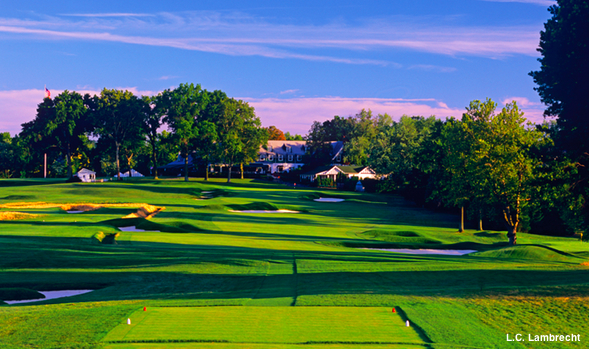 Pennsylvania: Oakmont Country Club
Oakmont narrowly edges out Merion as the top course in the "Keystone State," so named because it's the center of the arch of the 13 original colonies. Laid out by Henry C. Fownes and his son in the suburbs of Pittsburgh in 1903, Oakmont is a grueling, grand-scale test that was restored to its former glory when most of its trees were felled before the last Open in 2007. Oakmont is known for its hard, fast greens and perilous Church Pews bunker shared by the 3rd and 4th holes.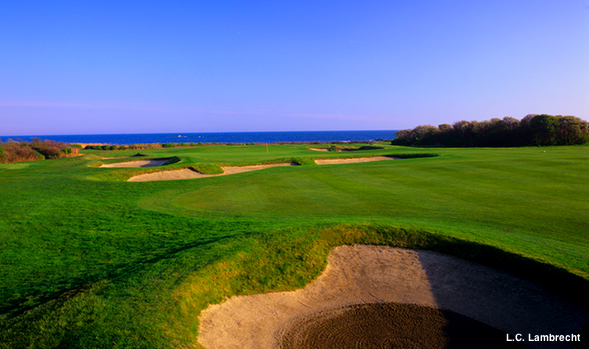 Rhode Island: Newport Country Club
An historic club located in a seaside resort town, Newport, founded in 1893, hosted both the first U.S. Amateur and U.S. Open championships in 1895. Founded by some of the Gilded Age's richest tycoons, Newport was originally designed by William F. Davis and later touched up by A.W. Tillinghast and Donald Ross. A recent restoration has brought back its seaside flavor and dramatic bunkering. Tiger Woods won the second of his three consecutive U.S. Amateur titles at Newport in 1995.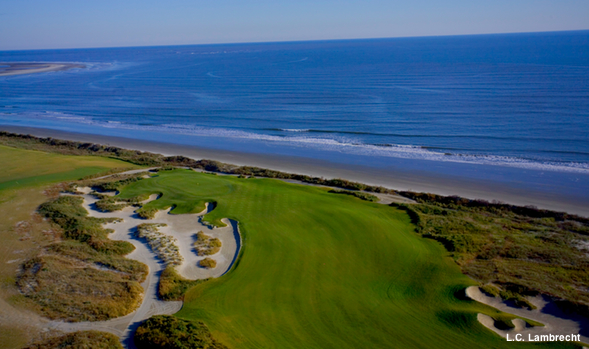 South Carolina: Kiawah Island (Ocean Course)
On the eastern tip of a 10,000-acre barrier reef island anchored off the coast of Charleston, Pete Dye built a facsimile links in low tumbling dunes and coastal marshes that has evolved into one of the nation's most exacting tests of golf. Site of the 1991 Ryder Cup (the "War by the Shore") and 2012 PGA Championship, the Ocean Course is a take-no-prisoners pirate with a knife in its teeth and a "Triple Bogey" tattoo on its forearm, a sandy dungeon with enough defenses at hand to drain the plaid from a golfer's knickers.

Virginia: Omni Homestead Resort (Cascades)
Home state to four of the five first U.S. presidents, the Old Dominion also boasts a resort that dates to 1766 and has been "serving the republic since before there was a republic." Famous for natural hot springs that have long attracted pilgrims eager to "take the cure," The Homestead's Cascades Course, where Sam Snead refined his syrupy swing, is a 1923 William S. Flynn design utterly free of artifice. The naturally rugged course roams across the wooded foothills of the Allegheny Mountains.