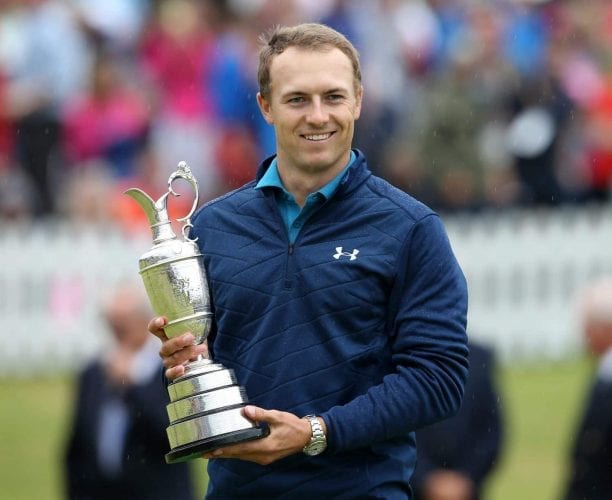 It seems as though any time Jordan Spieth does anything these days, comparisons to Tiger Woods and Jack Nicklaus are drawn. In 2015, when Spieth won the season's first two majors, the comparisons started rolling in and haven't really stopped since.
Sunday was no different. When Spieth held the Claret Jug just four days before his 24th birthday, he became the youngest American ever to do so.
At that moment, who was everyone talking about in comparison to him? You guessed it, Jack and Tiger.
"I've answered this question a few times a couple years ago, so I'll be careful with my answer. It's amazing. I feel blessed to be able to play the game I love, but I don't think that comparisons are – I don't compare myself," Spieth said after his win Sunday. "And I certainly appreciate it. And we work really hard to have that, with that being the goal. Therefore, I enjoy moments like you saying that. But I'm very careful as to what that means going forward because what those guys have done has transcended the sport. And in no way, shape or form do I think I'm anywhere near that, whatsoever. So it's a good start, but there is a long way to go."
It's easy to see why everyone is comparing him to Jack and Tiger, they are the only others that have done what Spieth has done at such a young age. In addition to winning the Open at a younger age then both Tiger and Jack, only Jack completed the first three stages of the career Grand Slam at a younger age than Jordan, and only was younger by just a mere months.
As long as he continues these historical performances, the comparisons will continue. He might not like it, or want to address it publicly, but in a world looking so desperately to have it's next Tiger or next Jack, it's tough not to watch what Spieth is doing and at least entertain the idea.