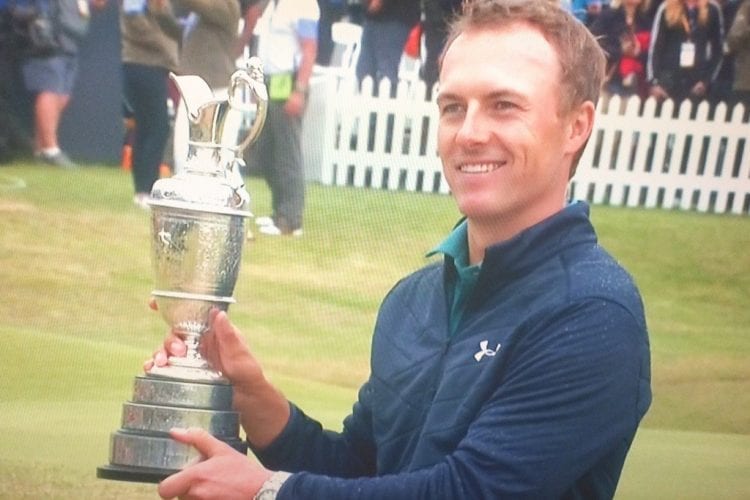 The game of golf was invented in 1457, and the PGA Tour was founded in 1929. In that time period, millions upon millions of rounds have been played. With such a rich history in a game that has been played for hundreds of years, it can be tough to witness something that has never been seen before. The series of events that transpired on the back nine of the Open Championship on Sunday with Jordan Spieth though might be the first of its kind that we have ever seen.
Spieth entered the final round at Royal Birkdale Sunday with a three shot lead over Matt Kuchar. That lead quickly evaporated though, and the two went to the back nine in a deadlock at 9-under. Spieth teed off on the 13th hole, hitting his ball significantly offline to the right. What transpired might very well be the first of its kind.
First, the drive on 13 that started it all:
Wayward again…@jordanspieth finds the rough from the 13th tee. #TheOpen pic.twitter.com/rqEHekwL8F

— The Open (@TheOpen) July 23, 2017
From there, lets just say Spieth got incredibly creative in setting up for his next shot. After deciding to take an unplayable, it would have been very easy for Jordan to just head back to the tee to hit his third shot. Instead, he went and did this:
So…That was something. #TheOpen pic.twitter.com/TAC7r403tR

— Golf Channel (@GolfChannel) July 23, 2017
Spieth managed to not just hit the ball from the driving range back into play, but he got up and down for one of the most impressive bogeys ever.
Though Kuchar walked off the 13th green with a one shot lead, the momentum had swung back in Spieth's direction. That was seen almost immediately when Spieth nearly aced the 14th, tapping in for birdie and tying it right back up.
From that point on, Jordan was unstoppable. He eagled the 15th from the parking lot, showing swagger that had been missing all day, and essentially locking up the tournament:
Bogey from the range
Birdie
Eagle@JordanSpieth 💪🏼 pic.twitter.com/NhGg31j6mk

— Golf Channel (@GolfChannel) July 23, 2017
With that series of events, the legend of Jordan Spieth continues to grow. The win makes him the youngest American ever to win the Open (he turns 24 on Thursday). He is also the second youngest ever to complete three stages of the career grand slam, trailing only Jack Nicklaus.
Spieth will now have his first crack at the career grand slam in a few weeks at the PGA Championship at Quail Hollow. Whether he does it or not, we might never see a series of events like the ones that transpired on holes 13-16 on Sunday.