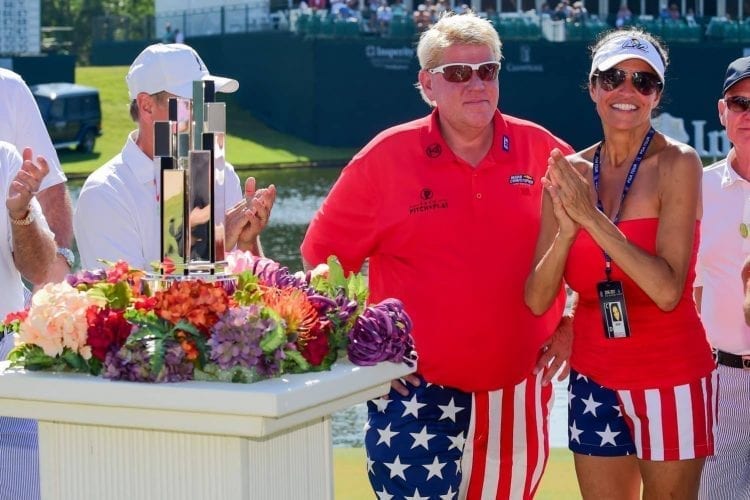 It might have taken longer than anticipated, but John Daly is a winner on a PGA Tour circuit again.
A big win for Big John.@PGA_JohnDaly wins the @InsperityInvtnl for his first victory on PGA TOUR Champions. 🍾 pic.twitter.com/bxTbhQQuTn

— PGA TOUR Champions (@ChampionsTour) May 7, 2017
Daly, who is playing in his first full season on PGA Tour Champions after joining the over 50 tour last year, was supposed to come onto the tour and immediately start racking up wins a la Bernhard Langer. Daly has noticeably struggled to get anything going though, having no top 10 finishes before his win Sunday.
The one shot win at the Insperity Invitational over Kenny Perry and Tommy Armour III is his first on any of the Tour circuits since 2004.
In John Daly fashion, he was greeted on the 18th green with a champagne shower.
"It's awesome. It wasn't the greatest of finishes but … hey a win's a win, man," Daly said. "It's pretty cool."
Daly also paid tribute to the late Arnold Palmer on his way to the victory Sunday. Daly took a knee walking up to the 18th green to kiss the large umbrella logo on the fairway of the Palmer designed course at The Woodlands Country Club.
Classy move. @PGA_JohnDaly kisses the Arnold Palmer umbrella painted on the 18th fairway at the @InsperityInvtnl. pic.twitter.com/0iYHF2xtSX

— PGA TOUR Champions (@ChampionsTour) May 7, 2017