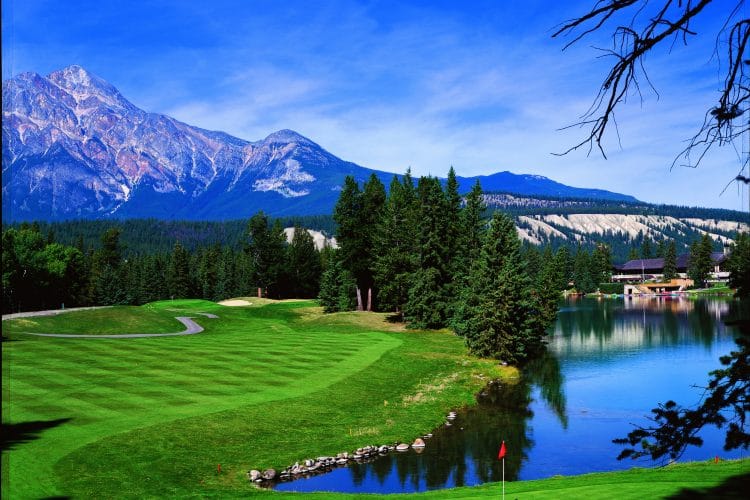 Bing Crosby earned rave reviews for his portrayal of a phonograph salesman cavorting with Viennese royalty in the 1948 Billy Wilder comedy, "The Emperor's Waltz." But partial credit for the film's success belongs to its shooting location—a Canadian Rockies landscape that filled the screen with alpine beauty and allowed Crosby to indulge his favorite off-camera activity with characteristic passion.
Working on location in Alberta's majestic Jasper National Park, Crosby spent most of his spare time on the fairways of the Jasper Park Lodge Golf Course. The layout that inspired Bing to deliver his fine performance inhabits a parcel of land that years earlier had stirred Stanley Thompson to work his architectural magic. Jasper Park's layout comprises many of the legendary Canadian designer's trademark attributes—elevated teeing grounds, holes aligned with distant mountain peaks and panoramas that take full advantage of wondrous natural backgrounds. No less a figure than Alister MacKenzie made his own pilgrimage to Jasper Park and came away an avowed admirer.
"Jasper Park has an amazingly beautiful setting surrounded by rock mountains and bordering a lake which is so clear that the reflections of the mountains in it appear more vivid than the mountains themselves," MacKenzie wrote in his book, "The Spirit of St. Andrews." "There are some excellent holes on the edge of the lake, and the 18th hole is one of the finest finishes I know."
Crosby, whose game was sound enough to get him into final-stage qualifying for the 1940 U.S. Open, knew great golf when he saw it and savored his Jasper Park experience. "Bing was at the golf course every chance he got," remembers Chick Duncan, a Jasper native and long-time authority on the club's history. "He never seemed to grow tired of the place, and you never saw him out here without a smile."
The crooner's fondness for the course was solidified by a personal triumph. During "Emperor's Waltz" filming in 1947, Jasper's renowned Totem Pole Golf Tournament was contested, a welcome coincidence for the match-play devotee. The Silver Totem Pole trophy—an 18-inch replica of native Haida ceremonial totems, complete with a base made from ebony and four silver bears on each corner—was symbolic of Jasper's incredible wilderness and historic traditions. Bing may not have coveted it as much as an Oscar, but he enthusiastically laid down his $5 entry fee and joined the field, emerging victorious at week's end.
"When he won it he was genuinely thrilled," Duncan recalls with a smile. "He couldn't defend the following year, but he came back to Jasper often because of his admiration for this golf course."
Unfortunately—as often happens to classic courses—time, circumstance and misguided opinion conspired to gradually diminish Jasper's character. The situation was remedied 10 years ago when course superintendent Perry Cooper secured original blueprints from the Canadian National Railway and oversaw the restoration of Jasper to its original configuration.
The stated mission was to show a new generation of golfers the genius of Stanley Thompson. "Anytime you have an historic asset and you don't celebrate it, you're doing an injustice," Blair asserts. "To bring Thompson's work at Jasper back to its original state was an honor."
Now, nearly 80 years since it began hosting actors, sporting figures, captains of industry and golfers from around the globe, Jasper Park Lodge Golf Course continues to complement the extraordinary setting of 4,200-square-mile Jasper National Park—a designated United Nations World Heritage site. It is part of the Fairmont Hotels and Resorts portfolio and treated as sacred ground by its proud owners.
The 6,663-yard, par-71 layout is distinguished by wide, undulating fairways cut from thick stands of forest that narrow considerably in the approach areas, placing a premium on shots to the greens. Ever conscious of blending natural contours with challenging golf terrain, Thompson only deviated from his mountain-based routing for a three-hole stretch on Jasper's back nine. Using a peninsula that cut straight into the emerald waters of Lac Beauvert, he fashioned one of Canada's more famous sequence of golf holes: the par-4 14th, the par-3 15th (nicknamed "Bad Baby") and the par-4 16th.
Like so many classic-era courses, Jasper grew from humble beginnings. The first development at the site was "Tent City," a collection of tents erected on the shores of Lac Beauvert in association with the Grand Truck Pacific Railway in 1915. In 1922, eight log bungalows were added and the Dominion Parks Branch of Canada made plans to build a golf course for visitors and townspeople that would showcase the beauties of the lake. The following year the Canadian National Railway approached the government with a substantial offer to take over construction of the project. Receiving a green light, CNR shelved Parks Canada's original nine-hole drawing in favor of a more ambitious golf project. They immediately turned to Thompson.
On an introductory visit to the mountain expanse, the Toronto-based designer was reportedly awestruck. "Stanley told Robert Trent Jones Sr. he envisioned over 200 holes before he even put pen to paper," Duncan says. "As something of an artist, he felt blessed to have this incredible piece of land."
Building the course would prove difficult, however. Blasting of fairway areas was almost a daily ritual, with rock and excess debris providing the build-up for bunkers and tee boxes. With construction carried out by 50 teams of horses and 200 men, Jasper Park Lodge Golf Course was completed in the spring of 1925. Final price tag: a robust $800,000.
It was officially opened on July 17 in a ceremony conducted by General Earl Haig, World War I commander-in-chief of the British forces and a former captain of the Royal and Ancient Golf Club of St. Andrews. Joining him in Jasper's inaugural foursome were his wife, Lady Haig, Thompson and Walter Pratt of Canadian National Railway Hotels.
"It was a gala event," reports Duncan. "In homage to the traditions of St. Andrews, General Haig hit the first tee shot and the caddies raced out to retrieve it. The caddie who brought the ball back was rewarded with a crisp five-dollar bill for his effort."
Three-quarters of a century later, humble beginnings have given way to international acclaim and the golf course is a major drawing card for the 1,000-acre luxury resort, Fairmont Jasper Park Lodge. Its unique playability and almost mystical qualities continue to be a hallmark. Equally enticing are its traditional values. Search high and low throughout Canada and you'll be hard-pressed to find a more pleasurable or dramatic golf course to walk, particularly in the cool air of a Canadian Rockies summer afternoon.
"There seems to be some quality to this golf course that tugs at people's heartstrings," says Alan Carter, Jasper's director of golf. "This place just hits you deep inside."