By James A. Frank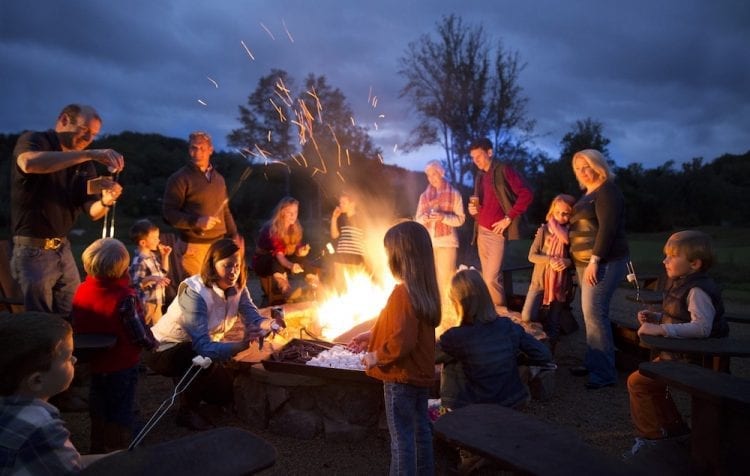 The Cliffs provides endless opportunities and expert instruction, exposing mind and body to a world of new experiences
__________________
The first few casts were clumsy, lucky to hit the water and not Nick's boat or worse Nick, my fishing guide. But after a few pointers and watching the expert do it right, both my accuracy and distance improved. And although I didn't catch anything, the early-fall morning spent on a lake, enveloped in mist and mountains, was the most relaxed I'd been in months.
Besides, catching wasn't the point; giving it a try was.
"Try it" easily could be the mantra of The Cliffs: seven communities encompassing 30,000 acres of luxury lifestyle, astounding scenery, and diverse experiences spread across 60 miles of western North Carolina and South Carolina. Justifiably famous for the concept of a single membership granting access to all seven clubs—and seven terrific golf courses—The Cliffs hasn't been content to sit on its links-life laurels. As the desires of buyers have changed, the clubs have responded, offering hundreds of social activities, organizations, and outdoor adventures, and enlisting a world-class team of instructors—like angler Nick Rubio—to make the introductions.
Mountain biking to mahjongg, shooting to spinning, hiking, horseback riding, and haute cuisine. You name it, The Cliffs has it at one or more of its clubs.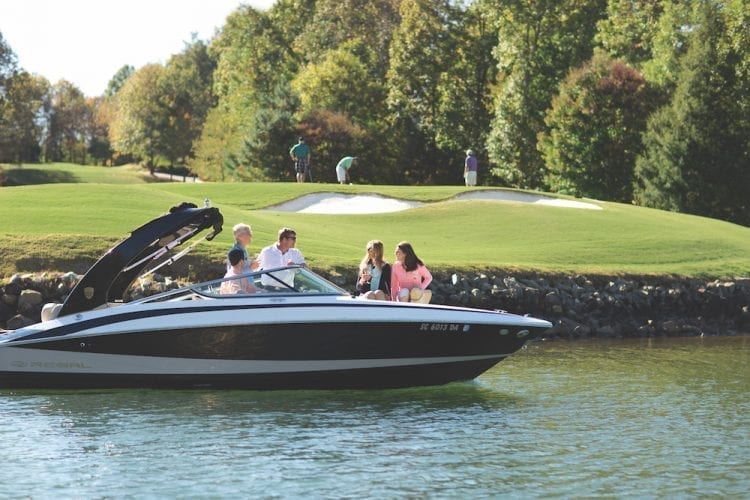 Take, for example, wakeboarding. Never heard of it? Think of water skiing but instead of wearing two skis your feet are strapped onto a single board as you jump, flip, and otherwise go a little crazy through the boat's wake. Abby Delgoffe, formerly world-ranked in this growing sport, teaches wakeboarding out of the Beach Club at The Cliffs at Keowee Springs, one of three Cliffs clubs on 26-mile-long Lake Keowee. She's gotten many a member out on the water.
"We've had little kids of three and four up to people into their 70s," Delgoffe reports. "Our goal is to get them up and moving on the water in their first session and we have about a 99 percent success rate."
On land, Anna Claire Richardson, who runs the Outdoor Exploration Series, gets members walking, organizing more than 80 hikes a year on trails within the communities and in nearby Pisgah National Forest and the Blue Ridge Mountains. There are also chances to explore local attractions including Asheville, N.C., and Greenville, S.C., two exciting small cities minutes from the clubs and featuring shopping, culture, and thriving food scenes ranging from craft beers to gourmet restaurants.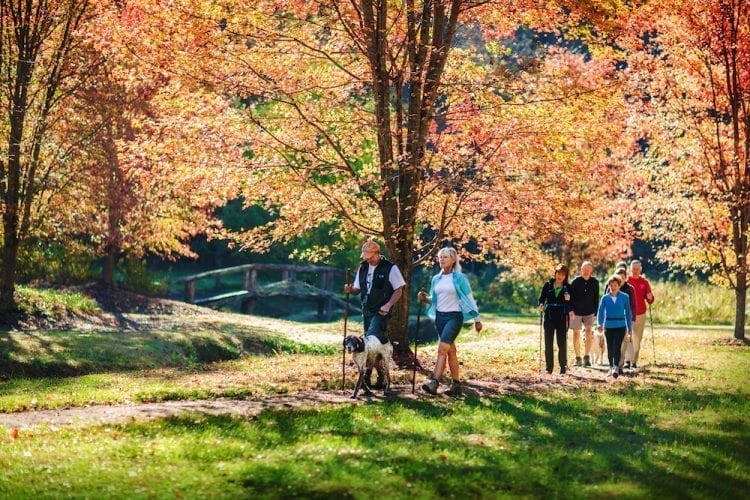 "We want to expand their horizons," says Richardson, who keeps the activities calendar full all year long while running summer camps for kids and leading many wilderness walks—as well as paddleboard and kayak tours—herself. "On a paddleboard, in the forest, we work them hard. And the members keep coming back for more."
A different sort of work propels Creekside Farm, a small organic farm adjacent to Walnut Cove, the furthest north of the communities and closest to Asheville. Bob Turner, a successful businessman from Chicago who now lives on property full-time, bought the land and hired a farm manager, hoping to kindle interest in Community Supported Agriculture (CSA) and give other Cliffs members a connection to a vanishing lifestyle—as well as healthy food such as produce, eggs, and, starting this year, beef.
Purchasing a share in the farm entitles members to a box of vegetables and other fresh products every week, along with flowers, recipes, and information on everything from cooking to canning. The farm also runs an education center that offers classes and special dinners, like one held a few months ago featuring dishes prepared as they were 100 years ago (the chef followed his great-grandmother's recipes).
A number of real estate lots overlook the farm, with Turner noting that a couple from California bought nearby because they were looking for the combination of great golf for him and working the farm for her. Some members do help out, but more common is bringing the kids and grandchildren to see the cows and pet the miniature donkeys that act as the herd's security detail.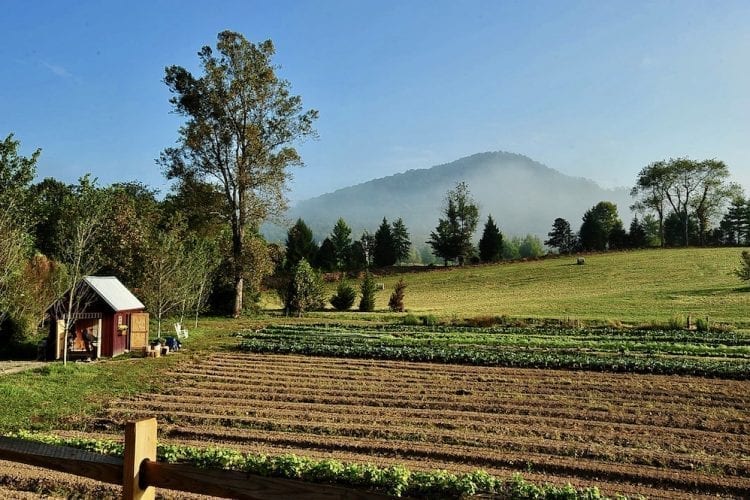 Bounty from Creekside and other local farms has become a staple at the more than a dozen dining venues at The Cliffs, which are overseen by award-winning chefs and expert sommeliers. Food also has become a significant part of the many wellness initiatives available at all seven clubs, which offer everything from nutrition seminars to menus annotated with suggestions for smarter eating.
To meet their members' interest in healthy living, each club maintains its own Wellness Center, outfitted with the latest equipment for every kind of workout: cardio, strength training, movement, specialized sport conditioning, circuit training, as well as classes in spinning, yoga, Pilates, and more. The clubs also have pools (indoor, outdoor, lap,
zero-entry); tennis, pickleball, and sport courts; and highly credentialed instructors available for group and one-on-one training.
Of course, when it comes to sport The Cliffs is best known for golf—and showcasing another kind of expert, the golf course architect. The seven layouts were designed by some of the greats, including Jack Nicklaus (Walnut Cove and Keowee Falls), Tom Fazio (Keowee Vineyards and
Keowee Springs), Gary Player (Mountain Park), Tom Jackson (Glassy), and Ben Wright (Valley). Located from valley floor to more than 3,300 feet high atop Glassy Mountain, this septet offers a wonderful set of golf diversions—literally one for every day of the week.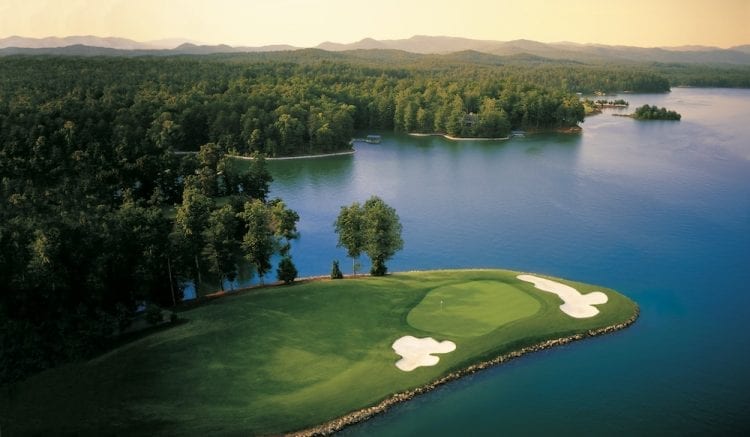 Even The Cliffs's real estate brokers are uniquely skilled, which they have to be with seven different communities, each with its own personality, geography, and amenities. For example, one broker told me that if a couple comes to him interested in Walnut Cove, he won't bring them on property until he's shown them Asheville since the city's proximity is integral to that club's atmosphere.
With all there is to do at The Cliffs, living there can make you breathless—and it isn't just the crisp mountain air. As one member, who divides his time between Mountain Park and the Big Apple, told me, "When we want to relax, we go back to New York City."
_____________________
Speaking with Employees of The Cliffs
George Hincapie
Director of Cycling
Cycling is not as demanding as many people think. At The Cliffs, where I run about 10 rides a year for members, I primarily want to show them how much fun it is and that it's a non-impactful sport that's great exercise, even extending people's lives. Cycling doesn't always have to be serious, hard-core racing; it can be a nice easy bike ride that gives a great workout at the same time. It's for anyone.
There are miles and miles of great rides near The Cliffs. Most people don't realize how much world-class cycling is nearby, and that includes lots of easy routes perfect for new riders. They usually really get into it.
When I'm laying out a route, I think about who will be doing the ride and plan to make it fun for a wide range of levels. Rides are usually 25–35 miles, and we generally make a flat start so it's as easy as
possible. We keep the rides very social so they can stay together
and talk about where we're going and what the route has in store.
After a few miles, we have regroup sessions to see how everyone is doing. About halfway through, the group splits with about half of them heading back. Then I take the others, most of whom have been riding longer, on a more challenging ride.
Hincapie started in a record 17 Tours de France and was on five winning American teams between 1996 and 2012. He also raced in five Olympics and was the U.S. Road Race champion three times.


Eric Cooperman
Corporate Director of Beverage, Advanced Sommelier
Our members love wine, beer, and liquor. With wine, people spend years trying to understand it and then settle into a favorite. A lot of members go with what they know and while we love to cater to that, we think it's important to break them out of their norms, and the wine symposium series and dinners have been very enlightening.
The Cliffs has made a real commitment to wine, allowing me to travel around the U.S. and the world, trying new wines, making connections so the doors open to allocations that we wouldn't otherwise have. We offer 25 to 30 wine dinners a year across the properties, as well as seminars, some with wine experts, sommeliers, and specific wineries and winemakers. Probably the biggest driver of culture at The Cliffs is our Wine and Food Festival, which is going into its fifth year. Traditionally it's the last week of September, with one or two events at each club so it gives members the opportunity to attend a dinner every night, although they can attend dinners at any club, not just the one they belong to. This year we hosted 15 events and every one was packed. We've started a chapter of Chaîne des Rôtisseurs within The Cliffs, in which we host elaborate dinners both during the festival and all year long, some of them in restaurants in the nearby cities, showcasing great food and wine.
Right now we're looking to up our coffee service because our members drink it every day and they want better, richer coffees. We're planning to add high-end coffee/espresso makers that would be in the lobbies of the seven clubhouses each morning and then in the kitchens to provide great coffee at night. They're going to love that.


Vance Ferrigno
Senior Exercise Physiologist
A lot of times it starts on the phone. Someone calls and says he was playing golf and his back spasmed. Or new homeowners call and say they want to use the wellness center and ask how to get started.
When they come in, I ask about their goals, how I can best guide and serve them. Often times clients don't know what they need but just that something hurts or they've lost 20 yards off their drives. This prepares me to proceed with an assessment. I need medical detail followed by an orthopedic history, any injuries, surgeries, when they were and how are they doing now.
Then I assess their movement, how the body moves in three-
dimensional space. I call this a Spherical Model of Movement, and it allows me to assess their strength and mobility simultaneously. Think of a bubble surrounding your body: You should have the mobility and strength to reach any point within that bubble moving forward and back, side to side, and rotationally. Lack of controlled, symmetrical motion leads to degeneration and injury.
From this I make an individualized plan, starting them slowly and letting me integrate more as I see how the body responds.
The execution of the plan takes place at the Wellness Center at the member's home club using medicine balls, Sandbells, cable systems, and other equipment that facilitates authentic human movement. Trainers at the club know what the client is working on and can assist if needed.
Besides one-on-one training programs, all the clubs also offer group classes such as Golf Fit, Yoga, High Intensity Interval Training, and more.