Par threes are special holes. Rarely will you robotically reach for your driver when you step onto the tee of a par three. More likely, you'll be grabbing a laser rangefinder and throwing a few blades of grass in the air to calculate the distance and pick a club. At that point, one swing will determine your fate.
In Ireland, the challenge before you might be a wedge shot over a corner of the foaming Atlantic to a tiny green, as at the achingly scenic 6th hole at Cruit Island. Or it might be an uphill mid-iron into a gale-force wind to a tabletop green overlooking a historic site, as at Waterville's famous 12th, the Mass Hole. Links holes, parkland holes, heathland holes—par threes come in every shape and size. And they all present opportunities for drama. It's do or die.
Identifying Ireland's 10 best par threes is like trying to choose its 10 liveliest pubs—good luck! I started with a list of more than 50 candidates—the most challenging, most memorable, most scenic one-shotters from every corner of every county. But here are the 10 that, for me, constitute the best of the best. Slainte!
10th hole, Royal County Down Golf Club (Newcastle, Northern Ireland)
Northern Ireland's Royal County Down is blessed with a quartet of fine par threes, each presenting a different challenge. Here at its 196-yard 10th hole, you start your back nine with one that calls for the utmost in precision. At first, it may look straightforward: You just need to thread your way between the two pot bunkers set into the bottom of a dune on the left and the two larger and deeper pits of despair on the right. The opening to the green is unobstructed, permitting a run-up shot if you've got that in your bag. But add in a little wind, factor in the small green's false front and its gentle tilt to the right, and suddenly you realize that your landing area is 25 percent of what it looks like. Going long isn't a great option either, as it will leave you a downhill chip that will require a deft touch. After playing the course's thrilling 9th hole, staying focused enough to escape this great par three unbloodied won't be easy.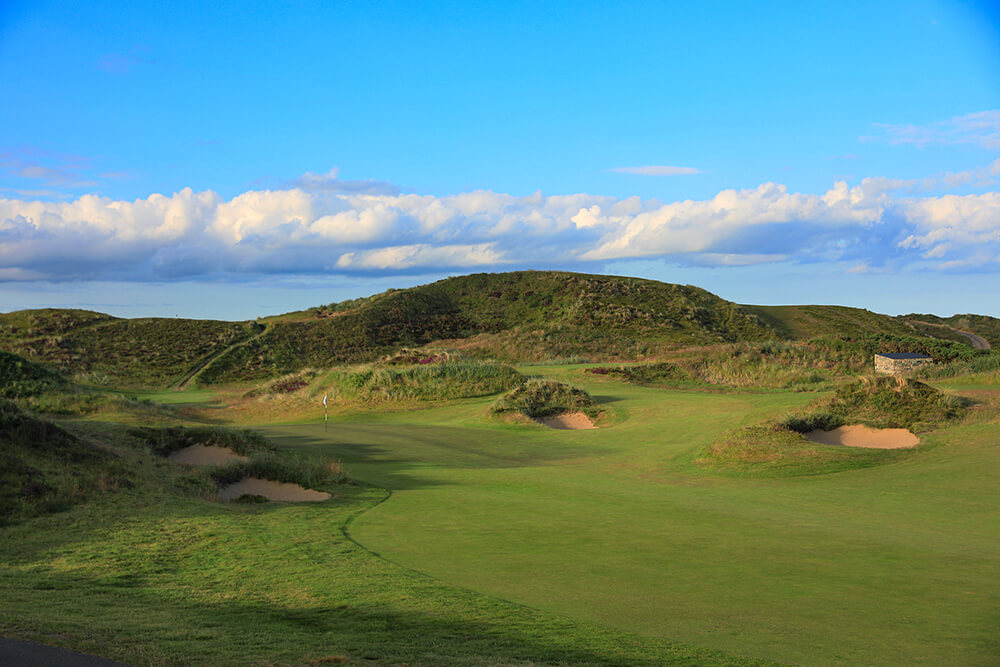 15th hole, Portmarnock Golf Club (Portmarnock, Ireland)
Portmarnock isn't the most dramatic-looking course on the Emerald Isle—or even the most dramatic near Dublin. But the subtleties of its design and the endless challenges it presents as you navigate its rumpled fairways have earned it a rightful spot among Ireland's top courses. Here at the 15th hole, the Irish Sea comes into view, but you'd do well to give it just a quick glance and refocus, since the 204-yard tee shot awaiting you will require your full attention. To reach this deep but narrow putting surface safely, you'll need to fly your ball over some low dunes and avoid a trio of bunkers guarding the front-right and front-left of the green. Again here, a run-up shot is possible, but only if you get the right kick when you land. There are steep run-offs to the back and left of the green from which saving par will be a magician's trick. The good news: Should you find the green with your tee shot, you'll find it to be a hospitable one that's free of any significant swales.
4th hole, County Sligo Golf Club (Rosses Point, Ireland)
When Harry Colt saw the small hillock on which he plotted the 4th green at this standout northwest Ireland course, he must have smiled. A more perfect green site it would be hard to find. It closely resembles the towering, flat-top, nunatak rock formation watching from the distance called Benbulben, made famous in the poetry of local bard William Butler Yeats. The green sits at the top of this small but steep hillock, requiring you to hit to the exact right yardage—or else. It's a downhill tee shot from 164 yards; you can see the challenge right in front of you. The green is round and broad. It should easily be hittable, you think. But just watch as the wind drifts your ball toward one of the edges of the green and sends it slowly, agonizingly, rolling to the bottom of the hill. And that's where the real fun begins. Do you try to putt it up the steep slope? Flop it off the tight links turf? Hit a bump-and-run shot with an 8-iron or 6-iron? Choices, choices. Attempting to save par from so far below the putting surface here is so much fun that you might almost want to miss the green on purpose. Many players will end up with this opportunity whether they do so intentionally or not.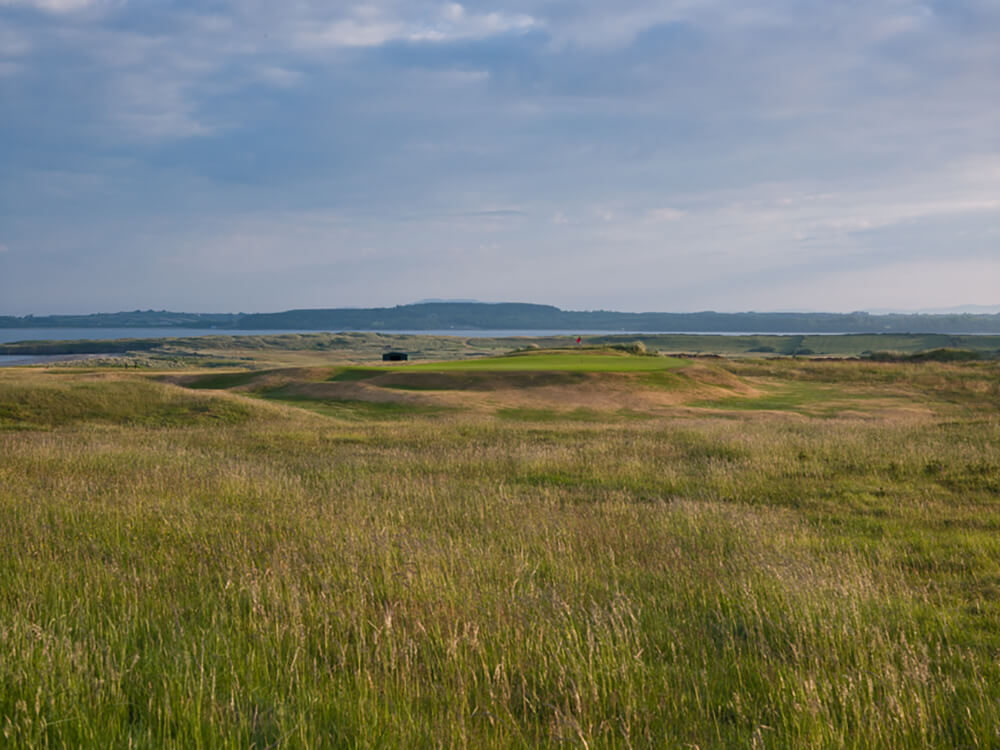 16th hole, Royal Portrush Golf Club (Portrush, Northern Ireland)
Its name is "Calamity Corner," and with good cause. For most players, this may be the toughest par three they ever play. Let's list the reasons. First, its length—236 yards, slightly uphill, and generally into the wind. Second, your tee shot must carry about 210 yards to avoid a rough-choked chasm lurking below and to the right of the green. Hit a weak slice, and you'll be up to your knees in fescue. To avoid that particular calamity, you may choose to favor the left side. But that's where a third issue arises, as there's a hollow there at the base of a hill that attracts balls like thirsty men to their pints—and from which getting up and down will require the deftest touch. Finally, there's the green itself. When you do manage to find the putting surface, which slopes toward the aforementioned chasm, you'll find that it's bedeviled with subtle breaks that even the club's Northern Ireland members struggle with. Par here isn't just a good score—it's more like a miracle.
5th hole, Lahinch Golf Club (Lahinch, Ireland)
Luck is an omnipresent element of the game of golf. The "rub of the green" catches all of us out at some point. At Lahinch's 5th hole, luck is an integral part of the hole's design, as it's a blind par three. From 148 yards on the tee, you can see just the edge of the green on the right, tucked behind a 30-foot high, grass-covered hill. On that hill, you'll see a white stone that's been placed there to provide you with some idea of where the hole is located that day on the wide but shallow green behind it. There's another dune behind the green, which offers a bit of a backstop should your tee shot run a little long. But if you overclub or underclub, or don't judge the wind quite right, you'll likely be faced with an awkward chip that requires one of your feet to be considerably higher than the other.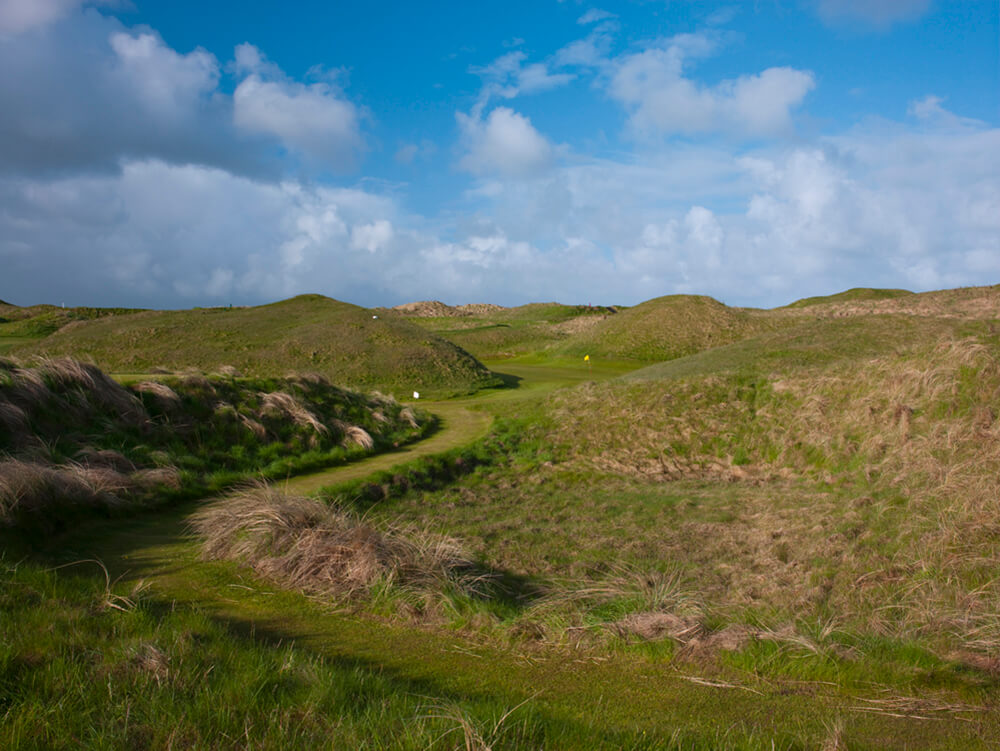 Drama doesn't always come in the form of yawning bunkers and towering dunes. Sometimes, it masquerades as simplicity—as at the 199-yard 17th hole at the Tom Doak-designed St. Patrick's Links at the Rosapenna Resort in northwest Ireland. Doak's instant classic here has plenty of dunes and bunkers to negotiate, but its 17th hole looks more like a seascape than a dunescape. I love it because of the way it emphasizes the role that the ground game plays in links golf. There are no bunkers to fret over here. No steep drop-offs to contend with (unless you hit a very poor tee shot to the left). Instead, the hole asks you to land the ball in the right place and let the terrain do the rest. You can flight in high or low, with a fade or a draw, but you need to land it in the right spot. You'll have to study the ground carefully when you're putting, too. Without the proper line and the right weight on this three-tiered green, two-putting will be impossible. It's a stunning celebration of the ground game, with fireworks of a flavor all its own.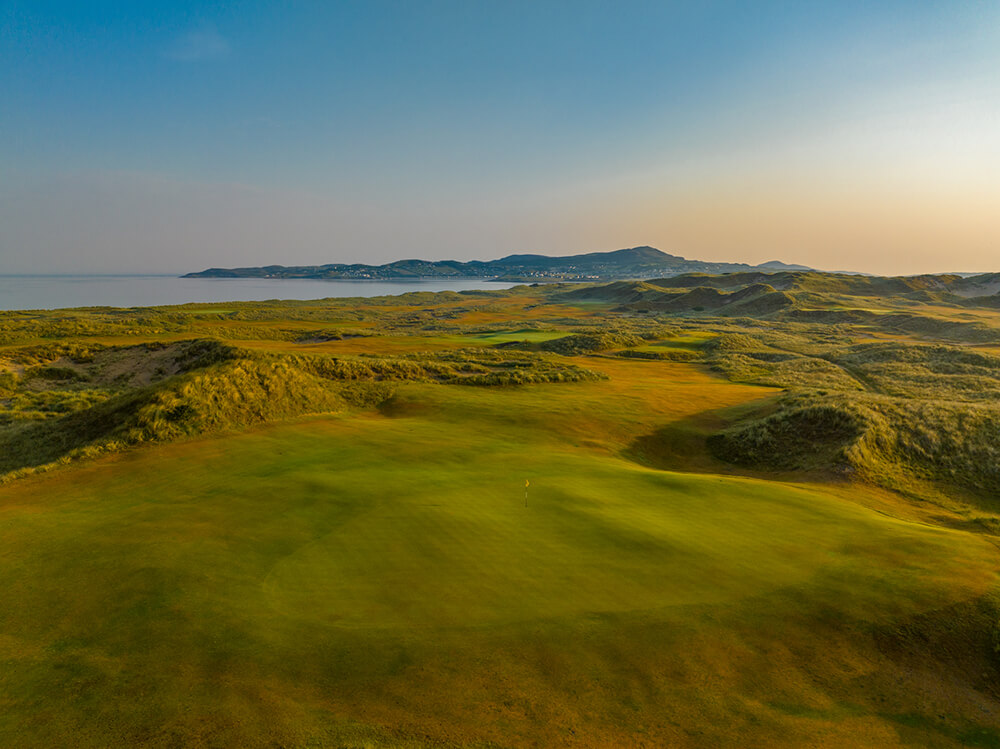 4th hole, The Island Golf Club (Donabate, Ireland)
This downhill par three was new to The Island in 2020, courtesy of updates done there by course architect Martin Hawtree. It's a strong addition to this north-of-Dublin course, which used to be reachable only by boat but now occupies its own, pretty peninsula. From the elevated tee box, your 174-yard tee shot will travel over an expanse of sandy dunes to a diminutive green that's like an upturned saucer. The green looks impossibly small from the tee, but you can take 10–15 yards off for the elevation, giving you hope. Pot bunkers guard the front-right and front-left of the green, but recovery shots that miss on any side will require careful thought and more than a little skill. Another of The Island's par threes, the 16th, gets a lot of acclaim, too. But I like the more intimate green site of the 4th. Play them both and choose your own favorite.
3rd hole, Old Head Golf Links (Kinsale, Ireland)
In truth, I could've chosen any of the four par threes at Old Head for this story, including what may be the favorite of most players, its cliffside 16th. But I'm choosing the 176-yard 3rd hole, another cliffside one-shotter, as the course's best—in part because of its early place in your round. Standing on the tee, the sea is on your left, low dunes on your right, and the iconic, black-and-white striped lighthouse watches from a distance. Your target is perched at the edge of the cliff and elevated just enough to keep short shots from bounding onto the putting surface. Left is a watery grave; if you avoid going over the cliff entirely there are two deep grass bunkers lurking there, too. Miss right and you'll find your ball, but you'll have a delicate pitch up to the green. For combining challenge and scenery, few holes rival this Kinsale stunner.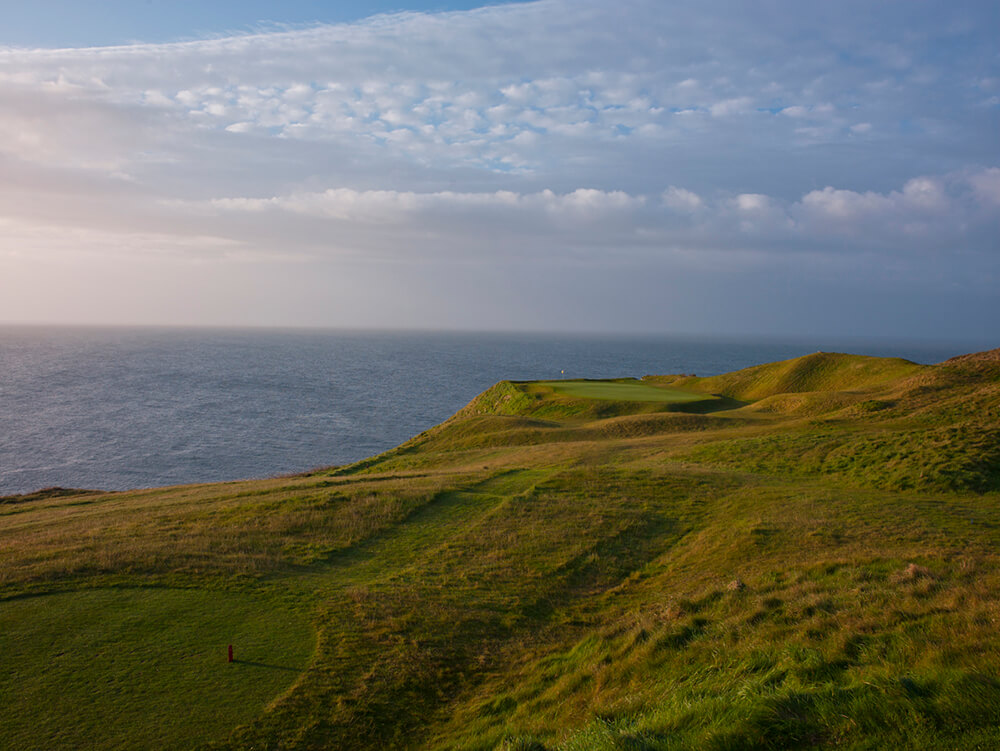 16th hole, Tralee Golf Club (Tralee, Ireland)
As you're concluding your round at Tralee, where the dunes fall into the sea, this knee-knocking one-shotter awaits. It's perched on the back side of a dune like a mountain goat, with five tee boxes cascading downward toward the seaside green below. You've got the falling dune on your left, out-of-bounds and beach on your right, and a grass-choked crater short and right of the green where slicers go to rue the day they were born. The green's protected by two pot bunkers short and left, so you can't bail out there. The wee pit to the front-right of the green exists mostly to save you from a worse fate. Long isn't a great option, either, as the green slopes back-to-front. But it's a good-sized putting surface, so finding it off the tee from 199 yards and walking off with a par is theoretically possible.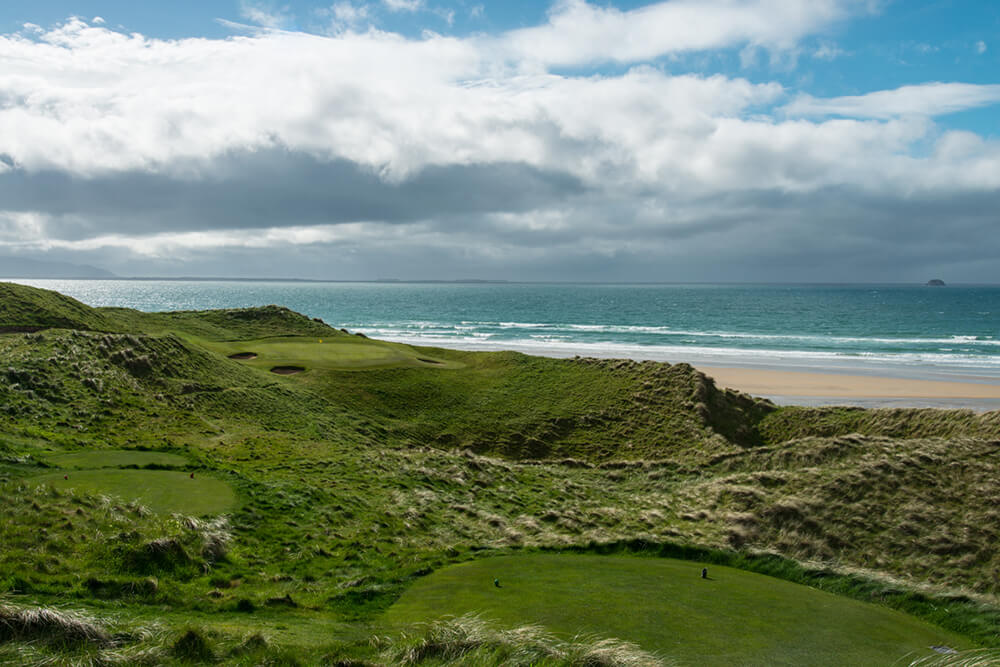 2nd hole, Ardglass Golf Club (Ardglass, Northern Ireland)
Ardglass is a wonderful antique located on the east coast of Northern Ireland, south of Belfast and not far from Royal County Down. It's not as ancient as the 1405 castle that houses its clubhouse, but the club has resisted the urge to stretch and modernize everything. Holes like the exquisite 167-yard 2nd are the better for that. But how could you improve on this hole anyway? With the stony shore of the Irish Sea immediately on your left, your tee shot here must carry a deep tidal ravine featuring a rock-faced wall that seems as big as Mount Rushmore. Should you avoid that hazard, it will then need to fly another 40 yards to carry a wrinkled ridge short of the small green—and another 30 to get to the putting surface itself, where a deep bunker awaits short-right and another sod-faced monster sits short-left. The views from this hole are among the best in Irish golf. If you can put aside appreciating them long enough to escape with a par, you're a better man than me.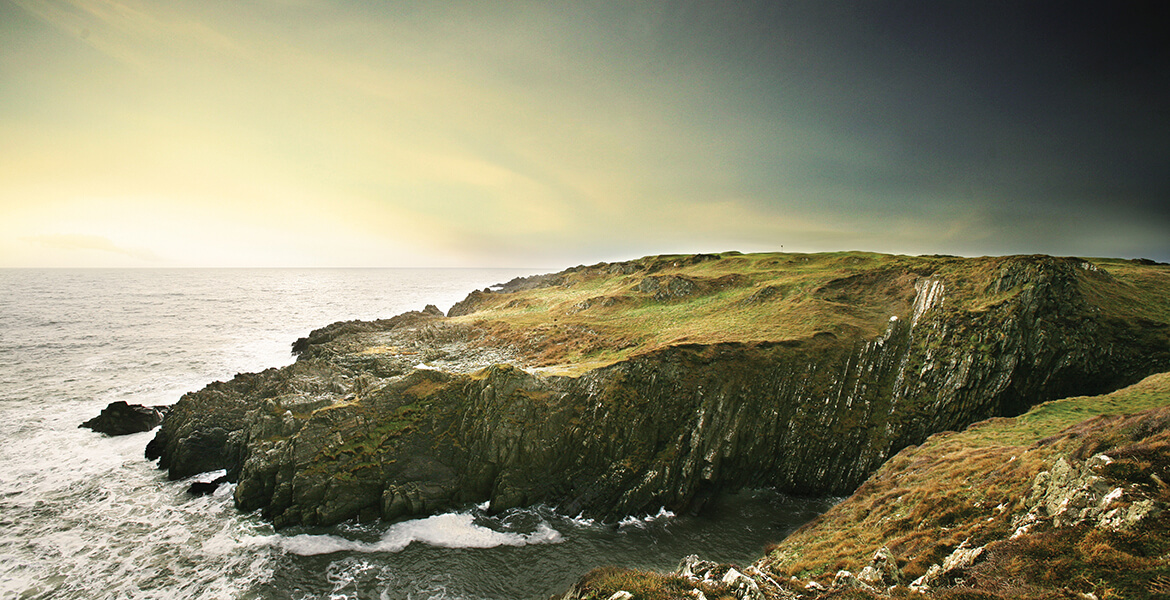 What is your favorite par three in Ireland?