By Adam Schupak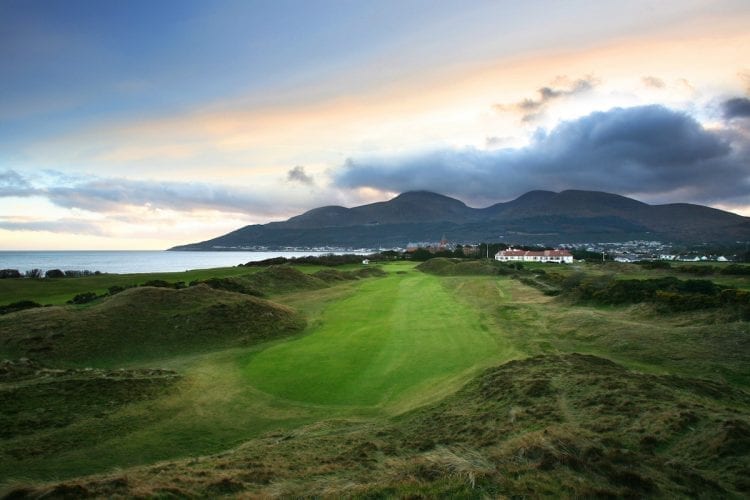 During an interview with Padraig Harrington, I asked the three-time major winner to name his five favorite courses in his native Ireland. He took a pregnant pause, thought about it, and said, "Can I give you six?"
He actually ticked off seven, but who's counting. The Emerald Isle may be only the size of Indiana, but it feels like every hamlet is home to a golf course, and few dispute that it counts several of the finest tests of golf on the planet.
Prior to my recent spring trip, I'd played in Ireland only once before on a grand golf boondoggle with my father. We crisscrossed Ireland and Northern Ireland to catch 11 courses in 10 days. My waterproofs got a daily workout and I wore a ski cap to brace myself against unpredictable conditions, including a brief hailstorm. Yet, it still ranks as my all-time favorite trip. I fell hard for links golf, the game as it was in its earliest and purest form: rock-hard fairways, quirky bounces, and blind shots that require aiming at a rock, a church steeple in the distance, or maybe a sheep standing on a hill.
This time, my group played six courses over five days. Getting off the overnight flight at Dublin Airport, we hustled to Portmarnock Golf Club, founded in 1894 on a sandy peninsula between the Irish Sea and an inland tidal bay that was once accessible only by boat. Yet you're playing on Dublin's doorstep, close to the airport and the ideal place to kick off an adventure.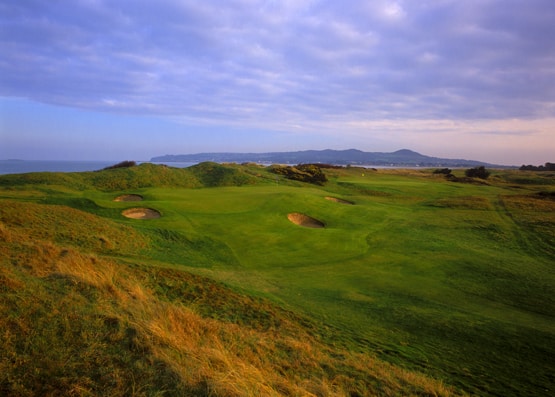 My foursome dined—and enjoyed a beautiful sunset—at the clubhouse of Sutton Golf Club, a nine-hole course with views of the Irish Sea. It also has a shrine to Joe Carr, one of Ireland's finest players and a member of the World Golf Hall of Fame.  We also were regaled with stories by his son Marty, who heads Carr Golf, a leading golf tour operator and our host. Turning over the logistics (and stress) of coordinating our trip and transportation to an operator such as Carr Golf is one of the best moves any golf traveler can make.
The next morning, our luxury bus crossed the border into Northern Ireland. The Strand Course at Portstewart, located on the Causeway Coast, may be the world's most underrated layout, boasting the finest opening hole and front nine I've played in Ireland. Dating to 1894 and redesigned in the 1920s by Willie Park Jr., Portstewart came into its own in 1990, when the club secretary, a local schoolteacher and avid golfer, and the groundskeeper re-designed seven new holes. What a job they did. The panoramic views on a day of glorious sunshine were breathtaking, particularly those of the Donegal Hills, the Atlantic, and the River Bann at every turn.
Continuing along the Causeway Coastal Route takes you past the ruins of Dunluce Castle, after which the more famous of the two courses at Royal Portrush is named. Portrush is the only course in Ireland to have hosted the Open Championship, in 1951, and it will do so again this month. To be awarded this honor, the club allowed course designer Martin Ebert to steal two holes from the sister Valley Course and build a new seventh (par 5) and eight holes (par 4) at Dunluce to replace the old (and dull) 17th and 18th holes, which will be used for the tented exhibition space. These new additions look as if they've been there forever.
Along the country's east coast, beneath the spectacular gaze of the Mountains of Mourne, lies the most beautiful golf course I have ever seen, Royal County Down, originally laid out in 1889 by Old Tom Morris. More than most courses, it requires accurate driving, with nothing but trouble if you stray from the fairway. Some may say that there are too many blind shots—five from the tees and others where the green is totally or partially concealed—but they are so in keeping with the nature of the course that they cannot be condemned. Overnight at the Slieve Donard Resort and Spa to complete this magical experience.
Not far back along the coast , Ardglass presents several holes perched along the coastline and enough sea-cliff tee boxes to have one of my cohorts comparing it favorably to Pebble Beach. The course meanders out to a headland then winds its way back to golf's oldest clubhouse, a restored castle that looks like it could be a backdrop for an episode of "Game of Thrones." Ardglass was a pleasant surprise and makes a perfect pairing with Royal County Down for those hearty souls looking to squeeze in 36 holes in a single day.
There was time for one final round at Portmarnock Hotel & Golf Links after a return to Dublin. The course is mostly flat, but packed with variety. The opening hole skirts a graveyard, the final resting place of Saint Marnock after who the club is named. That touch of Christian heritage often evokes the belief that the good Lord himself intended this particular tract of land for conversion to golf. If you listen to your caddie, Portmarnock won't bedevil you.
As Mike Stachura of Golf Digest, one of the fellow writers in my foursome, so aptly put it, "If you don't love golf after a trip [like this], you probably never really liked it in the first place."