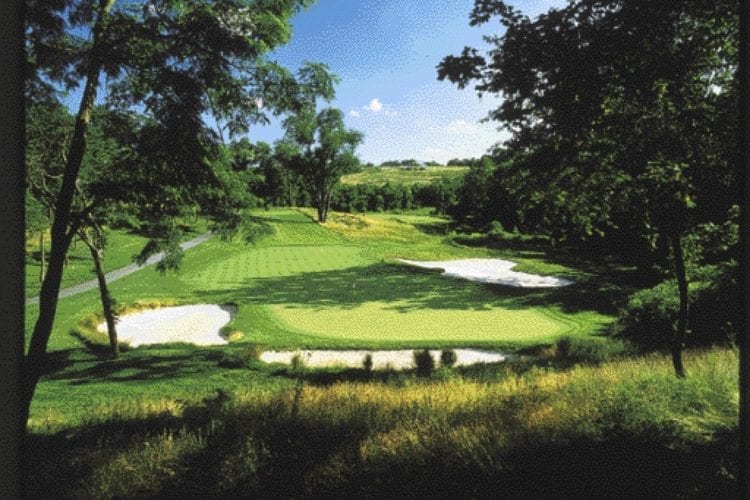 Philadelphia's Main Line is home to such museum pieces as Hugh Wilson's Merion East, and the William Flynn-Howard Toomey collaborations at Manufacturers and Philadelphia Country Club's Spring Mill course. Any new course along this real estate certainly draws comparisons to these classics. But at Inniscrone Golf Club, Gil Hanse and his associates, Jim Wagner and Bill Kittleman, built a 6,657-yard, strategically original and a love-of-things-ancient course that artfully connects it to Philadelphia masterworks of long ago.
Your first round here will never be your most enjoyable one because the holes contain such a lacework of psychological innuendo. There isn't time to react to all the false and true danger signals Hanse's hazards send out.
The way in which 18 holes are routed and shaped gives rise, you might concede, to a four-hour conversation between the architect and the player. That notion would apply to any superior course, but somehow it was at Inniscrone that the metaphor first struck me. The opening hole, a 400-yard downhill par 4 with a grassy ridge rising left and a treeline pushed far back to the right, impersonates a Friday-night poker dealer explaining the stakes and calling for antes.
Play this or any other Hanse course and you'll soon realize his commitment to the idea that the story of a golf shot should not always—or even usually—be over when the ball lands. "In Britain and Ireland, the game begins when the ball gets on the ground," he points out. "You don't see your ball land then look away, you keep watching."
Inniscrone hosts the annual Excelon Invitational, in which Jim Furyk and three other tour pros team with a small field of amateurs. This event gives the builders a chance to watch consummate shotmakers interpreting the challenge laid before them. "It was gratifying to see players like Furyk standing at 130 yards and taking out 7-iron to play a touch shot," says Hanse. "Play that's creative and unorthodox for American parkland golf—chipping to a slope instead of to the hole, bumping the ball and letting it run—that's what we live for."
At the long par-4 12th, three 170-yard approaches from wide fairway can represent varied experiences. Far left, in a hollow, the shot is somewhat blind and uphill. Dead center, the approach is unhindered and calls for attack. Along the right third of this fairway, the flag is visible but the putting surface that is blocked and made to seem dauntingly remote by an otherwise out-of-play bunker at about 340 yards from the tee.The signature and soul of Inniscrone is likely No. 13, a par 4 that plays uphill off the tee between a series of unkind bunkers along the right side and an ancient, undisturbed farming road on the left, lower side. "You can get some very playable lies in that road," says Hanse, "or you can have a lie that forces a minimal lay-up. But even though the bunkers along the right are a classic type of hazard—the kind that signal a good player to favor their side of the fairway—we put a bunker right-front of the green that actually makes the left side, toward the road, a better route."
If Hanse hadn't revealed this nuance, a player might not understand the challenge of No. 13 until he had played it several times. So you begin to see the concept—a course that exposes its secrets over time, like a photo coming slowly into focus as it develops.
At the end of No. 13 stands a 350-year-old tree that also decorates No. 14 tee. While this ancient oak serves as the club's logo, it is tucked deep in the property and, despite its colossal size, feels like an objet trouve. Inniscrone's signage and printed materials make a fairly subtle use of this icon, to go along with the subtleties from tee to green on each hole. What matters is that the tree's longevity in that spot is saluted by the course-builders' determination to surround it with a golfscape hand-tooled such that it also seems to belong to a pre-modern era.
Par: 70
Yardage: 6,657
Year founded: 1997
Architect: Gil Hanse