A mystery guest in every sense, John Daly slipped into town around midnight, having executed perhaps his most significant long drive ever. It was the eve of the 1991 PGA Championship, on a course he knew nothing about, the late man, a field filler.
The rest, as they say, was hysteria. For four days, gripping it and ripping it, Daly overwhelmed Crooked Stick Golf Club, inside and beyond the ropes. He won his first major with a 12-under-par 276, beating Bruce Lietzke by three strokes, not only with prodigious length but soft hands.
As a Chicago Tribune columnist, accompanied by a beat writer, I was so taken by the story that I received a phone call from my curious sports editor midway through the epic. He asked edgily, "Is anybody else besides John Daly playing there?"
Indeed, the mop-haired blonde of age 25 simply took the place over, even lending his heart to a family dealing with death.
At one point, Daly was the ninth alternate. When informed that he had climbed to first on the list, Daly took off from his home in Memphis and headed to Carmel, Ind.—about eight hours away.
"I remember being told that if I made it, I wouldn't have to be at the course early Thursday morning," recalls Daly. "Which was nice. I'm getting up now when I'm used to getting in."
When Nick Price withdrew to be with wife Sue for the birth of their first child (on Friday, Gregory), Daly took on Price's customary caddie, Jeff "Squeaky" Medlen, and joined a threesome including Bob Lohr and Billy Andrade. Both were immediately impressed by how Daly compressed Pete Dye's 7,289-yard creation.
"When he wasn't blowing it past me with a one-iron, he used a white, plastic-looking driver," said Lohr. "And hitting it over and past all the bunkers, all the trouble. Best driving display I'd ever seen."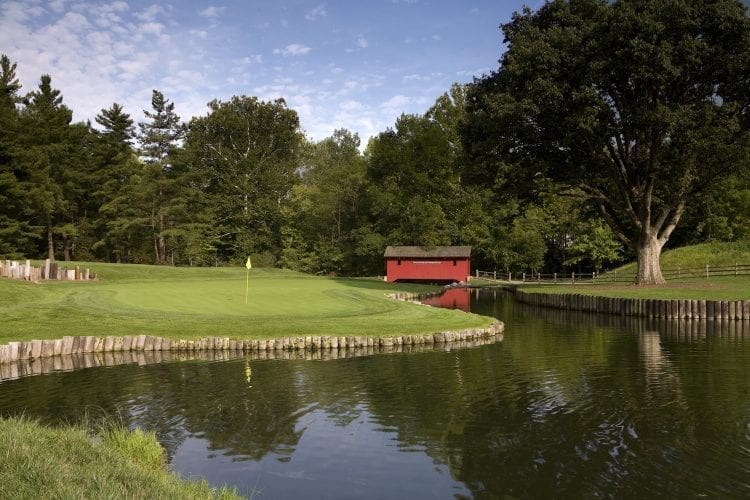 Andrade noticed Medlen coaching Daly at each tee box: "Just kill it!"
Daly's 69 put him two strokes behind Kenny Knox after the first round, which was delayed by violent weather. He followed with a second-round 67 for eight-under 136, one better than Lietzke and two ahead of Knox.
On Saturday, CBS zeroed in its coverage on Daly, the huge crowds were all in, and Big John obliged, firing a 69 for a three-stroke lead over Knox and Craig Stadler. Alas, as soon as he completed his 18th hole, Daly was summoned to an investigation. On the 11th hole, with Daly over a 30-footer for eagle, Medlen showed him the line and then stood near the cup with the flagstick resting on the surface.
Rule 8-2b forbids a caddie from touching the green on the line of a putt. But the putt was left to right, a path that would have been opposite of Medlen's location. Thus, Daly was cleared of a possible two-stroke penalty. A cluster of fans around the scoring trailer cheered when he was vindicated.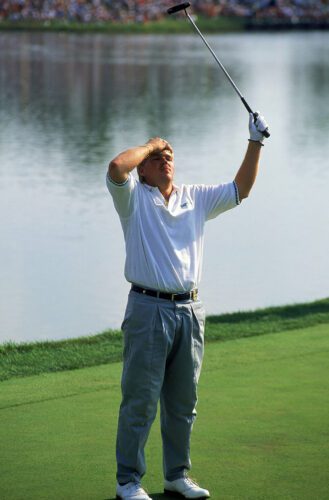 On Sunday, despite a double bogey at 17, Daly finished with 71. He had devoured the par fives in 12 under, hit 54 greens in regulation, and pumped his fists throughout, not that his massive galleries needed prompting.
As we have come to realize, Daly can also be the baron of bittersweet. He thought his unlikely PGA Championship win would mean a berth on the U.S. team in the 1991 Ryder Cup. It didn't.
Far worse, during a first-round weather delay, spectator Tom Weaver, 39, perished after being struck by lightning. He left behind wife Dee and two girls: Karen, 8, and Emily, 12. When Daly won, he donated $30,000 of his $230,000 winner's check to a trust fund for the children's education. Daly refrained from contacting the family thereafter, for fear it would stir bad memories. But in 2005, there was contact. Daly finally met the girls, now college graduates.
"John Daly," said Emily, "is a saint."
Grip it, rip it, share it.