One night in June 1990, Nick Faldo was having dinner in his hotel in Chicago with a journalist. I was that journalist. In those days, Faldo and I had dinner quite often. We had struck up a friendship based partly on his emergence as a world-class player at about the time I started writing on golf for The Sunday Times, the British newspaper. At these occasional dinners, we were sometimes joined by Gill, his then-wife, and David Leadbetter, his then-coach, but never by Fanny Sunesson, his caddie.
Faldo, 32, was in Chicago competing in the Western Open by way of a warm-up for the following week's U.S. Open at Medinah. The reigning Masters champion, he was in the form of his life having had three victories and a second place in the previous 11 major championships.
He was buoyed by recent news from the PGA Tour that as a non-member he would not need a sponsor's exemption to compete in the next year's Players Championship. Faldo saw this as a significant victory for himself and his fellow Europeans such as Seve Ballesteros and Bernhard Langer over the isolationist Americans. "It means we can play 10 tournaments over here without exemptions and that's very nearly what we wanted last year," Faldo said. "It's a complete climbdown by the tour."
Unlike Tom Watson, who had visited the No. 3 course at Medinah the previous Monday, Faldo had yet to set eyes on the 7,195-yard behemoth, which was known for narrow fairways— one was only 19 yards wide—and hundreds of trees. "Miss the fairway and you're not just in long rough. You're behind two or three trees as well," Watson said.
That Medinah No. 3 was the longest ever used for a U.S. Open at that time did not worry Faldo, because he, like Curtis Strange, the defending Open champion who had beaten him in a playoff for the 1988 U.S. Open at The Country Club, had a game based more on accuracy than power.
"Nick and I are grinders," Strange had said. "We're not aggressive types like Mark Calcavecchia and Greg Norman. We're on fairways, on the green, putt, putt, putt types. Not many birdies, but not many bogeys either."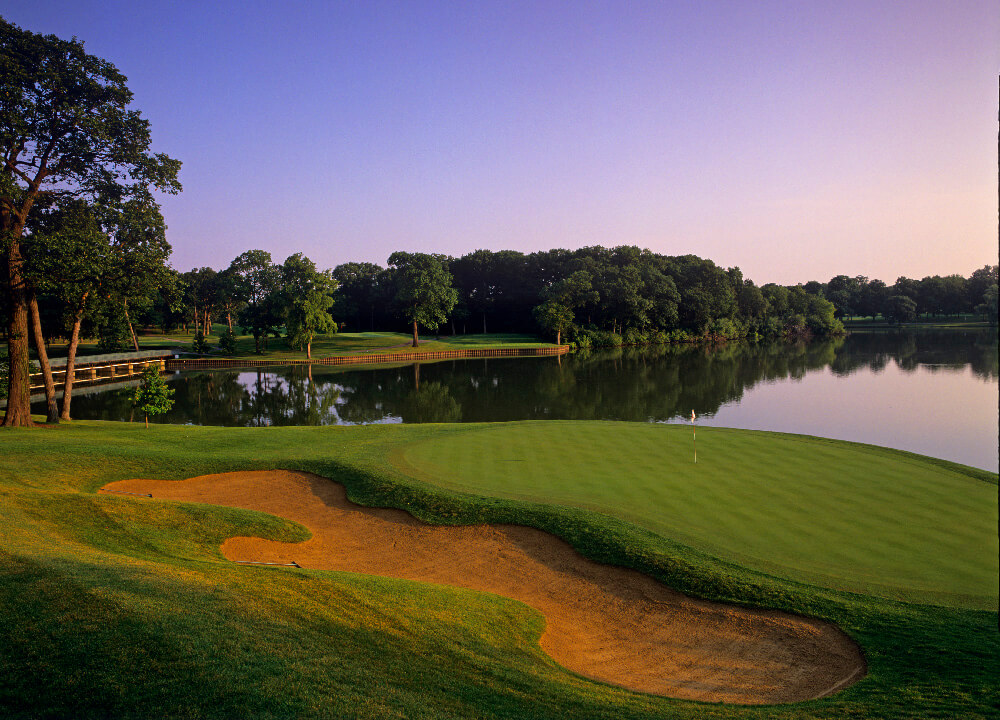 A book on a shelf just behind Faldo's head caught my eye. It was titled It's Possible, and when I pointed this out both he and I wondered whether that could be an answer to the second question: Could Faldo win at Medinah and add to his haul of major championships? He looked quietly confident.
"My golf is 90 percent there," he said, which was just about where he wanted it with the Western Open still to be completed.
After three rounds at Medinah, Faldo was four under par and three strokes behind Mike Donald and Billy Ray Brown, the surprise leaders. There were 25 other players who were within five strokes, including Jack Nicklaus, Hale Irwin, Ian Woosnam, Norman, Ballesteros, and Strange, bidding to become the first man in 85 years to win three successive U.S. Opens.
It is history now that Irwin had a memorable last round, a 67 with an inward nine holes of 31, and his 8 under matched the 8-under totals of Ben Hogan in the 1948 U.S. Open at Riviera and Nicklaus in the 1980 U.S. Open at Baltusrol. He holed a 45-foot putt on the 72nd green to set a target of 280 that Donald equaled. The next day, Irwin beat Donald on the first extra hole after an 18-hole playoff. It was Irwin's third victory in this championship, making him the fifth man to win it more than twice.
Faldo flew to London that night, thinking about a 15-foot putt he had had to tie Irwin, a putt that had caught the lip of the hole and spun away, thus ending his chances of a second major championship two months after the last. "For want of a half inch there would be no Grand Slam again this year," someone wrote.
That putt wasn't what had cost Faldo a chance at his first U.S. Open title, however. His short game had done that. "I had four bunker shots and seven pitch shots and I got up and down only four times out of 11. That's not good enough," Faldo said.
Thus It's Possible, the title of the book he had been reading in his hotel a few days earlier, became "it wasn't possible." Faldo bounced back by winning the Open Championship at St. Andrews two months later, the fourth of what would be his six major championships.