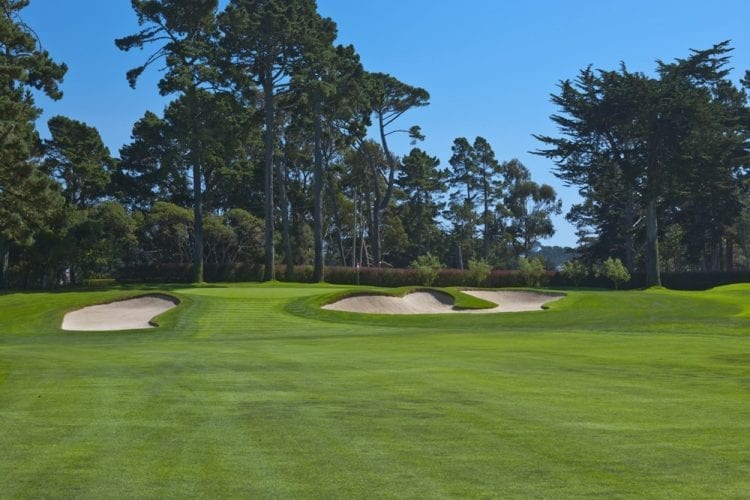 A "cataclysm with legs" was the late Alfred Wright's singular description of Arnold Palmer. But to a reporter watching from a few feet behind the 9th green at
The Olympic Club
, where moments earlier Arnie had increased his lead in the 1966 U.S. Open, Palmer seemed more a man of destiny.
Seven strokes in front with nine holes to play, the great Arnie, knocking in putts, hurling down half-smoked cigarettes, hitching up his trousers, hell bent on conquering Ben Hogan's 72-hole Open record. Desire under the eucalypti.
Standing there just inside the ropes, my media armband prominently displayed, I called down the echoes of 1955 when on this very same course the unsuspected Jack Fleck caught Hogan and then beat him in an extra round.
"Well,'' I said to no one in particular, "this time there won't be a playoff at Olympic.'' Ho, ho. I was a virtual rookie, unschooled in the evil and unpredictable ways of the game, about to be provided an education which left me in disbelief.
I had come to the San Francisco Chronicle from the now departed Santa Monica Outlook in May 1965. By the fall of that year I was selected the Chron's golf writer—conditionally, because sports editor Art Rosenbaum once had been the golf writer and was wary of the way an event as important as the U.S. Open might be covered by a kid.
Rosenbaum decided he would write the main story each day and I, relatively inexperienced and with a brush haircut and horn-rim glasses looking younger than my 28 years, would be assigned the sidebars.
That turned out wonderfully. The first two rounds I followed a 19-year-old amateur who was a junior Olympic Club member, Johnny Miller, in a threesome with Harry Toscano and an obscure
Texan named Lee Trevino. Two years later Trevino would win the Open at Oak Hill; seven years later, 1973, Miller would win the Open at Oakmont.
But this was 1966, and this Open would be won by Arnold Palmer. Wouldn't it? The fourth round I was told to walk with the last twosome, Arnie and Billy Casper. Oh joy. Oh pain.
Olympic's first hole, atop the San Andreas Fault, is a par four for the 2012 Open, but in 1966 and other Opens it was a par five. Boom. Arnie started the day getting on in two, a birdie. Go get 'em, Arnie, ooh, ahh.
Palmer was in a rush to make history, and a three-under 32 on the front worked perfectly. With nine holes remaining, Arnie was six-under par, seven in front of Casper and a cinch to break Hogan's Open scoring total of 276. Oh, I'd remember this one. But not the way I'd imagined.
There was a Palmer bogey at 10 but then a birdie at the short par-four 12th. Casper also birdied 12, but who cared? Palmer was six in front with only six to play. Years later, I read Arnie said that birdie at 12 "could have been the worst break of all because it convinced me I could break the record.''
Casper gained one shot at 13, two shots at 15, two more at 16. Another bogey at 17, and, lordy, they were tied. How had this happened? At 18 Arnie needed to sink a downhill four-footer to match Casper's 278 and somehow he managed to do it.
A sigh of relief. But it was only temporary. Arnie and Billy would return the next day for an 18-hole playoff everyone knew Billy would win. Which he did. –by Art Spander
Art Spander is an award-winning sports columnist for the San Francisco Examiner.