Day One: Even though we knew it was bound to happen, Jason Day's first major championship was still especially fulfilling
There are times in professional golf when you could almost swear the outcome of a tournament is pre-ordained. That's how it felt when Jason Day broke through and won his first major championship at the 2015 PGA Championship at Whistling Straits. I had watched him through the years, nibbling around the edges of major championship success but something, or someone, always got in his way. So, when it finally happened at Whistling Straits, I remember watching Day try to pull it all in—the victory, the meaning of it, and his family—as he wiped away tears.
Some players hide themselves behind walls they create, limiting what we golf writers, and, consequently, readers, get from them to golf-centric thoughts and reactions. Day has always been different. He's been out front about who he is, where he's from, and what he wants. He invites us in. Less than two years after his PGA win, Day was six holes into a match against Pat Perez in the WGC-Dell Technologies Match Play Championship in Austin, Texas, when he suddenly conceded the match and walked in.
That's when he tearfully shared with the world that his mother, Dening, was fighting Stage 4 lung cancer and he needed to be a son more than he wanted to be a golfer at that time. It would have been easy for Day to have offered a short comment in a press release, but he sat in front of the golf media and let his emotions pour out.
It was a touchingly human moment, difficult and painful. Sitting in the media center, we forgot about golf as our eyes glistened. When his mother's condition eventually improved, Day shared that news with a smile. When his game went flat, Day talked about that. And when he saw how far he'd fallen from being No. 1 in the world, he talked about how desperately he wanted to return.
Maybe that week at Whistling Straits was as good as golf will ever be for Day. He didn't just win his first major on that hot, sticky Sunday on the edge of Lake Michigan. He completed a four-day exhibition of modern golf at its highest level, becoming the first player to finish a major at 20-under-par.
Until that week it had been Jordan Spieth's year. He'd won the first two majors and had come within one stroke of a playoff at the Open Championship.
But Day had always been there, holding at least a share of the 54-hole lead in three of the year's majors.
As Day played the last hole at Whistling Straits, it felt like more than the high point of a still-blossoming career. It was about how far he had come, not just from Australia but through the twists and turns of a life that could easily have gone a different direction.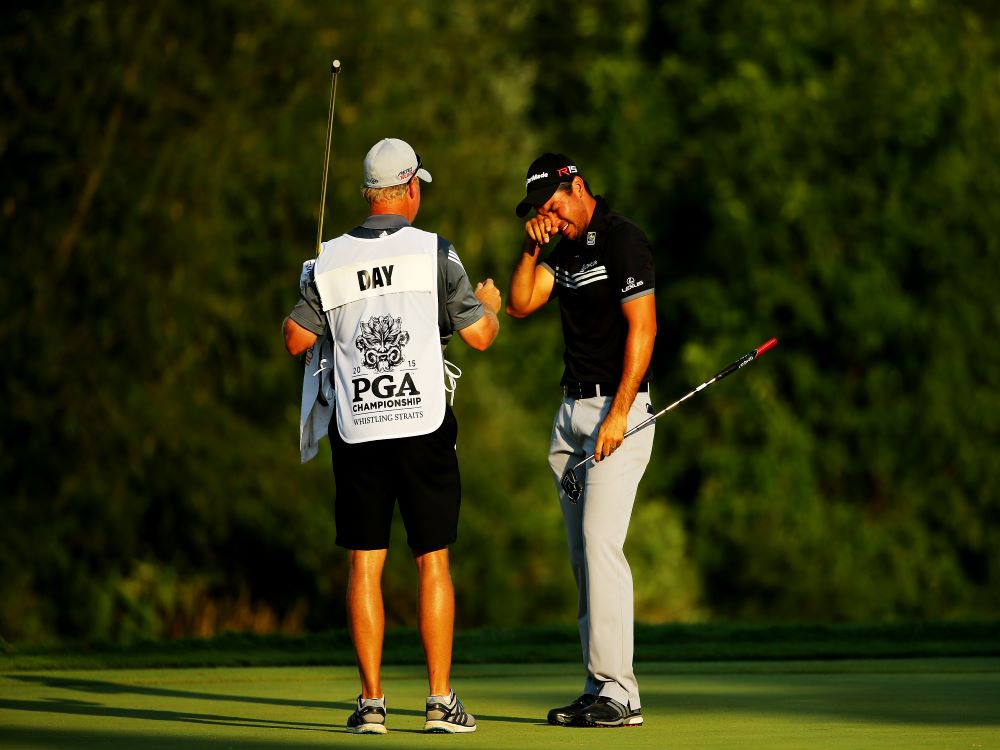 That's one reason Day was wiping tears as he walked to the final green, knowing he had won. It's why his wife Ellie and their young son Dash were there to hug him along with Colin Swatton, the caddie/coach who had pointed Day to golf when he needed direction.
All of them stood on the 18th green that Sunday evening and talked about where Day had come from and the path that led him there. He talked about being a 12-year-old with an alcohol problem as he wrestled with his father's early death, and about all the good people who had helped him along the way.
"You could just tell he was ready," Ellie Day said on that 18th green. "It just seemed like it was going to happen."
Finally, it was Jason's day.