High Pointe Golf Club was among the course casualties of the Great Recession, closing in 2008 amid the global financial crisis.
The demise of this particular course, located just outside Traverse City in Northern Michigan, was notable for a couple of reasons.
First, it was purchased by a company named MI Local Hops and many of its fairways and greens were transformed into a commercial hops farm, an effect of the rising craft beer brewing industry in the region.
Secondly, High Pointe was the first-ever design by architect Tom Doak, who has described the course in his hometown as Pacific Dunes without the ocean. And all of those greens—including the ones that gave way to hops—were personally shaped more than three decades ago by Doak, who claims they're still some of the best he's ever built.
Dia de Muertos, Day 3
High Pointe, by Tom Doak. Opened in 1989, closed in 2008. Doak's first design on former cherry orchard and pine forest. Front nine now a hops farm for local brewing industry, back nine mostly intact but overgrown. #RIP
Photos by Tim Bert (8, 11, 12) pic.twitter.com/GFqr9Cl2Ve

— John Griffin (@Griffin_Golf) November 2, 2018
And now, he's bringing them back. At least some of them.
"No (golf course) architect gets to restore their own work. Much less their first design," says Doak, who recently was part of another heralded rebirth—the long-lost Lido reborn in Central Wisconsin at Sand Valley Golf Resort.
High Pointe is being reincarnated as a high-end private club on 320 acres, the vision of new owner Rod Trump, a tech entrepreneur, investor, and former college golfer who lives in Florida, but is not related to the former president and fellow golf developer.
Trump initially asked Doak if he wanted to bring back the original 18. While some of Doak's friends insisted he should restore the full layout, his wife suggested he should try to build something even better, particularly because some of the neighboring land that was also purchased is more compatible with the original back nine. Even better, Trump wouldn't have to acquire the hops business itself to take over the rest of the original golf course property, and a good bit of Doak's original design would still be reborn.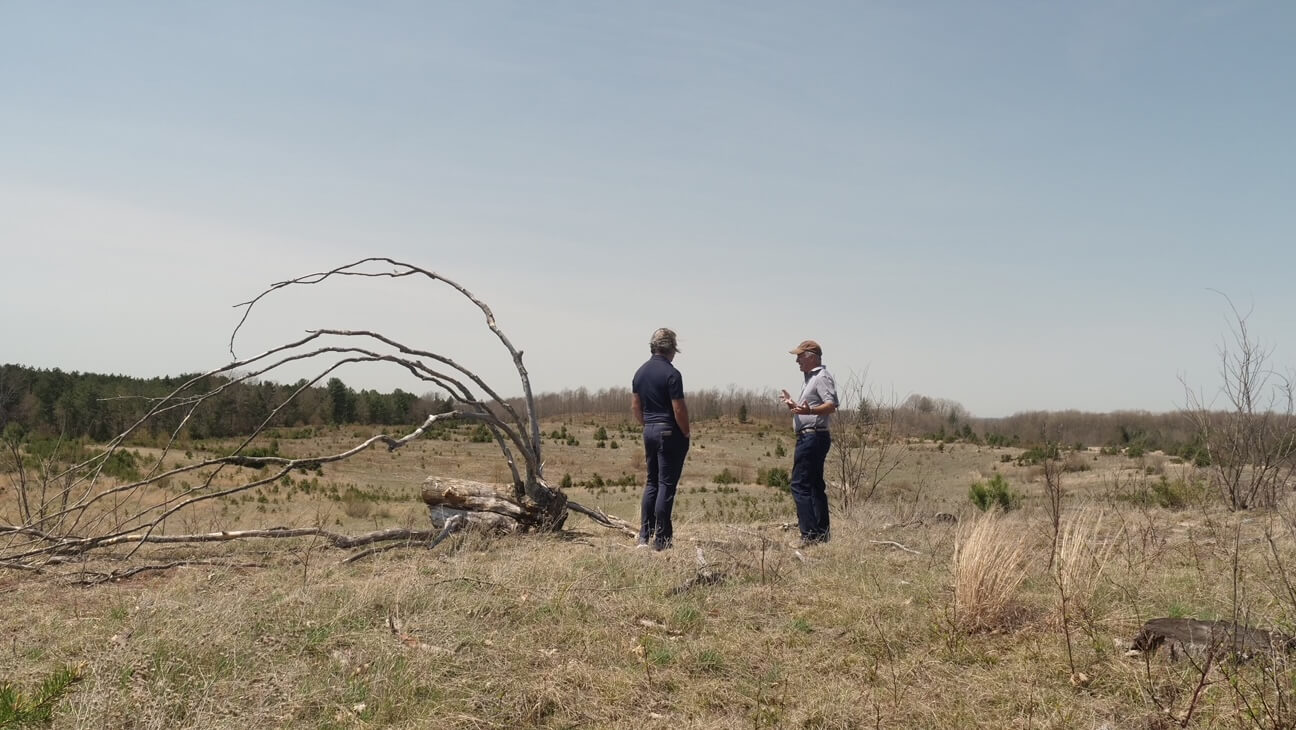 "I don't feel like I'm a better designer than I was in 1987, but I do feel like I'm a better builder, and I've got a lot more talented people ready to help me now," says Doak. "So, the course should be better than before, if maybe less original or unique."
The heart of the back nine from the original routing will be resurrected, while the former front side remains a hops farm. Holes 10 through 15 of the original course will be kept intact, although they'll be numbered 8–9 and 12–15 in the new version, sandwiched around two new holes on an adjacent piece of land that's been acquired. Portions of the former 18th hole will be used for the new par-five 16th, while holes 1–7 and 17–18 are on new land, which Doak says also has special contours and drama.
The plan is to break ground on the course in Spring 2023 and with a third of the golf course already there, the hope is that golf balls will be in the air by June 2024.
High Pointe expects to have 50 to 70 local members who are within 100 miles of the club, with up to 275 national members and a handful of international members.
Trump has a passion for golf, but concedes the pandemic really pushed him to pursue having a club of his own. A member at Pine Tree Club in Boynton Beach, Fla., as well as Baltimore Country Club, Trump fell in love with Northern Michigan when he rented a house in Traverse City for eight weeks in the summer of 2021. After an unsuccessful attempt to acquire another club in the area, a friend mentioned High Pointe to him and it wasn't long before this "hidden gem" would consume his life. Especially after Doak was all in.
"It's rare in life when you get to do something great and do it for the right reasons. It's a great part of the world and the people are nice," says Trump. "The game has given me so much, including many of my friendships, and this was an opportunity to do something great for one of the game's greatest architects."
Doak's first course might not be coming back if it wasn't for golf's Covid-driven renaissance. Trump points to not only the popularity and interest around the game but says as people continue to migrate out of the Northeast to states like Texas, Florida, and South Carolina, they'll be looking for cooler escapes during the summer months. He expects many will have the same appreciation for Northern Michigan as he does.
For Doak, it's not only a chance to bring back his very first course, but work close to home. The latter is also especially welcome for an architect whose current projects extend from various corners of the U.S. to the Scottish Highlands and the beaches of New Zealand.
"I've been commuting between five and 30 hours each way to work for most of the last 20 years, so a home game means a lot to my peace of mind, even if I will also have a lot of other commitments," says Doak. "It's just a luxury to be able to go out and do your creative work when you are feeling like it."