Despite what seems to be the perfect town name, golf has never been high on the community agenda in Ball Ground, Ga. Until last year, the town never had a golf course, and the few residents who played the game were forced to travel almost an hour into metropolitan Atlanta. That, however, was before two highly successful businessmen from Connecticut came to town, and set about fulfilling a dream.
According to rural legend, the name Ball Ground came from the Cherokee Indians who played a hybrid of stickball and lacrosse in the pastures of north Georgia before being driven out of the state by farmers, miners and imperial land barons of the Old South. Even in the past decade, the main attraction along the one-street downtown district of Ball Ground—located in the buffer zone between Appalachia and the suburban sprawl of Atlanta—was The Rock Shop, a rundown retail outlet where one of Ball Ground's smarmier residents sold chunks of marble and sandstone to unsuspecting passersby.
But the area has been changing as Atlanta has crept ever closer to the mountains along the Tennessee border. As suburbanites have continued their northward migration, specialty malls, restaurant chains and new golf courses have followed close behind, springing up throughout towns like Ball Ground faster than corn in a backyard vegetable garden.
The finest of these golf courses is Hawks Ridge, the brainchild of two golfers who have been friends since fourth grade and business partners for 34 years. Carved out of an unlikely hillside, Ball Ground's first golf course, which didn't open until September 1999, may already be the second-best course in the state, trailing only Augusta National.
There's nothing better, and that's no lie," says no less an authority than Chi Chi Rodriguez. That wasn't a solicited response. No one pays Chi Chi to endorse Hawks Ridge, nor does the popular Senior Tour player charge an appearance fee when he comes out to play. Chi Chi goes out of his way to visit Ball Ground, sometimes scheduling flights through Atlanta simply so he can play what he believes is one of the best courses in the country. "It's unbelievable what they've done here," he raves. "I love it."
He's not alone. In fact, it's not unusual to drive through the gates at Hawks Ridge, past the helipad and the air-conditioned indoor learning center, skirting the edges of the posh par-3 course, only to find Michael Jordan throwing a football with a couple of kids in the club parking lot. Atlanta Braves pitcher John Smoltz is around most days, enjoying not just his membership at Hawks Ridge, but also the 12-acre parcel off No. 11 tee, on which he plans to build a home. Oftentimes he'll have fellow Cy Young Award winners Tom Glavine and Greg Maddux with him. Wally Joyner and Billy Andrade visit regularly, as does Gary McCord.
Golf course architect Bob Cupp, a Jack Nicklaus protégé who worked with Nicklaus at Muirfield Village and who designed (with John Fought) the highly acclaimed Pumpkin Ridge Golf Club in Oregon, puts Hawks Ridge at the top of his list of design jobs. "It's somewhere between Muirfield Village, Pumpkin Ridge and Augusta National," he says. "It's all three of those. It's Augusta National with hardwood trees. I'd have to say that it's my consummate effort.
"I'm lucky to have had the job. Everybody in the business wanted this job. "
Yet the reason every big-name designer in the business wanted the gig had little to do with the land itself. There was nothing particularly special about the swath of earth other than some nice hardwoods and a 12-acre lake built by the soil conversation service in 1952. It wasn't as though it had once been a nursery or an indigo plantation. There were no antebellum homes or towering magnolias. It was simply nice, rolling land with good soil and a decent water supply. Location wasn't a big factor, either. Ball Ground is a good hour's drive from Hartsfield International Airport, and the narrow two-lane road that leads to the club isn't much different than it was when chicken farming was the county's biggest industry.
No, the reason a who's-who of golf course architecture trekked up to Hawks Ridge was because everyone knew that the owners, Joe Jillson and Mike Nixon—semi-retired owners of Q.I. Corp., a highly successful residential building products company—wanted to build one of the best golf courses in the country, and they weren't afraid to spend whatever it took to do it.
"They are intense and very bright people," Cupp says of his bosses on the project. "But they are also two of the hardest people I've ever worked for in my life because they are so detail oriented. Yet because of the way they were throughout the process, the place turned out to be something pretty special."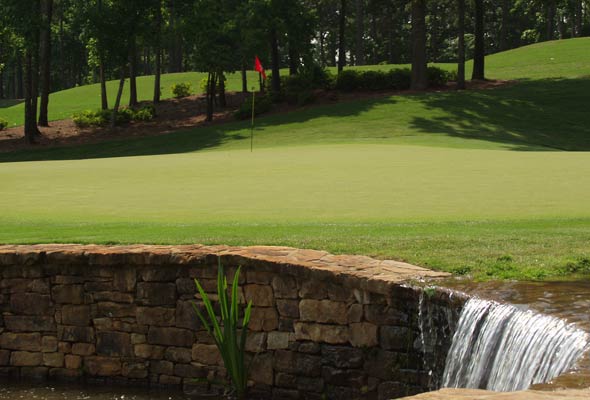 One of the reasons Cupp and players like Rodriguez, Smoltz and McCord gush celestial praise on Hawks Ridge is the condition of the greens. McCord claims they are quicker than Augusta National's at the latters' bikini-waxed best. Unlike the National, however, the greens at Hawks Ridge were designed to be lightning quick. There are no outrageous undulations, no 10-foot swales, no areas where there needs to be a windmill or a dragon's mouth. The greens are fast but fair, perfectly manicured and properly positioned. On an average day during the week they roll between nine and 12 on the meter; during the weekends they get up to 13 and 14 feet, faster than anything most club members have ever seen.
Even the bent grass tees typically roll nine feet on the Stimp. During his first visit to Hawks Ridge, Atlanta Constitution golf writer Glenn Sheeley found himself so intimidated by the condition of the tee boxes he had a hard time taking a swing. "The last thing you want to do is stick a club in the ground on something that perfect," he says. "I'll tell you the truth, the tees out there could be the second best greens in Atlanta." As if to prove that point, Jim Dusch—the superintendent at Hawks Ridge and the man responsible for the course's flawless conditioning—cuts holes on the par-3 tee boxes so that if you happen to be waiting for a group ahead to clear the green (a highly unlikely occurrence given the sparse amount of play the course gets) you can roll a few putts on the tees.
While immaculate conditioning will usually garner a great deal of praise, players understand that there has to be more to a golf course in order for it to be considered great. Hawks Ridge stands up to that test as well. Even if it weren't the most spectacularly maintained course in north Georgia, the layout would excel on its own.
"There are only three ways to assess whether a golf course is any good," says Cupp. "One is shot values; how good are the golf shots and what constitutes a good golf shot? The second is aesthetics, and the third is conditioning. But the ultimate test of whether a golf course is any good or not is whether a good shot is rewarded and a bad shot penalized. If Hawks Ridge were put to the test in any kind of event with any caliber of player, it would certainly hold up. The golf shots are there."
Cupp wasn't a lock to design the course. In the beginning, he wasn't even among the first three architects being considered. But as more time passed, one big-name designer after another came to Jillson and Nixon with routings that didn't seem to make sense. One of the world's top designers even brought a plan that had three par-5s and three par-3s on the back nine. When Jillson asked, "Why?" the architect said, "Because that's what the land gives us."
Jillson couldn't believe it. "Five hundred and fifty acres, and that's what the land gives you!" he said. These guys weren't experts, but they weren't dummies either. After a seemingly endless parade of architects and routings, Jillson and Nixon came back to Cupp.
"When we first started talking to Cupp we went to his house and he had all the old original drawings from Muirfield Village framed and hanging on his wall," Jillson says. "Muirfield was always one of our favorite courses, so that caught our attention. We also wanted somebody who was easy to work with. We're not architects, but we wanted to have a little input into the layout, and we thought our personalities matched well with Cupp."
It took more than a few old framed sketches for Cupp to close the deal, however. At one point, Nixon said to him, "Bob we think we'd like to hire you, but what can you show us?"
Cupp replied, "How about Pumpkin Ridge?"
That would have been a fine choice except for the fact that they were standing in Atlanta, Ga., and Pumpkin Ridge was in Eugene, Ore. It wasn't as though they could hop in a Jeep for a quick tour. But that didn't stop Nixon. "Let's get in the airplane and go," he said. And that's exactly what they did.
"It was a crappy day," Cupp remembers. "But they didn't hesitate. We flew their jet up there, played, looked around and talked. I don't think Pumpkin Ridge was a model for them as much as it gave them a chance to listen to me as we went around there. I was able to explain what we had and what we did, and they really listened."
Once they got back to Atlanta, Cupp presented dozens of routing plans. "I bet we went through 30 different routings," Nixon recalls.
Cupp chuckles when remembering those times. "The more routings I did, the more I liked the land," he says. "Nobody can walk out to a piece of property and say, 'Wow, this is great.' That's not the way you learn about it. It never becomes a reality until you lay out some golf holes and see how things go out and come back and turn and move. You learn by putting things down on paper and letting it happen. Pumpkin Ridge was much the same way. The more I did, the better it felt. The routing we finally settled on was SK-18. After that, Joe Jillson got to the point where he had [the routing plan] wadded up and stuck in his pocket."
Sketch 18 slowly but surely became what Jillson and Nixon envisioned: the best of the best, a course they could be proud of and one at which we can now marvel. The club will have 290 members, but the owners aren't in any rush to fill it up. Nor will there ever be any of the stuffy pretense that other top-shelf clubs around the country pride themselves on. Jackets and ties will be worn only by accident out there, and rather than a hoity trophy room or cavernous library, the clubhouse, which is still under construction, will feature stacked stone fireplaces in every cozy room. The only concession to indulgence is a cigar and wine bar on the second floor, and nearby cottages in case a member has one too many ports with his Cohiba.
"We're not up for stiff formality," Nixon says. "We're here to enjoy this place and we hope the members enjoy it as well. We've been lucky and successful in what we do, and this was kind of a reward to ourselves. You can't take money to heaven with you when you go, so we decided to stick ours into something that we really like, which was this golf course."
In so doing, Jillson and Nixon may have conjured a slice of heaven here on Earth.