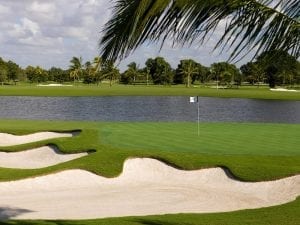 With his populist presidential campaign, bombastic Donald Trump is resonating with the little guy who feels left out of politics. The same is true of the latest Gil Hanse tweaks at Trump National Doral's Blue Monster.
With the Trump's approval, the architect has made six holes more democratic this year for the little guy, aka the mid- and short drivers on tour after numerous complaints following last year's tournament that The Blue Monster had become a bomber's-only layout. "After every tournament you get feedback, some of it public, some it private, some of it constructive, some of it guys just venting, so we generally wait a little while," Hanse tells The Buzz. "But we got some constructive feedback from the average length hitters that the course gave a significant advantage to the longer hitters. So we repositioned some fairway bunkers from 300 yards to 325 and filled in a few fairway bunkers that were primarily in play for the average hitters. We tried to level the playing field off the tee."
But is it fair to penalize guys who can hit it longer?