The "world's greatest golf course" is back on track.
After more than four years of battling—with bureaucrats and beachcombers, neighbors and naturalists, historic preservationists and hysterical protesters—Donald Trump finally has gained permission to build his dream course on a dramatic stretch of Scottish coastline just north of Aberdeen. The backhoes and bulldozers cranked up on July 1, and Trump International Golf Links is scheduled to debut in the summer of 2012.
Trump envisions his course as the centerpiece of the most ambitious golf development Great Britain has ever seen—larger than many Scottish towns, in fact. Trump is awaiting final approval for a plan that includes a 450-room hotel, 500 houses, 950 vacation homes, another 18-hole golf course, golf academy, conference center, equestrian facilities, tennis center and accommodations for a staff of 400.
But whatever obstacles lie ahead for the flamboyant billionaire, they will be no more daunting than those he already has hurdled. When Trump announced in 2006 his vision to develop the 2,000-acre Menie Estate, which includes three miles of North Sea beachfront and a range of 4,000-year-old dunes that are the tallest in Scotland, the local reaction ranged from incredulity to outrage.
"The guy I bought it from waited until I'd signed the contract," says Trump. "Then he looked at me and said, 'You must be nuts. If I thought I could put a golf course on this land, I would have done it a long time ago.'
"But his name wasn't Trump. I can get things done that other people can't."
Opposing Forces
And so he has—but not without the fight of his life. First there was the Aberdeen City Council, which, in a surprise, voted to reject his proposal despite widespread public support. So Trump mounted a charm offensive on Scotland's then-First Minister Jack McConnell, resulting in an overturning of the Aberdeen ruling. (Opponents later accused the besotted McConnell of breaching the ministerial code of ethics.)
By this time, Trump Scotland had raised the hackles of local environmentalists, so the government's approval came with no fewer than 46 conditions, many of them tied to the protection of animal and plant life. Among the mandates: management plans for otters and badgers; compensatory measures for birds, bats and invertebrates; and a protection plan for pink-footed geese.
Local archeologists also weighed in, citing 41 treasures on the property, ranging from prehistoric relics to World War II battlements, each of them requiring attention.
A group called Ramblers Scotland was outraged when they learned that Trump's plan called for the compound to be sealed off by large gates. "The right to roam applies to most of Scotland's water and land, including the Queen's Balmoral Estate," they said. "Does Mr. Trump really need more privacy than the Queen?"
Another protest group, Menie Liberation Front, took its case whimsically to the streets of Aberdeen, Edinburgh, Glasgow and Stirling, where they festooned dozens of prominent statues with Donald Trump masks and plastic golf clubs.
But the most nettlesome opposition has come from a single man, Michael Forbes, whose 23-acre homestead lies in the middle of the property. Trump was allowed to acquire five parcels of land, including Forbes' farm, that were not part of his original purchase. Forbes has declined repeated offers well in excess of market value, in the process becoming a minor celebrity and local hero to opponents of the development.
Looking ahead to the end game, the government has empowered Trump to exercise something called a "compulsory purchase order," meaning Forbes will be forced to sell whether he wants to or not.
The Forbes situation has incited yet another group, Tripping Up Trump. Last year it circulated a petition that attracted 15,000 signatures. It also purchased a small part of Forbes' property—land it refers to as the Bunker—and has designated each of the 15,000 petition signees as co-owners in an attempt to snarl up any purchase attempt. The Forbes farm, which Trump has referred to as "a pigsty," does not affect the golf course but would be in full view of the rooms of the planned hotel.
On top of all this, vandals have twice sabotaged the site. After a fire of mysterious origin tore through six acres, a nocturnal assault wrought $75,000 of damage to a pair of construction vehicles and uprooted more than 1,000 square meters of grass sprigs and fencing.
Picking An Architect
Trump has had a rocky front nine. And that's not even considering the fragile state of the global economy, the depressed housing market and questions about the viability of Aberdeen, located two hours north of St. Andrews, as a golf mecca. Yet he remains as upbeat and committed to this project as the day he acquired the property.
"This land was just too good to pass up," he says. "When I decided I wanted to try doing a project in Europe, I started looking around, and over five years we viewed more than 200 sites, including some incredible places, but none of them fit the bill. Then, just as I was about to give up, this one came to my attention. It was love at first sight. Beyond that, I've always wanted my first international project to be in Scotland, because my mother was born here and loved her homeland so much.
"I have nearly 2,000 acres here, and the best 500 are dedicated to the golf course. That's more than twice what I need. I will take this piece of land, these incredible dunes that everyone said could never be touched, and I will build a golf course for the ages.
"As for the rest of the project, the real estate part, I'm betting it will get more valuable after the course is in place. I may be right, I may be wrong; but even if I'm wrong it won't be a disaster. In the meantime Scotland will have itself one absolutely magnificent golf course."
Trump's choice of a course architect—Englishman Martin Hawtree— came as a surprise to many. But Hawtree represents the third generation of an architectural firm that has been working with linksland for nearly a century. "No one knows links courses better than Martin, and the people in Scotland know he's the man," says Trump. "I honestly don't think I would have gotten approval for the project with any number of top American architects."
Although Hawtree's design portfolio lacks a course of major international acclaim, the Royal & Ancient Golf Club has hired him to rework four British Open sites. Trump's objective from the beginning—a goal more important to him than any return on investment—has been for his course to one day host the Open.
"When I asked [R&A Chief Executive] Peter Dawson who he would recommend I hire as an architect, he answered without hesitation: 'Martin Hawtree,'" says Trump. "Then I asked him who his second choice would be. Once again without hesitation he answered Martin Hawtree. That was enough for me."
Dramatic Dunescape
A soft-spoken fellow of less than medium height, with sleepy blue eyes and a wispy thatch of steel gray hair, Hawtree is the anti-Trump—and that may be exactly what the project needs. The Donald's natural yearning is for fairways as lushly verdant as Augusta National's and greensites as prissily manicured as those at his home club, Winged Foot, not to mention the occasional 5,000-gallon-a-minute faux waterfall. Hawtree's dual challenge is to rein in his client while also managing a jaw-droppingly dramatic site.
No dunes on any links in the world match those on the Menie Estate—some of them climb to 100 feet. In fact only at a couple of courses in Ireland—the Island near Dublin and the New course at Ballybunion come to mind—are there formations of similar height and breadth, and in neither case are they as integral to the golf as they will be here. Earlier this year Trump christened his mega-hills "the Great Dunes of Scotland" (blessedly eschewing the temptation to work in his own name).
Hawtree has chosen to disturb the dunes as little as possible, routing his holes through slacks, slips and passes, much in the manner of Royal Birkdale. On some holes, strolling down the corridors will be like walking through the base of the Grand Canyon.
"I don't want the course to be dwarfed by the dunes," says Hawtree. "I want to engage with them. Many of the tees and greens will be sited on ridges and crests, so the North Sea is in near constant view."
The course unfolds in the manner of links such as North Berwick, Royal Troon and Nairn, in a long, narrow strip beside the beach. But rather than follow the classic out-and-back design, with the 9th hole at the farthest point, each of the nines loops back to the clubhouse. The length from the championship blocks will be roughly 7,500 yards.
The terrain of the outward nine includes an unusual feature for links courses—natural wetland, which Hawtree will take full advantage of at the proposed 446-yard 2nd hole, where long hitters will be taunted to carry a burn that crosses the fairway about the 300-yard mark. The postcard hole on this nine will be the par-3 6th, playing from a dune-top tee to a dune-top green and backdropped by the sea.
The boldest terrain has been saved for the back nine, which begins with a split-fairway par 5, the two alternative paths separated by wetland. The right-hand route will call for a big carry but will offer a clearer view and a shorter approach to the green nestled between two enormous dunes.
Much of the inward nine plays across a natural formation called the Menie Dome, which until recently was a 25-acre mountain of gleaming white sand that took shape 40 years ago when a violent storm burst through the barrier dunes and created a corridor through which the sand could blow. When permission was granted to create the golf course, sprigs of marram were planted to stabilize the constantly shifting sands. Now they've knitted in and the snowy cap has all but vanished, replaced by nascent fairways and greens.
The hole that gets Trump most excited is the 14th, which begins at an elevated tee beside the sea and plunges 437 yards through a valley with towering sandhills on both sides.
"I love the way that hole will enclose golfers as they play it," he says. "I've walked that terrain several times, and the wind goes right over your head. That hole will be a jewel."
The 17th, by contrast, will be fully exposed and a brute, climbing 478 yards into the prevailing wind. Just above the green is the 18th tee, sited per Trump's insistence at the highest point on the course. The finisher tumbles 631 yards through a perilous parade of heathland, marram rough and wetland, with a burn crossing 40 yards in front of the green. It is a strong finish to what appears, in its earliest stages at least, to be a strong course.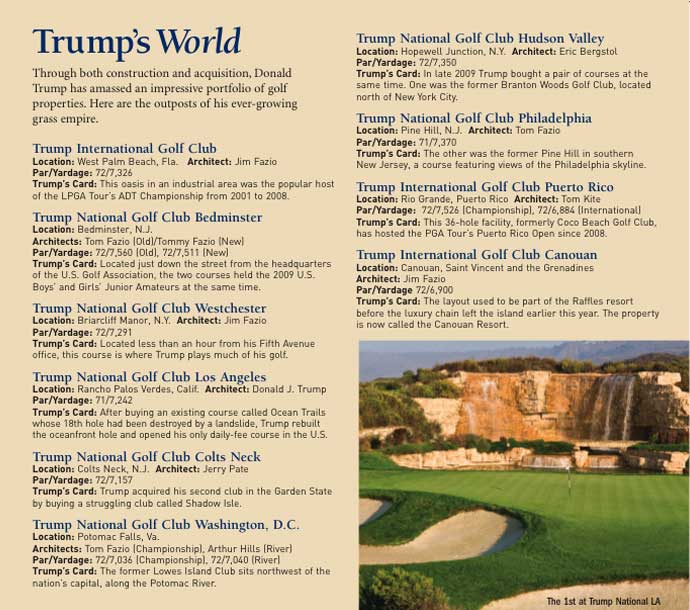 Open Ambition
Trump International will be a bona fide links course, with all that means in terms of strategic options—tussles with the wind, firm and fast fairways, and open-front greens that encourage a low, running style. Hawtree has ensured all that.
Meanwhile, Trump's objectives are two-fold. He wants to create a full test from the championship tees at the same time injecting a high level of pizzazz by maximizing the sea views from as many points on the course as possible. "During my last walk through the property with Martin, my number-one priority was repositioning tees and raising greens to open up the panorama out to the water," says Trump. "We had some debate, and I respect Martin's point that we need to offer players shelter from the wind, but I said, 'Martin, what I bought was the ocean.'
"You know, everyone crows about Bandon Dunes. Well, I've been to Bandon Dunes. The views there are no better than what we have and the dunes themselves are like little toys compared to our dunes. These are the greatest sand dunes anywhere in the world."
That statement is quintessentially Trump, a compulsive competitor who knows exactly which spots each of his courses occupies on various state, national and international rankings. He's equally aware of the success of fellow developers like Herb (Whistling Straits) Kohler and Mike (Bandon Dunes) Keiser, and pays close attention to the annual announcements by the U.S. Golf Association and PGA of America of courses for future championships.
Trump's club in Bedminster, New Jersey, hosted the U.S. Boys' and Girls' Junior Amateur championships last year, but what he really wants—on both sides of the pond—is an Open.
At the same time, he knows it's important to keep the public conversation positive. "Greatest" is a word he manages to work into every third or fourth sentence—and not always about his own enterprises. Gary Player in his heyday had a similar fondness for the word "finest." ("This is the finest hole/course/tournament I've ever had the privilege of playing.") Both are consummate schmoozers who know praise and flattery—even when transparently over the top—can be a powerful tool.
Many who meet Trump for the first time are predisposed not to like him. Then he works his wiles—he hails their accomplishments, asks questions he knows they relish answering, shares personal stories, and squires them through his heady world, introducing them as the best and brightest in their fields. The invariable result—whether his interlocutor is a banker, CEO, public official or tabloid reporter—is that Donald Trump gets what he wants, or pretty close to it.
He realizes that his spiel is a charade, part of the larger-than-life persona he has cultivated. But at some level, he also believes everything he says. "Sure, I know it's grandstanding. I also know it's a double-edged sword. I'm setting myself up for a lot of people who—no matter how terrific my course turns out to be—will begin their critiques by saying it's not the greatest in the world. In the meantime, though, the course is getting a lot of attention it wouldn't otherwise get.
"Besides, with the land we have, and with the work Martin and his team are doing, I do think it actually can be the greatest golf course in the world."
Even if the course vaults to the height of the world's top 100 list, even if Trump creates the perfect venue for a major, is there really any chance it could host the British Open? Or more to the Donald's real goal: a British Open in his lifetime?
While the USGA has demonstrated in recent years an eagerness to move its national championship to new, untested courses such as Chambers Bay (2015) and Erin Hills (2017), the British Open is staged only on links courses—and most of those are of a certain age. Very rarely does a new championship links come along.
But there is hope, as there is some precedent. Royal Birkdale, whose current course was co-designed by Hawtree's grandfather, hosted its first British Open less than 20 years after it debuted. Forty years ago Turnberry was just a pretty course with a glitzy hotel. Now it's a stalwart of the Open rotation, having hosted the championship four times.
Moreover, over the last two decades, the British Open has become by far the largest source of income for the R&A. Most of the revenue comes from worldwide television rights, which in recent times have become difficult to sustain, let alone increase. Trump's course will be more telegenic than any Open host except Turnberry, and he knows something about generating ratings.
So looking down the road, if the R&A wants to maintain the full thrust of its myriad programs around the world on behalf of golf, the organization may have to weigh Troon vs. Trump, cachet vs. cash.
"The R&A will do what it wants to do," says Trump. "All we can do is provide a terrific canvas for them to consider."