In the same way that imperfections on the likes of Marilyn Monroe or Cindy Crawford aren't called "moles" but "beauty marks," finding flaws in the world's best golf courses—usually in the manner of bad holes—helps us to fully appreciate their greatness.
Simply because 1/18th of the whole is considerably less than the sum of its parts is no reason to dismiss the whole. However, the fact remains that such dogs do exist, the nagging flea on what is otherwise a champion.
Well, every dog has its day—and that day is today.
While most of the holes to follow have had time to acquire a certain notoriety, it's worth starting in the present moment, because identifying these drunk uncles is a natural process that begins almost immediately. A funny thing happens when new courses that aspire to greatness arrive on the scene: Once the highlights have been quickly noted, golfers move in like picadores in a bullfight, poking and prodding to find the weakest links.
Why do we do this? Perhaps there's some glimmer of the Anna Karenina principle at work. Per Tolstoy: "Happy families are all alike; every unhappy family is unhappy in its own way." This maxim has found currency in many fields of scientific endeavor, but at its core it is meant to tell us something about storytelling. If one thinks of a golf course as a kind of narrative in which individual holes constitute chapters, the routing can be viewed as the through-line, that invisible force that lifts us off our feet and smoothly pulls us along in a state of suspended disbelief. Jolts, jumps, or interruptions are noticed—and decried.
As it applies to golf holes, for example, there's expressive potential—call it creative license—to be found in disparaging the fiendish 14th at Bandon Trails (LINKS100 #96 World). From the long uphill slog to the tee to its splinter-like green, this hole infuriates some to such an extent that Mike Keiser is fortunate dynamite packs and Acme Detonators don't fit in the side pocket of the average golf bag.
An even more recent example suggests the "through-line" analogy can be extended further. This year, the quibblers have congregated on the 7th at Tom Doak's Streamsong (Blue), a dramatic par three that plays across a pond to a green embraced by a bizarre and enormous mound of mining spoils. Several golfers have suggested the contours of the green are too wild, but that's not the real issue. What has some up in arms is that after playing the hole they must double-back and cross the same pedestrian bridge used to access the green, then trudge 100 yards uphill to the next tee. Is this routing glitch enough to convict an otherwise well-executed hole? The jury is still out.
This kind of stuff has been going on for decades, if not centuries. "It's no fun to kick the stuffing out of a corpse!" ranted A.W. Tillinghast in a 1919 article entitled "Sick Holes." One almost imagines Tilly donning white coat and stethoscope as he outlines various symptoms of bad design. "The invalid most often come across is the pasty faced hole which is quite featureless," he wrote. "I refer to the broad fairway, stretching away to an immense green which may be reached with a very ordinary second shot from either side of the fairway, a hole which is forgotten as soon as it is played."
Hey, that sounds a lot like the 9th at the Old Course, St. Andrews (LINKS100 #5 World). Sure, it's nice that it regularly serves up eagle putts to 15-handicap tourists, but that's a pretty cheap thrill. Note that even the most impassioned opponents of Martin Hawtree's renovation work at the Old couldn't get worked up about the plan to add a new bunker short and left of the green. It won't help matters much. The poor old 9th brings to mind Gertrude Stein's famous line about Oakland: "There is no there there."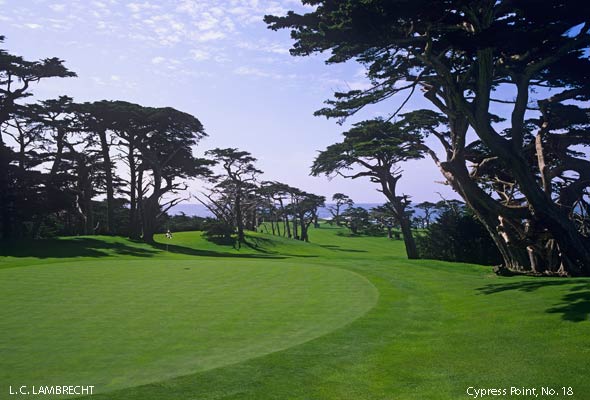 Water hazards—whether they be misplaced or just plain ugly—are often at the root of certain holes' unpopularity. The 5th at Whistling Straits (LINKS100 #56 World), a par five that winds through a couple of manmade ponds, doesn't fit the faux-links feel of the rest of the course, managing to be both dull and penal. The hole is nicknamed "Snake," and on this subject we find some timely wisdom from an unlikely source: "If you see a snake, just kill it," Ross Perot once said. "Don't appoint a committee on snakes."
Of course, natural ponds can also be ugly enough to spoil an otherwise decent hole. Witness the trapezoidal bidet on the 17th at Royal County Down (LINKS100 #7 World). Then there's the banal pond-hopping par three we've all seen a million times, proving nothing so much as that replicating the brilliant 12th at Augusta National is much harder than it looks. The first instinct is to knock courses like Medinah No. 3 and Congressional for their same-ish, one-dimensional water-crossers, but this type of hole somehow fits best as part of a "championship" slog. Sebonack (LINKS100 #94 World) has championship aspirations of its own, but given the high level of beauty and interest elsewhere among that 18, its pond hole (the 8th) sticks out as the one girl at the party you'd really prefer to avoid.
If there's one place in the routing where the world's great courses are most likely to misfire, it's at the end. Dull finishing holes could practically fill this article all on their own. This group is led, of course, by Cypress Point Club (LINKS100 #1 World). The shortcomings of its 18th led Jimmy Demaret to famously dub Cypress "the greatest 17-hole course in the world," and while the three-time Masters champ's abysmal fashion sense might be enough to question his taste in architecture, his one-liner has endured. There's very little freedom in the tee shot: the goal is simply to steer into a position that doesn't allow the cypresses to block one's view of the green. Even if the fairway is gained, the golfer may find himself playing from an awkward lie to a severely uphill green. As Geoff Shackelford wrote in his club history, "…MacKenzie's intention was simple. Build a stern closing hole that required two well-struck shots to reach the final green. It was not a hole of subtle or intricate strategic interest like the others on the course, just a tough finish to help decide matches."
Maybe that's the key: Finishers are more likely to turn into sore thumbs because the architect has had 17 chances to establish dominant moods or design concepts, and the expectation is that the home hole will seal the deal by presenting those things in their most intense, crystallized form. The stakes are simply higher at the end.
At Bethpage Black (LINKS 100 #46 World), the 18th just isn't the compelling conclusion that Tilly's muscular layout deserves. Who could forget—scratch that: who'd want to remember?—the way this hole performed during the 2009 U.S. Open, when sodden conditions and an inaccessible front hole location led to anticlimactic, grind-it-out pars from all five of the leaders, plus Tiger Woods. The flashy, grand-scale bunkering is an elaborate disguise for a dull hole, too long to tempt the pros to pull driver, too short to offer shotmaking dimensions beyond dart-throwing with short irons.
Links courses tend to fare remarkably poorly in this department, usually because of the need to trek across uninspiring terrain on the way back to a clubhouse set at a prudent remove from the coast. Royal Portrush (LINKS100 #17 World) is a good example. Many believe the Dunluce course essentially ends once the cavernous "Big Nellie" bunker is successfully avoided on the 17th. The 18th is so undistinguished, most golfers would be hard pressed to pick it out of a police lineup. Patric Dickinson, the lyric poet and Cambridge golfer, skewered it nicely. "I must record that I think the 18th is not a good hole!" he wrote. "It is, so to speak, comforting and without affection, like an income-tax rebate or the kiss of a strange aunt."
But there's one advantage to leaving the worst for last. As our editor George Peper points out, at least by that point you're almost home. The Course at Yale (LINKS100 #79 World) boasts some of the boldest terrain in the game, but for whatever reason, C.B. Macdonald and Seth Raynor had trouble finding par fives. There are only two—the milquetoast 16th and the 18th, a gibbering giant that leaves first-time visitors in a state of shock. Traversing 621 mountainous yards, Yale's finisher isn't meant to be played so much as survived. As Peper says, "There are two ways to play it and whichever one you choose, you'll wish you'd chosen the other. The best strategy is to walk straight to the clubhouse."