By Mike McColgan

San Francisco is known for its cable cars and hills, Alcatraz and Nob Hill, and is acknowledged as one of the best eating cities in the country. It's also a great golf town, and although its most famous courses are private—San Francisco, Olympic, and Cal Club among them—it also possesses one of the most charming of public venues, Harding Park.
Designed by Willie Watson and Sam Whiting (who also were responsible for the Lake Course at Olympic), Harding Park was named for Warren Harding, 29th President of the United States and an avid golfer, whose only connection to the city was that he died there in 1923, two years before the course opened. Twice the site of the U.S. Amateur Publinx, Harding Park hosted the PGA Tour's Lucky International Open in the 1960s. It also helped hone future Hall of Famers Ken Venturi and Johnny Miller, who grew up nearby. More recently, Harding Park hosted the 2009 Presidents Cup and the Champions Tour's Charles Schwab Cup Championship in 2010 and 2011 following a multi-million-dollar restoration a decade ago. In 2010, it became part of the PGA Tour's TPC network.
The course is set on a spit of land above the shores of Lake Merced on the city's west side. Its gently rolling fairways are lined by Monterey cypress and pine trees and offer marvelous views. Although the restoration stretched the course to a full length of more than 7,000 yards, there are friendlier tees for all skill levels. A consistently good layout, it finishes with a memorable Cape-style par four that was significantly strengthened when the course was beefed up.
A round at Harding Park is sure to work up a good appetite, especially if you eschew a cart for the walker-friendly fairways. It's hard to find a bad meal in San Francisco, but for a dining experience as unforgettable as the golf, drive across the city to Scoma's, on Pier 47 of world-renown Fisherman's Wharf.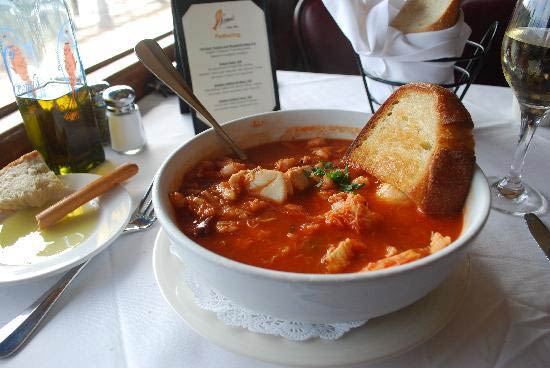 Al Scoma opened the restaurant in 1965 and has been welcoming celebrities, locals, and tourists ever since. The walls are covered with photographs of politicians and movie stars enjoying the clam chowder and sourdough bread, both rich and famous in their own right.
A favorite dish is cioppino, which has a story as hearty as the stew itself. According to local legend, fishermen returning with their catch would "chip in" whatever was in their nets to the steaming pots sitting on the wharf. It's a San Francisco tradition proudly carried on at Scoma's. The menu also features an extensive selection of other fresh seafood as well as pasta and steaks.
After dinner, take a walk on the wharf, enjoying the stores, street musicians, and views of the Golden Gate Bridge. (By the way, the bridge color is actually International Orange; the name refers to the Golden Gate Strait that connects the Pacific to San Francisco Bay.) Make one last stop at the Buena Vista Cafe; capping the night with an Irish Coffee
is hard to beat.
Mike McColgan writes on golf, travel, and food. He has been to more than 500 San Francisco restaurants.