Did you know that one of golf's most preeminent U.S. clubs—the site of seven U.S. Opens and two PGA Championships—traces its name to a Dutch farmer who was brutally murdered at his farmhouse in the 1800s?
Baltusrol Golf Club in northern New Jersey is best known for its two championship courses built by golf architect A.W. Tillinghast and is the only facility in the country to have hosted men's and women's U.S. Opens on both of its layouts. Gil Hanse recently completed a significant restoration of the Lower Course. But tucked amid all of the rich golf history on the club's website, there's also a page that details the "Murder on the Mountain" that begat the Baltusrol name.
Baltus Roll, a Dutch farmer who lived on the mountain between the New Jersey towns of Summit and Springfield, was dragged out of bed by two men after midnight during a robbery in February of 1831. He was beaten, tied up, and choked, with his wife witnessing almost the entire event before running off and hiding in the woods. Roll's lifeless body was found in a puddle of icy water near the farmstead's gate, his hands and feet bound by heavy rope and ugly bruises around his throat.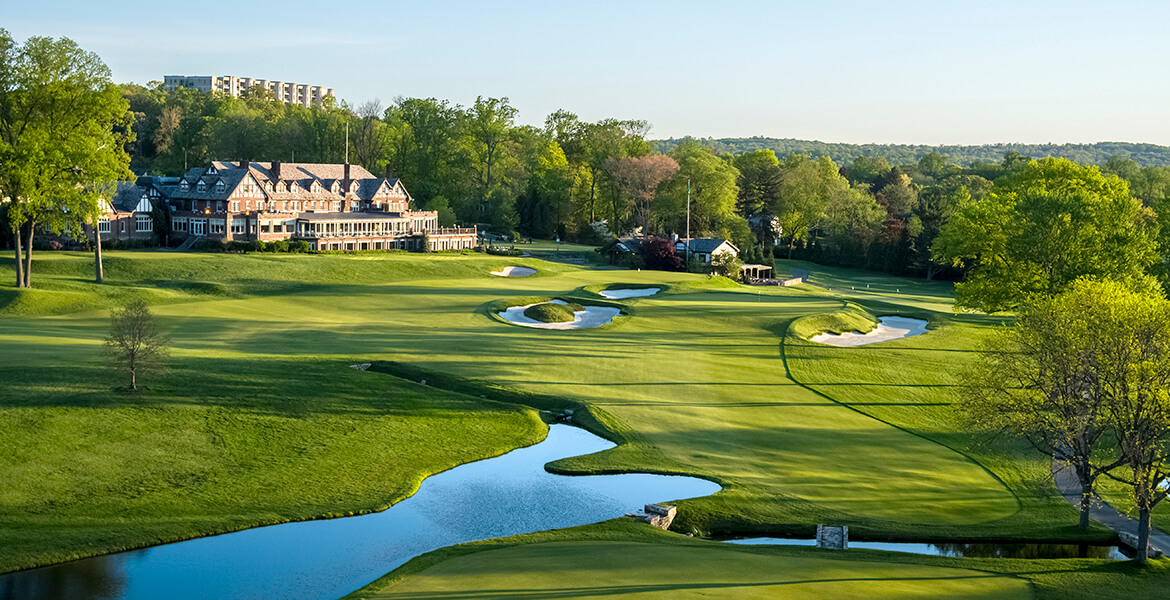 Sixty years later, after publisher Louis Keller bought the land and planned to build golf courses close to New York City, Roll's first and last names were combined to form the club's name, and spots in the surrounding area.
It's quite the macabre tale and a bit unusual in the golf world, where courses are frequently named after trees, hills, birds, or a location. Consider how many of the top courses in the U.S. derive their name simply from where they're based—from Augusta National, Oakmont, Merion, Fishers Island, Chicago Golf Club, and San Francisco Golf Club to Bandon Dunes and Pinehurst.
But there are other golf courses that have more unconventional ties behind their names. Here are five examples:
Caledonia Golf & Fish Club (Pawleys Island, S.C.)
The land upon which Mike Strantz built Caledonia was once one of the largest rice plantations in the area, stretching from the Atlantic Ocean to the western edge of the Waccamaw River. But the course's name can be traced back to a Scottish doctor, Robert Nesbit, who married into the Pawley family, a prominent local landowner. Nesbit looked back to his homeland, choosing the now-romanticized name the Roman Empire used to refer to Scotland during its occupation.
Myopia Hunt Club (South Hamilton, Mass.)
Northeast of Boston, this club that was the site of four early U.S. Opens from 1898 to 1908 derived its name from the technical term for nearsightedness. Its founding members came from the Myopia Club in Winchester, which was started by four brothers with vision problems. When the original club moved in the late 1800s, one group of members founded The Country Club in Brookline, while another group that wanted to pursue fox hunting founded Myopia Hunt Club and eventually built a 9-hole course that was later expanded to a well-respected 18.
Golf has been played at the Myopia Hunt Club since 1894, with four U.S. Opens over the next 14 years. At 126 this year, this venerable course won't likely see any more pro majors, but there's nowhere in the country I'd rather spend a day playing golf. True perfection is timeless. pic.twitter.com/WwqPi7AQNJ

— LinksGems Golf Photos (@LinksGems) January 25, 2021
Old Sandwich (Plymouth, Mass.)
This private club derives its name from the unique road upon which its located. The original connection between Plymouth and the town of Sandwich on Cape Cod, Old Sandwich Road has been in use for more than 350 years, making it the oldest continually used and still partially unpaved road in the U.S. This quiet country road is as part of its natural surrounds as the course designed by Bill Coore and Ben Crenshaw, winding through wetlands and woods, over hills and past lakes, meadows, and low-lying cranberry bogs.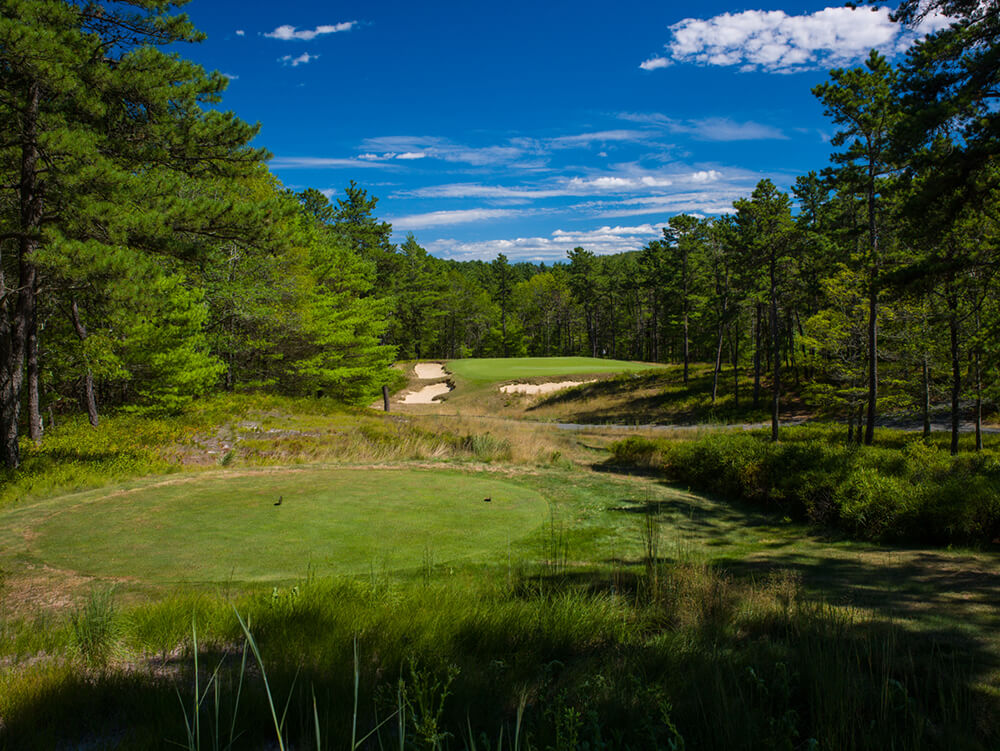 Piping Rock (Locust Valley, N.Y.)
When C.B. Macdonald designed the golf course at Piping Rock in 1911, he and Seth Raynor routed the layout around the club's polo fields as that was the preferred sport at the time. The Long Island club gets its name from a large stone located along an ancient trail nearby where legend holds that Native American tribal leaders would gather and smoke their peace pipes.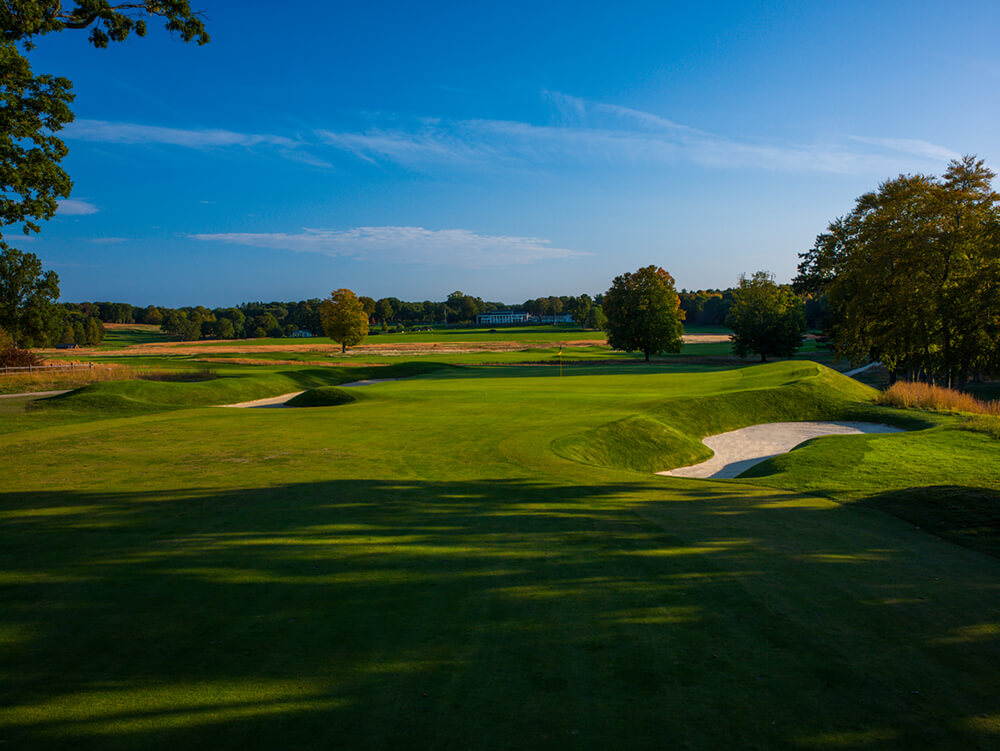 Spyglass Hill (Pebble Beach, Calif.)
Just down 17-Mile Drive from Pebble Beach, Hall of Fame architect Robert Trent Jones Sr. originally named this course "Pebble Beach Pines." But developer Samuel F.B. Morse changed it to Spyglass Hill in honor of author Robert Louis Stevenson, who was inspired to write the story of Treasure Island while visiting the Monterey Peninsula in the late 1870s. Each of the holes at Spyglass are named after people or places in the book, from the 2nd hole named "Billy Bones" to the long par-five 14th known as "Long John Silver." 
Do you have a favorite story about how any particular golf courses got their names? Please let us know in the comments.