While some travel goals are unlikely—teeing it up at every U.S. Open venue, for example—playing golf in every state, on the other hand, is an achievable objective. According to the National Golf Foundation (NGF), about 75 percent of all golf courses in the United States are open to the public, so you'll always have options no matter what state you're in.
That said, some states may prove more difficult to check off your list, either because of their location—we're looking at you, Alaska—or simply because they're home to a limited number of courses. So if you're looking to complete your own 50-state challenge, here's a short list of exceptional golf courses in the five states where golf is a bit harder to find.
Alaska
Rounds of golf in The Last Frontier aren't easy to come by, since the country's largest state is home to fewer than two dozen courses. On the plus side, all of those 21 golf courses are open to the public; however, only one-third of them feature full, 18-hole layouts.
Those looking to simply check Alaska off their bucket lists can do so with rounds at either Mendenhall Golf Course in Juneau or Sea Mountain Golf Course in Sitka. The nine holes at Mendenhall, located just across the river from Juneau International Airport, offer unobstructed views of the Mendenhall Glacier and are punctuated by pops of color during the summer thanks to copious blooming wildflowers. A round at Sea Mountain is easily executed thanks to a cruise-focused package that includes pick-up and drop-off at the dock, cart rental, club rental, green fees, and 10 golf balls—hopefully many more than you'll need for only nine holes of golf.
If you should take a cruise that brings you farther north and west to Anchorage, a round of golf at Anchorage Golf Course represents an ideal excursion. Framed by dramatic views of the Chugach Mountain Range and Denali (aka Mount McKinley), the 6,600-yard layout is a genuine test of golf—one that may also include moose sightings during the summer months.
Delaware
Delaware may have been the first state of the union but it's the second-to-last state in terms of the number of golf courses found within its borders. Nevertheless, several top-quality public courses are at the ready, including Bayside Resort Golf Club, a Jack Nicklaus-designed layout that plays along the shores of Assawoman Bay and also through mature pine forests.
"Golfers at Bayside enjoy three distinctly different golf experiences all in one golf course," Nicklaus says. "Some holes are richly tree-lined, others wind through marshland, and still others boast wide-open fairways."
Similarly, Baywood Greens offers two distinctive sides. The front nine, known as The Woodside, predictably offers traditional, tree-lined fairways. Once golfers make the turn, The Waterside nine—as its name suggests—introduces water hazards that are in play on almost all of the holes. Beyond the two characteristic playing experiences, Baywood Greens prides itself on offering exceptional conditions. As such, the club brands itself as being "exclusively public."
Rhode Island
As Rhode Island public courses are concerned, Newport National, built in 2002, is one of the best. It's an important distinction given that only 60 percent of the Ocean State's courses are public—a noteworthy statistic considering the national average is about 15 percent higher, according to the NGF. Carefully plotted through protected wetlands and bird sanctuaries, the 7,244-yard layout can be challenging thanks to undulating green complexes and lush, native grasses that grow just beyond the primary playing areas.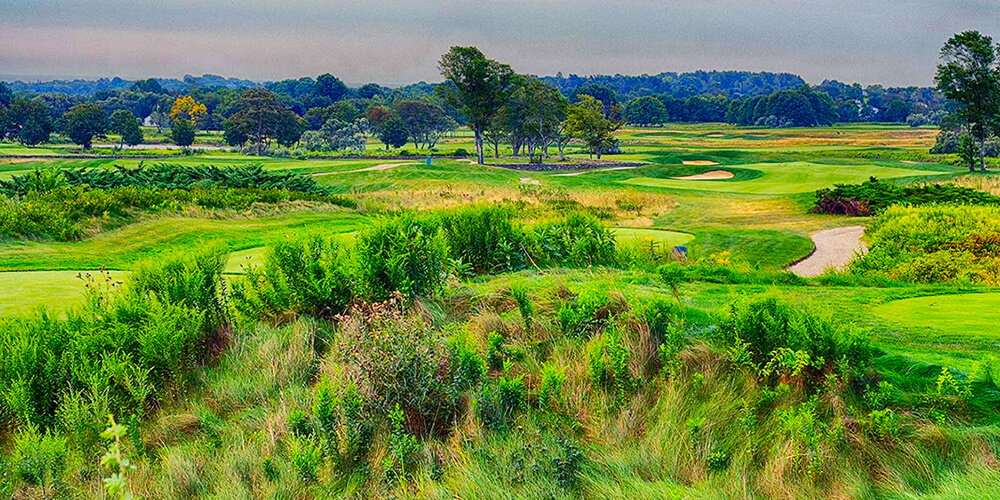 Those looking for a bit more history should venture just west of downtown Providence, where they'll discover Triggs Memorial Golf Course, a municipal layout that was conceived by Donald Ross and opened for play in 1932. There, strategically bunkered greens and a smattering of blind or semi-blind tee shots are what defend against low scores. Ross enthusiasts will surely enjoy their rounds; those with less experience playing the classic architect's courses, on the other hand, may be left scratching their heads from time to time.
Wyoming
Not far from downtown Jackson Hole, the Teton Pines Country Club, home to a 7,412-yard layout designed by Arnold Palmer, offers a limited number of public-accessible tee times each day. The club's non-member rate isn't cheap, but the course's swooping, generously wide fairways, large greens, and equally expansive bunkers—all trademarks of The King—are pristinely manicured and worthy of the investment.
Only five miles away, the Jackson Hole Golf & Tennis Club features a course that was initially redesigned by Robert Trent Jones Jr. in 1971 and more recently renovated by the heralded course architect in 2007. The course now stretches just over 7,400 yards, but thanks to an altitude of 6,200 feet, that distance is far more playable than it may look on the scorecard.
Vermont
Vermont is home to 70 golf courses, the majority of which are public, with several standout options for those looking to log a high-quality round in the Green Mountain State. For example, avid golfers would be remiss if they didn't check out The Equinox Golf Resort & Spa in Manchester Village, a destination that is home to a course first designed by Water Travis and more recently redesigned by Rees Jones.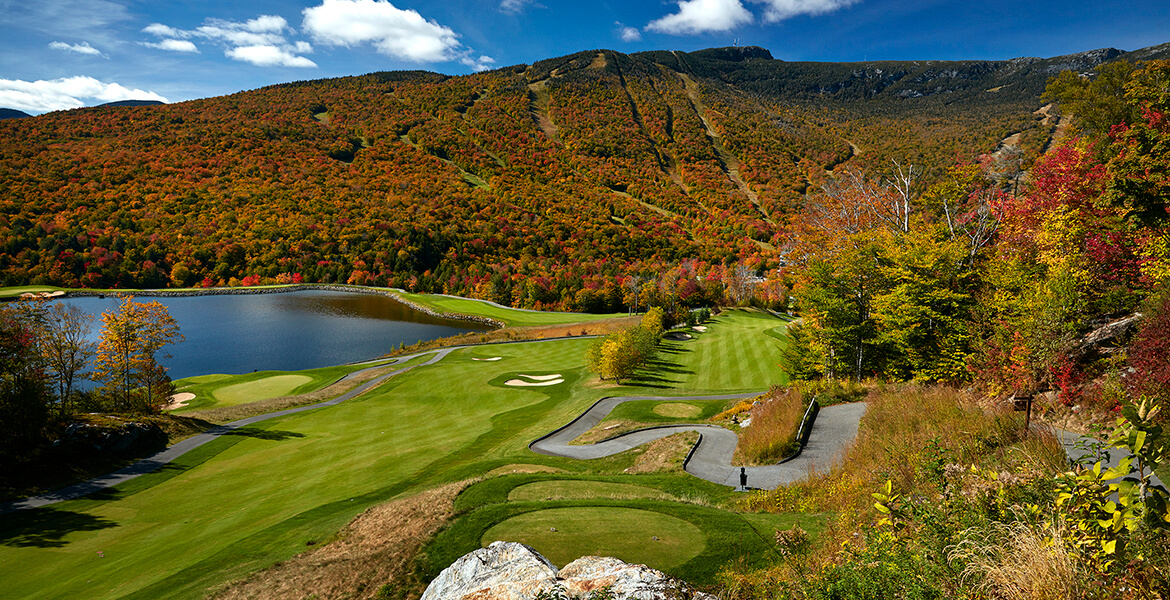 Those willing to venture farther north will find two memorable courses in Stowe. Located almost within the ski-resort town's center, Stowe Country Club offers the best of two worlds: The layout at times delivers a mountain course aesthetic but it's generally far more forgiving off the tee than most traditional mountain courses. Only a few miles down the road, The Mountain Course at Spruce Peak, is arguably the most visually dramatic golf course in the state. Not surprisingly, it's also one of the most difficult. At just over 6,400 yards from the tips, the course isn't imposing in its length, but a 151 rating from those back tees properly conveys its difficulty. You've been warned.