Cozy, chill, and Intimate. Huge, hectic, and bustling. Whether they're historic and full of character, or modern and full of activity, the amazing range of golf resorts in the Mid-Atlantic will fit whatever experience you're after and however large your group is.
Here's half a dozen of the best, with some very honorable mentions.
Seaview (Galloway, N.J.)

Eight miles north of Atlantic City, an hour east of Philadelphia, and situated on 670 pine-covered and coastal acres in southern New Jersey is historic Seaview which opened as a private golf club in 1914. Utilities executive and financier Clarence Geist built a huge and lavish clubhouse (it now has 296 rooms and 16 suites) that the Philadelphia Evening Public Ledger said was "…conducted like a big hotel with bedrooms furnished as no hotel would attempt it…"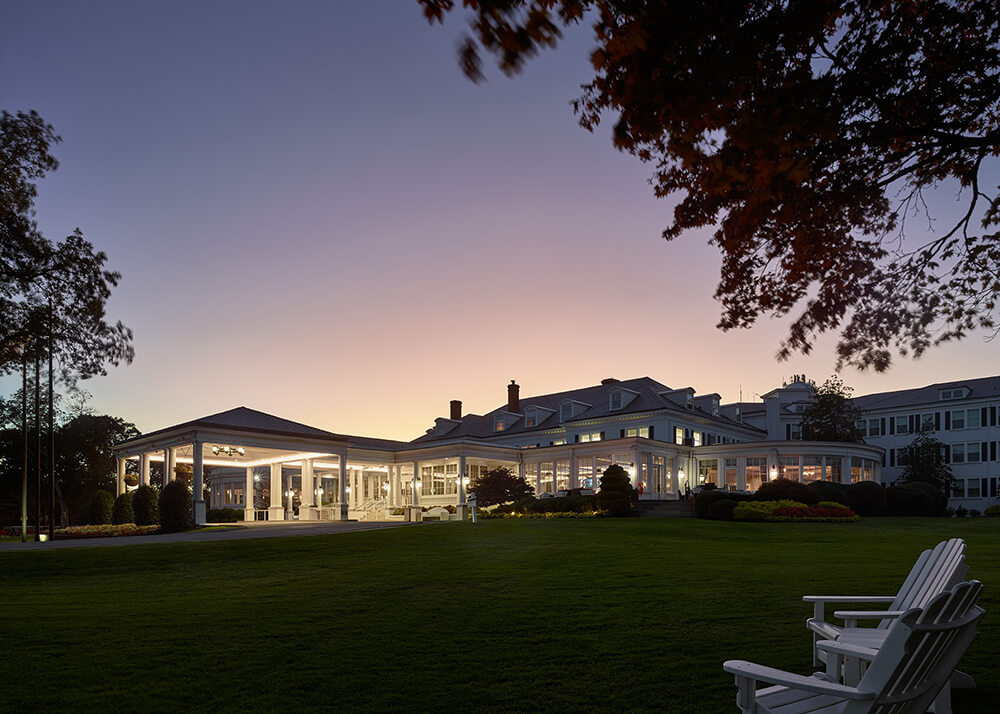 Hugh Wilson of Merion fame designed the club's first course. Donald Ross added bunkers to Wilson's layout the following year. Wilson/Ross's exposed, linksy Bay Course was joined 13 years later by nine holes inland designed by William Flynn. These nine, combined with nine from the Bay Course, were used for the 1942 PGA Championship won by Sam Snead. Willian Gordon added nine holes to Flynn's original nine in 1957, making the tree-lined Pines Course.
Bob Cupp restored both the Bay and Pines Courses in the late 1990s and in 2022 the Bay got a $700,000 facelift prior to the ShopRite LPGA Classic, which has been played at Seaview every year since 2010 and 24 times in total since 1986.
Turning Stone (Verona, N.Y.)
A four-hour haul north from Manhattan and a 35-minute hop east of Syracuse in central New York is a 3,400-acre property that just never seems to rest. The Turning Stone Resort is owned and operated by the Oneida Indian Nation of New York and welcomes nearly five million guests each year to its golf, gaming, events, entertainment, dining, conference, etc., destination. Ten restaurants, a food hall, and 12 other "Fast Casual" eateries plus nine nightclubs, bars, and lounges keep everyone fed and active well into the night.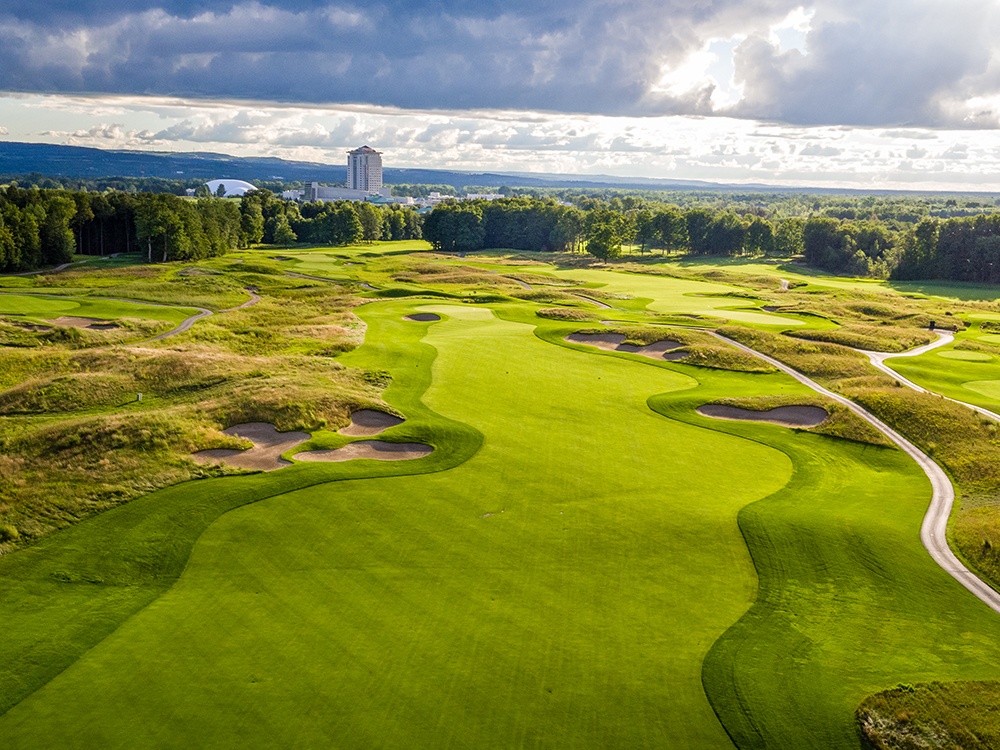 It opened with a fairly small bingo operation in 1993 and now offers four hotels, roughly 125,000 square feet of gaming space, and three 18-hole golf courses, one of which hosted the PGA Tour for four years (2007–10) and which has the look and feel of a well-heeled, private country club.
Rick Smith's parkland/heathland Shenandoah course was the resort's first layout and opened in 2000. In 2016, Smith gave it a facelift and added seven new holes as part of a major resort-wide investment project. Robert Trent Jones's Kaluhyat course was opened in 2003 and ranks among the Empire State's toughest while Tom Fazio's manicured Atunyote course, where Dustin Johnson (2008) and Matt Kuchar (2009) won the PGA Tour's Turning Stone Championship and which has the white bunker sand and exceptional conditioning of Augusta National, opened in 2004. A casual 9-hole course (Pleasant Knolls) and 9-hole Par-3 (Sandstone Hollow) round out Turning Stone's 72 holes of golf. The short courses and Golf Dome (40 hitting stations, two simulators, and short-game practice area) give everyone in the family, no matter their age or ability, the chance to whack a golf ball.
Nemacolin (Farmington, Pa.)
Though itself a huge (2,000 acres) golf resort with multiple courses, a long list of indoor and outdoor activities, and numerous lodging options, the vibe at Nemacolin, about 65 miles southeast of Pittsburgh, is entirely different to that of Turning Stone. The Pennsylvania resort, established on old hunting/fishing ground in 1987 by 84 Lumber founder Joe Hardy, is altogether more family-friendly, relaxed, and refined. There is a casino here, but it's located one-and-a-half miles down U.S. Route 40 from the resort's main entrance and is a fraction of the size of Turning Stone's operation.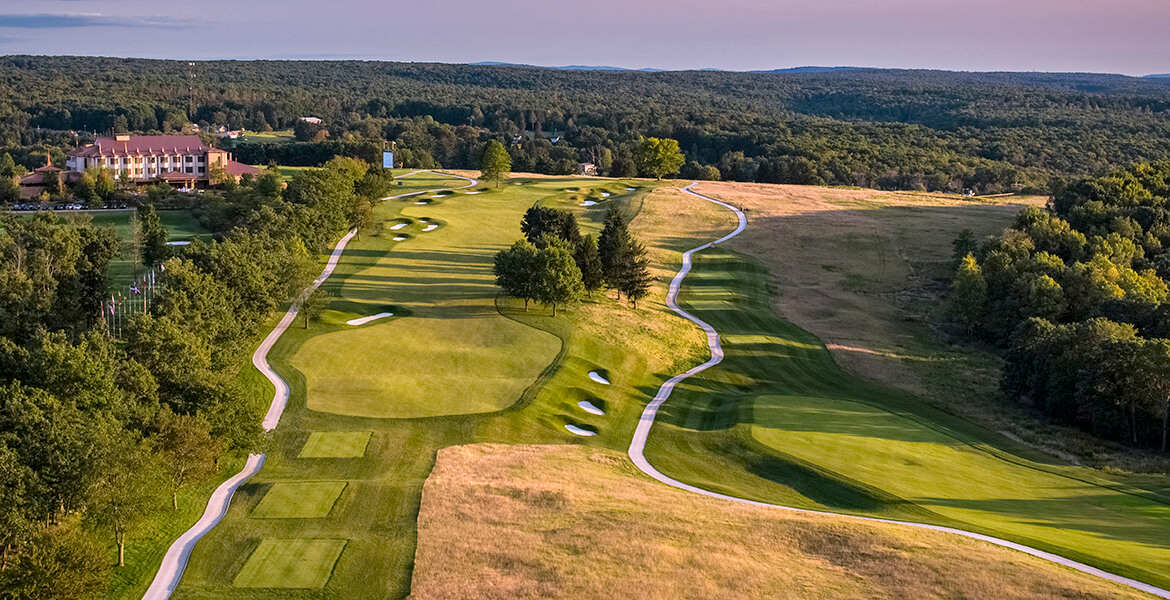 The first building you see at Nemacolin is the magnificent Chateau Lafayette which was modeled on the Ritz Paris and opened in 1997. Besides the regally furnished rooms, you'll find the classy Cigar Bar, AAA Five Diamond restaurant Lautrec, and corridors lined with Hardy's own $50 million art collection.
There are two superb Pete Dye-designed courses here—Mystic Rock, which opened in 1995 and hosted the PGA Tour's 84 Lumber Classic from 2003–06, and Shepherd's Rock, which opened in 2017. Both courses feature numerous Dye features and quirks, and just when you think they might be getting conventional, a sharp green contour, vertically faced bunker, or inconvenient water hazard will crop up and dispel any notion you had of relaxing. The 3,000-square-foot golf academy offers instruction, club fitting, repair services, and TrackMan technology.
Shawnee Inn and Golf Resort (Shawnee on Delaware, Pa.)
The 80-room main hotel at Shawnee Inn and Golf Resort, 75 miles west of New York and 100 north of Philadelphia, opened in 1911. A.W. Tillinghast was hired to build his first course on an island in the Delaware River across the Binniekill Channel from the hotel, and "Tilly" delivered on his design debut creating a 6,011-yard layout much praised by the Philadelphia Inquirer.
Six holes were located on the mainland, 11 covered the eastern half of the island, and the 13th crossed the Binniekill with a ferry taking golfers from one side to the other. The course was soon lengthened as more holes were built on the island and holes near the hotel removed. The Binniekill Hole became the 16th, and a footbridge was built replacing the ferry. In 1938, the course hosted the PGA Championship with Paul Runyan emerging victorious.
Bill Diddel added nine new holes on the western side of the island in 1964 and the course was reconfigured to create three nines. Sadly, none of Tillinghast's originals remain intact except for the Binniekill Hole, but don't let that stop you visiting. The ground here is fairly open, but numerous established trees mark the way.
Omni Homestead (Hot Springs, Va.)
"The Homestead" opened in 1892 following a $1 million renovation to the existing resort and hotel which had been built in 1766. The resort's first six holes opened that year and three more were added in 1898. In 1913, Donald Ross arrived to completely rebuild the existing holes and add nine more. In 1924, William Flynn and Howard Toomey added the remarkable Cascades course on a site Peter Lees, A.W. Tillinghast, and Seth Raynor all felt wouldn't be conducive to good golf.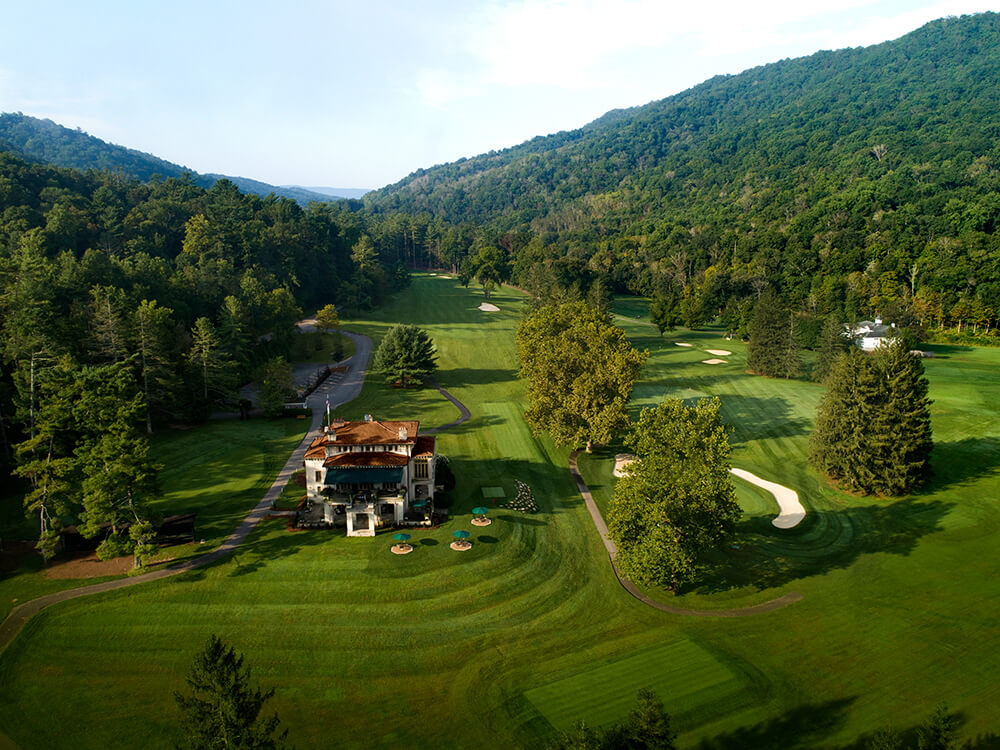 The Cascades Course has hosted numerous USGA events over the years and though it may be a little short for elite competitive golf nowadays, at 6,908 yards it still provides a majority of golfers a tremendous challenge. The 2,000-acre Homestead Resort became an Omni property in 2013 and today offers 483 guest rooms including 88 suites.
The Greenbrier (White Sulphur Springs, W.Va.)
Another great spa destination, the area near what is now White Sulphur Springs began welcoming guests in the 1770s. The Chesapeake and Ohio Railway purchased the resort in 1910 and soon added the Greenbrier Hotel and the Old White course, designed by Charles Blair Macdonald and built by Seth Raynor in 1914. Nine years later, Raynor redesigned the 9-hole Lakeside course, which Alex Findlay had designed in 1911, and also added the Greenbrier course. Dick Wilson added nine holes to the Lakeside in 1962 and Jack Nicklaus redesigned the Greenbrier ahead of the 1979 Ryder Cup. Bob Cupp then redesigned the Lakeside in 1999 when the course was renamed the Meadows. In 2006, Lester George restored Macdonald's famous templates—Punchbowl, Redan, Biarritz, Cape, Eden, etc.—to their former glory on the Old White course which hosted the PGA Tour from 2010–19.
The golf alone at the Greenbrier Resort has an extensive history but, of course, there's so much more to this incredible 11,000-acre property which now offers 710 guest rooms and 96 guest/estate homes as well as an impressive casino. You could come here for a relaxing few days, but with 54 indoor and outdoor activities available to guests besides golf, a few days at the Greenbrier could turn into a lively trip.
Honorable Mention
Crystal Springs (Hamburg, N.J.)
This 4,000-acre resort 50 miles northwest of New York City has two hotels (Grand Cascades Lodge and Minerals) with four 18-hole courses and two 9-holers.
The Sagamore (Bolton Landing, N.Y.)
The Sagamore has 137 beautifully furnished rooms in the main hotel, seven lodges, 12 split-floor suites in the Hermitage Building, and a typically interesting and enjoyable Donald Ross-designed course that opened in 1928.
Omni Bedford Springs (Bedford, Pa.)
A striking 216-room hotel and 127-year-old golf course originally designed by Spencer Oldham with later work by A.W. Tillinghast, Donald Ross, and Ron Forse who revived the decaying course in 2007.
Keswick Hall (Keswick, Va.)
Keswick Hall harbors a historic mansion with 48 elegant guest rooms and a Pete Dye-designed course—Full Cry—that opened in 2015.
Primland (Meadows of Dan, Va.)
Primland is an Auberge property 3,000 feet above sea level and set on 12,000 acres. Lodging options include The Lodge (with observatory), cottages, and tree houses, and a mountainous 2006 Donald Steel-designed Highland Course delights.
Kingsmill (Williamsburg, Va.)
Kingsmill offers stays in guest rooms, condo cottages, and an estate, with play on the 1974 Pete Dye-designed (and renovated) River course or Arnold Palmer/Ed Seay's 37-year-old Plantation course.
Glade Springs (Daniels, W.Va.)
Lodging options range from single rooms to 8-bedroom units at Glade Springs, home to the George Cobb-designed Cobb course.
Oglebay (Wheeling, W.Va.)
Stay in the charming Wilson Inn or one of the resort's 54 cottages and estate homes, and play Arnold Palmer and Robert Trent Jones-designed courses, Signature and Speidel.
What is your favorite Mid-Atlantic golf resort?