Just how tough can a wee wonder be?
It wasn't until I stepped onto the 10th tee at Royal Aberdeen that I learned it had a neighbor. Not 20 paces from that tee box was a green belonging to another course—the third green at Murcar. Needless to say, I had to play it. And the course I discovered that afternoon—built in the early 1900s by Archie Simpson, with renovations by James Braid—revealed itself to be a wholly enchanting one, a rugged, local links brimming with holes both straightforward and quirky, risk/reward opportunities aplenty, and memorable moments throughout.
A glance at Murcar's scorecard might make you smirk. How good can a course that plays under 6,000 yards from the visitors' tees be? Answer: Good enough to host the then-European Tour's match play event in 2015. Even with the Championship tees set at just 6,500 yards, the competition was anything but a birdie fest.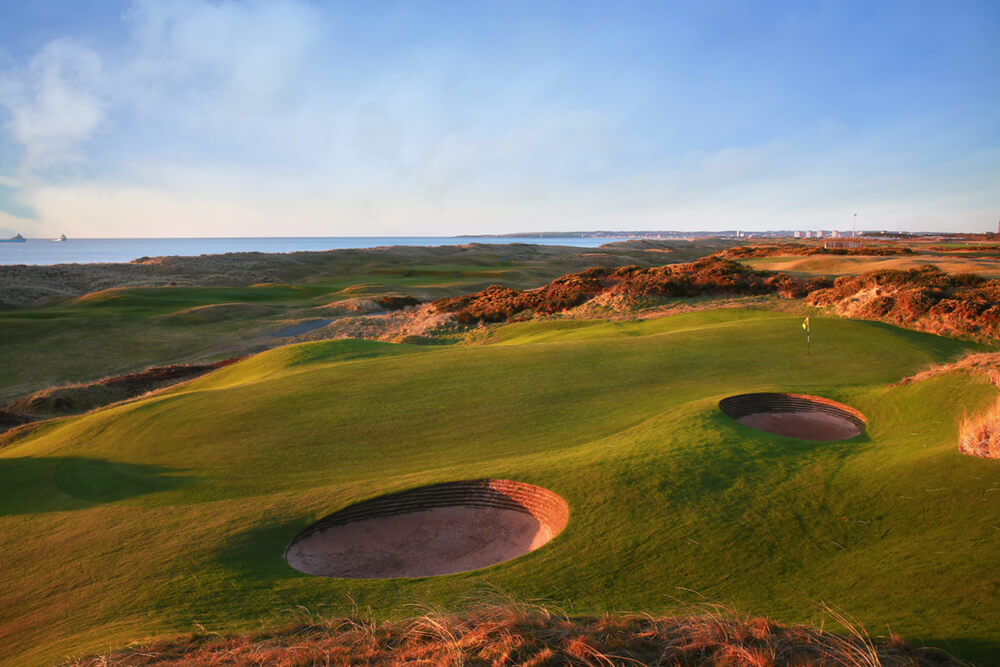 What gives the course its bite? Tumbling, tilted fairways that all too easily give way to rough, heather, gorse (great forests of it), dangerous revetted bunkers, and a wee burn or two. There are blind tee shots. Greens tucked in the elbows of dunes. And hole designs, particularly on the front nine, that bewitch, beguile, and demand high precision.
Two opening par fours take you out to the dunes, where the course's real drama begins. At the par-four 3rd, your tee shot is over a marker pole to a plateaued fairway guarded on the left by a steep drop-off. Your approach then plays downhill to a gently sloping green with pot bunkers on the right and twin mountains of marram grass on the left. Starting at the next tee, holes tack around to the north, marching between the sea and the inland dunes: a short par five with a tabletop green that repels all but the best-struck shots; a par three set in its own little sandy-hill amphitheater; a bending, 453-yard par four calling for a tee shot over an acre of gorse; and then, an unforgettable hole called "Serpentine."
Murcar's 7th, "Serpentine," is a narrow, 423-yard, double-dogleg par four. From the elevated tee, you have three choices: hit the skinny ribbon of fairway, stray into the Serpentine Burn that winds its way up the right side of the driving area, or lose your ball forever in the jungle of gorse on the left. Should you find the fairway, you'll be faced with a long approach to a green protected by two deep pot bunkers and sizeable drop-offs on the sides and rear. It's a thrilling hole, visually and strategically.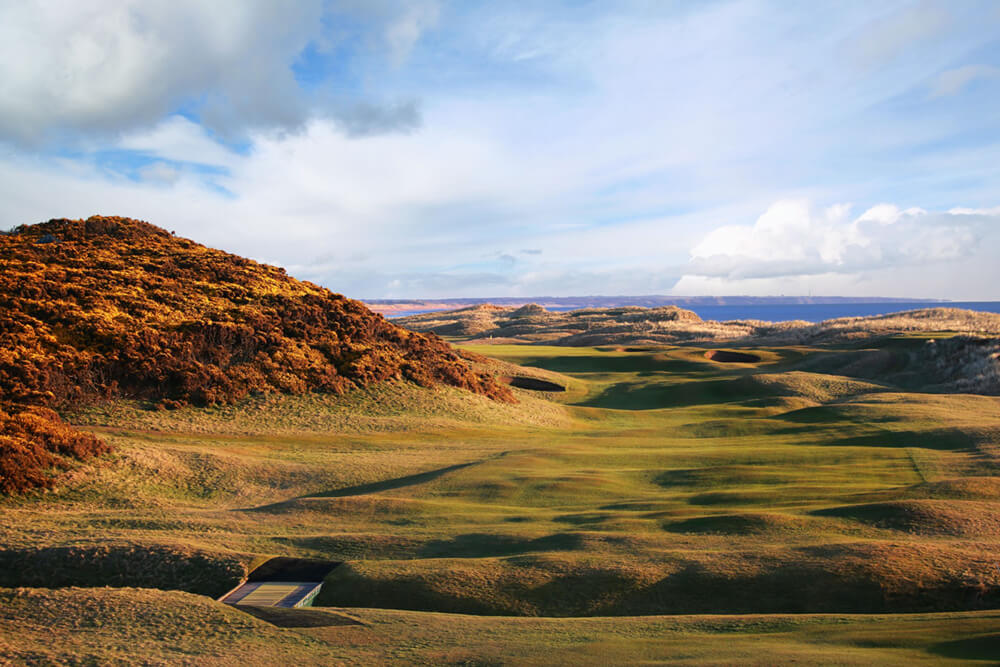 After the drivable par-four 9th, the course swings back around to the south and, usually, back into the prevailing wind. Uphill, blind tee shots at the 10th, 11th, and 13th give way to anxiety-inducing second shots. At 15, your approach is to a hilltop green with a burn at its feet—the same burn you'll need to avoid at the par-three 16th. Again, precision is key. Or is it?
"There's no one way to play Murcar," says 30-year head professional Gary Forbes. "You can play it conservatively, or you can go with the driver. It's a great risk/reward course. During the final match of the match play event, the youngster, Kiradech Aphibarnrat, took out driver every hole and Robert Karlsson took out 4-iron every hole. It went to the 18th before Aphibarnrat prevailed."
In 2024, Murcar will host the Women's Home Internationals, the amateur team competition pitting the best amateur players from Scotland, England, Ireland, and Wales. I'll bet a tenner that the winning team will be the one that gets Murcar's risk/reward balance just right.
Thank you for supporting our journalism. If you prefer to read in print, you can also find this article in the Summer 2023 issue of LINKS Magazine. Click here for more information.