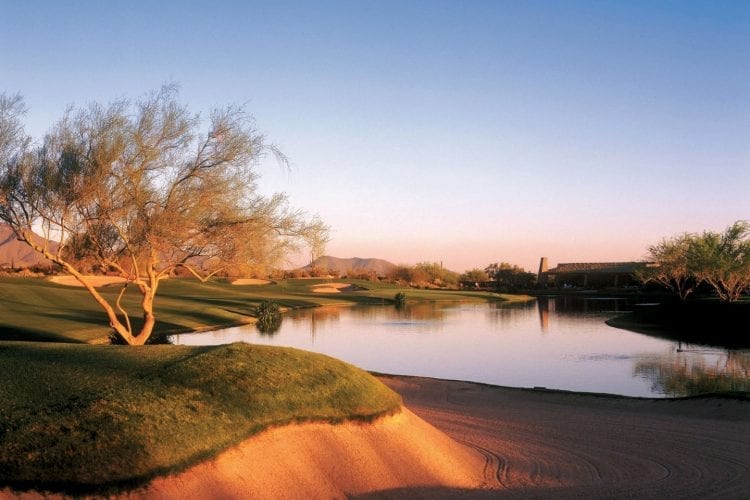 In an area known for high-end experiences, Grayhawk Golf Club set the standard for country-club-for-a-day facilities when its first course, Talon, opened in 1994. Tom Fazio's Raptor opened the following year. Together, they pack a one-two punch worthy of Muhammad Ali.
So do the service and amenities, which rival those of a top club. Inside the grand stone clubhouse, even private clubs would be hard-pressed to match the atmosphere at Phil's Grill, a sports bar named after Phil Mickelson, the club's tour pro. The fun continues on the range, where golfers warm up to classic rock tunes.
But the sweetest notes are found on the courses. Talon's back nine is routed through a series of box canyons. The 175-yard 11th starts with an Outward Bound-like walk over a rope bridge to reach the back tee. The all-carry tee shot is pretty hairy, too. While the fairways play optical tricks by appearing smaller than they are, the greens are quite large but are multi-tiered, making for some challenging putts if you're not in the right spot. Raptor, host of the PGA Tour's Frys.com Open, has generous fairways but the raised, undulating greens can be very tricky.
Two tips: Everything breaks from Pinnacle Peak to downtown Phoenix and stay away from the Jumping Cholla cacti.