Golfers of a certain age love to wax lyrical about honor boxes—those rusty coffee cans nailed to the wall next to the pro-shop door where you'd drop five bucks on your way to the first tee. Golf, they'll tell you, was not only simpler back in the day but cheaper, too. And they're right. In the 1950s, a round at the Old Course at St. Andrews cost less than a sleeve of balls. In 1982, you could play Pebble Beach for $50; today, the self-proclaimed "greatest public course in America" will set the kids and grandkids of those old-timers back $525 (plus the cost of staying there, which is about the only way to get on).
Money has changed golf — and golfers. In 1945, Byron Nelson won 18 PGA Tour events, including 11 in a row. His total payout: a little over $63,000—in war bonds—less than $1 million in 2017 dollars. The first PGA Tour player to gross more than a million in annual prize money was Curtis Strange in 1988. This year, Rory McIlroy's caddie earned that much in just one event.
What would the great amateurs of yesteryear—players like Francis Ouimet and Bobby Jones—think of the fame and lifestyle of today's pros, with their private jets and on-call psychologists? Whom would they blame for the changes that money has heaped upon the game, changes that far transcend anything attributable to normal inflation? Would they blame Coburn Haskell—whose 1898 creation of the Haskell ball first gave golfers the notion that better scores could be bought? Or Arnie—for endearing the game to a world of Average Joes? Or Tour Commissioners Dey, Beman, and Finchem—for the meteoric rise in pro golf's purses? Or Gary Adams and Ely Callaway—for addicting growing numbers of players to model year after model year of expensive new high-tech equipment?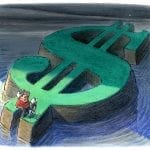 In its 2011 Golf Economy Report, Golf 20/20 pegged the size of the U.S. golf economy at $68.8 billion. But has all this money made golf a better game? Are more people playing? No. Golf is still widely perceived as an elitist pastime for the well-to-do, something that requires too much money and time. The game of golf has in many ways been replaced by the business of golf, as companies look to separate the people still playing from more of their leisure dollars.
Granted, the PGA Tour and its players contribute a lot to local charities, and organizations like The First Tee are doing what they can to grow the game. But when Dustin Johnson earns more money playing nine holes than most Americans are paid in an entire year, something is out of whack.
This genie is not about to slink back into its bottle. Many Baby Boomers have the disposable income to pay $525 at Pebble or $420 at Pinehurst No. 2 (with their shiny new $500 drivers, of course). But the inflation that has golf in its mad grasp is going to kill the game in the long run. The kid who can't afford to play golf today isn't going to be buying fancy equipment or ponying up for a tee time tomorrow.
_____________
Do you think money has ruined the game? Let us know in the comments below!