As traditional golf participation has risen in recent years, engagement has been even more pronounced away from the course—with more and more Americans taking up non-traditional forms of the game.
In fact, the number of people who hit golf balls with a club away from the course even eclipsed the 25 million-plus on-course players for the first time ever in 2022, according to the National Golf Foundation.
Typically, it's golf entertainment like Topgolf that first springs to mind when mentioning these alternative forms of golf. But golf simulators are becoming increasingly commonplace—at commercial venues (like Topgolf Swing Suites, X-Golf, and Five Iron Golf)—as well as those for personal use. Between technological advancements and lower prices, the latter continues to become more of a reality for us regular golfers who want a home base to improve the swing, get reps in, or play as many holes as we want on increasingly realistic simulated courses no matter the weather or time of day.
And yet the idea of an at-home golf simulator set-up remains intimidating for some.
Where to start? What's needed? How much is it going to cost? What brands to go with?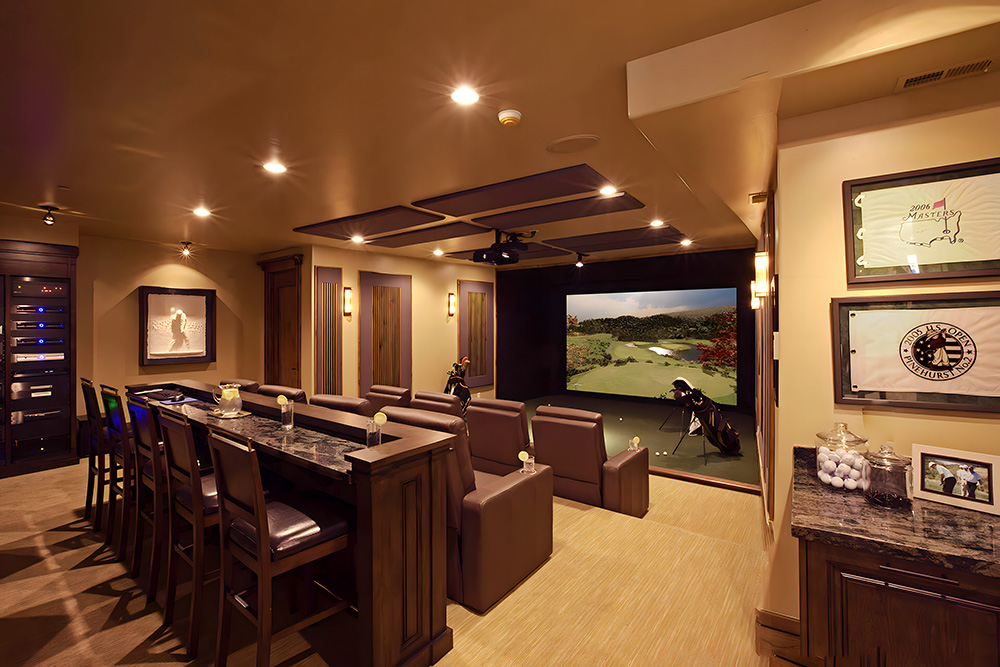 Those are questions and concerns a few "one-stop shop" companies like ACE Indoor Golf and The Indoor Golf Shop are looking to address, serving as distributors, manufacturers, and retailers of golf simulators—for consumers and commercial properties. As importantly, they're agnostic, meaning they work with a wide range of competing brands within the simulator space, helping customers find the right fit, feel, and price range for them.
"We very much take a consultative approach," said ACE Indoor Golf President Trevor Faust, who has been in the simulator business for two decades. "We're trying to understand their goals for the space—maybe they want to tie in a home theater environment, man cave, Xbox, or health and fitness. Whatever it might be, we can consult and design that space based on the consumer's desired cosmetics or budget. Alternatively, we have more of a DIY approach where we'll offer different components and solutions. Maybe they already have the computer, screen, or technology selected and they're trying to get the remaining aspects of their room to complete that buildout.
"So, it's trying to understand what's important to the customer and then getting them maximum value and bang for their buck based on the desired budgetary range since we represent 10 to 15 different hardware brands."
The premium solutions—the full-blown designs and installations with eye-popping price tags—understandably get a lot of attention. But those golf simulator set-ups make up only about 15 percent of The Indoor Golf Shop's business, says founder and president Rene Delgado.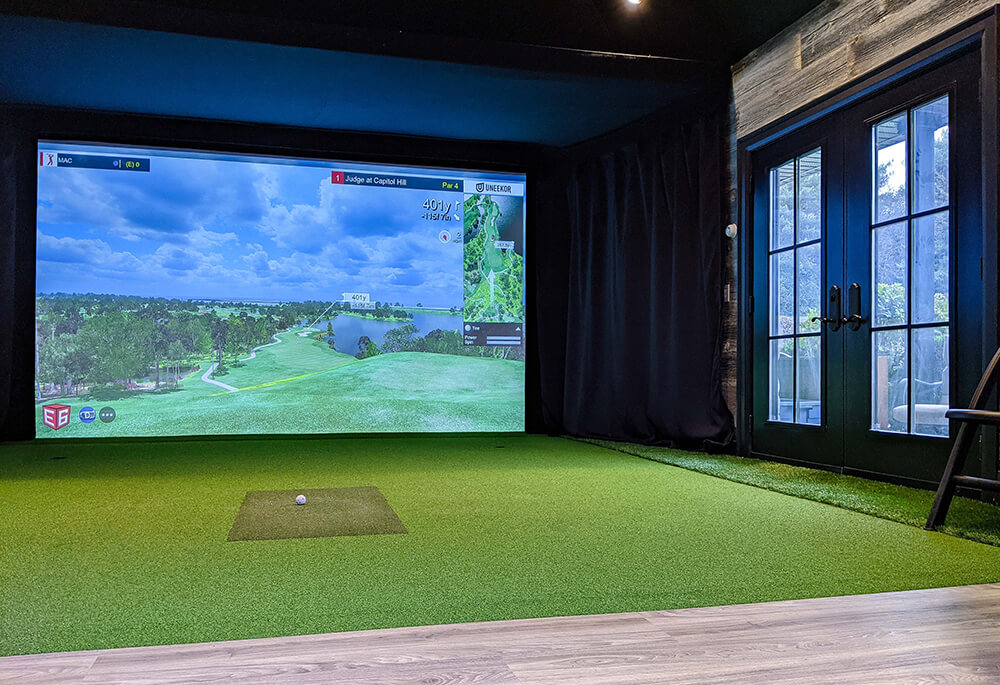 About 25 percent is DIY business; typically, customers buying and assembling individual components or subcomponents like hitting mats and flooring, the screen, the frame, and so on to complement whatever technology they have. But the most popular approach, and about 60 percent of the business, is essentially a sim-in-a-box offering that bundles the soft goods and various tech offerings. This package, which The Indoor Golf Shop calls "Done for You," is delivered to a customer's doorstep with assembly instructions—including video and 3D animation—that walks them through the assembly.
"We try to make it as easy and straightforward as possible. A lot of it is just the convenience and we've gone through a lot of these," says Delgado. "It includes everything and anything a customer would need to have a really nice golf simulator setup in their home or business."
As for costs, $2,500 to $3,000 is a realistic jumping off point for a starter entry level package, one that has a golf mat, hitting net, and an entry level launch monitor. The price tag can easily rise above $30,000, but the average is generally in the $7,000 to $10,000 range.
Faust, whose family was one of the founding members of the simulator company AboutGolf and took over as the president of ACE about a year ago, remembers when most of the early home simulator offerings were in the $50,000 range.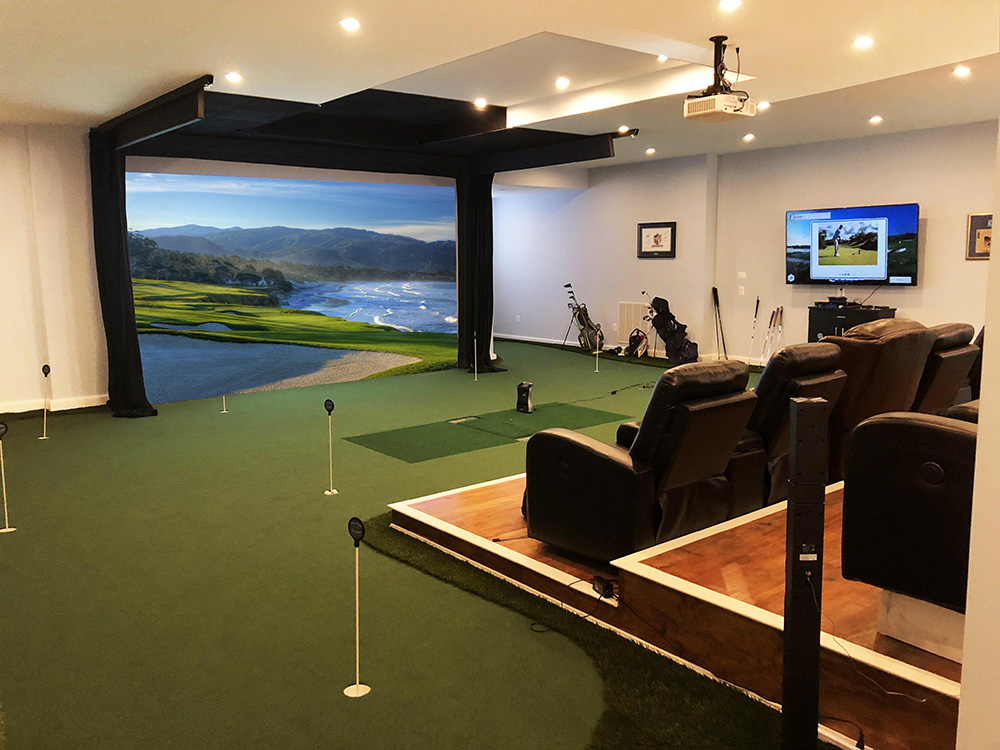 "Today, there's in many ways been a race to zero when it comes to the hardware manufacturers. Pricing has really become conducive to the average golfer," Faust says. "So, you see the flexibility now with all kinds of packages based on desirability. You can get tracking technology in the sub-$2,000 category that are very accurate for game improvement and have the flexibility to go inside and outside. Technology has really come a long way."
Basements, garages, and extra rooms are the most popular spaces for home golf simulators, although that varies by geography. Basements are more popular in the northernmost U.S. and Midwest, while states in the southern half—particularly in states like California, Florida, and Texas—tend to do more garage builds. There are also retractable simulator packages popular for flexible and shared spaces, like game rooms or media rooms, and some customers even opt to build a separate room.
Generally, though, the golf simulator space is experiencing the same surge in popularity as the traditional game.
"Our trend has very much followed that of the game of golf overall," says Delgado. "Accessibility to the game is so important. Technology, simulators, launch monitors—they all really help provide more access to the sports for lots of people. We've seen a big uptick in business. I don't see it losing steam anytime soon, that's for sure."
Do you have or know someone who has a home golf simulator? Tell us about their setup in the comment section.