We knew competition for places would really heat up on the back nine and, sure enough, a number of historic, not to say important, holes have missed out on the top spot. You'll nod your head at some of our choices while others might cause you to wince. Just remember, it's all about fame.
10th—Riviera (Pacific Palisades, Calif.)
Its 6th hole, with the bunker in the middle of the green, appeared on the "Most Famous" front nine and, after trying to make the case for another course's 10th hole, we decided nothing should come before George Thomas's superb short par four. Pine Valley's par three with the Devil's Asshole bunker; the par three at Kasumigaseki (East) which, before the Olympics, had long been recognized for the support beams holding up the trees on the lake's edge; Sunningdale's (Old) glorious mid/long par four; Winged Foot's (West) one-shotter which Ben Hogan called a "3-iron into someone's bedroom;" and Augusta National's downhill par four with Alister MacKenzie's huge and now mostly decorative fairway bunker were all considered, but when Riviera's 315-yard teaser gets comprehensive analysis every year when the PGA Tour is in town, the voting could only go one way.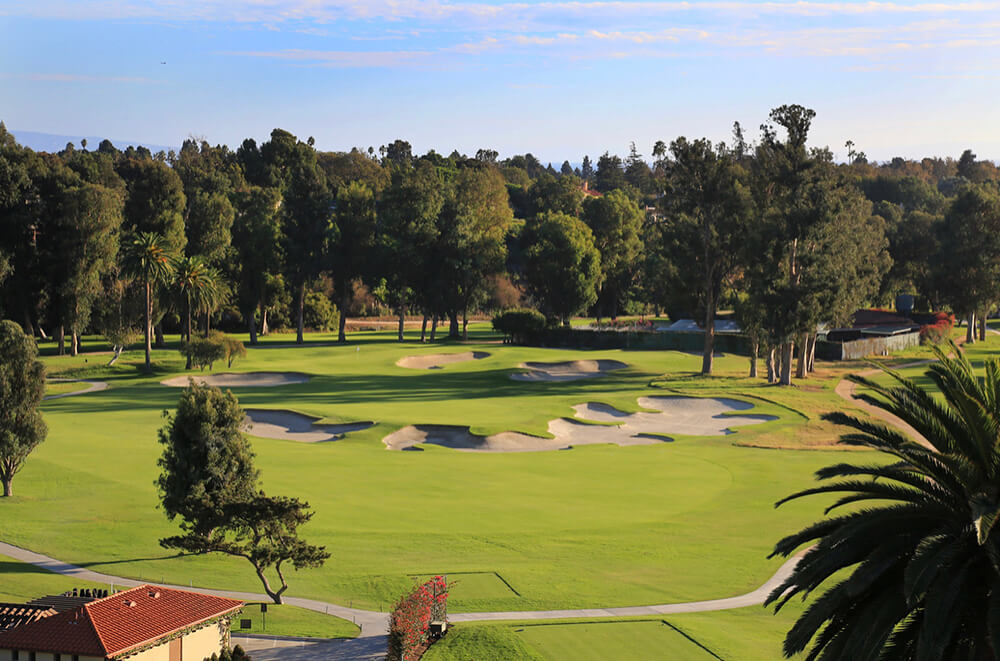 Runners-up: Augusta National (Ga.); Kasumigaseki (Japan); Pine Valley (N.J.); Sunningdale (England); Winged Foot (N.Y.)
11th—Merion, East Course (Ardmore, Pa.)
The list of runners-up was long, and there were a number of viable candidates for the No. 11 spot, most notably the Old Course's par-three Eden hole and Augusta National's ever-growing/narrowing par four, the second half of which signals the start of Amen Corner. But ultimately, the hole where Bobby Jones won the U.S. Amateur and the "Impregnable Quadrilateral" in 1930 won out. Just 367 yards, the downhill par four isn't a difficult hole by any means but with a 22-yard-wide fairway (in the 2013 U.S. Open) and tilted green surrounded short, right, and long by Cobbs Creek, it's certainly best to err on the side of caution.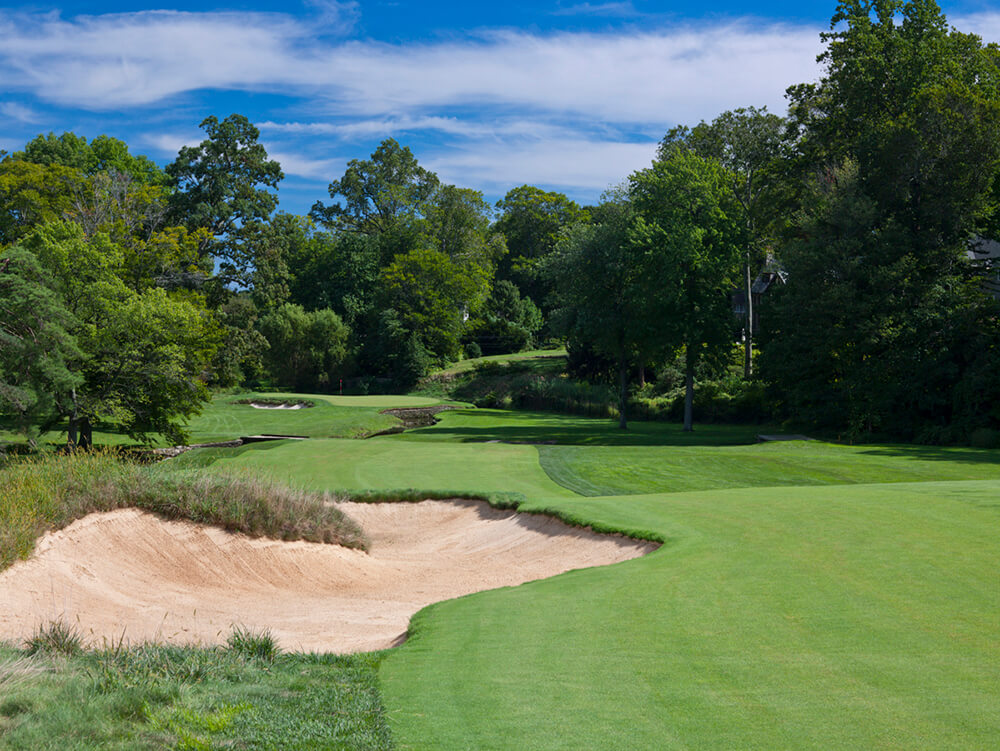 Runners-up: Arcadia Bluffs (Mich.); Augusta National (Ga.); Ballybunion (Ireland); Los Angeles C.C. (Calif.); Monterey Peninsula C.C., Shore Course (Calif.); Pacific Dunes (Ore.); Royal Troon (Scotland); St. Andrews (Scotland); Shinnecock Hills (N.Y.); Waterville (Ireland)
12th—Augusta National (Augusta, Ga.)
Much as Pebble Beach's seductive par three was an easy winner of the 7th hole, so Augusta National's 155-yard "Golden Bell" was never going to be beaten for No. 12. Yes, the Old Course's tremendous short par four (Heathery (In)) which can be played any number of ways; Sunningdale's beautiful, uphill par four which provided the inspiration for C.B. Macdonald's "Bottle" hole; Jack Nicklaus's par-three clifftop stunner at Manele; and Waterville's ominous "Mass" hole all warrant a mention. Also of note is MacKenzie's lost 12th hole at Sitwell Park in Yorkshire, England. (The original green, opened in 1913, was a massive, cascading rollercoaster that proved so controversial it was soon removed. Rob Collins and Tad King, designers of Sweetens Cove in Tennessee, have built a 35,000-square-foot tribute at Landmand in Nebraska which opens next year.) But up against Golden Bell, they never stood a chance.
Runners-up: Druids Glen (Ireland); Manele (Hawaii); Old Head (Ireland); Royal Birkdale (England); Old Course (Scotland); Sand Hollow (Utah); Sunningdale (England); Waterville (Ireland); Whistling Straits (Wis.)
13th—North Berwick (North Berwick, Scotland)
The temptation to choose Augusta's next hole—MacKenzie's superlative right-to-left-swinging par five—for No. 13 was very real, and there will be plenty of readers who'll say it was the right move. But in an effort to mix it up a bit and recognize one of the game's truly iconic holes, we're giving it to North Berwick's extraordinary 400-yard par four, named "Pit." The stone wall crossing in front of the green determines your thinking on the tee—skirt the bunkers on the left for an easier approach up the length of the putting surface or hang right and leave a very delicate pitch over the wall. However many times you play the hole you'll never grow weary of making that decision.
Runners-up: Augusta National (Ga.); Austin C.C. (Texas); Glen Course (Scotland); Lost City (South Africa); Tobacco Road (N.C.); Pine Valley (N.J.); Tralee (Ireland); Valhalla (Ky.)  
14th—Coeur d'Alene (Coeur d'Alene, Idaho)
Its fame has definitely shrunk in the 30 years since it first adorned magazine covers and it never spawned the rash of replicas we assumed it might, but the floating green at Coeur d'Alene remains instantly recognizable. The 2,000-ton, 15,000-square-foot pontoon, which can be set at different distances from the "mainland" with the use of underwater cables, was built in Bellingham, Wash., and is set for a refit in 20 years' time. When the hole plays its max distance of 220 yards, and the wind and rain are whipping in off the lake, it's a finely struck shot that finds the green. "Long," the Old Course's back-nine par five; the par five at Royal St. George's with the Suez Canal splitting the fairway; the controversial short par four on Bill Coore and Ben Crenshaw's Bandon Trails; and Hokulala's amazing promontory-hopping par three were the main challengers.
Runners-up: Bandon Trails (Ore.); Doonbeg (Ireland); Hokuala (Hawaii); Muirfield Village (Ohio); Royal Dornoch (Scotland); Royal St. George's (England); St. Andrews (Scotland)  
15th—Augusta National (Augusta, Ga.)
Not too many strong candidates for the 15th which boiled down to another grim battle between Augusta National and North Berwick, this time the Masters venue just edging it. The par three at North Berwick is, of course, the original Redan hole with its tough tee shot to a diagonally pitched, tilted green and menacing bunkers short, left, and right. It's been copied around the world with some impressive remakes (Chicago, Shinnecock Hills, Somerset Hills, NGLA, etc.), but the earliest version probably remains the standard. Augusta's 530-yard "Firethorn" has evolved a great deal since the early 1930s and modern equipment has dulled much of the excitement, but watching Masters competitors trying to hold the shallow green late on Sunday afternoon is always intense.
Augusta National – No. 15
Firethorn – Par-5 – 530yds

The second of two incredible par-4-and-a-half holes on the back side and the site of Gene Sarazen's Shot Heard Round The World in 1935: a 4-wood for double eagle. A tremendously exciting hole for the patrons and players alike. pic.twitter.com/50bZIeyNRd

— LinksGems Golf Photos (@LinksGems) April 11, 2020
Runners-up: Banff Springs (Canada); Chambers Bay (Wash.); Cypress Point (Calif.); East Lake (Ga.); Kingsbarns (Scotland); Los Angeles C.C. (Calif.); Mauna Lani, South Course (Hawaii); North Berwick (Scotland); Prairie Dunes (Kan.)
16th—Cypress Point (Pebble Beach, Calif.)
So many to choose from here—TPC Scottsdale's par three with wraparound stadium seating; Royal Portrush's "Calamity;" Sleepy Hollow's "Panorama" par three with the thumbprint green surrounded on three sides by a strip bunker; the Old Course's "Corner of the Dyke" with the Principal's Nose bunker; Bandon Dunes's terrific clifftop par four; and, of course, Augusta National's cross-water par three. But we couldn't not give it to Cypress Point's sensational Alister MacKenzie/Marion Hollins-designed, 234-yard par three across the crashing surf on the Monterey Peninsula.
View this post on Instagram
Runners-up (closest): Augusta National (Ga.); Bandon Dunes (Ore.); Merion (Pa.); PGA West, Stadium (Calif.); Royal Portrush (Ireland); Sleepy Hollow (N.Y.); St. Andrews (Scotland); TPC Scottsdale, Stadium (Ariz.)
17th—TPC Sawgrass (Ponte Vedra Beach, Fla.)
Some readers will read the following text with an incredulous look, aghast this gimmicky 137-yarder could finish ahead of the penultimate hole on the Old Course. Well, as we pointed out at the start, the winning holes weren't necessarily the best, but best-known. And, rightly or wrongly, when we Googled "17th hole golf" and clicked on "Images," Pete and Alice Dye's crowd-pleaser appeared considerably more often than the Road Hole.
Runners-up: Baltusrol, Lower Course (N.J.); Kiawah Island, Ocean Course (S.C.); Medinah, Course Three (Ill.); National Golf Links (N.Y.); Pebble Beach (Calif.); PGA West, Stadium Course (Calif.); Prestwick (Scotland); Seminole (Fla.)
18th—Old Course (St. Andrews, Scotland)
If it's any consolation, we're awarding the home hole to St. Andrews, meaning it provides the bookend holes in the 1st and 18th. There will be those who'll say it should have been the closing hole at Augusta National or, better yet, Pebble Beach. Yes, rejecting Pebble Beach's glorious 543-yard par five that sweeps left around the bay wasn't easy, but crossing the Swilcan Bridge and Granny Clark's Wynd, and putting out on Old Tom Morris's huge green in front of Hamilton Grand and the R&A Clubhouse is an overwhelming experience for any golfer.
Runners-up: Augusta National (Ga.); Bay Hill (Fla.); Carnoustie (Scotland); Doral, Blue Monster (Fla.); Harbour Town (S.C.); Kapalua (Hawaii); McLemore (Ga.); Merion (Pa.); Olympic (Calif.); Pebble Beach (Calif.); Shinnecock Hills (N.Y.); Whistling Straits (Wis.)
What are the most famous holes that we missed? Let us know in the comment section.