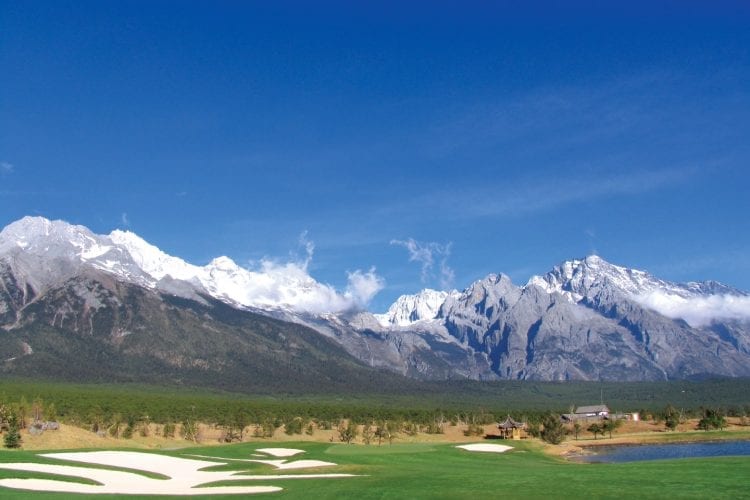 Thirty-seven cranes. That's what I saw when I parted the hotel-room curtains on my first morning in
Beijing. And I'm not talking about the graceful, long-necked, pond-wading variety. No, these were the 200-tons-of-hydraulically-articulating-steel kind. One leaned straight at me from the 30th floor of a structure across the street. Three more bobbed up and down in the foundation of a building site two blocks away, while another sat incongruously in the center of a rush-hour traffic jam. Across the horizon, every point on the compass sported at least one specimen of China's new national bird.
Eighty percent of the world's construction cranes are in Asia, and 80 percent of those are in China, the most populous nation and now the fastest growing economy in the world. Shanghai, which had just one skyscraper in 1985, now has more than 300 of them, while Beijing has no fewer than 7,000 buildings under construction, many of them rising at the rate of one floor per week.
As the People's Republic continues its remarkable transition from communism to capitalism, personal wealth is rising just as dramatically as the skylines. The average Chinese citizen enjoys 10 times the purchasing power of a quarter century ago, and the nation will soon have more than a million millionaires. The Chinese are the third largest consumers of luxury brands-from Rolls-Royce to Dom Perignon to Cartier-just behind the U.S. and Japan, but within five years they will be first.
Much of that spending will be on golf. A century after America became addicted to the game, the Middle Kingdom has caught the bug in a big way, as Mao Zedong's "Little Red Book" has fallen out of favor for Harvey Penick's.
In 1983 there were no golf courses in China. Now there are 310, with hundreds more in the pipeline. Some predictions call for as many as a thousand new courses in the next 10 years, a pace so alarmingly rapid that the government recently imposed a moratorium on construction, in the interest of protecting the nation's arable land. In modern China, however, where there's a will-accompanied by sufficient cash-there's a way, so the course boom has continued virtually unabated.
I wasn't sure what to expect. Word was that most of the early Chinese courses had been created hastily on shoestring budgets and were forgettable at best. On the other hand, China has attracted a few big-name designers-Trent Jones Jr., Nicklaus, Norman, etc.-and I was curious to see what they had produced.
Sharks and Cobras
So after the obligatory tour of the Beijing sights-the Great Wall, Tiananmen Square, the Forbidden City-I got down to business with a three-hour flight to the city of Shenzhen, at the southern tip of China, and a visit to the Mission Hills Resort.
A few hundred yards after we passed through the guarded gate, my jaw dropped. In front of us was a hole with a group of four golfers and their caddies on the tee and another group putting out. Hardly remarkable, except that it was 10 minutes past midnight. At Mission Hills, golf is played under floodlights until 2 a.m.
Indeed, at this place everything is done in a big way. Mission Hills is the brainchild of David Chu, a Hong Kong businessman who made a fortune in corrugated paper. In 1992 Chu had a vision of building the largest golf resort in the world. Thirteen years and nearly half a billion dollars later, he reached his goal with the completion of Mission Hills' ninth and 10th courses, two more than Pinehurst.
Yes, 180 holes of golf, serviced from a pro shop the size of the Astrodome and staffed by an army of 2,400 female caddies in red uniforms with enormous white bonnets. The first course at Mission Hills was a Jack Nicklaus design that opened in 1994, joined in short order by designs from Ernie Els, Nick Faldo,
Jumbo Ozaki and Vijay Singh (or at least they lent their signatures and cut the opening-day ribbons). Then in 2002 Chu doubled his leisure with five more courses, by David Duval, David Leadbetter, Greg Norman, Jose Maria Olazabal and Annika Sorenstam, on a more rugged and dramatic tract of land a few miles away. Astonishingly, all five were constructed simultaneously over 18 months, thanks to a force of 30,000 laborers working around the clock.
On the 1st tee of the Norman course, one of my fellow players, a young teaching pro at Mission Hills, gave me the ominous news that Greg had agreed to the job only on the condition that his would be the most difficult course of the 10. From the back tees it is 7,200 yards, with the front nine climbing and dipping precipitously along a series of ridges and hills, and the back winding through a tropical forest that could have been the backdrop for King Kong. Straight driving was imperative, as I realized while tramping through a patch of dense rough in pursuit of my sprayed tee shot at the par-5 8th. "Watch walk, watch walk!" shouted my sweet young caddie, Dora Lee, leaving me befuddled until she pointed to a small sign: "Beware Cobras." That concluded my search.
Deadly poisonous snakes aside, this is a wonderful layout, skillfully routed over some extremely challenging terrain. Like its designer, the Norman is in-your-face assertive, flamboyantly attractive, immaculately groomed and tough. It ranks among the country's top 10 courses according to Golf Magazine China.
Mission Hills also offers three driving ranges, a learning academy, 51 tennis courts, two swimming pools, a spa, a conference center, 500 hotel rooms and three million square feet of real estate. Some of the homes are over 10,000 square feet, with everything from mah-jongg rooms and walk-in humidors to swimming pools with thundering waterfalls. It's enough to bring tears to the eyes of Donald Trump.
But Mission Hills isn't the only game in town, just the biggest one. Most private clubs in China welcome-even depend on-foreign visitors (mostly Japanese and Koreans), and two of the best courses in the Shenzhen area are the Sand River Golf Club and Shenzhen Golf Club.
Sand River was designed by Gary Player in a tidal basin beside Shenzhen Bay, its fairways lined by palms and mangroves with water in play virtually from start to finish, in the manner of Florida layouts. This is a club dedicated to very high standards in everything from course conditioning to pace of play. A notice in the pro shop exhorts members to complete their rounds in four hours and 15 minutes or risk having their weekend tee times restricted. I liked that.
If a country with a golf lineage that goes back only two decades can be said to have a grande dame course, Shenzhen Golf Club would be a strong candidate. Designed in 1985 by Isao Aoki and revamped in 2000 by the Canadian team of Robin Nelson and Neil Haworth, this is the closest course to Hong Kong (just a 10-minute cab ride) and sits in the heart of dynamic Shenzhen with the city skyline in constant, somewhat surreal, view from its rolling fairways.
Among its members is a self-taught 41-year-old who made history two years ago by becoming the first Chinese player to compete in the Masters. Lian-Wei Zhang earned his Augusta invitation by birdieing the final hole of the Caltex Masters in Singapore to edge Ernie Els by a stroke.
Zhang was in town during my visit and joined two members of the local press and me for a round. A lanky fellow, well over six feet tall, he showed only average power for a pro and got around Shenzhen in two over from the member tees. On the other hand, he wasn't being pushed-our best ball couldn't have beaten him.
Chinese golf officials are desperate to produce at least one megastar as a way of helping golf spread to their burgeoning middle class. One theory is that this will happen only with the advent of sterner courses that will train and challenge them.
Tropics to Mountains
Currently, most of the top courses in China are tied to resorts, and many of those are located on Hainan Island. Fifteen miles off the southern tip of the mainland, Hainan is China's Hawaii, abundant in luscious mountain scenery, coffee plantations, ancient culture and pristine sand beaches. With nearly a thousand miles of coastline and 300 days a year of sunshine, it's no surprise that dozens of courses are currently under way in Hainan.
The standard is Yalong Bay, a Robert Trent Jones Jr. design near the city of Sanya on the island's southern coast. Like Sand River, it's a course akin to the best of Palm Beach or Palm Springs, with broad fairways, grasping bunkers and a variety of native vegetation adding to the challenge and charm. Small lakes border over half the holes; many call for heroic risk/reward decisions off the tee and into the green.
On the day I played a gale blew in, with gusts as strong as any I had seen in Scotland, but the generous driving areas and open approaches to most greens allowed the course to be played as a links, albeit without the same firmness and roll.
Two first-class hotels serve Yalong Bay, one a low-rise tropical design hard by the course, and the other a new beachfront Sheraton, just across the street. After dinner you can head out for some more golf because, like Mission Hills, Yalong Bay lights up like Yankee Stadium.
China has an even greater diversity of natural beauty than the U.S., as I discovered the next morning. A flight of barely three hours transported me from the equivalents of Maui to Switzerland, and I went from perspiring in 85-degree heat to having my noon tee time delayed because the course had a dusting of snow.
The ancient city of Lijiang is in the Yunnan Province of southwestern China, on the border of Tibet. Sitting at 10,000 feet in the foothills of the Himalayas, the Jade Dragon Snow Mountain course (pictured left) is breathtaking, both scenically and literally. In its rarefied air, a golf ball flies almost 20 percent longer than at sea level. Nonetheless, it was a kick to knock my 3-wood second shot onto the green of the opening hole, a par 5 of 606 yards. (The back tees measure 8,548 yards.)
Jade Dragon was designed in 2001 by Haworth, who has installed himself in Singapore and with his partner, Nelson, is producing some of China's best courses. Both nines return to the clubhouse at the top of the property, but Haworth routed his holes skillfully so that only one hole plays straight uphill.
Carts are absolutely mandatory here unless you?re an Ironman competitor or have Sherpa blood. But if the notion of hitting 300-yard drives from elevated tees toward a backdrop of massive snow-capped peaks appeals to you, Jade Dragon is your ticket.
All that fresh mountain air had left me ravenous, and my gracious host had arranged for a special dinner at a local family restaurant in Lijiang. The locale turned out to be a small apartment, which Westerners would characterize charitably as a tenement, where our party of eight entered a room as bleak as a prison cell and sat on wooden stools surrounding a steaming cauldron of broth into which our chef deposited numerous unidentifiable specimens of macerated flora and fauna. After it had all simmered a bit, we were invited to pluck out the various bits.
One item-a brownish-maroon colored meat that had been sliced thinly and seasoned exquisitely-appealed to me. I scarfed down several pieces before asking what it was.
"Ah, that is local delicacy," said my host. "Yak."
Duck's feet, Pizza and the Yankees
The next day began with a tour of Lijiang's Ancient City, an area that dates back to 475 B.C., followed by a round at the Lijiang Ancient City International Lakefront Golf Course. It was just a 10-minute drive from the center of Lijiang-a city of a million residents-but without our cab driver, we would never have found it, as the last mile took us along a winding dirt road past a succession of primitive wooden huts without water or electricity at the doors of which men, women and children leaned and squatted and stared as our car passed by, a stark reminder of the immense gap between the rich and poor in China.
When our cab emerged from the last bumpy bend, the course suddenly appeared-a scene I had envisioned as the classic Chinese setting for golf, 18 fairways unfurling between the foot of a mountain and the shore of a serene lake. The course is the work of an American named Joe Obringer, who served an apprenticeship with Jack Nicklaus before heading to the Far East on his own.
Although there wasn't much contour to the fairways, the par 4s and 5s doglegged interestingly and the greens were fun without being funky. Eleven holes brought us to the water's edge and at the par-3 17th, I actually played my tee shot over the head of a fisherman poling his dory toward the bank.
What struck me most was the absolutely superb condition of the course-superior to even the private courses in the U.S. Yes, my tour of China had opened my eyes. I visited several well designed and beautifully maintained courses, stayed at first-class hotels equal to those in any major city, and paid about half what I would have for a comparable experience in the U.S. China as a golf destination had not only eclipsed anything I had seen in Asia, but in terms of value had beaten everything in the Western world as well. However, nothing I'd seen could have prepared me for what I found at my last stop. Roughly 200 miles southeast of Lijiang is a place that deserves to be ranked among the top handful of golf resorts in the world: Spring City Lake Resort in Kunming.
It's difficult to conceive of a more spectacular site for an inland course-perched at the top of a hill overlooking a sparkling lake, with a range of massive mountains beyond. Imagine Lake Tahoe at its glistening best and you'll begin to get the picture.
Spring City derives its name from the year-round spring-like conditions the area enjoys-perfect for golf. There are two courses, the Lake course by Trent Jones Jr. (although the real credit goes to Don Knott, who was then his chief designer and is now on his own) and the Mountain course by Nicklaus (again, with credit to his then associate Lee Schmidt). I suspect the only reason they aren't ranked among the top 50 or so courses in the world is that not enough raters have been to China.
The Lake course starts just behind the clifftop hotel and zigzags downhill in a series of dramatic and jaw-droppingly beautiful holes, culminating at the picturesque par-3 8th, which plays from an elevated tee to a green at the edge of the lake. The inward nine climbs back up, but so artfully that no hole feels uphill.
Once again, I was struck by the conditioning. In fact, I can think of only two courses that were as immaculately groomed-Augusta National and Muirfield Village. My intent had been to play Lake in the morning and Mountain in the afternoon, but by the start of the second nine of the morning round my stomach had begun to talk to me. By the 16th tee, I knew that finishing even one round without a gastrointestinal incident would be a challenge. The culprit, I knew, was the previous evening's dinner-I had gotten a bad piece of yak.
After staggering in the final beautiful holes, I took a quick cart tour of the Mountain, which was every bit as spectacular, its undulating fairways bending through pine corridors toward dramatically bunkered, raised greens with the lake and mountains always in view. The signature hole is No. 18, an uphill 465-yard par 4 with the second shot over a ravine.
I yearned to play the Nicklaus layout, but instead, I loaded up on the Chinese equivalent of Kaopectate and spent the afternoon watching a Yankees game in which the winning pitcher was Taiwanese ace Chien-Ming Wang.
By evening I was ready for a tour of the Spring City hotel, a contemporary Asian design that takes full advantage of the lake views. Three restaurants serve the full range of local and international cuisine, everything from pickled duck's feet to pizza, and if you overdo the golf or eating there's not only a fitness center but also an enormous massage area.
With all of this available for as little as $200 a day, Spring City is likely the world's best deal in resort golf. Say you live on the East Coast and you want to stay and play at Pebble Beach for five days. Assuming you fly first class from New York City, that trip will cost you about $8,000. For the same money, you can fly business class to China, stay in Beijing for a couple of days, then head to Spring City for five days of spectacular golf-complete with caddies and carts, superb accommodations, all meals, and a full-body massage every day.
Barely a week after I had arrived in China I was due to head home. There were many courses I had missed-Pine Valley, the best course near Beijing, ultraprivate Sheshan in Shanghai, Tiger Beach (a sister course of Carnoustie!) in Shangdong and Hainan's Ocean Bay, said to have sea views equal to those of Pebble's. And there was so much of non-golf China I wanted to see, so much of the history and culture I had missed by being so golfcentric. I simply hadn't allowed enough time.
Yes, I will go back to China soon, and so should you. The World Tourism Organization has forecast that by 2020 China will be the number one tourist destination in the world. So beat the crowds and go now, for the happy golf surprise of your life.