A slim, gold-plated island flanked by the Atlantic Ocean and the Intracoastal Waterway, Palm Beach is a swanky winter retreat where you'll see more Bentleys than Toyotas. Here's the place to be dazzled by what unbounded wealth can buy, starting with the magnificent seaside mansions and their beautifully landscaped grounds. Happily, the area's white sandy beaches and array of golf courses are readily accessible, as are its most distinctive restaurants. These include a fabulous newcomer at The Breakers designed to capture the glamour of Palm Beach cocktail culture.
The Breakers (Rees Jones Course)
Located 10 miles from the resort's pink oceanfront palace and set within a 670-acre wildlife sanctuary, this solid 7,104-yard layout, completely retooled by Rees Jones from an earlier design known as Breakers West, swings past palms, pines and oaks—and numerous lagoons. The quartet of threes, three of which play over water, is exceptional.
HMF, The Breakers
Slated to debut in late November, HMF, named for resort founder Henry Morrison Flagler, is a new concept dining/drinking establishment conceived by hospitality designer Adam Tihany. Located in the hotel's historic Florentine Room, its interior "re-imagined" as the setting of a high-style soiree, HMF will celebrate the au courant Palm Beach lifestyle. Menus will feature innovative takes on "sharing plates" representing multiple cuisines using locally sourced seasonal ingredients, while hand-crafted cocktails will range from vintage to experimental. Highlights include an impressive steel-and-glass Wine Wall; and a custom humidor with premium cigars for enjoying in the Mediterranean Courtyard or on the Seawall outside HMF.
North Palm Beach CC (Jack Nicklaus Signature)
Nicklaus, an area resident, charged the village the grand sum of $1 to stretch and redesign its tumbledown course in 2006, creating one of the state's top munis in the process. Two holes skirt the Intracoastal Waterway; several others are carved into the sandy flanks of the Seminole Ridge. Driving zones are generous, but the liberally contoured greens are the equalizer.
Captain Charlie's Reef Grill
Tucked away in a nondescript strip mall in Juno Beach not far from the golf course, this informal, come-as-you-are restaurant specializes in super-fresh fish drawn from area waters. The blackened grouper with black beans and rice is superlative. Excellent wine list. Modest mark-ups. No reservations. Or website. 561-624-9924.
PGA National Resort & Spa (Champion)
Site of the Honda Classic, a PGA Tour event, the Champion is one of south Florida's finest championship layouts. Redesigned by Jack Nicklaus in 1990, this breezy, broad-shouldered course builds to a climax at the Bear Trap, a gauntlet of watery holes (15, 16, 17) that spells glory or doom for most campaigners. The Champion is where Rory McIlroy edged Tiger Woods for the trophy last March.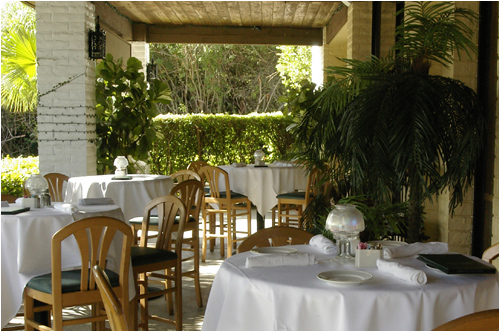 Café Chardonnay
This well-established, family-owned mainstay in Palm Beach Gardens near PGA National features inventive New American cuisine that appeals to all palates. Don't be put off by the generic Florida mall setting—this is a polished, sophisticated outpost with superb entrees and an excellent selection of wines by the glass.
Palm Beach Par 3 Golf  Course
Completely remodeled in 2009 by area resident Ray Floyd, this splendid 18-hole par-three course features six holes that play directly alongside the Atlantic. An ideal course for rusty snowbirds, this walker-friendly layout, owned by the Town of Palm Beach, will test your ability to control the ball in the wind.
Ta-boo Restaurant
This popular institution on Worth Avenue is one of the liveliest bistros in town. Jimmy Buffett and Donald Trump are regulars at this see-and-be seen hotspot. Grab a zebra-print chair at the bar, or take a seat on the lovely outdoor terrace. Open for lunch and dinner. Eclectic continental menu. Interesting subtropical decor. Piano music nightly. DJ on weekends.