By George Peper
Well, I made it. Never thought I would—or could—but somehow I did.  Last week I survived a 198-hole golf orgy with my 27-year-old son and his pal—11 rounds in seven days, all of them on foot and with bags in tow. I figured I'd be penning this report from an orthopedic ward but remarkably, my back and joints feel only mildly achy, a testament I suppose to preparatory gym work as well as copious ministrations of Aleve and Macallan.
Scott and Micah had taken a week off from their jobs—Scott as a software engineer, Micah a Wall Street broker—and for these two NYC–stranded seven-handicappers, this trip would constitute a big percentage of their golf for the year, so they wanted to cram in as many holes as possible. They landed in Edinburgh at eight on a Sunday morning and by noon the three of us were well into round number one, on the Eden Course at St Andrews.
The rest of the schedule shaped up like this: Monday: The Old & New Courses, Tuesday: Carnoustie, Wednesday: Muirfield & Renaissance, Thursday: North Berwick & Gullane, Friday: The Castle & Crail, Saturday: The Old again & Kingsbarns. (I would join them for all but The Castle, the St Andrews layout that opened in 2008 for which I harbor a distinct and abiding distaste.)
Scott in his college years was a three-handicapper, and he hits the ball as long as a Tour pro. For Christmas I'd gotten him an extra-stiff shafted Callaway RAZR Tour driver, and I was anxious to see what he could to do with it.
The results were mixed—when he was good, he was very, very good but when he was bad he was horrid. Most of the three-dozen Pro V1s he brought with him were launched over various fences and walls (one actually soared over the right side of the Old Course Hotel) or into dungeons of gorse and fescue. But on the occasions when he got his vectors aligned, the results were jaw-dropping. In the course of the week he drove seven par fours, including the 7th and 12th on the Old, the 11th on the New, the 2nd at Muirfield (on his second attempt after his first went over a wall), the 398-yard 7th at Gullane (okay he was two steps short), and back-to-back holes (10 and 11) at Crail.
When he drove the 12th on the Old—316 yards from the back tees we were playing—his towering shot pelted down on the green as the four local players in front of us were putting out. This was my fault—I'd figured there was no way he could hit them above the ankles so told him to swing away—but Scott bore the brunt when they gave him a tongue lashing and one of them wrote the word PRAT (British for jerk) in big red letters on the ball (an act which identified the writer as something of a prat himself).
Micah (below, right), although a relatively new golfer, had played center field for Princeton and is a big fellow who pounds the ball almost as far as Scott. Like Scott, however, he has power to all fields. Thus, although I was routinely the first to hit approach shots on most holes, I was occasionally the only one to finish.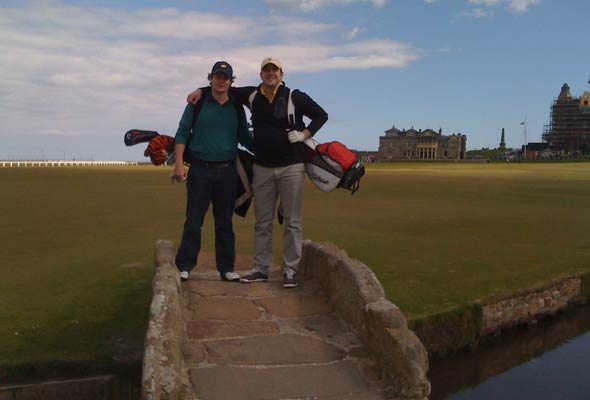 Generally I played like someone who used to have a decent game but at age 62 can't remember where he left it. My 79 on opening day was as low as I'd go, the rest of the rounds settling into the mid to upper 80s. I did have my moments—a birdie at the Road Hole and another at the 17th at Gullane where my partner and old friend David Kirkwood and I polished off the lads, despite spotting them a collective 75 years and no strokes.
The lads' favorite course: Kingsbarns (hard to argue with that). Their least favorite: The Castle (ditto hard to argue but while I dislike the course for its nutty greens, they cited its routing—long green-to-tee walks, many of them uphill—and numerous blind shots, forgivable on layouts crafted in the 19th Century but not the 21st).
Their most enjoyable course: Crail. In Scott's case, I suspect this had something to do with his score—a 73, despite a triple-bogey on the 18th.
The hardest: Muirfield, where Scott seemed on permanent safari in the fescue. But all was forgotten by the conclusion of the magnificent clubhouse lunch where, over a couple of bottles of fine wine, the gregarious Micah befriended one of the Muirfield members, a florid-faced seventh-generation descendant of Robert Louis Stevenson.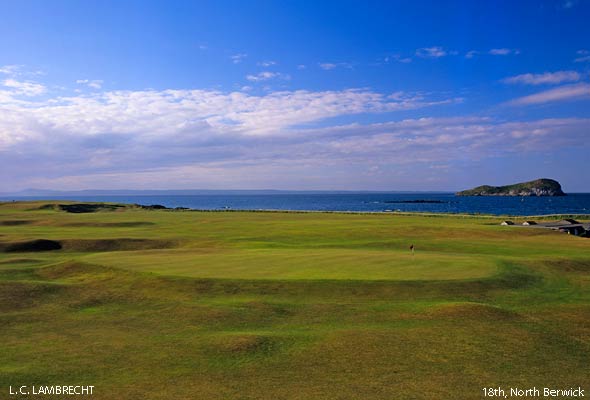 A big thank you goes to our Muirfield host Bobby Simpson who didn't play with us, but kindly walked along all 18, despite nursing a sore ankle. Oddly, his doctor had advised him not to play golf but had given him the go-ahead for something a bit more ambitious three days later, the London Marathon, where at age 68 Bobby would finish in under 5 hours. (And here was I, beating my breast about walking a few miles a day!)
It was a week of rising at dawn, scrambling to first tees, playing pure links golf in 50 degrees, light wind, little rain, but occasional hail. I will never forget the 7th hole at Carnoustie where we played through both another foursome and a hailstorm, yet Micah managed to sink a 15-footer for birdie, his ball rolling through a minefield of pea-sized pellets.
We played well and badly, we cussed and we laughed, we bragged about our best shots and made excuses about our worst. In between we drank and ate way too much, consoling ourselves with the notion that the next morning we'd be noble warriors once again.
Above all we bonded as perhaps only golfers—dogged victims of inexorable fate—can. When it was over I was glad but much more than that, I was sad, for I don't know whether my son and I will ever do this again. All I know is that he surely will, and when he does, I hope he'll do it with a fine son of his own.
________________
What's your favorite family golf experience? Tell us about it in the comments below!