Golf and fly fishing: Both were born in the British Isles around the 15th century. Both pit man against an indifferent, at times even inimical, nature. Both involve sticks, and are best performed with smooth, easy strokes.
The similarities extend to the mindset. During the average round, you spend less than five minutes actually swinging a club or putting. The rest of the time you're gauging distances, checking the wind, selecting clubs, reading greens, and enjoying the scenery. During the average fly-fishing day, the most productive outings involve minutes, not hours, of reeling in fish. The rest of the time is spent gauging currents, selecting flies, reading the water…and enjoying the scenery. In both cases, it's what happens between the ears that separates success and failure.
"Constant massaging and experimentation will make you a better golfer, and will make you a better angler," Nick Price told me recently. "Just because you caught fish yesterday doesn't mean you'll catch fish tomorrow. You never stop learning. That's what fascinates me about fly fishing."
Bend, Oregon: Oasis for Fly-Fishing Golfers
There are great fly-fishing Meccas (like Bozeman, Montana) that have a few modest munis in the surrounding area, and golf destinations (say Myrtle Beach) where you can find a spot to wet a line. But in terms of offering an abundance of high-quality golf and fly fishing options close together, nothing tops Bend, Oregon.
Bend rests against the eastern slopes of the Cascade Mountains—perpetually snow-capped Mount Bachelor, Three Sisters, and Three Fingered Jack are in almost constant view. Cool breezes from year-round snowfields meld with the scent of high-desert sage and juniper, creating an intoxicating perfume. The mountains also shield Bend from western Oregon's infamous precipitation, yielding nearly 300 days of sunshine.
Greater Bend's golf offerings are not unknown: The region's 25-plus tracks include fairly recent arrivals like Pronghorn, Tetherow, and Brasada Ranch, as well as the resort courses at Black Butte Ranch, Eagle Crest, and Sunriver. The diversity of Bend's golf options—from mountain courses to desert layouts—extends to its fisheries. "Within an hour's drive of downtown Bend, you can fly fish for rainbow, brown, and brook trout; landlocked Atlantic salmon; trophy largemouth bass; and steelhead," says Damien Nurre, co-owner of Deep Canyon Outfitters, a local fly-fishing guide service. "There's an old saying—'trout live in beautiful places'—and that's certainly true of our fish.
"South or west of Bend, you can fish in crystal-clear spring creeks bordered by thick copses of lodgepole pine; north and east of town, you can wade rivers with majestic canyon walls reminiscent of the Southwest. The adventurous angler can hike into the Three Sisters Wilderness and have pristine alpine lakes all to himself."
Indeed, the multiplicity of golf/fly fishing permutations in the greater Bend area will tax your algebra skills. So, based on many excursions to the region with cleek and creel in tow, allow me to offer the following four-day itinerary.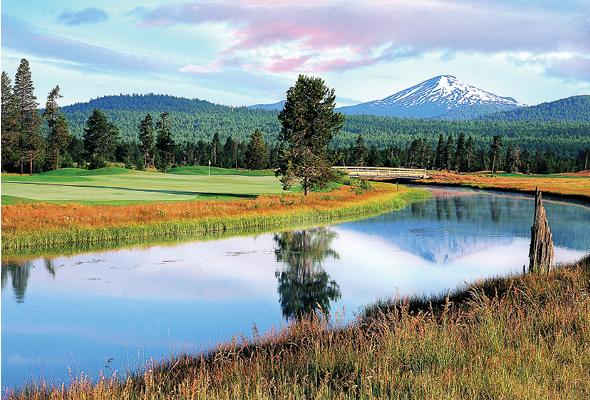 Day One
Start the day with Sunriver Resort's Crosswater Course, 15 miles south of Bend. The course—former home of a Champions Tour event, the Jeld-Wen Tradition—wanders through wetlands formed by the Deschutes and Little Deschutes rivers, water you'll cross up to seven times while playing a round as Mount Bachelor sparkles to the west. Significant measures have been taken at Crosswater to maintain sensitive riparian habitat, including the addition of fallen trees to the riverbed to create spawning habitat for resident rainbows. The club, it should be noted, has an active fly-fishing membership and hosts an annual golf/fishing competition; one of the ponds is stocked with trophy fish. (You'll have to ask which one!)
A few miles south of Crosswater, the Fall River bubbles up from the ground and flows gin-clear through lodgepole and ponderosa pine forests. Because it's a spring creek, Fall River maintains a steady water temperature year round; this sustains healthy insect populations for the trout. Here, you'll find mostly rainbows in the 10–12-inch range, with a smattering of fish that can push the 20-inch mark. You can often spot fish feeding, either dimpling the surface as they eat mayfly duns or flashing in the depths as they gobble nymphs. The bad news is, thanks to the clear water, the fish can often see you, too. Long, light leaders and small flies will do best.
Day Two
The Nicklaus Course at Pronghorn is billed as a desert layout. But as Central Oregon's high desert is less austere than the Sonoran desert, Pronghorn seems less target-oriented than other desert courses I've experienced—which is to say, not unduly punitive. In  fact, it's oddly reminiscent of Bandon Dunes…albeit a Bandon where the Cascades have supplanted the Pacific, lava ridges have replaced grassy hummocks, and juniper and sage stand in for gorse.
After lunch at the grill, head east to the Crooked River, the polar opposite of the Fall—except that it's equally beautiful, in a desert canyon way. Where the Fall is perpetually clear, the Crooked is perennially off-color, though the fish are here—rainbow trout and mountain whitefish. Thanks to the Crooked's lower visibility and large hatches of blue-winged olives and caddis, the fish are not terribly difficult to fool. The river is also very easy to wade, which makes it ideal for beginners. "If you tie on a Pheasant Tail nymph and drift it below a riffle," fishing guide Nurre said, "you're almost certain to catch whitefish, which boosts your confidence."
Day Three
Today, head west into the mountains to the town of Sisters and Aspen Lakes Golf Course. Two features stand out immediately at Aspen Lakes—the course's red-sand bunkers (created from pulverized lava rock) and the incredible vistas of eight surrounding Cascade peaks; the snow-covered Three Sisters—Faith, Hope, and Charity—seem to be almost in reach with a strong drive from several tees. For stunning mountain scenery and playability, Aspen Lakes is hard to beat.
Any confidence you may have garnered at Aspen Lakes will be tested at your next stop, the Metolius, central casting's answer to the request for "beautiful trout stream." This spring creek passes through thick stands of Ponderosa pine and Western Red Cedar and meadows of alpine wildflowers; a glance above the trees may offer a teasing glimpse of snow-capped Mount Jefferson.
"The Metolius has wonderful populations of native fish, both redband rainbows and bull trout," says John Judy, a fly fishing author and guide who lives near the river's headwaters. "They can be hard to locate, and for some that's frustrating. If you're impatient, you won't be rewarded. I find that it's very much a thinking-man's river, as the Metolius always throws twists and curves at you." If there's one time when the river's rainbows let down their guard, it's during the green drake hatch in June. Many a competent angler has come away from the Metolius fishless, but few come away unmoved.
Day Four
Today, you'll forsake golf and head north to the Lower Deschutes River, considered by many to be the pinnacle of Oregon fly fishing. In the spring and early summer, fly fishers focus on the river's wild rainbow trout. "Mid-May through June sees some of the best dry-fly fishing of the year," Nurre says. "With big juicy bugs like golden stoneflies and salmonflies on the surface, the fish go bonkers."
Come September, attention shifts to steelhead—a form of rainbow trout that migrate to the Pacific for several years before returning to their natal stream to spawn. Steelhead, which range from 5 to 20 pounds, are among the hardest fighting species, taking the fly like a rumbling freight train. Anglers tend to float the river in a drift boat, getting out to wade and fish promising spots.
If your schedule permits, consider taking a three-day float trip down the Deschutes. "People love the fact that you're in the wild, in a beautiful place where cell phones don't work," Nurre says. "You'll catch fish, but the real draw is the chance to experience nature in a different way."
Chris Santella is an Oregon-based freelance writer whose twin obsessions happen to be golf and fly fishing.