By Oliver Horovitz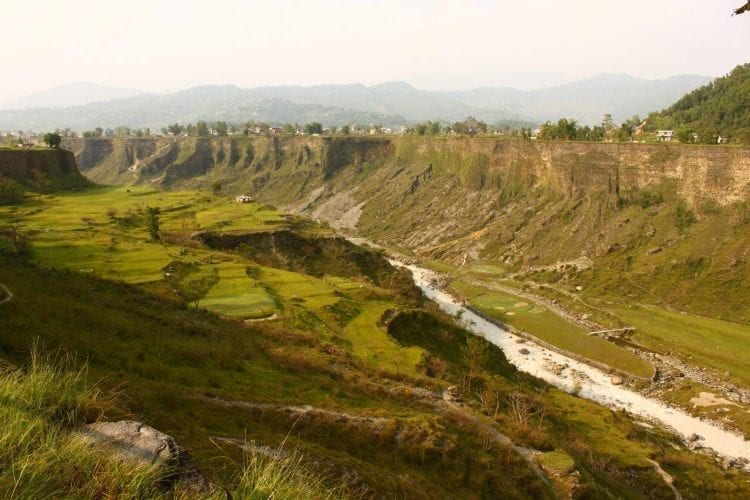 Nepal is a land of wonderful extremes. Library-like quiet in its mountains and chaotic energy in Kathmandu, the capital. Spirituality is everywhere: Multicolored prayer flags flutter in the breeze and Buddhist lamas pass you on mountain trails. The beauty of the country is topped only by that of the Nepali spirit, all kindness and smiles.
Just as extreme is the golf, played on half-a-dozen courses, all of them set at about a mile above sea level. There are 31 million people in Nepal, and only 700 are golfers. But of those, one in 10 is a pro, giving Nepal the highest pro-per-golfer-capita in the world. Pros earn their cards at a high-pressure Q-school, held each year at Royal Nepal Golf Club, which is where any Nepali golf adventure should begin.
The country's oldest club, Royal Nepal was founded in 1917 and granted royal status in 1965 by his late Majesty King Mahendra Bir Bikram Shah Dev. A par-67, 5,410-yard design, RNGC is on the east side of Kathmandu, across the street from Tribhuvan International Airport, meaning it's possible to walk out of the international arrivals terminal and be on the first tee in minutes. (For the record, playing golf in Nepal means playing in the future, since the local calendar differs from Western calendars and it's currently 2073.)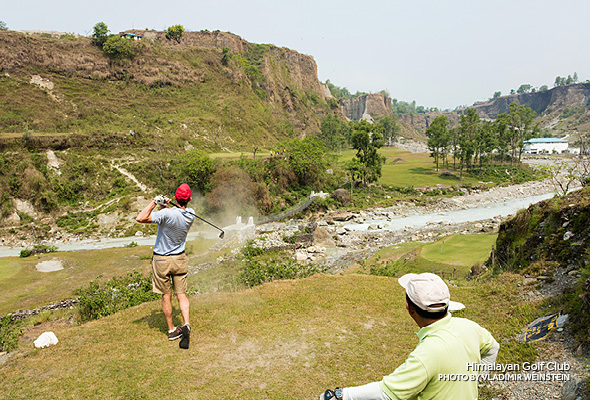 Despite conditioning that's more muni than Medinah, RNGC is magnificent, all character and charm, plus more than a hint of the surreal. Caddies wear sandals. Women in flowing orange and red Hindu dress tend the greens with screwdrivers. The 5th and 6th holes are on the grounds of the sacred Hindu temple Pashupatinath, so you are playing on holy land and often under the watchful eyes of Sadhus, wandering ascetic yogis trying to acquire liberation from the cycle of death and rebirth by meditating. Plus, monkeys run across the fairways.
"The monkeys will steal your golf balls if they're too shiny, they think they're eggs," says Major (ret.) Naren Rai, captain of Royal Nepal Golf Club. "So we all use older golf balls. There's actually a provision for monkeys in the local rules: You may drop within one club length."
The Major and I are playing behind a foursome of retired Nepali officers from the Gurkas (the Nepali unit of the British Army renowned for their bravery). Each Wednesday and Sunday at 7:30 a.m. (sharp), 12 to 14 retired officers tee it up at RNGC. Most are in their early to mid 70s, all have perfect posture. June through August, when it rains torrentially almost every day, the group holds a weekly event called "Monsoon Madness."
"Up until a few years ago, if there were no monkeys around, that was when you got worried," explains Major Gopal Bahadur Gurung. Asked why, the Major casually responds, "It meant a leopard was coming."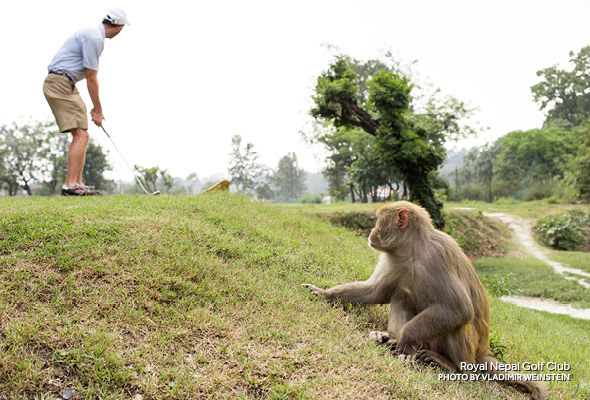 A round at RNGC closely mirrors the organized bedlam that is Kathmandu. The driving range plays into the 9th fairway. The elevated 9th tee sends drives over the 7th and 8th greens. Workers carry firefighter-like hoses across greens just as members are pitching up. If a ball is heading for someone's skull, golfers say "ball" with the same sense of urgency you might use ordering an ice-cream cone. But just like driving on the capital's bustling streets—an experience that feels as safe as walking a trapeze while blindfolded—somehow it all works. 
About a half-hour's drive to the northeast is the pride of Nepali golf, Gokarna Forest Resort. A par-72 layout, 6,755 yards from the tips, it was designed in 1999 by David McLay Kidd and you can see serious shades of the King's Course at Gleneagles, where Kidd's father was the superintendent. Gokarna sits within a 470-acre forest and is attached to an impressive 100-room hotel and spa. A round here feels like playing on your own private palace ground, which is appropriate since this used to be the hunting estate of the ruling family.
More than 60 types of birds call from the trees. Monkeys frolic on the greens, the babies hanging from the flagsticks (grinning security guards in military uniform chase them off). In the evening, herds of white spotted deer trot onto the course. Yet conditions rival that of American private clubs, with lush fairways and greens that run true.
"My family and I always come here on special days," says Cory McTague, a teacher from Arkansas now in his seventh year living in Kathmandu. "Everyone's just so friendly." The man in the green jumpsuit cutting branches with a sword-like Gurka knife gives me a huge smile. My caddie Durga waves excitedly as he emerges from the forest with my Titleist.
That they can be so happy is no small feat. On April 25, 2015, a 7.8 magnitude earthquake devastated the country. Golf became part of the recovery. Barely 15 minutes after the quake struck, hundreds of people ran to RNGC seeking safety away from unstable buildings. Tents started going up that night, and the first fairway became a refugee camp for 2,000 people.
At Gokarna, holes 12 through 15 provided space for 700. "Many of my caddies were sleeping in the tents," says Deepak Acharya, senior golf director at Gokarna. (I learned later that Deepak donated many of the tents himself.) As the recovery continues, golf has been a welcome distraction, a way of coping and healing.  
By far the most exhilarating golf in Nepal is in Pokhara, a beautiful lakeside town 20 minutes by plane from Kathmandu. The course is Himalayan Golf Club, a 6,900-yard par 73, and the name is appropriate.
"That's quite a gorge," I say arriving at the clubhouse. "Will we see it from the course?" Bhuwan Gurung, the head pro, looks at me puzzled and responds, "The course is in the gorge."
Major Ram Gurung designed the course in 1994 after retiring from the British Army. Because 30 sheep do most of the mowing, the conditions aren't pristine, but no matter. The layout is mind-bogglingly fun. Within minutes of starting, I hit off a 300-foot ledge into the gorge below. Over the next hour, I hit off cliff faces, over bridges, and over the Bijayapur River. It's like one of those fantasy courses you see on calendars.
"This hole is 'Leopard's Lair,'" says Major Bejoy Mokton, a club member in our group. "Three or four leopards used to live here."
"Used to, right?" I ask, looking around.
"Uh, yes," Bejoy replies. "I think."
As hawks and eagles soar over-head, we arrive at the par-five 6th hole, advertised as the only island hole in the world enclosed by a natural river. In the middle of the fairway is the club's other primary means of grass cutting, water buffalo.
But all that is prelude to the par-three 16th hole, called "The Abyss" and the scariest hole I have ever played. Tee shots must be hit over the gorge, a thousand-foot drop. (An optional side-tee is available for those with less chutzpah.) The height is dizzying. The view is sensational. This is golf on steroids, and it makes the nerve-calming Everest Beer at the 19th hole taste even better.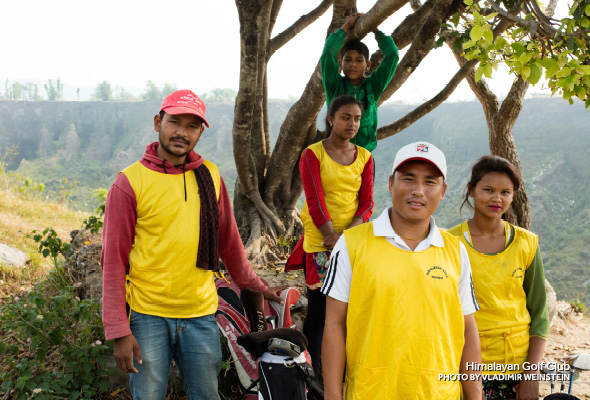 Golf in Nepal is not just for the wealthy. There are 60 caddies at Royal Nepal Golf Club (15 are female) and most play golf. At the club's highly competitive Caddie Tournament, members put up the prize money and let competitors use their clubs. Caddies are encouraged to play in preparation for the tournament. "It's a great support system for our caddies. We have so many talented players," says Mahendra Mainali, an enthusiastic RNGC member.
More than encouraged, caddies are groomed to become the country's top players. The top 10 finishers in the RNGC Caddie Tournament receive unlimited golf at the club for the entire year and the winner gets an exemption into the top local tournaments. Caddies showing serious potential are supported by the Nepal Golf Association, provided with equipment and coaching from teaching pros like RNGC's Sachin Bhattarai. 
At Gokarna, any of the club's 70 caddies showing potential receive lessons from Deepak Acharya. "If we see potential, they'll be playing everyday," says Ang Tshering Sherpa, the owner of the resort.
Nearly all of Nepal's 70 golf pros began as caddies. But no one's rise is as impressive as Shiva
Ram Shrestha.
Strong and with a boyish smile, the 32-year-old Shiva Ram started 20 years ago as a "ball boy" at RNGC, snagging Srixons from ponds, when he was spotted by Tashi Ghale, general secretary of the Nepal Golf Association and the unofficial godfather of Nepali golf. Shiva Ram was given lessons, and when he was promoted to caddie—earning 350 rupees a round, about $3.50—he started playing in tournaments. He is now the country's leading professional.
I chatted with Shiva Ram outside the RNGC caddie shack, where caddies in TaylorMade hats and Adidas golf shirts pass the time between loops playing a game involving dice and tiddlywinks. A snack bar dishes out generous helpings of dal bhat, lentil soup with steamed rice, a local staple.
"I love golf," Shiva Ram says, with a smile. He's proud of what he's achieved, including 32 victories and course records at three Nepali courses (including 8-under at RNGC). He's also the only Nepali winner of the prestigious Surya Nepal Masters, beating a field of more than 100 Indian pros in 2013. When kids in Nepal dream of going pro, they think of Tiger, Rory, Rickie, and Shiva Ram.
This is golf in Nepal: tightly knit, supportive, and, for many, a route to a better life.