Podcasts

provide

golf

addicts

with

fresh perspective

s—

as anyone with a microphone and internet access can become a storyteller

 
It started in 2017 on a golf trip to Alabama's Robert Trent Jones Trail. This was the first time Mike Shade and Eli Strait—two golf-obsessed college friends in their mid-30s—planned a big buddies' golf getaway. As a joke, they sent out a series of conversations to their group of about 11 to hype the anticipated outing.
Three holes in, things were grim. Their respectable golf games had been left at home—another dream golf weekend marred by poor play. It was time to do something about it, and so the idea for Chasing Scratch was born.
The duo would remove any extracurricular activities in their lives—outside of work and family—and spend that time seeing how good they could get, "chasing scratch." And they would document the journey on a podcast.
"I was skeptical that people would want to listen or if it would even be good," says Shade. 
Six years later, Chasing Scratch has released more than 100 episodes and ranks in the top 10 on golf podcast charts around the globe. Conversations about rounds, chock full of quotes from Seinfeld and Wedding Crashers, are the same as they would be in the locker room, only with a microphone on. PGA teaching professionals and other golf gurus have joined them to share insights on how everyday players can improve. Neither host has broken par, their handicaps hovering in the low single digits. But they've created a community of thousands who follow their adventures and are getting in on the laughs. Fans recognize them at their kids' soccer tournaments; a gallery of 40 watched them play a match at their college course; listeners across the pond hosted them for a meet-up at a pub in Ireland. For better or worse, people are counting on them to inspire, amuse, and be a relatable voice for those who share a similar relationship with golf. 
"There's times we would have probably quit or gotten lazy but knowing there's an audience keeps you accountable to stay committed to the goal," says Strait. "We thought if people could pick up something that would make them better, that would be really cool." 
Think back a decade or two. If you wanted to hear someone opine on the top players, the best places to play, or the overall state of the game, your options were limited. Beyond what you could read in golf books or magazines, you could watch tour telecasts; listen to the PGA Tour's flagship radio station; tune into Golf Channel's range of daily programming; or catch the rare golf segment on ESPN. 
In recent years, golf's "voice" has evolved. A new assemblage of entertainers—"podcasters"—has emerged, gaining a following and status as a trusted source of entertainment and information about the game. With a few taps on a smartphone, curious browsers will find a group of voices trumpeting their sentiments on every aspect of golf—from the tours to courses, history, architecture, instruction, fantasy golf, and so on.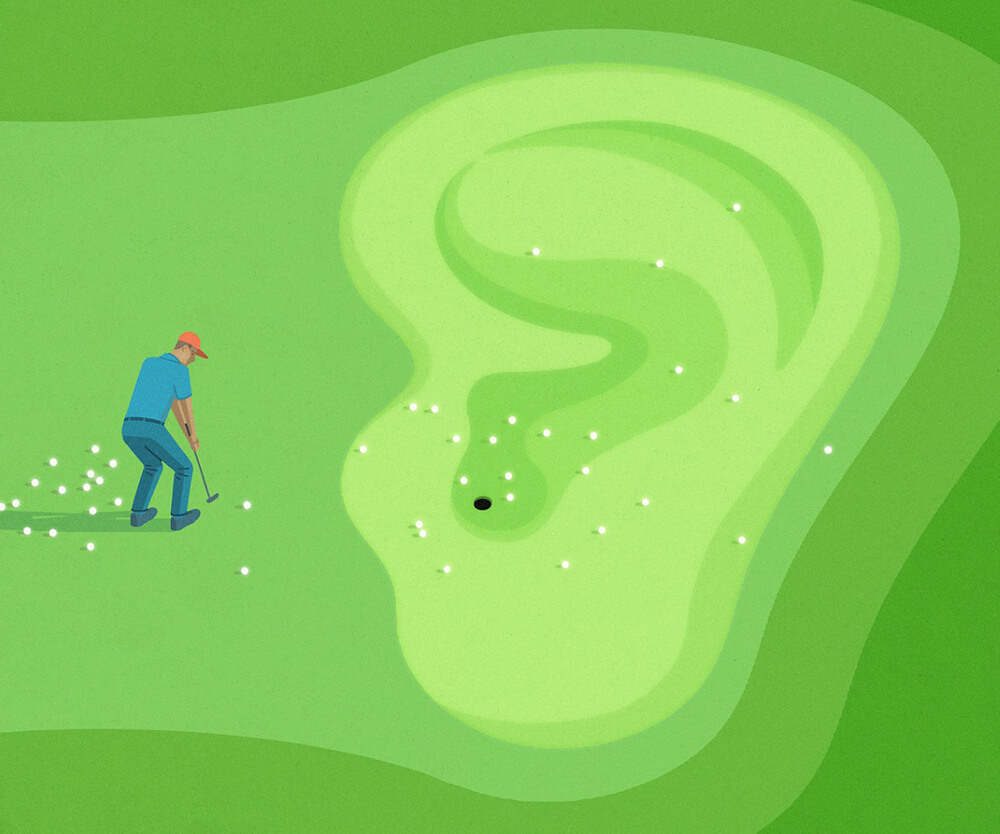 These new voices were given a soapbox by the October 2001 introduction of Apple's iPod, which helped popularize portable media players that allowed users to store audio files for listening on the go. By 2005, an estimated one in five Americans over the age of 12 owned an MP3 player of some kind.
In 2004, a program called "iPodder" allowed users to download radio broadcasts and transfer them to an iPod. Covering the rise of online radio in February of that year, BBC journalist Ben Hammersley suggested names for the trend including "podcasting"—compounding "iPod" and "broadcasting." It stuck: "podcast" was named the "Word of the Year" by the New Oxford American Dictionary in 2005. 
The genre exploded in 2014 after the release of a podcast from public radio brand This American Life called Serial, which documented the investigation of the 1999 murder of an 18-year-old in Baltimore. Edison Research showed that monthly podcast listenership more than doubled in the five years after, from approximately 39 million to 90 million Americans. 
With more ways than ever to plug into the information superhighway—laptops, tablets, phones, even watches—podcast numbers have continued to soar, with more than two million shows now in the cloud. Studies suggest 75 percent of U.S. citizens know the term "podcasting," with more than half the population saying they've listened to one.
Log in to your preferred podcast platform and you're met with a litany of listening categories. Searching for "golf" will list a variety of shows (upwards of 100) to choose from. Practically every established golf media outlet (including LINKS) has one or more; the tours and major events like the Open Championship produce their own; and current and former pros like Max Homa, Colt Knost, and Paige Spiranac have hosted their own episodes.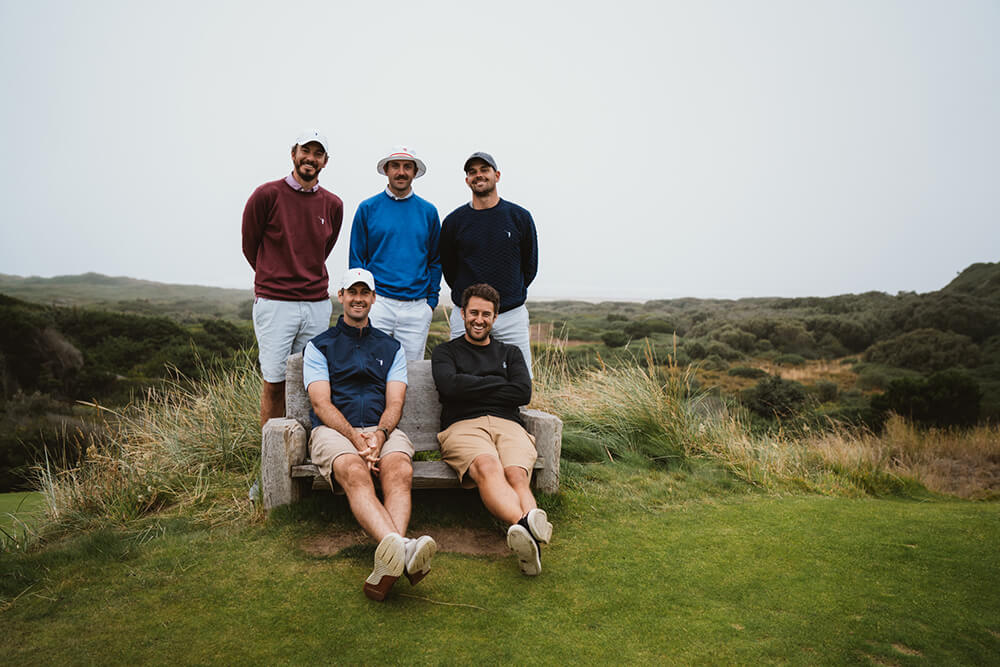 Two shows dominate the current landscape, jockeying for the top position on the golf podcast mountaintop. Depending on where you search, the charts typically start with No Laying Up or Fore Play—both offering raw, unfiltered dialogues that have amplified their stature. 
Around the time Serial swept the nation, No Laying Up had just launched, started by three college friends—Chris Solomon, Tron Schuster, and Phil Landes—and Tron's younger brother Neil. It initially sprouted from a Twitter account that grew by pushing the golf envelope, making jokes, and talking "about golf the way you and your buddies talk about golf."
"There's a big community of people that take golf very seriously at the level that we like to take it," says D.J. Piehowski, who joined No Laying Up in 2017. "There's a lot of people who play the game, but I don't know that there's a lot of people who think about it, obsess about it, and are consumed by it the same way that a lot of our listeners and fans are."  
More than 600 episodes in, No Laying Up has morphed into a golf media ecosystem of podcasts, message boards, social media accounts, and video series—with downloads and followers in the hundreds of thousands. Previews of tour events and profiles of golf destinations are devoured by a loyal fanbase that relies on the group to approach the game with an honest and well-researched opinion, formed through conversations with golf's key constituents.  
"You find yourself as this accidental subject-matter expert because you're talking to so many people and hearing different sides of everything. You end up being a voice on a lot of this stuff, which has ultimately been beneficial in giving us a lot of credibility," says Piehowski. 
The men behind Fore Play—part of sports-media giant Barstool Sports—followed a similar path. Neither Sam "Riggs" Bozoian nor Trent Ryan had any experience with podcasts or interviewing athletes before launching in 2017. Joined by fellow hosts Frankie Borrelli and Daniel Rapaport (and previously Ben "Lurch" Severance), they strive to produce a show that strays from the structured, formal tone of "old man golf media" and into something "for the common golfer, by the common golfer." 
They've come a long way since their first nervy, 20-minute interview with PGA Tour player Ollie Schniederjans, figuring things out on the run. Thousands of listeners have followed the more than 500 episodes, as the hosts cover the golf spectrum from a regular fan's perspective and giddily shoot the breeze with top players and celebrities, from Justin Thomas to Carson Daly. Fore Play's influence continues to expand through social media and video, embracing outlets like YouTube and TikTok with course profiles and matches against other athletes. They've earned a spot inside the ropes at tour events, where they high-five the pros who support their relaxed approach, even getting an invite to walk with Tiger Woods at the 2022 PGA Championship at Southern Hills. 
"I think to our audience it was very endearing that we didn't know what the hell we were doing; that probably came through pretty clearly and made people really enjoy it and resonate with it," says Bozoian. "It's still that way. We see Tiger and he kind of knows who we are. We don't know what the hell we're supposed to do once he brings us in there. We don't know what we're supposed to say. We don't know why we're in there. We don't know what is going on, and then it's over." 
More and more shows have popped up to cover golf's many intricacies. Evan Singer and Matt Cermak, creators of The Par Train podcast, found a footing diving into the mental side—helping frustrated golfers "enjoy the ride" again by offering conversation and perspective with players, sports psychologists, and CEOs, among others. 
"Golf is the perfect example for how our thoughts dictate our experience," says Singer. "It evolved into giving the average golfer a platform to come on the show and break down their strengths, weaknesses, and help them get out of their own way through direct access to the best sports psychologists in the world."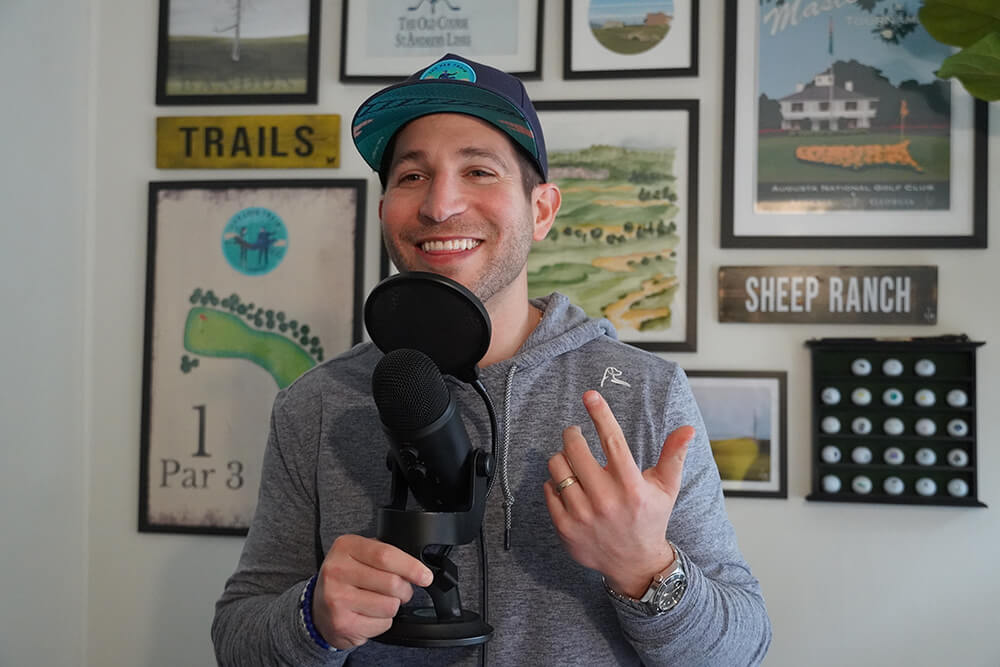 Of course, no one has the time to consume every bit of content that gets thrown out on the internet: The competition for eyes and ears is stiff and increasing by the day. The top podcasters recognize this but acknowledge they are fans of each other's work, with little animosity to be found. 
"I definitely like to learn from what other people are doing around the golf world and I root for all of those people," says Bozoian. "I don't view it as there's a certain market share and we can only get a piece of a pie. The bigger and more successful that all of these different brands become, the bigger the pie gets. It's great for golf and only helps people get more into golf."
10 Golf Podcasts to Know
Whether you're after knowledge, laughs, or bold takes, these podcasts are worth a listen. 
No Laying Up
The captains of golf's new media brigade break down courses, current events, and the game's major players. See also: NLU's The Trap Draw and Crash Course. 
Fore Play
Unapologetically real feelings on golf's people, places, and ideas—as close to hush-hush 19th hole chatter as it gets. 
The Rick Shiels Golf Show
Golf's biggest YouTuber—a former British professional—gives developmental tips, product reviews, and informed opinions.  
Chasing Scratch
Two friends with families and day jobs record their journey to break even and share life lessons along the way.  
The Fried Egg
A deep dig into golf history and course architecture, with sister show The Shotgun Start covering present-day topics. 
GOLF's Subpar
Former tour pros Colt Knost and Drew Stoltz chat weekly with various people about life inside and outside the ropes. 
Get a Grip
Broadcaster Shane Bacon makes light of a game hellbent on staying buttoned-up on the "public course of golf podcasts." 
The Sweet Spot
Essential game improvement advice for players of all levels from two golf authors/instructors. 
Playing a Round
Maxim's 2022 "Sexiest Woman Alive," Paige Spiranac, shares her views as one of golf's most followed influencers. 
The Erik Anders Lang Show
One of the game's most traveled characters isn't concerned with "how" we play, instead asking "why" we're called to golf. 
Thank you for supporting our journalism. If you prefer to read in print, you can also find this article in the Winter 2023 issue of LINKS Magazine. Click here for more information.