Vibrant new forms of golf are keeping players swinging at non-traditional venues long after the sun goes down—and changing the way we view the game
Merriam-Webster defines golf as "a game in which a player using special clubs attempts to sink a ball with as few strokes as possible into each of the 9 or 18 successive holes on a course."
Not so fast. These days, authorities like the National Golf Foundation (NGF)—which has surveyed American golf participation since 1986—are viewing things a bit differently. Because of the explosion of entertainment venues delivering new forms and formats to the old game, golf's strict lines of demarcation are being blurred.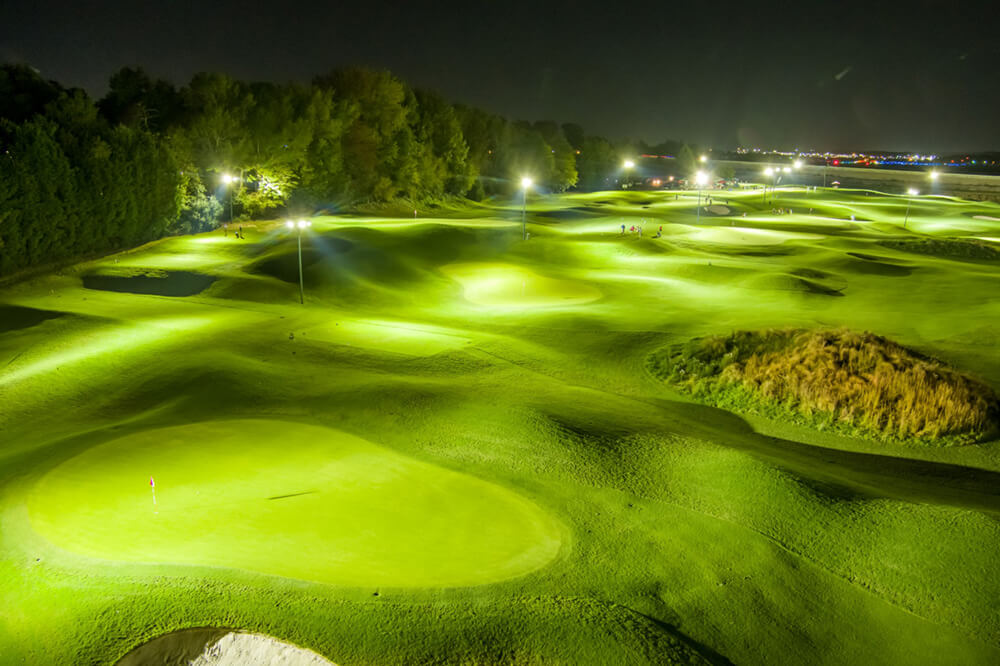 Golfers who play the traditional "on-course" game are being joined by "off-course" participants, who are flocking to more approachable and effervescent versions of the sport that can be played day or night. And for the first time, in 2022 those who only play away from golf's conventional confines out-numbered those who opted only for "real" rounds—15.5 million off-course versus 13.2 million on-course.
Mini-golf facilities, par-3 courses, golf simulators, and the like had been around for decades by the time British twins Steve and Dave Jolliffe founded Topgolf in Watford, England, in 2000. Its blend of golf in a climate-controlled setting mixed with technology, entertainment, and refreshments drew immediate attention, expanding to America in 2005. In 2021, Topgolf merged with Callaway Golf, and today there are more than 80 U.S. locations, plus sites in Australia, China, Colombia, Germany, Indonesia, Mexico, Thailand, and UAE.
Topgolf started a revolution, leading to a proliferation of new venues and ideas for introducing people to the game in unique ways.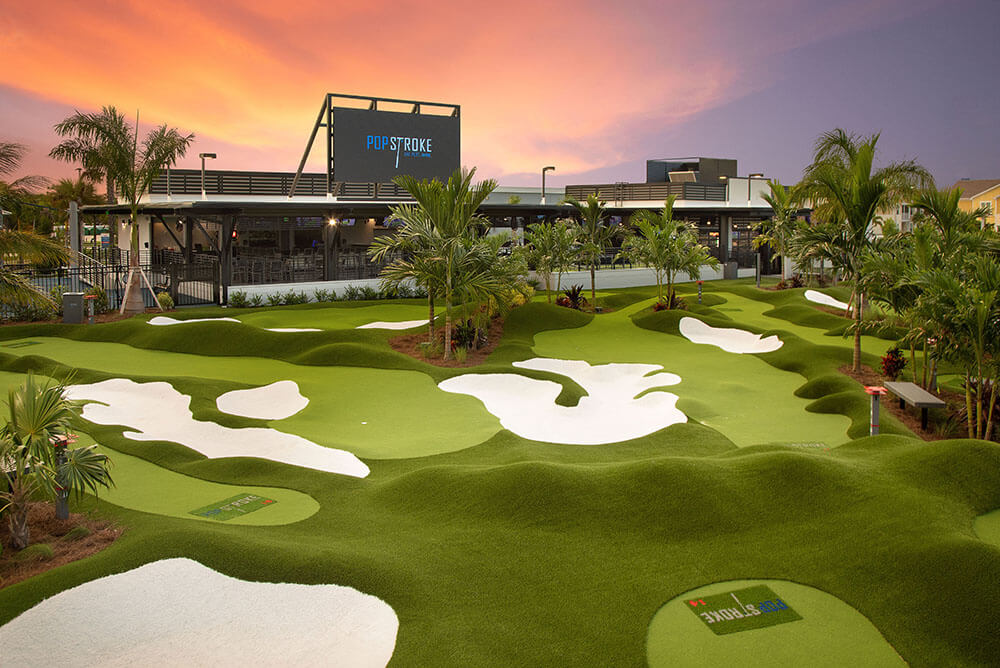 Look around: Your town's hottest nightclub might be inviting you to bring your favorite game along.
PRACTICE
From the outside, Topgolf may resemble a fancy driving range, but you'll quickly find it offers much more than a bucket of balls and yardage signs.
The majority feature 100 or so hitting bays stacked three stories high and aiming toward color-coded targets that render scores based on distance and accuracy. Each bay has room for six players and is outfitted with couches, high-top chairs and tables, heat lamps for colder seasons, and screens for watching sports as well as tracking game play. There's foosball and other games for those whose interest wanders, and each venue stays open late: On the Vegas Strip, the party keeps going until 2:00 am on weekends.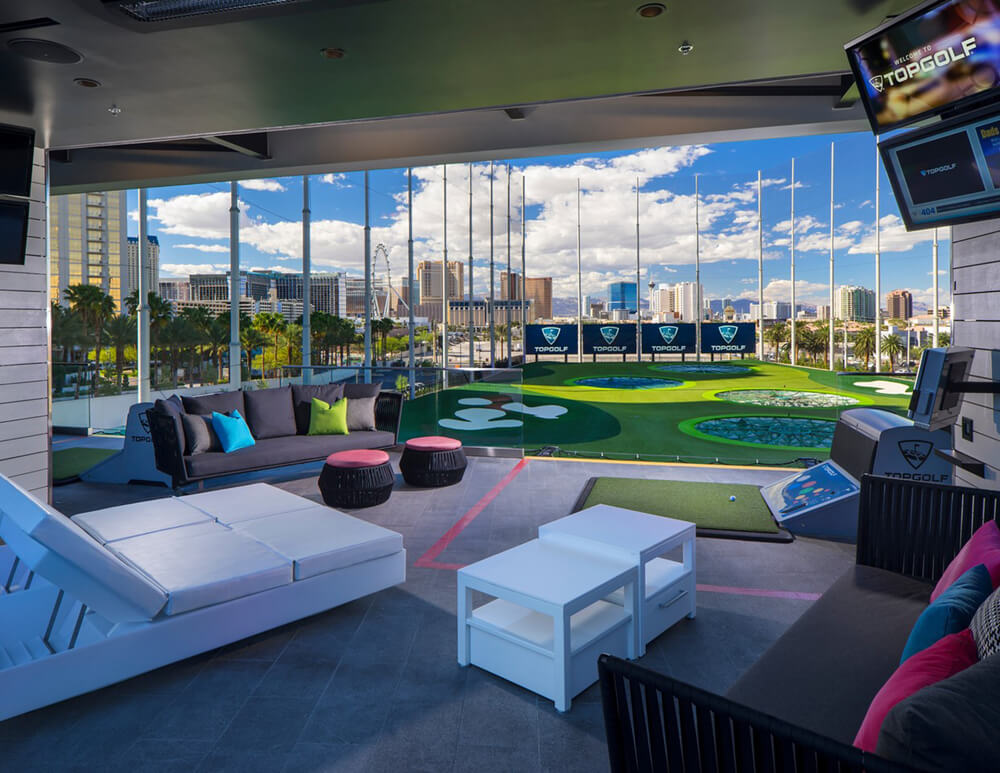 Topgolf's success has spurred U.S. competitors including BigShots Golf (six locations) and Drive Shack (four), which have a similar setup while also incorporating TrackMan Range technology. Each has its own perks: BigShots offers putting courses and fire pits; Drive Shack comes with rooftop bars.
But Topgolf's tech makes it the giant in the space. In 2016, the company acquired Protracer, used by the PGA Tour to track ball flight and statistics on telecasts, and has integrated the rebranded Toptracer technology into its locations and another 750-plus driving ranges worldwide, including at the "Home of Golf" in St. Andrews. With it, a run-of-the-mill mat over cement becomes a Toptracer Range—a revenue-boosting play station where players can compete in closest-to-the-pin contests, simulate rounds at world-renowned courses, get assessments of their practice sessions, and more.
PLAY
Want to play "real" golf after dark? There are more than 60 night-lit public golf facilities in the U.S., according to GolfPass. While not a contemporary phenomenon—some courses have offered night play since the 1960s—a recent string of venues was created first and foremost for golf under the lights.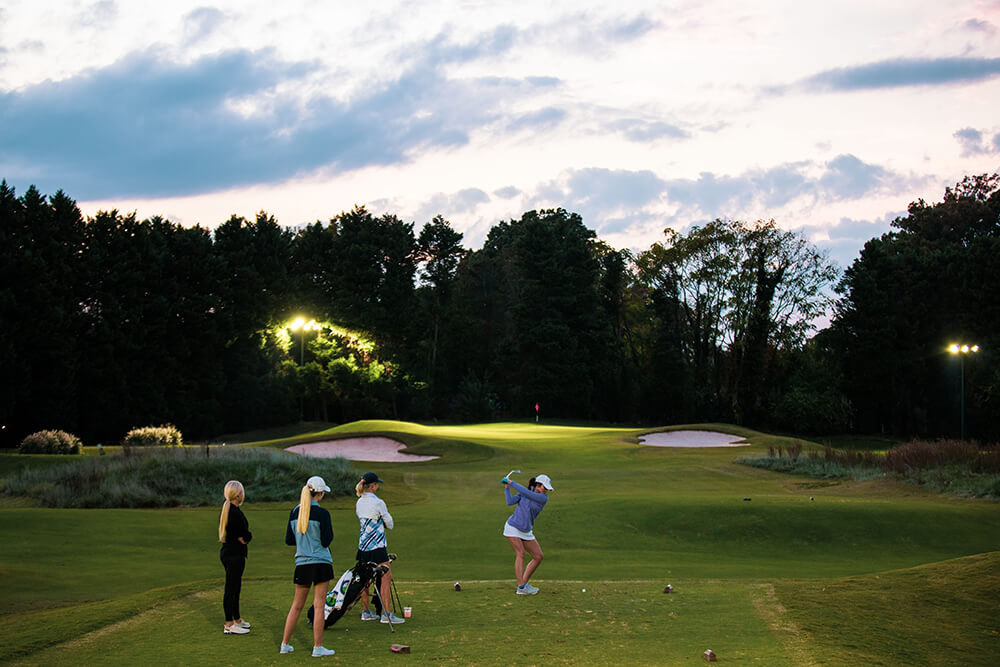 In 2020, hospitality entrepreneur Davis Sezna opened 3's Greenville, converting a Jay Haas-designed, 18-hole par-3 course near the airport in Greenville, S.C., into a facility consisting of a floodlit 12-hole par-3, seven-acre practice area, 18,000-square-foot "Humps and Bumps" putting course, and remodeled restaurant space, the "Grub House."
"My whole premise is, every day we throw a party and the better the party, the more people that come," says Sezna, who anticipates 3's will see 40,000 rounds played in 2023, with thousands more coming through to mingle and knock around a few balls. After investments from Justin Timberlake and 8AM Golf, 3's will soon expand to more cities.
Houston's East River 9 opened its links-style, LED-lit 9-hole par-3 course, range, and pickleball courts in 2022, all with views of the downtown skyline. Also in 2022, Topgolf debuted its "first take on bunkers and fairways" in California at The Lakes at El Segundo, a lighted 10-hole par-3 course with Toptracer technology adjacent to a new triple-decker Topgolf.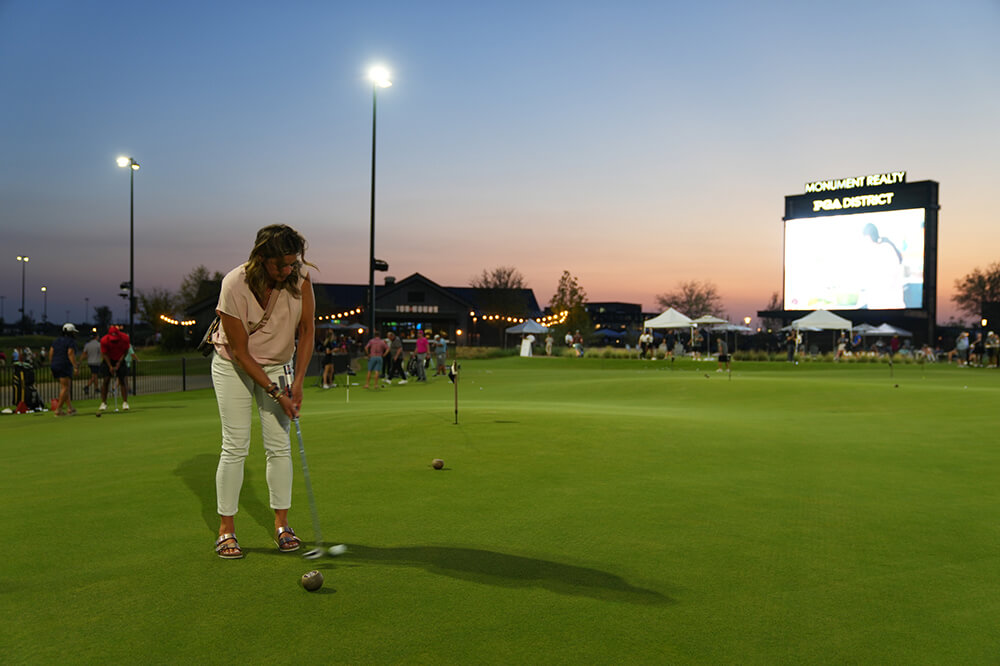 At Omni PGA Frisco Resort in Texas—the new $500 million headquarters of the PGA of America—the plan was to make the game of golf more approachable. That meant including a bevy of playing options like The Swing, a 10-hole par-3 course, and The Dance Floor, a two-acre putting course, both designed by Gil Hanse and Beau Welling and lit until midnight.
"I think we can make this a living, breathing example of how cool the game can be and how invitational it can be," says PGA of America CEO Seth Waugh.
PUTT
Two of golf's greats, Tiger Woods and Rory McIlroy, have put their names, and dollars, behind a different experiential golf concept—upscale mini-golf.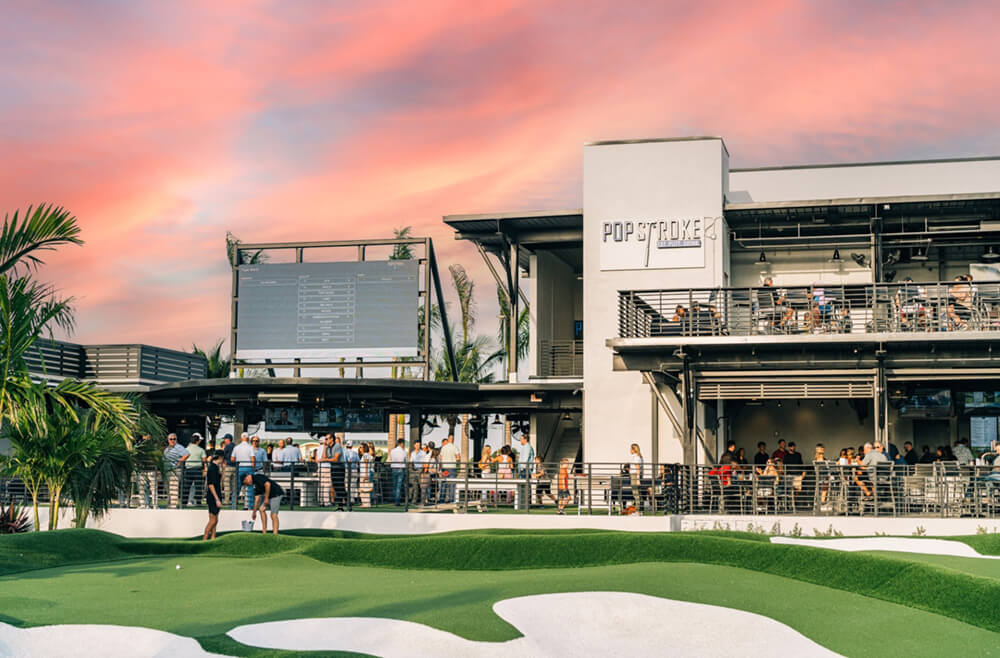 Woods partnered with PopStroke in 2019, one year after debuting its first facility in Port St. Lucie, Fla. The family-friendly venture has expanded to seven venues in Florida, Texas, and Arizona, each with a full-service restaurant/bar, ice cream parlor, and two outdoor, 18-hole synthetic-turf putting courses designed by Tiger and his TGR Design team. TaylorMade also signed on, allowing players to use the company's top-of-the-line putters. A mobile app lets players post their scores to a jumbo-sized leaderboard and order refreshments, deliverable mid-round. By 2025, PopStroke expects to have 28 locations in eight states.
All guests at the McIlroy-backed Puttery—developed by Drive Shack in 2021—must be 21 or older to enjoy the indoor, adults-only experience. Each of the seven U.S. sites (with three more coming soon) is equipped with at least two 9-hole routings—which feel more like art exhibits than golf holes—plus refined cocktail bars and full kitchens. Whether you're weaving through a labyrinth of leatherbound books and furniture on the Library layout or past Japanese gardens and cactus fields on a Conservatory nine, you'll quickly recognize this is no windmill-and-clown's-mouth putting experience.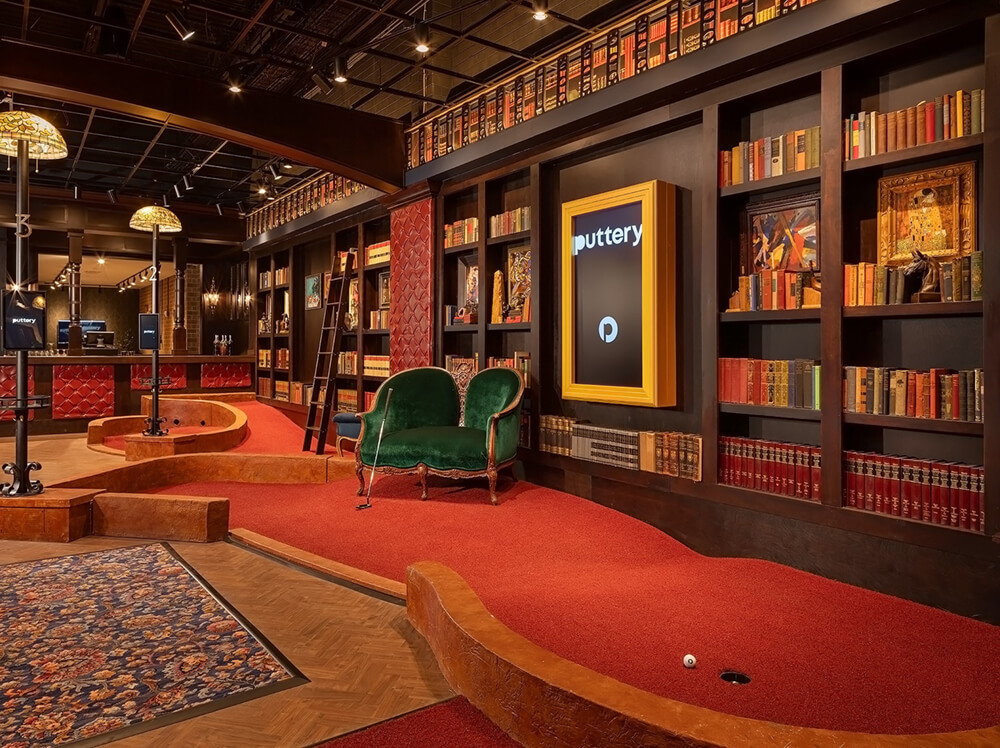 Currently the biggest competitor is Puttshack, with 13 global locations and more on the way. In 2022, Puttshack attracted a $150 million investment from BlackRock thanks to its bright, arcade-style environment, globally infused menus, and trademarked Trackaball technology that eliminates the concept of par and awards bonuses (or fines) for creative paths to the cup.
PRETEND
Can't make the trip to the Old Course or Pebble Beach? There's probably an indoor simulator nearby that not only gives you access to bucket-list courses, but lets you play them in under two hours, with no walking, searching for wayward shots, or sunscreen required. All while music is bumping, drinks are flowing, and the good times roll.
"Our goal is to allow you to play the way you want—from the serious golfer to the entertainment customer," says Jared Solomon, co-founder of Five Iron Golf. Originated in Manhattan in 2017, Five Iron provides members and guests with well-kept locker rooms, showers, club storage, and in-house PGA pros who give lessons as late as 10 pm. Each of its 20-plus locations is outfitted with TrackMan radar and Full Swing simulators. Partnerships with golf-loving celebrities (like hip-hop artist Macklemore) and social media brand Breezy Golf have elevated Five Iron's cool factor.
X-Golf's franchising model has produced rapid expansion: More than 150 U.S. locations will be open or in development by the end of 2023. Though nothing can truly compare to the uncertainty of hitting from sand or rough, X-Golf touts an "unrivaled 98 percent accuracy" measuring ball and swing data with its simulator tech—and it really does feel realistic. Through X-Golf's app, players track their stats from previous visits and compete in leagues against other sites. And give X-Golf points for user-friendly features like automatic ball feeding and teeing, meaning you just step up and swing.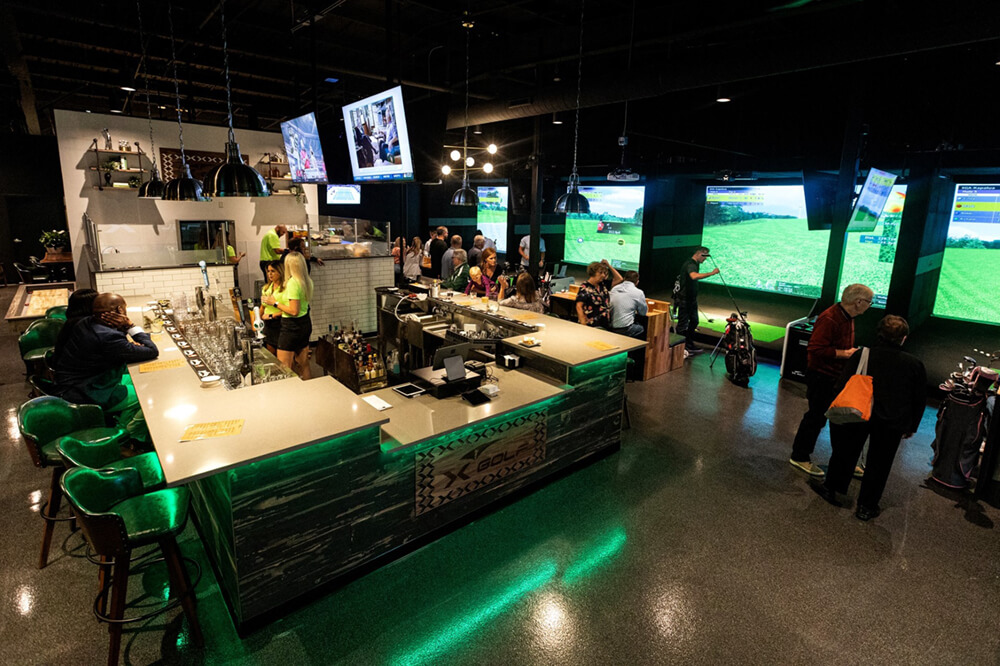 PENDING
Next up is virtual reality. Expect to see venues built around VR headset gaming, perhaps even ones that incorporate traditional elements like simulated rain and wind.
And launching in 2025* is the PGA Tour's TGL golf league, with popular players like Woods, McIlroy, Rickie Fowler, Justin Thomas, and others signed on to compete in 3-on-3 team competitions—televised weekly in primetime—played on massive simulator screens and virtual greens, ushering in even more interest in off-course play.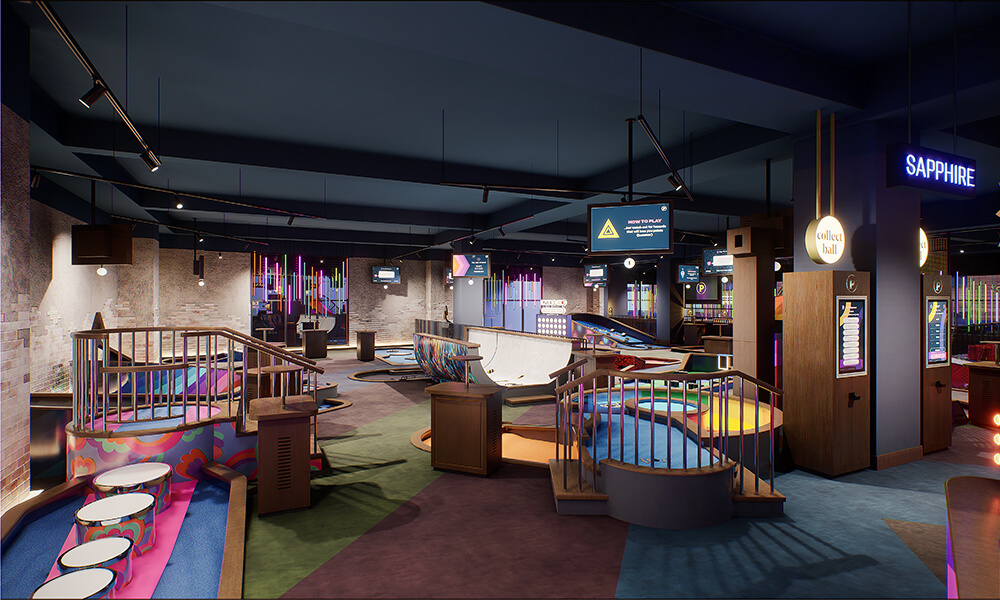 Here's the big question: Are these off-course offshoots acting as a gateway to the real game? NGF research suggests so. Green-grass participation has been steadily rising, with some 65 percent of new players reporting in 2022 that they'd previously played some other form of golf before coming to the course.
The future of the game is here, and it's all golf to me.
*Editor's note: The PGA Tour's TGL golf league was original scheduled to commence in January 2024.
Thank you for supporting our journalism. If you prefer to read in print, you can also find this article in the Fall 2023 issue of LINKS Magazine. Click here for more information.