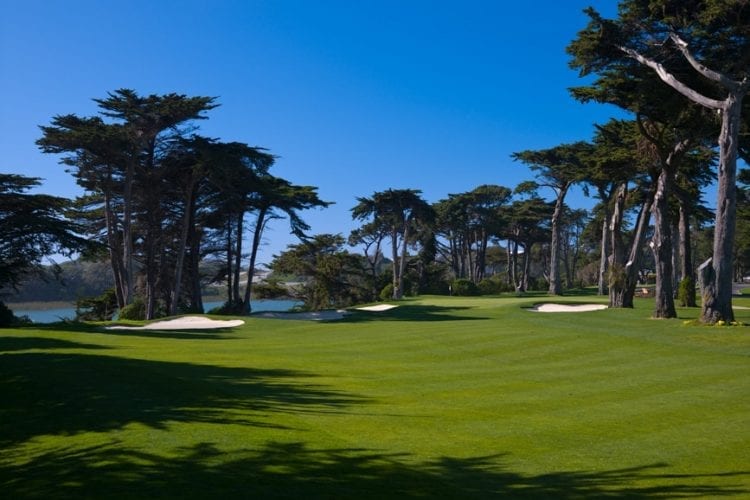 With apologies to Tony Bennett, it's not only easy to leave one's heart in San Francisco, but your bankroll as well. Digital prospectors have gentrified the city but good: The funky headshops and noodle joints have been overrun by yoga fanatics and finicky foodies. Isn't there an app to help run these cyber-varmints back to Palo Alto where they came from?
But there are ways to enjoy the Bay Area, golf clubs in trunk, without winding up in debtor's prison. Harding Park isn't exactly cheap for a muni, but does play like a championship track; Presidio Golf Course is worth the fees for the bay views alone; and a trip across either the Golden Gate or Bay Bridge opens up a world of reasonably priced golf options.
Affordable boutique hotels are springing up like daisies, but this is a town overrun by tourists, so choose your season wisely. It never gets too hot nor cold in S.F., and persistent drought has been prevailing over rain and fog. As for charm and sophistication, San Francisco has few rivals.
Where To Play
• Lincoln Park Golf Course is short and scruffy, but with Golden Gate Bridge views and cypress-tree-lined fairways. George Archer used to live nearby and amused himself hustling locals on the putting green.
• Sharp Park Golf Course is likely the only public Alister MacKenzie track you can play for $43—what's left of his original design, that is. Play it now as local activists are busy trying to convert the land into a home for endangered frogs and snakes.
• TPC Harding Park Golf Course is no longer a bargain, but well worth a look. Some $25 million was sunk into this 1925 Willie Watson gem to make it PGA Tour-worthy. Try the adjacent Fleming 9 executive course and save a bundle.
• Gleneagles Golf Course is another Jack Fleming nine-holer, with new greens installed after persistent infestation troubles. Tight fairways and fast greens make up for the shortish 3,195 yards.
• San Geronimo Golf Course is across the bay in Marin County, a Robert Muir Graves design replete with towering redwoods and mountain views. Canyons and creek beds lend the course a natural feel despite its proximity to major roadways.
• Monarch Bay Tony Lema Course is a links-style layout in San Leandro with bay and city views from every hole. Stretching to 7,015 from the back tees, it pays to play early before the winds pick up.
Where To Eat
• Generally speaking, it's a good idea to call your accountant before dining in San Francisco, lest you wind up washing dishes in exchange for a $50 chicken dinner. But plenty of frugal options abound if you choose judiciously.
• The carnitas "super" burritos at La Taqueria are the stuff of legend, and under $10. Ask for it grilled for extra crunch and don't forget the "special sauce."
• SF is rightly renowned for Chinese food, but avoid overpriced Chinatown and opt for Kingdom of Dumpling in the "Avenues." Shanghai soup dumplings rule, as do the green chives pancakes.
• The pies at Tony's Pizza Napoletana are as close as you'll get to Brooklyn on the west coast. Try the coal-fired New Haven Lou with spinach, garlic, and mozzarella di bufala.
• The weekend brunch at Marla Bakery Restaurant is the go-to spot for bagels and baguettes, and sinful French toast with vanilla-bourbon cherries and crème fraîche.
Where To Stay
• Downtown San Francisco used to be too pricey for words, but new boutique outfits have leveled the playing field a tad. The Hotel Zelos is two blocks from Union Square and a short walk to the ballpark and Chinatown. With Jack Kerouac-inspired décor, the Hotel Triton is cozy and cool for under $150, even less for AAA members. The Good Hotel in the SoMa area is both good and cheap, and uses renewable design elements in its rooms and suites. And in Japantown, the Kimpton Buchanan offers free bicycles and Keurig