What does a golfer make of Myrtle Beach, S.C., calling itself the "Golf Capital of the World?" What exactly constitutes a "capital" and does Myrtle Beach satisfy the criteria? And what might St. Andrews, whose own tagline "The Home of Golf" seems a little more credible, think about it all?
Whether you agree with the slogan or not, it certainly gets your attention. Fairly or unfairly, my suspicion was Myrtle Beach would be a rather soulless sort of a place where shady hawkers peddled discounted green fees on street corners and where rounds came bundled with a sleeve of Pinnacles, a logoed hat, and a hot dog at the turn. Myrtle Beach golf would be all about volume—get 'em in, get 'em round, and get 'em out so other golfers could take their place and keeps the cash tills ringing.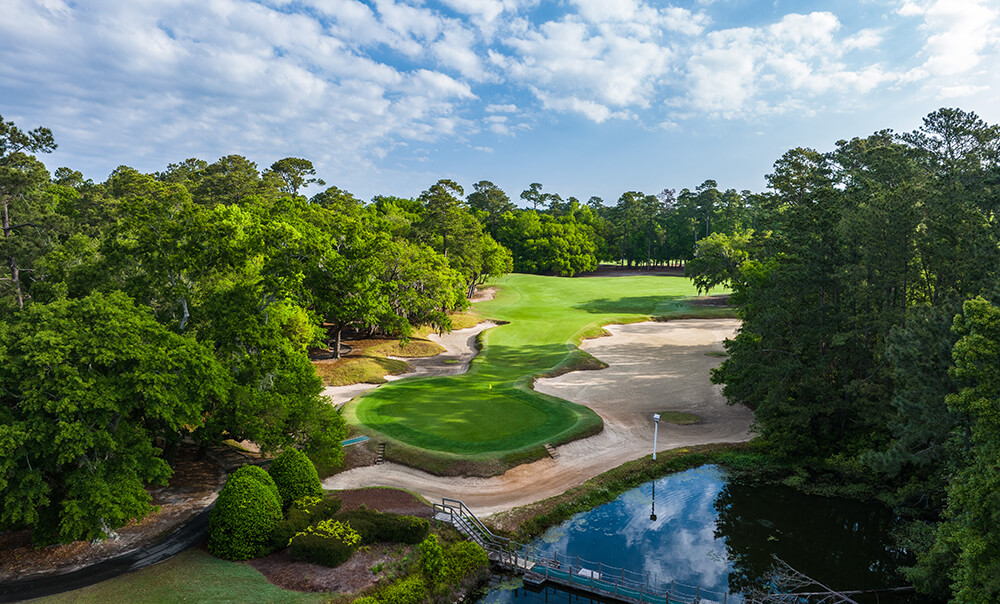 It seemed easy to disparage Myrtle Beach as a golf town, but I didn't want to be a snob about it. Spend some time there and play some golf before jumping on any mob-mentality bandwagons.
It really isn't difficult, in fact, to find the positives and get the Myrtle Beach experience in a way you'll enjoy, and which might have you wanting to go back. It probably is as simple as finding the right selection of courses. There used to be 115 of them here, a number that has decreased to 90 or so following economic crashes, pandemics, and the like. And, while many of them might not be what you're looking for, there is definitely a handful of courses that warrant a lengthy journey in order to play.
There's good golf all over town, but the best is concentrated in Pawleys Island and Murrells Inlet, S.C., 15 miles or so south of Myrtle Beach proper on Highway 17—also known as the Coastal Highway.
Here you find the incredible Mike Strantz double-bill—Caledonia Golf & Fish Club and True Blue Golf Club—whose equally beautiful clubhouses are exactly 1.5 miles apart on either side of Kings River Road.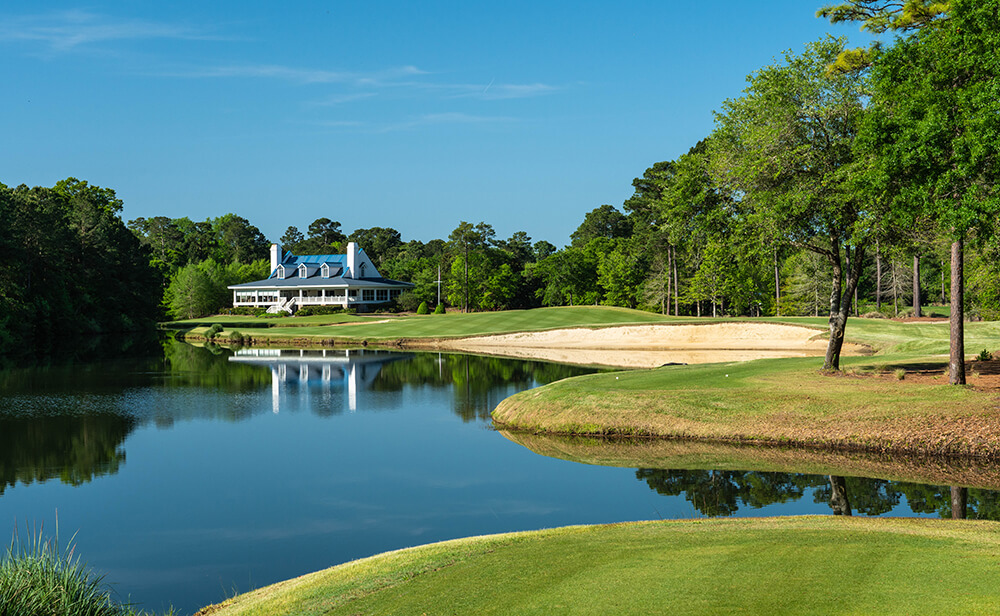 Desmond Muirhead, who collaborated with Jack Nicklaus in the early 1970s, is regarded as golf's most eccentric and unconventional designer, but Strantz carried the torch for a while with the seven original and highly distinctive designs he gave the golf world before succumbing to cancer in 2005. Strantz's work is proving to be the more enduring as, unlike some of Muirhead's frankly potty holes, Strantz's make a lot more sense and are fun and thought-provoking as well as visibly arresting.
There are plenty, however, who consider Strantz courses a little too surreal. They certainly do move goalposts, shift boundaries, and push envelopes—True Blue more so than Caledonia, perhaps—but, importantly, they remain eminently playable. Your eyebrows will rise on occasion, but these are not novelty golf courses. They are full of interest and engaging shots and will remain in your memory long after you've left.
Pawleys Island isn't all about Mike Strantz, though. Dan Maples designed a couple of beauties at the Heritage Club and Willbrook Plantation, and Tom Fazio and Jack Nicklaus have worked here designing courses now part of the Waccamaw Golf Trail.
In Myrtle Beach itself, there are plenty of courses that would grace higher-end destinations—the recently renovated Grande Dunes; Barefoot Resort (with courses by Davis Love, Greg Norman, Pete Dye, and Tom Fazio); King's North at Myrtle Beach National; and the Heathland, Moorland, and Parkland courses at Legends Resorts. The original Myrtle Beach layout—Pine Lakes Country Club, which opened in 1927 and was designed by the PGA of America's first President, Robert White—is where Sports Illustrated was born and has as magnificent a clubhouse as you'll find at an American public course. And, if you stay at any of its partner hotels, you can tee it up at the private Dunes Golf and Beach Club on North Ocean Boulevard, which opened in 1948 and definitely ranks among Robert Trent Jones's best designs.
Heading just north out of Myrtle Beach, you'll find exceptional golf at Ken Tomlinson's Tidewater Golf Club in Sunset Beach, N.C., and moving into North Carolina's Brunswick County, the Tom Cate-designed Thistle Golf Club and Arnold Palmer's River's Edge Golf Club.
Myrtle Beach isn't inundated with five-star accommodations—you'll have a job finding anything above $200 a night, which is obviously a major plus for anyone on a budget. But you'll have absolutely no problem locating a perfectly good place to stay—often at the course itself—with easy access to all that golf. I, likewise, had little trouble finding something good to eat, partly because I ate well in clubhouses and partly because a quick bite at Bojangles did the job after a day's golf. My Myrtle Beach contacts though tell me a number of quality restaurants have opened in recent years such as Drift for breakfast/brunch, and 42nd Street Bar and Grill, Sole Italian Restaurant, or Hook & Barrel for dinner.
All in all, I had a surprisingly good time in Myrtle Beach and, whether it's the golf capital of the world or not, suspect you could too.
Have you played golf in Myrtle Beach? Tell us about your experience in the comment section.