For many players, golf represents an all-too-infrequent opportunity to leave our tech-ridden "smart-world" behind, spend time with friends, get some healthful exercise, and commune with nature on playing fields as beautiful and varied as species of birds. But there's no doubt that the right tech can also enhance your enjoyment of the game—and make you a better player.
Whether it's training aids that can improve your ball-striking, distance-measurement devices, or other useful accessories (digital and otherwise), golf gadgets are advancing as fast as technology in general. Here's a list of 12 golf gadgets that your average golfer would love to see under the tree this holiday season.
Let's start with a low-tech accessory that can make even the highest-tech phones more utilitarian. The Stripebird Magnetic Phone Holder fits any smartphone, and its powerful neodymium N52 magnets allow you to attach it to any metal surface on a golf cart, push cart, or golf bag. This is especially handy for players who use smartphone GPS apps, but it also makes it easy to take video for analyzing your swing at the range. $34.99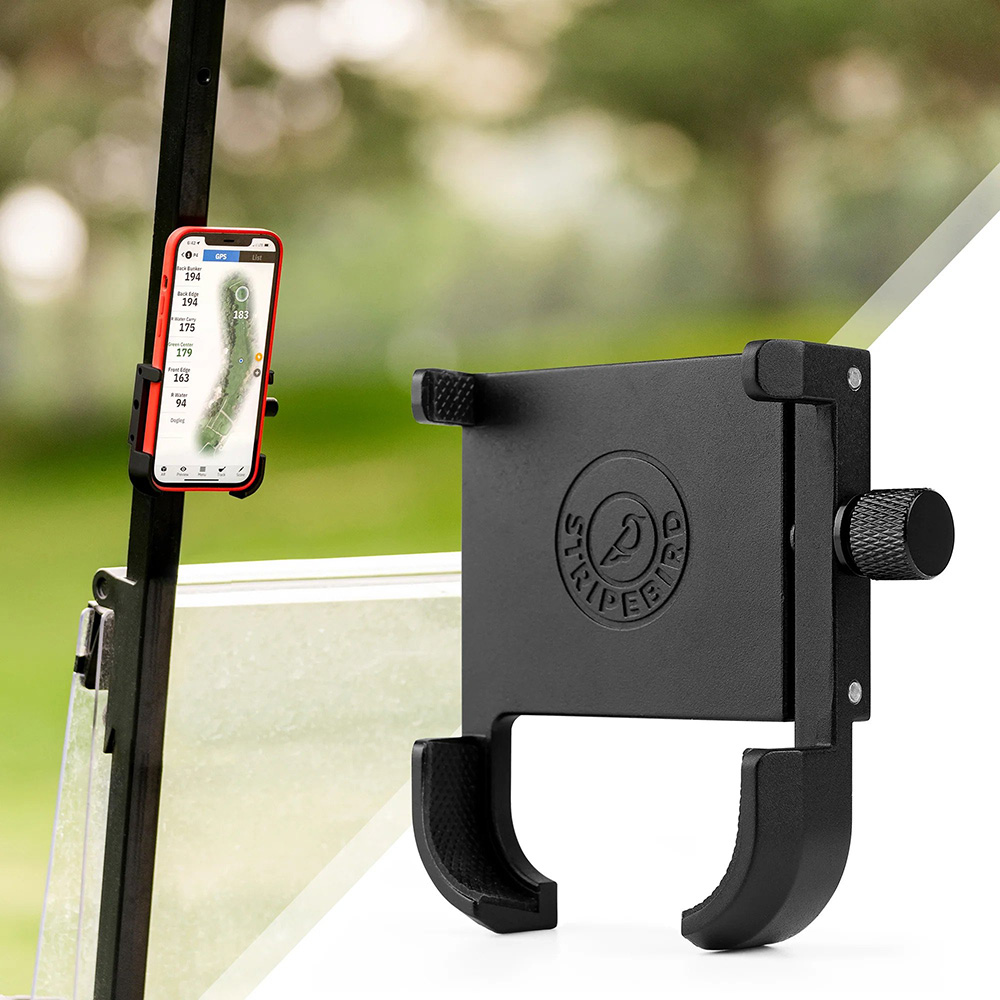 Modern rangefinders can seemingly do everything but wipe down clubfaces. Bushnell's Tour V5 is a compact and very capable choice if you're looking for something that's easy to operate, performs well, and is reasonably priced. When it finds the pin, it gives you both a visual jolt in the form of a flashing red ring as well as vibrating pulses—so you know you're locked in. It offers 6x magnification, and a magnet on the back for sticking it to your cart. Want one that can read slopes, too? The Tour V5 Shift gives you the ability to turn its advanced slope-reading feature on or off, so it's tournament legal when you want it to be. $249.99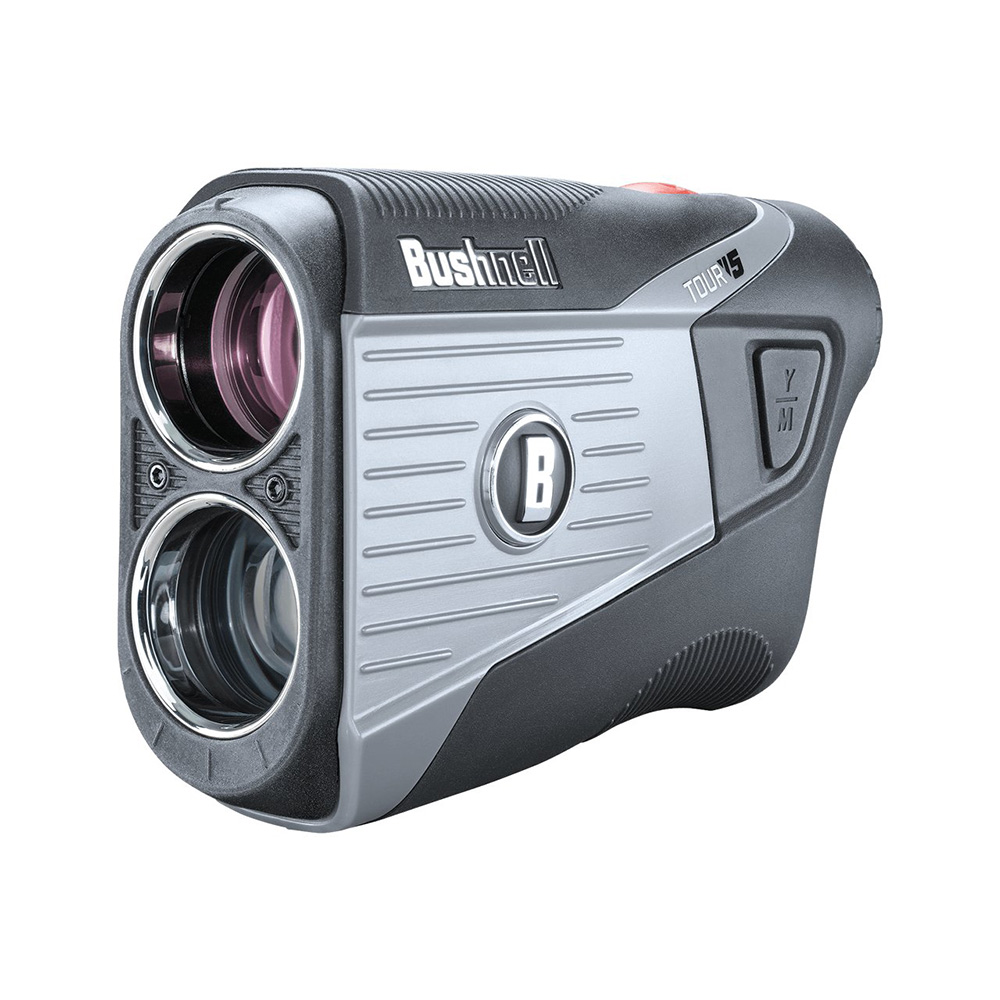 Garmin makes a wide range of sports watches for golf, running, hiking, and other activities. Garmin calls its second-generation MARQ Golfer a "tool watch," since it performs so many different functions. Of course, it offers an accurate GPS distance-measuring capability—with 43,000 pre-loaded golf courses. But add to that a virtual caddie function, green contour data, a "pinpointer" feature that gives you direction on blind shots, and a green view feature that lets you see each green's true shape from any direction (and move the pin location for greater accuracy), and you have a mighty tool for lowering scores. It can even monitor your heart rate and stress level. Machined from 130 layers of fused carbon fiber, with a domed sapphire lens, it's Garmin's top-of-the-line golf watch, both elegant-looking and rugged. $3,100.00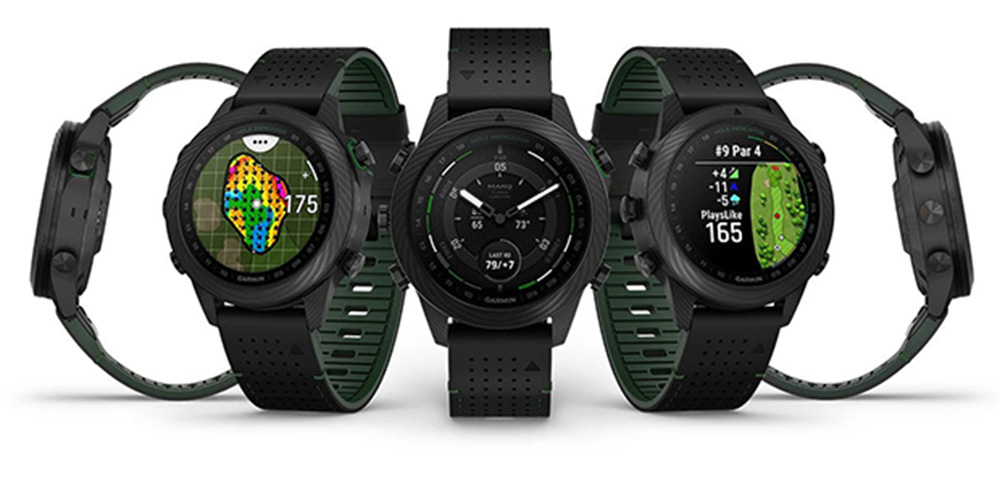 The Blue Tees Player+ is two great golf gadgets in one. For starters, it's a studio-quality speaker with two robust subwoofers and a magnet for sticking it tight to your golf cart. Then, it adds a GPS function that gives you access to accurate yardages for over 40,000 courses. Powered by the Game GPS Golf App, it links to your smartphone so you can play your favorite tunes, and with the Player+ Premium subscription you get added features like dynamic hazard distance measurements, driving distance, and scorekeeping. The touchscreen display works well—even with your glove on. And the unit has an IPX7 waterproof rating, so it can brave the elements without any problem. $199.00
The GameGolf KZN is one of the game's leading GPS shot- and stat-tracking sensor platforms. It gives you multiple playing modes and its new Smart Caddie feature analyzes 10 key data points to help golfers improve their swings. The sleek, compact hardware unit, with its high-tech black and metallic look, clips to your belt, while the 14 lightweight smart tags attach to your clubs' grips. With it, you can gauge distances, track your rounds with precision, learn your true distances, and identify trends in your game. It seamlessly collects data throughout your round and is a great tool for knowing your swing and your game better. $219.99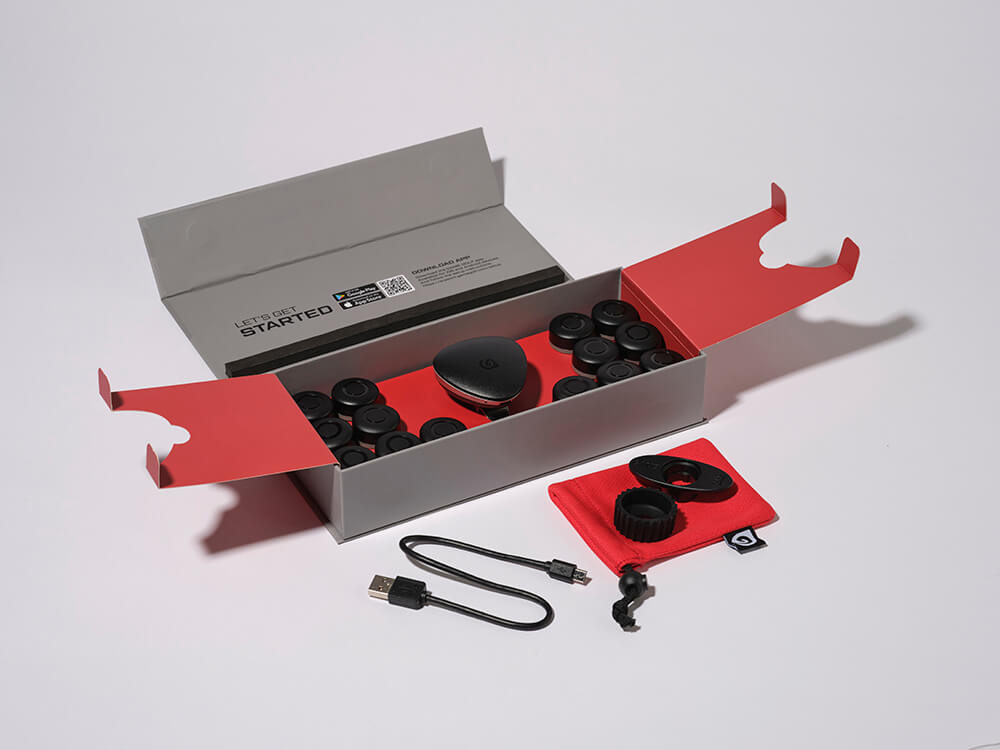 Arccos's game improvement products have earned a large and loyal following since they debuted, and their latest offerings build on that success. Arccos smart sensors screw into your clubs' grips then mate up with the Arccos app on your smartphone or Apple Watch. The Arccos caddie rangefinder gives you yardages that consider things like slope, wind speed, temperature—even altitude and humidity. Then it recommends a club based on your past performance and records your performance on each shot. After your rounds, it provides a wealth of data to study, as well as coaching tips to help you improve the parts of your game that need it most. I recommend that you get the Arccos Caddie Link, too—a pager-sized device that clips to your belt and removes the need to carry your Arccos-paired phone in your pocket while swinging. Sensors: $179.99; Link: $119.99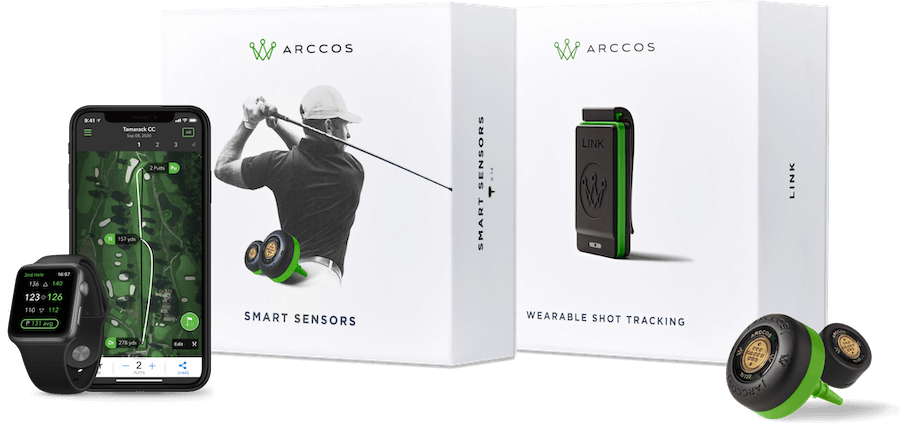 We can't all have PGA professionals around every time we want to practice. The deWiz Swing Modifier may be the next best thing. The system is composed of a wristwatch-like device that tracks your movement to generate real-time feedback on your swing via the deWiz app, which is accessible via your Bluetooth-paired smartphone. You get input on a wide range of things, from your length of backswing and swing plane to your transition and tempo. You can set parameters that will trigger an aural or electronic pulse alert while you're swinging. And with its new On-Course Mode, it can record your swings and provide an insightful A.I.-generated after-action report. $599.00
As with the GameGolf KZN and Arccos, the BLAST analyzer starts with a sensor that attaches to your club's grip, though in the case of the Blast, the sensor is a little larger and bulkier. Still, it's an impressive system that, when linked to the BLAST app, can give you input on things like hand speed, angle of attack, swing tempo, and more. It works well for full swings, half-swings, short game shots—and even putting, where it helps you dial-in speed control, direction, and more. The BLAST IQ feature automatically assesses every swing to provide you with actionable insights via green, yellow, and red range indicators. Premium services include mobile video analysis and free training content. $179.95
TaylorMade teamed with BLAST to offer the Spider Interactive putter, a TaylorMade Spider Tour putter that comes with a BLAST sensor to capture useful stroke data and sync it to a mobile app. The Spider is one of the more popular putters on the PGA Tour, with a face-balanced design, L-neck hosel, and 45-degree "pure roll insert." Together, they offer a step-by-step instructional journey that can give you better visibility into what your putter head is doing—and shave strokes off your game. $399.99
You can pay a lot of money for a launch monitor. But FlightScope's Mevo is a lower-priced option that performs remarkably well. It's a tiny unit—barely bigger than a deck of playing cards—so it's as portable as can be. All you must do is pair it to the Mevo app and place it six feet behind your hitting area, whether on a range, the course, or in an indoor hitting net situation. You'll get feedback on eight metrics, including club speed, ball speed, launch, spin, carry distance, and apex height—but only in a 2D sideview. For overhead shot dispersion data, you'll need to upgrade to the Mevo+. $425.00
View this post on Instagram
Low-tech meets high-tech with the GolfForever Swing Trainer, an at-home training tool that promotes balance, power, and mobility. The GolfForever 44.5-inch training bar doubles as a workout tool and heavy warmup club, and with the Golf Forever app, gives you a menu of customized exercises optimized to build core strength and power (and help you recover after playing). Scottie Scheffler started it using it daily just weeks before winning his first tournament, and he's still a proponent of this unique system, which can be used indoors and out by players of all abilities. $169.99
The SkyTrak+ Bronze package from The Indoor Golf Shop packs a lot of performance into one of the most affordable simulator setups on the market. At the heart of it is the SkyTrak+ launch monitor, a dual-doppler-radar and photometric setup that measures ball and club speeds and is also compatible with multiple simulator software options. With the SkyTrak Play & Improve software (by subscription) you can play a range of courses that includes Pebble Beach, St. Andrews, Pinehurst No. 2, and many more. Also in the package: a screen landing pad, strike mat, SIGPRO net, side netting, and a short-throw projector. The guys at The Indoor Golf Shop are experts at the indoor game and can advise you on everything you need to know to get up and running. $6,849.99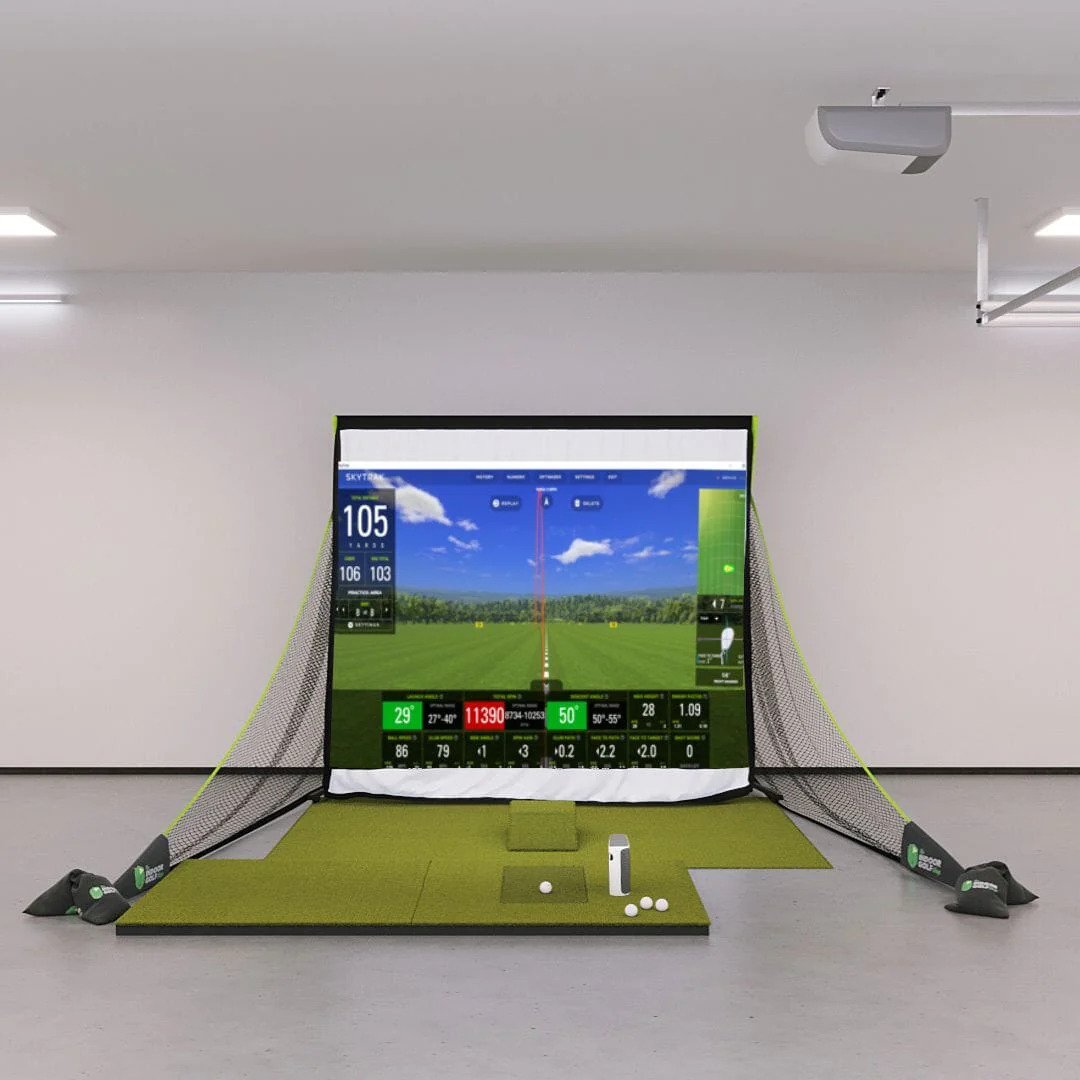 What golf gifts are on your holiday wish list?