There are two kinds of Caribbean golf vacations. One is the kind where you choose an island, choose a resort, then hole up there for a few days to play golf, lounge on the beach, enjoy rum drinks with umbrellas in them, and just chill. You can do that in Puerto Rico, but Puerto Rico also offers another option: a stay-and-play experience where you stay in a city. A real city—San Juan. A city with incredible restaurants, pulsating night clubs, all manner of cultural things to see and do, and a sophisticated vibe that's unlike any other island. San Juan is the epicenter of Puerto Rico's magical Boricua culture, a culture that pre-dates Columbus and revolves around a 24/7 appreciation for the good things in life.
San Juan's central location on the island's north shore is within a short drive of some truly outstanding golf. So if you're staying in one of the city's luxe oceanfront hotels, you're never far from the action—and golf action. Conversely, if you decide to stay at one of the island's excellent resorts, you're just a quick Uber ride from unforgettable nights on the town. In Puerto Rico, you really can have it all.
One San Juan hotel I highly recommend for visiting golfers is the Condado Vanderbilt, a 1919 art deco gem with the kind of luxurious rooms and suites you never want to leave. But trust me, as splendid as they are, you won't be staying in your room all day. The Condado's oceanfront pool complex and spa are the epitome of tranquility, and Chef Juan José Cuevas's exquisite culinary creations in the 1919 restaurant are legendary—as is the restaurant's wine list. It's an experience that competes with those offered at the finest restaurants in any city. If you're a cigar enthusiast, you'll want to spend time in the hotel's Avo Lounge, with its extensive cigar and whiskey menus. In short, this hotel is an oasis of luxury that has the benefit of being blocks away from everything that makes San Juan such a vibrant, happening city. You can't do better.
The same is true of Puerto Rico's golf. The island boasts 18 courses, from championship resort tracks to 9-hole municipal ones—with a 19th currently under construction. On an island that's only 100 miles long and 35 miles wide, that means you never have to go far to find a tee time. And because of Puerto Rico's unusual climate (or, more accurately, climates), your golfing experiences can be wonderfully varied. The northern part of the island, where you'll find the El Yunque Rainforest, is tropical. Even on windy days, you'll feel the warm humidity. To the south, though, as in the Coamo Springs area, the air is drier. Plan to visit as many regions as you can.
For this story, I'm going to focus on the northern part of the island, where the larger resorts and more popular courses are located. They're all different, and all well worth the price of a tee time.
El Conquistador Resort, Fajardo
At the El Con, as locals call it, the focus is on recreation, rejuvenation, and relaxation—in any order. Perched high on a hill about an hour east of San Juan, it offers stunning views of the Caribbean from each of its spacious guestrooms—along with a list of on-site activities that's the envy of resorts everywhere. There are four outdoor pools, a water park, five restaurants and bars, and a private island, Palomino Island, where they've taken the art of lounging on the beach to a new level. The golf course, an Arthur Hills design, is a hilly affair from start to finish. Hills used the dramatic elevation changes to great effect, as the challenge created by the elevations (and breezes) makes club selection doubly important. The scorecard says the course is just 6,662 yards from the back tees, but it plays longer. The 390-yard par-four 16th hole may be the longest such par four you'll ever encounter. Downhill shots can be equally tricky. But the views from the course of the Caribbean and the El Yunque Rainforest (especially from the 15th tee) are legendary. There's no course in Puerto Rico like it—or anywhere else, for that matter.
View this post on Instagram
Palmas del Mar Golf Club, Humacao
On the island's eastern shore, Palmas del Mar is a resort-style community with two courses for residents and guests to enjoy. The Palm Course, designed by Gary Player, once hosted a Shell's Wonderful World of Golf match between Lee Trevino and Puerto Rico's favorite son, Chi Chi Rodriguez. It offers dramatic views of Vieques Island and is the easier of the two courses, but holes 11–15 are among Puerto Rico's toughest. Bring your A-game (and plan on taking mucho photos) when you play it. The second course, from Rees Jones, is called Flamboyan. It's a true championship test that stretches to over 7,000 yards from the back tees. Flamboyan features two distinct nines—the front nine is more open, with sand the chief obstacle, while the back nine plays out toward the ocean and features more trees and marshy areas, along with its own captivating views of the sea.
Wyndham Grand Rio Mar Golf & Beach Resort, Rio Grande
Rio Mar bills itself as the place where secluded sands meet tropical rainforest. This large and luxurious resort offers views of both settings—and much more. With over 400 rooms, nine restaurants and bars, an expansive lagoon-style swimming pool, tennis, slots and table games, and a splendid spa, you'll want for nothing. The resort offers two courses. The Ocean course, by George and Tom Fazio, gives you generous landing areas but calls for precise approach shots. And the green complexes and greens themselves are always a challenge, which makes them fun to play all day. One of the toughest—and most picturesque—holes on the course is the 228-yard par-three 16th that runs along the beach and demands a stellar shot to get on in regulation. The second course is the River course, a Greg Norman design. A bit longer and tighter, it demands that you place your tee shots precisely and avoid the eponymous river if you're going to threaten par. A round there is like a jungle expedition, but it's a course that makes you think and features imaginative holes from start to finish. Keep an eye out for iguanas—Rio Mar has them everywhere.
View this post on Instagram
Hyatt Regency Grand Reserve, Rio Grande
The Hyatt Regency Grand Reserve resort is a world unto itself. This sprawling beachfront property has it all—from its wide choice of luxurious accommodations and sprawling pool complex to its acclaimed steak house, Asian grill, and Rainforest Spa. But golfers may be most impressed by the resort's spectacular golf course, Grand Reserve Golf Club. Grand Reserve is home to the PGA Tour's Puerto Rico Open, won in 2023 by Colombia's Nico Echavarria, making it a true championship course. There's not a boring hole to be found on this engaging Tom Kite design, which plays firm and fast, features strategic bunkering and vexing greens throughout, and challenges every aspect of your game. You may not shoot a 65 here as Echavarria did en route to his win, but I can promise you'll enjoy every moment. The resort also has a TopGolf Swing Suite with four state-of-the-art simulators where you can tune up your swing or play a postprandial nine with friends.
TPC Dorado Beach, Dorado
The two Robert Trent Jones-designed courses at TPC Dorado Beach are affiliated with the Ritz-Carlton Reserve property. So you'll need to be a club member or a guest of the resort to play them. But you should make the effort if you can. The East course (updated by RTJ's son, Robert Trent Jones II) is the star here, but both courses are excellent. In the past, the East hosted World Cups, Senior PGA Tour events, and LPGA tournaments—as well as the Canada Cup (last won here by Davis Love III and Fred Couples). Every inch of its 7,270 yards presents a great test. The course flows through shady groves of palms, with the ocean constantly in view. The signature hole, the Z-shaped, par-five 4th, calls for a tee shot around water, followed by a second shot over water if you're to reach the oceanfront green in two. It's just stellar. The second course, the Sugarcane course, has a strong pedigree, too—and may actually be the tougher of the two courses. Deep bunkers, man-made rivers, and devilishly contoured greens add to the degree of difficulty, but also the fun-factor.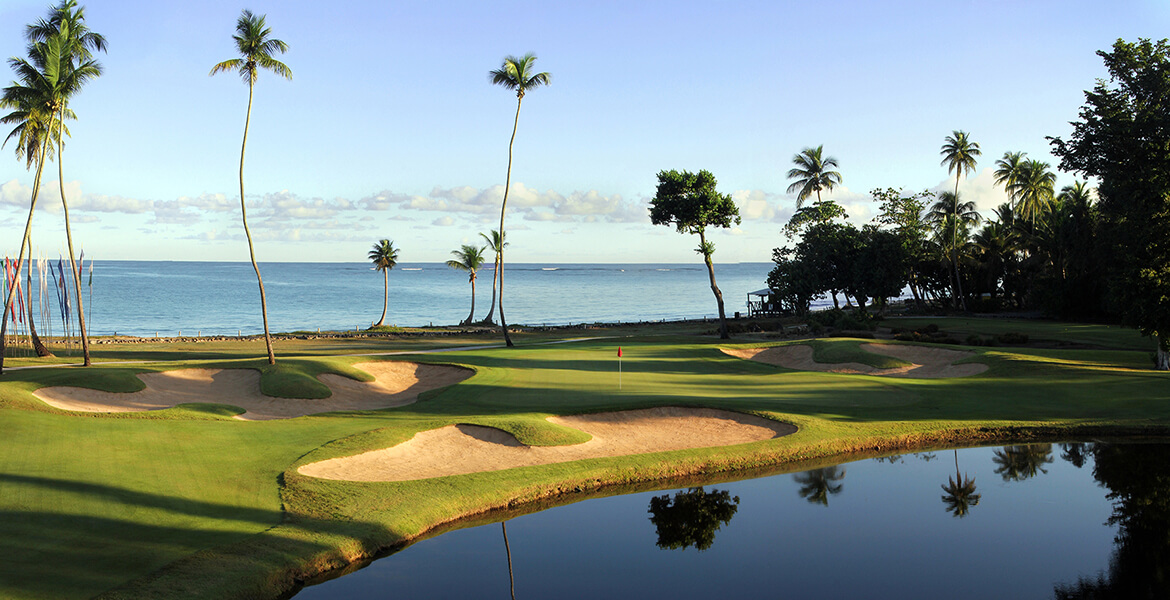 Royal Isabela, Isabela
West of Dorado in the 19th Century town of Isabela, Royal Isabela offers a unique (and highly dramatic) golf experience.  The eco-minded resort here offers intimate accommodations in a cluster of casitas perched high above the ocean. The views of the sea from those rooms and from the clifftop golf course are dazzling—and so are the golf holes. The front nine has a tropical parkland feel, with a cool "double hole" at the 6th, which can play to one green as a par four or the other as a par five. The front concludes with a knee-knocking island green par three. On the back nine, many holes play right along the edge of the cliffs, some 200 feet above the sea. Five of the greens, including the double green serving the 12th and 14th holes, are just steps from the cliff's edge. You'll love every inch, as long as you're not afraid of heights.
St. Regis Bahia Beach, Rio Grande
Created on what was once a beachfront coconut farm between the El Yunque and the Espiritu Santo River State Preserve, the St. Regis at Bahia Beach is a luxury retreat that pampers guests from check-in to check-out. The oasis pools, expansive beach, fine dining, and spa—they're all five-star experiences here. As is the golf. Playing at Bahia Beach is 18 holes and at least 36 photo ops. The towering palms and flowering plants make it feel like a real nature walk. You'll see the Caribbean from 13 holes, with the last three running right along the beach. This course winds through jungle, around lakes, and down to the shore—with the mountainous El Yunque as a constant backdrop. The multi-level green on the finishing hole is a fitting end to the day's challenge on this course, which is kept in tip-top condition year-round.
View this post on Instagram
Punta Borinquen Golf Club, Aguadilla
Punta Borinquen is located about as far north and west as you can get in Puerto Rico. Originally created for the U.S. Army base that was located here, it's been in local hands since 1973, and like Royal Isabela, it's a clifftop course offering sweeping views of the sea. This isn't a championship test, but it's a sporty design and a ton of fun. At Punta Borinquen, you will have the opportunity to experience Puerto Rico golf in its true Boricua form. As the island's first public course, its players are mostly locals whose warm and welcoming outlook on life is infectious. Just the like the island of Puerto Rico itself.
Have you played golf in Puerto Rico? Tell us about your experience in the comment section.